Corruption blamed for plunge in foreign investments in Nepal
Capital inflow fell by 67.88 percent to Rs5.96 billion in the past fiscal year, according to Nepal Rastra Bank.

Economists said that high interest rates and political instability are the main reasons for the consistent drop in FDI in the past two years. Post File Photo
bookmark
Published at : August 21, 2023
Updated at : August 21, 2023 07:11
Kathmandu
Foreign direct investment (FDI) to Nepal plunged to a nine-year low in the last fiscal year, as lax enforcement of trade infringement laws and rampant corruption in the country drove away potential investors, analysts said.
According to the central bank, capital inflow fell by a steep 67.88 percent year-on-year to Rs5.96 billion in the last fiscal ended mid-July 2023 from Rs18.56 billion in the previous fiscal.
"There is corruption everywhere. Reforms for good governance are not happening in Nepal, and the repercussions are becoming visible," said Nara Bahadur Thapa, former executive director of the Nepal Rastra Bank.
The 2022 Corruption Perceptions Index reported by Transparency International ranked Nepal as the 110th least corrupt country among 180 countries in the world.
Nepal was recently rocked by two massive corruption scandals within a few months of each other.
The fake Bhutanese refugee scam broke with reports of 875 Nepali citizens being swindled out of millions of rupees by promises of being sent to the United States in the guise of refugees. High-ranking government officials and a former minister have been arrested as the investigation continues.
This was followed by a million-dollar gold smuggling case involving serving government secretaries and former ministers, which has shaken the ruling coalition to the core.
Apart from persistent corruption, another reason potential investors are staying away from Nepal is the endless hassles they have to face, insiders say.
Among the frustrated investors, Tiger Palace Resort in Bhairahawa, a Rs6-billion five-star integrated casino resort owned by an Australian-based company, encountered so many issues that it got fed up and left the country after five years of opening.
The company had even planned to expand to Dhulabari, Jhapa, but everything was abandoned after it decided to call it quits.
"This will not give a good message regarding foreign investment in the country," Thapa said. "Foreign investors are not supported by Nepal's private sector as they fear intense competition."
Multinational Amul brand that produces dairy products has long wanted to come to Nepal, but its efforts have been thwarted by the dairy lobby several times.
"Dangote Cement obtained pre-approval and opened an office in Nepal, but even after 10 years, the government has not allowed it to be registered and open its plant in the country," Thapa said.
"India is allowing FDI in nationally prioritised projects without pre-approval," he said.
In Nepal, FDI is coming into the hydropower sector, but through a government-to-government deal.
Siddhant Raj Pandey, CEO of Business Oxygen, believes the slowdown in FDI is due to the global recession.
Experts say investors expect to make a long-term investment, and they seek policy stability for 10-15 years. But in every budget statement, the government keeps changing its tax policy, whether income tax or other taxes.

In June 2019, over protests from the private sector, the government jacked up the minimum limit for FDI from Rs5 million to Rs50 million. Again in October last year, the government slashed the investment minimum by 60 percent to Rs20 million.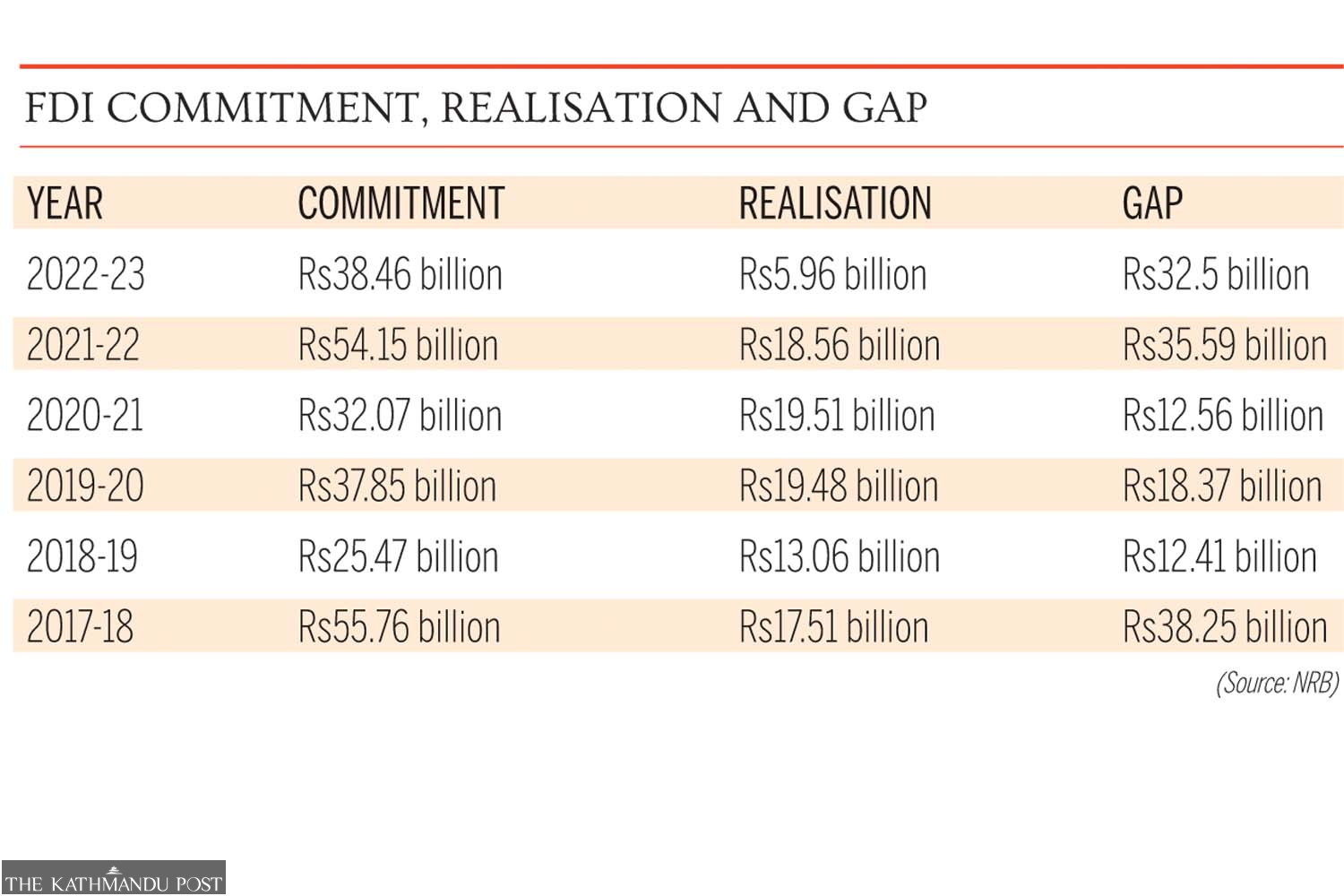 Post Graphics
"Recently, the budget announced a tax on follow-on public offering (FPO) capital, and such a haphazard decision does not attract international investors," said Pandey.
"There have been hundreds of cases regarding intellectual property rights in branded products with many cases remaining unsolved," he said.
Nepal is at high risk of being in the grey list of countries involved in money laundering due to the delay in formulating strong anti-money laundering laws amid political instability.
Although the government has started work to amend the law, it has not been implemented for a long time.
During the recent visit of Nepal Rastra Bank Governor Maha Prasad Adhikari to Canada for a hearing of the Financial Action Task Force, Nepal was given a year's time to pass the relevant laws through Parliament.
"If the government fails to do so, it will be harder to get investment," said Pandey.
The gap between FDI commitment and realisation is also getting wider. In the last fiscal year, realisation fell short of commitment by Rs32.5 billion.
"This shows that foreign investors promise to invest, but they do not bring the pledged amounts. There is something seriously wrong here," said Thapa.
Till now, Nepal does not have an industry development strategy. The one-stop solution as provisioned in the Foreign Investment and Technology Transfer Act has become dysfunctional.
Economists said that high interest rates and political instability are the main reasons for the consistent drop in FDI in the past two years.
According to the World Investment Report 2023 published by the United Nations Conference on Trade and Development, FDI flows to many smaller developing countries are stagnant, while flows to the least developed countries fell by 16 percent to $22 billion, equivalent to less than 2 percent of the global FDI.
The government has provisioned a one-window policy, but investors still face hassles with regard to land acquisition, installation of transmission lines, company registration, and approval from the local level, among other problems, experts said.

In fiscal 2014-15, when Nepal was struggling to enact the new constitution, net FDI amounted to Rs4.4 billion. After that, Nepal suffered its worst disaster in recent memory, the earthquake of 2015, and then India imposed a trade embargo.
In 2015-16, FDI inflows increased slightly to Rs5.9 billion. They doubled to Rs13.5 billion in 2016-17 after Nepal pledged to the international community it would build back better its devastated infrastructures.
In 2017-18, the momentum continued with FDI reaching Rs17.51 billion, before dropping to Rs13.06 billion in 2018-19.
It increased again to Rs19.48 billion in 2019-20 and rose further to Rs19.51 in 2020-21. FDI slowed to Rs18.56 billion in 2021-22 before plunging to Rs5.96 billion in the last fiscal year.
---
---