Let them eat rice
Nepal does not grow enough rice to feed its population, and without imports from India, the shortfall will be acute.

Nepalis have plenty of food options but their love for rice remains undiminished. Post File Photo
bookmark
Published at : August 6, 2023
Updated at : August 10, 2023 10:31
Kathmandu
Nepalis fear a possible food crisis as a bunch of problems threaten to disrupt the supply of the country's staple grain, rice. The lumpy skin disease, which has killed thousands of oxen, low monsoon rainfall and slow pace of paddy transplantation have raised the possibility of a reduced paddy harvest, experts say. India's announcement of an export ban on non-basmati rice has not helped to assuage supply concerns as Nepal imports rice from the southern neighbour to fill gaps in its inventory.

Here is what rice means to Nepal and what repercussions the export ban may have on the country.
What is the status of paddy production in Nepal?
Nepali farmers are expected to have harvested 5.48 million tonnes of paddy in the last fiscal year ended July 16, up 7 percent from the previous fiscal year. The estimated paddy harvest will produce around 3.52 million tonnes of rice after milling. Nepal requires 4 million tonnes of rice annually to feed its population. In the last fiscal year, there was a deficit of around 480,000 tonnes, according to the agriculture ministry. The shortfall is normally met by imports from India.
Why is rice important for a country like Nepal?
Rice is important for livelihoods and the economy. Culturally, it holds significance in culinary traditions. As a staple food, rice contributes to food security and has a long shelf life. Paddy is Nepal's biggest earning farm commodity, with tens of thousands of farmers relying on its income. The paddy output, according to economists, checks inflation and promotes economic growth. The country possesses 1.35 million hectares of land suitable for growing paddy. The grain is generally planted twice a year—in June and February. However, spring paddy in February is planted on only 112,000 hectares. Besides, paddy cultivation supports water resources, biodiversity and aquatic habitats.
What's the intake of rice in Nepal?
Rice is the principal food grain crop in Nepal, followed by maize and wheat.
Rice is the main source of energy and is an important source of protein providing substantial amounts of the recommended nutrient uptake of zinc and niacin. According to the agriculture ministry, the per capita cereal requirement in Nepal is 181 kg. Of the total need, rice should make up 121 kg. But as Nepalis appear to be ardent rice eaters, the per capita rice requirement is 137 kg.
Why is the demand for rice increasing?
Nepalis consume all three types of rice—coarse, medium and fine. At an early age, people used to prefer only medium and coarse rice because there was a belief that this variety would provide more energy. Income was also associated with the food eating habit. Due to low incomes, Nepalis used to eat rice once a day, and that too mostly coarse rice. The fine varieties used to be eaten on special occasions like festivals.
The dietary pattern of the people started to change with the change in the living standard and economic status, largely due to a growth in remittance earnings. People in the middle and higher income groups started consuming fine and aromatic rice instead of coarse rice. Due to the rise in the rice eating culture, demand has been surging. Most Nepalis eat rice in the morning and rice in the evening to meet their nutritional needs. Now, rice accounts for over 50 percent of the dietary supplements of Nepalis.
Why is import increasing?
More and more Nepalis started going abroad due to the low returns in the agriculture sector. The out-migration trend has not stopped. This has led to a shortage of farm labourers while earnings from remittance have been hitting new records every passing year. Most of the remittance earnings are spent on consumption, including the expenditure on fine grain rice varieties. Economic growth has resulted in higher purchasing power and increased rice consumption. Urbanisation and changing lifestyles have contributed to the demand for fine varieties while a large section of society still consumes non-basmati rice. Because of the nationwide preference for rice consumption, domestic production has not been enough to meet the requirement, and the country relies on imported paddy and rice, mostly from India.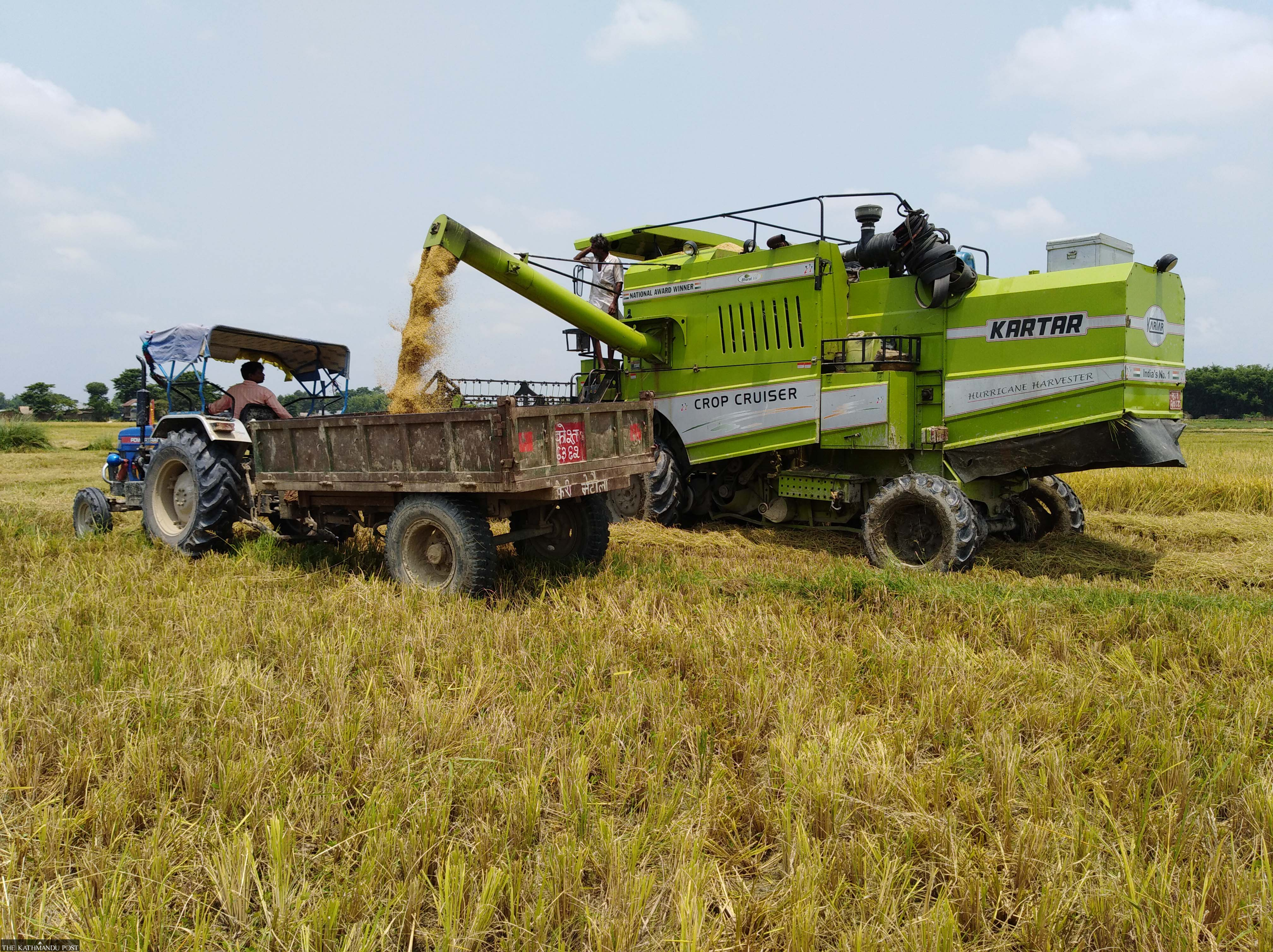 Economic growth has resulted in higher purchasing power and increased rice consumption. Post File Photo
"Obviously, food imports are increasing because we did not change our eating habits. Now, even in the villages, people are buying food because it's easily available if you have money," agro economist Krishna Prasad Pant told the Post in a recent interview. "We are in an import trap because we are exporting our manpower."
Is Nepal's dependency growing on food imports?
During the 1980s, Nepal was a rice exporter, but the situation has reversed. Nepal's largest food import now is rice. The Indian government's trade statistics show that the largest export to Nepal among food items is non-basmati rice. Two decades ago, rice imports from India amounted to 8,025 tonnes worth $1.74 million.
In the 2021-22 Indian fiscal year, which starts on April 1 and ends on March 31, Nepal imported 1.4 million tonnes of rice—1.38 million tonnes of non-basmati and 19,000 tonnes of basmati rice—from India, the highest import on record, according to an Indian government report. In terms of value, the total rice imports amounted to $473.43 million or just over Rs60 billion.
Imports of basmati and non-basmati rice, however, dropped significantly to 812,028 tonnes in 2022-23 as India imposed restrictions on food exports. The total value was $283.94 million or Rs37.48 billion.
What does the export ban by India mean to Nepal?
With India announcing a ban on non-basmati rice export, and given the current weather phenomenon in Nepal, there may be a food crisis for a short period, say experts. But the repercussions would be huge, they say. India's export ban on non-basmati rice will significantly impact the poor people who can't afford to eat basmati rice.
"The ban has prompted price spikes globally. In Nepal too, prices are already up," said agriculture economist Devendra Gauchan.
The announcement of the ban immediately triggered a rise in the price of rice.
Radhika Aryal, joint secretary at the Supply Ministry, said they had asked private traders about the status of food stocks. It looks like Nepal is in a comfortable position with enough rice to last until October when the new harvest begins. "But prices in the market have increased, and proper inspection is needed so that they don't go out of control."
The government, however, has not talked to the southern neighbour to relax the embargo, especially for Nepal.
Why is the dependency on food an issue of national security?
Food and fuel are always political and geopolitical commodities. According to a research paper titled "Nepal's growing dependency on food imports: A threat to national sovereignty and ways forward", importing some agricultural commodities to meet domestic demand has become a common practice in a globalised economy. However, it can be a serious issue when exports from the country remain stagnant or decline while imports jump at an alarming rate. This increases the country's dependency on foreign countries, and could potentially create non-military threats to national security and sovereignty, the research paper said.
---
---