No more solo treks. Guides mandatory from April 1
Some say the rule would restrict trekkers, particularly those coming to Nepal for adventure in the mountains.

The decision does not apply to Nepali trekkers. Shutterstock
bookmark
Published at : March 4, 2023
Updated at : March 4, 2023 07:45
Kathmandu
Come April 1, solo or free independent trekkers have to mandatorily hire a guide or a porter before setting off to Nepal's mountains.

Nepal Tourism Board, the country's national tourism promotion body, which includes trekking and mountaineering associations, on Thursday, decided to make a guide mandatory for solo or free independent trekkers (FITs) due to increasing safety concerns.
Some experts, however, said the move is a restriction on the free movement of trekkers, particularly for those coming to Nepal to experience adventure. It could be counter-productive for the country's ailing tourism industry, they added.
FITs are travellers who plan their own trips and prefer to travel alone.
The concept of FIT tourism includes travellers booking without a tour operator.
Many independent travellers are very price-conscious. In Nepal's context, the numbers in this segment are growing rapidly since Nepal's mountains are connected to the internet nowadays.
Nepal Tourism Board has been mandated to issue the trekkers information management systems (TIMS) cards before they start trekking.
"Therefore, the board reserves the right to make a guide mandatory for solo trekkers," said Mani Raj Lamichhane, the board's spokesperson.
Thirteen other travel and tourism-related organisations have signed the minutes for the upkeep of legal records that such a decision was taken at a board meeting on Sunday.
"The decision, however, will not be applicable to Nepali trekkers," said Lamichhane.
The tourism board has also increased the fee charged to trekkers.
For trekkers from third countries, other than South Asia, the fee for TIMS card or the trekking permit has been hiked to Rs2,000, from Rs1,000 per person. It used to cost Rs2,000 for the FITs. The new fee too would come into effect from April 1.
Similarly, for South Asian trekkers, the fee for group trekkers is Rs300 and Rs600 for FITs. Now, both will have to pay Rs1,000.
According to Nepal Tourism Board, it issued more than 46,000 TIMS cards for FITs in 2019.
The Covid pandemic in 2020 and 2021 affected the trekking sector. In 2022, according to the board, there were 19,415 FITs.
Nepal's private travel and tourism bodies, particularly the Trekking Agencies Association of Nepal, has been lobbying for a one-trekker, one-guide system, since 2012.
The apex body of the country's trekking agencies had announced that solo trekkers would have to take along a guide from September 1, 2012, as per government orders. However, it was forced to backtrack after the Tourism Ministry said it had not issued any such directive.
In 2012, when the news circulated, the Nepal Tourism Board, including a large section of the travel and trade industry, received a flurry of inquiries.
Tourists like Niel Smit from Africa had said people who appreciate nature the most are often those who cannot afford a guide. "Imposing this rule would take away the possibility for many hikers to experience your beautiful mountains. Furthermore, true adventurers will no longer be able to explore your country with their own freedom."
Again, in 2014, the Trekking Agencies Association of Nepal lobbied to implement the one-trekker, one-guide system. The government then assured to implement the system by the beginning of 2015. But due to the earthquake, the plan fell apart.
However, the government, this time, has taken kindly to the industry's proposal.
"The decision to enforce mandatory guide for trekkers falls under Nepal Tourism Board's jurisdiction," said Rajendra Kumar KC, spokesperson for the Tourism Ministry. "The issue was under discussion for quite a long time to ensure the safety of the trekkers."
"The ministry has no objection to it," KC added.
The tourism secretary chairs the Nepal Tourism Board's boardroom.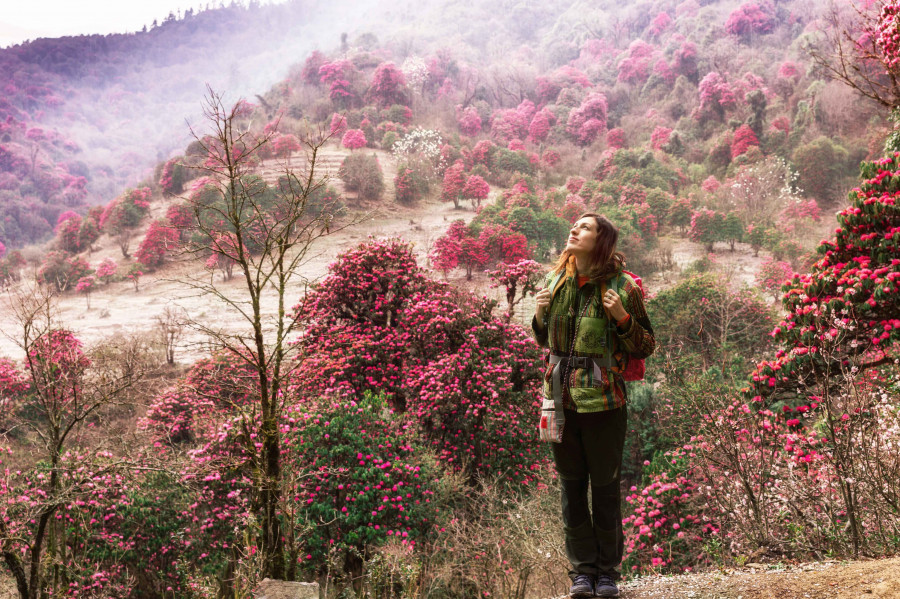 Nepal's private traven and tourism bodies have been lobbying for a one-trekker, one-guide system, since 2012. Shutterstock
The system has drawn mixed reactions with some complaining that it was a restriction on trekkers' freedom while some others welcomed it, saying it would make trekking safer.
Nilhari Bastola, president of the Trekking Agencies Association of Nepal, said making guides mandatory for FITs would increase employment and ensure the safety of travellers.
"We have estimated that roughly 40,000 Nepalis will get new employment if the rule is enforced," said Bastola.
According to him, for day-long trekking, the guide's fee ranges from $25 to $50.
However, the fee is much higher on the long and difficult trekking routes—ranging from $100 to $200 a day.
"The one-trekker, one-guide policy, however, will not significantly affect the trekker's budget," said Bastola. "It will generate jobs. That's good for Nepal's economy."
Due to a lack of employment opportunities at home, Nepal is expected to see nearly 1 million youths leaving the country for foreign employment this fiscal year ending mid-July.
The tourism industry is also struggling. Based on forward-looking scenarios for 2023, international tourist arrivals could reach 60 percent of pre-pandemic levels this year.
In 2019, before the Covid pandemic struck, Nepal received 1.19 million foreign tourists.
Among them, more than 300,000 were trekkers—with the Annapurna area receiving the highest 181,746 trekkers, followed by 57,289 trekkers in the Everest region, according to government statistics.
According to Bastola, since the trekking companies will become liable for the safety, including search and rescue of the missing trekkers and their assets, it would boost the confidence of the trekkers. "Every year, some 10 to 15 trekkers go missing, mostly FITs, and this is serious."
Last year, Lee Myungkap, a South Korean tourist fell ill due to the high-altitude trekking he had undertaken in the Everest region and died.
This January, another South Korean woman died at a high camp above Thorang Pass in the border area of ​​Mustang and Manang.
"Taking guides means they will brief trekkers on the high altitude sickness and other issues that are related to natural disasters," said Bastola.
Senior tourism entrepreneur Basant Raj Mishra, however, said it needs proper research before implementing it. "Trekkers come here for adventure. They want a free movement," he said. "Imposing mandatory rules on free movement is always counterproductive."
Free independent travellers are mostly well-experienced and very individualistic travellers, which is why they try to keep some degree of freedom by not booking everything on a trip in advance.
Nowadays, the internet gives travellers better access to research on travel destinations, said Mishra. They also get travel inspiration from photos, videos, stories and online reviews.
"Because there is so much to find online, it is much easier for trekkers to make decisions about when to visit than it was before the internet," said Mishra. "The internet has become the most important place for FITs to get their travel information."
Since the issue of imposing mandatory guide rules was conceptualised, some tourists had complained about the restrictions on their freedom, while some others felt that the mandatory provision would make trekking safer.
In December 2008, Julian Wynne, a British tourist trekking solo in the Everest region, went missing.
For Patricia Wynne, mother of Julian Wynne, it would be good for the Nepal government to enforce such rules. In an email to the Post in 2012, Wynne wrote, "If guides had been made compulsory four years ago, my son would probably be with us today."
---
---