Home inspection start-up looking to expand beyond valley
Three years after launching, Skill Sewa has served 10,000 clients and carried out 2,000 renovation jobs.

Currently, there are 35 full-time and around 200 part-time employees ranging from engineers to technicians working for Skill Sewa. PHOTO COURTESY: SKILL SEWA
bookmark
Published at : July 13, 2022
Updated at : July 14, 2022 09:35
Kathmandu
When Ramesh Timilsina told his parents that he wanted to start a home inspection company after completing engineering, they weren't too keen on the idea.

Like most Nepali moms and dads, they saw two ways forward for their son—go for higher studies in Australia or prepare for the Public Service Commission examination and get a government job. But Timilsina had other plans.
He and his classmate Ramsharan Bikram Thapa had developed a passion for innovation and engineering while participating in many inter-college events as students of Khwopa Engineering College in Bhaktapur. They desired to utilise their engineering skills to solve real world problems.
"My passion for innovation and engineering deepened during my college days, especially in the last two years," said Timilsina, who completed civil engineering in 2018. "I wanted to put my skills to work in Nepal."
While Timilsina wanted to launch his own company, Thapa had already found a job. "I started looking for work right after college," said Thapa. "I had doubts about the possibilities of launching a start-up and successfully converting it into a profitable business."
Eventually, Thapa teamed up with Timilsina and the duo started working to convert their ideas into a reality. But convincing their families about their business endeavour was the first challenge they faced. They decided to ask their families to let them work on their idea for some time; and if they failed, they would follow their family's advice.
"Those who cannot go to Australia, America or other developed countries in Europe or don't get a government job are usually considered to be a failure in Nepal," said Timilsina.
He had asked his family to let him work in Nepal for 1,000 days, while Thapa had asked for a yearlong try-out.
The pair had technical skills, but they lacked market knowledge. They launched Skill Sewa out of one rented room. After three months, Ramesh's younger brother Mahesh joined them.
The three became co-founders of the company with Ramesh assuming the post of chief executive officer. Then the hardships began.
"We were new to the idea of running a business," Timilsina said. "We worked informally for the first seven months."
They met as many people as they could to find out about the types of problems they had in their houses, and undertook simple repair jobs in the initial phase.
They took out a Rs800,000 loan to buy home inspection equipment.
"Many of the necessary tools were not available in Nepal. We went to India to look for instruments like moisture meter and rebar scanner, among other pieces of equipment. Even some shopkeepers did not know about their usage," said Thapa.
"Since there are no government institutions to calibrate them, we have to send some of the instruments to India," he said.
"We tried connecting with more and more homeowners to know about the types and scale of problems in their houses," Ramesh said. "After seven months, we registered our company."
Skill Sewa was officially launched in October 2019.
In the three years since then, the company has served more than 10,000 clients and carried out around 2,000 renovation jobs in Kathmandu Valley, according to CEO Timilsina.
"We are currently providing home inspection, repair, maintenance and renovation services in the valley," he said, "We are planning to expand our service nationally and internationally in the coming days."
Soon after starting their work, they realised that people rely on handymen and technicians to do repair and renovation work, but there is a communication gap between them.
"Not only did homeowners and handymen lack a systematic way to communicate effectively, labourers and technicians from different fields too lacked coordination."
They thought Skill Sewa could fill this gap.
"We discovered that people did not know about home inspection. We told them about it and created a market," Thapa added.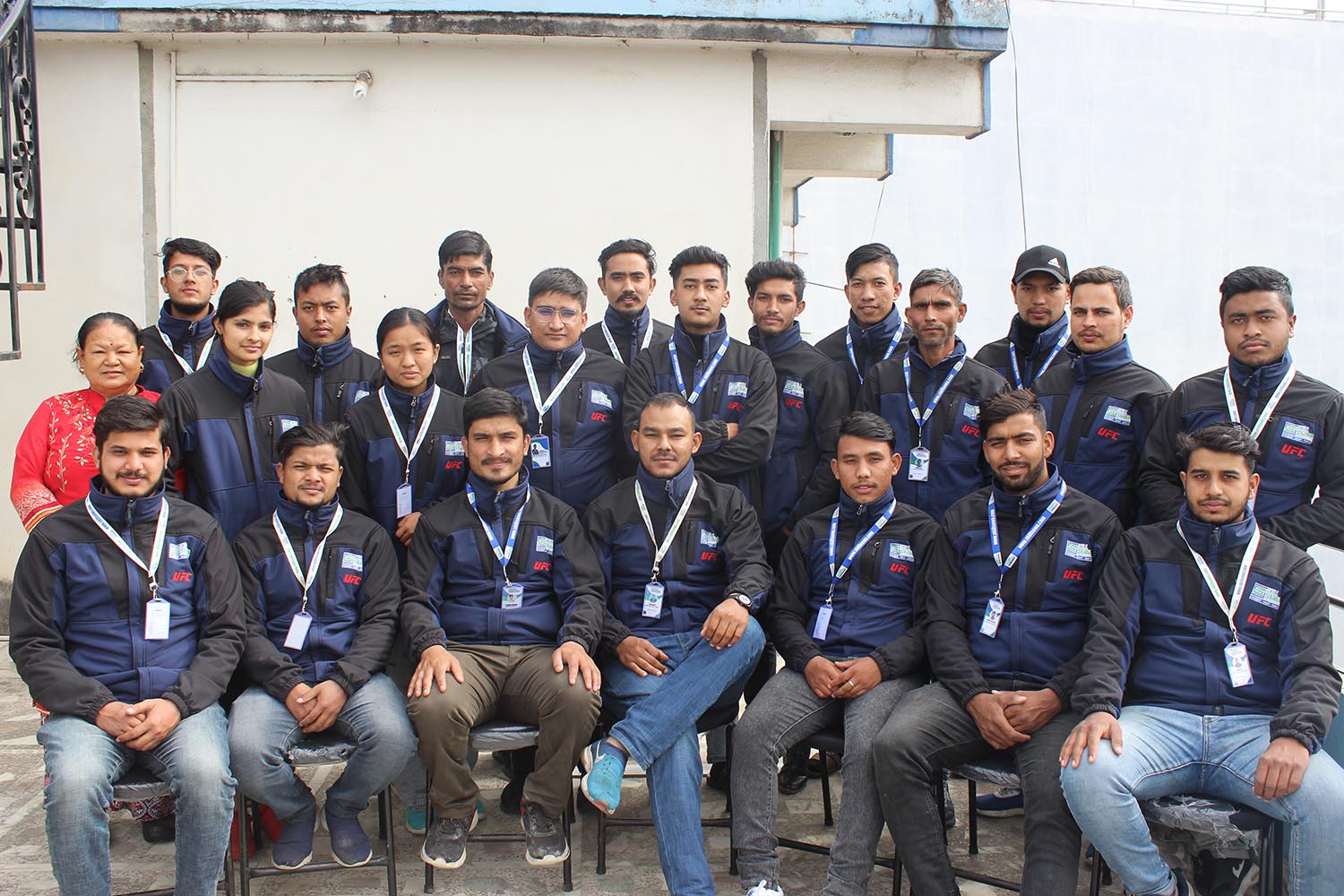 Photo Courtesy: Skill Sewa
Currently, there are 35 full-time and around 200 part-time employees ranging from engineers to technicians working for Skill Sewa. The company is planning to train and upgrade the skills of more technicians and handymen in the coming days.
"The skills of the workers have not been utilised to their full potential," said Timilsina. "We plan to provide training to 3,000 technicians in the next six months to upgrade their technical and soft skills."
The company has developed a set of procedures for inspecting houses. A team inspects the house after receiving a request from the client. They charge Rs2,000 as inspection fee. Generally a house is thoroughly checked for seepage, leakage, cracks and paint related issues. Then the team prepares a report mentioning the problems, their possible causes, solutions and the estimated cost for repair, maintenance or renovation.
"Clients can choose to work with us or other contractors, but we carry out the work in the presence of a supervisor and provide a five-year warranty," said Timilsina.
If the house is severely damaged, the company carries out a structural inspection which costs Rs10,000. They also provide consultancy service for people planning to buy a house.
"We charge Rs20,000 for consultancy service for people buying a new house," Timilsina said. "An eight-member team led by an engineer inspects the building and gives the client a detailed report of its condition. Around 30 percent of our clients are non-resident Nepalis (NRNs)."
During the Covid-19 restrictions, they had to completely halt their operations for more than a month, according to Thapa. When they could not operate in the field, they carried out training programmes for their employees and did research work.
"We were completely closed for around one and a half months," Thapa said.
"While people like to paint a rosy picture of start-ups in Nepal, developing them into successful businesses has hurdles at every step. There is no governing body for start-ups."
Timilsina and Thapa feel that the government has not done enough to promote start-ups.
"The Nepal government does not recognise start-ups," said Timilsina. "We have not received any help from the government sector so far. In comparison, the private sector has done more to promote start-ups."
Thapa says every year the government announces plans to help start-ups sustain themselves and grow, but the plans remain on paper.
The budget statement for the upcoming fiscal year beginning mid-July too repeated the promise to provide seed capital and loan schemes to start-ups to promote youth entrepreneurship and innovation, but a work procedure needed to make this happen is yet to see the light of day.
According to the Central Bureau of Statistics, 54.5 percent of all establishments in the country, or 450,464 out of the 923,356 firms, are owned by young entrepreneurs.
But entrepreneurship has never been easy in the country due to lack of skills, capacity and entrepreneurship-oriented programmes, bewildering paperwork and difficult access to finance, according to entrepreneurs.
Skill Sewa succeeded in securing an investment pledge of Rs85 million at the CNIYEF Nepal Start-Up Fest 2022 held recently by the Confederation of Nepalese Industries Young Entrepreneurs Forum.
"Start-ups should be given an environment for growth and development," said Timilsina. "The government can provide tax related facilities to help start-ups grow. They shouldn't have the same set of rules for both established businesses and start-ups."
Despite the challenges, the co-founders believe that they have been successful in gaining the trust of their clients and establishing their name in the market.
"While there is a general notion that all contractors deceive their clients, we have found that people trust young entrepreneurs like us. The feedback from the clients has been positive so far," said Timilsina.
"One of the most common complaints we receive is that our services are expensive. We are working to bring down the cost of our services," Timilsina added.
"Skill Sewa plans to spread out beyond the valley and offer its services in Butwal, Pokhara and Chitwan," said Thapa. "We are also studying the possibility of launching services in India."
The co-founders want to expand Skill Sewa by creating local partners or by establishing branches.
---
---