Experts doubt implementation of latest trade deal with China
Beijing has agreed to provide duty-free treatment to Nepali goods, but the northern neighbour has been barring exports from Nepal for years.

Trucks are stationed at the dry port on the Nepal-China border in Sindhupalchok district. Photo provided to the Post
bookmark
Published at : April 1, 2022
Updated at : April 1, 2022 07:47
Kathmandu
China has agreed to provide duty-free treatment to goods of Nepali origin covering 98 percent tariff lines, but experts question the pact's relevance when the northern neighbour has been barring exports from Nepal for over two years citing Covid-19 restrictions.

The two countries exchanged letters on the preferential treatment besides signing other deals during the recent visit to Kathmandu by Chinese Foreign Minister Wang Yi.
Experts say this is a good gesture of the northern neighbour to support Nepal's economic development not only by providing aid but also by promoting trade. If Nepal can boost exports to China, it will help to narrow the trade deficit with the northern neighbour, but how the agreement becomes workable is the issue, they say.
"For more than two years, China has been preventing Nepali products from entering the country on the pretext of Covid-19. Exports from Nepal to China have almost come down to zero," Dinesh Shrestha, vice-president of the Federation of Nepalese Chambers of Commerce and Industry, told the Post.
China has been providing duty-free access to Nepali products for years, he said.
According to the Nepal Trade Information Portal of the Ministry of Industry, Commerce and Supplies, China has been providing zero tariff treatment to about 8,000 goods originating in Nepal. These products account for 95 percent of Nepal's exports to China.
"The question is about the implementation part. Why have Nepali exports to China fallen sharply?" said Shrestha. "And again, it is a matter of how serious the Chinese government will be in implementing the recent agreement."
Nepal's exports to China stood at a mere Rs1 billion in the last fiscal year 2020-21 ended mid-July, while imports amounted to a staggering Rs233.92 billion. The trade deficit with China amounted to Rs232.90 billion in the last fiscal year.
Nepal's main exports to China consist of incense sticks, handicraft (metal and wooden), noodles, pashmina, readymade garment, leather goods, rudraksha, tanned skin, tea, wheat flour and woollen carpet, among other products.
In 2018-19 before the Covid-19 pandemic, Nepal's exports to China were valued at Rs2.10 billion.
China used to provide Nepali importers easy access to the border town of Khasa, a flourishing centre of cross-border business transactions, before the 2015 earthquakes.
As business thrived, the once sleepy Chinese town became a place of "unlawful activities", including smuggling and prostitution, according to traders. China also suspected that the border point was being used to provide illegal passage to Tibetans, according to traders.
After the 2015 earthquakes when Khasa suffered much damage, China began promoting the Kerung route further west for cross-border trade.
As the Kerung-Rasuwagadhi-Galchhi highway forms a strategic trade route to access markets in India and is preferable to the Tatopani-Kathmandu route, Nepali officials say that China might have prioritised transactions through Kerung.
Opened in December 2014, the Rasuwagadhi-Kerung border crossing was upgraded to an international border point in August 2017, allowing citizens from countries besides Nepal and China to travel across the border.
But a few months later, China started to restrict cargo movement through Kerung too. Before 2014, lack of infrastructure had been a major hurdle for trade between the two countries.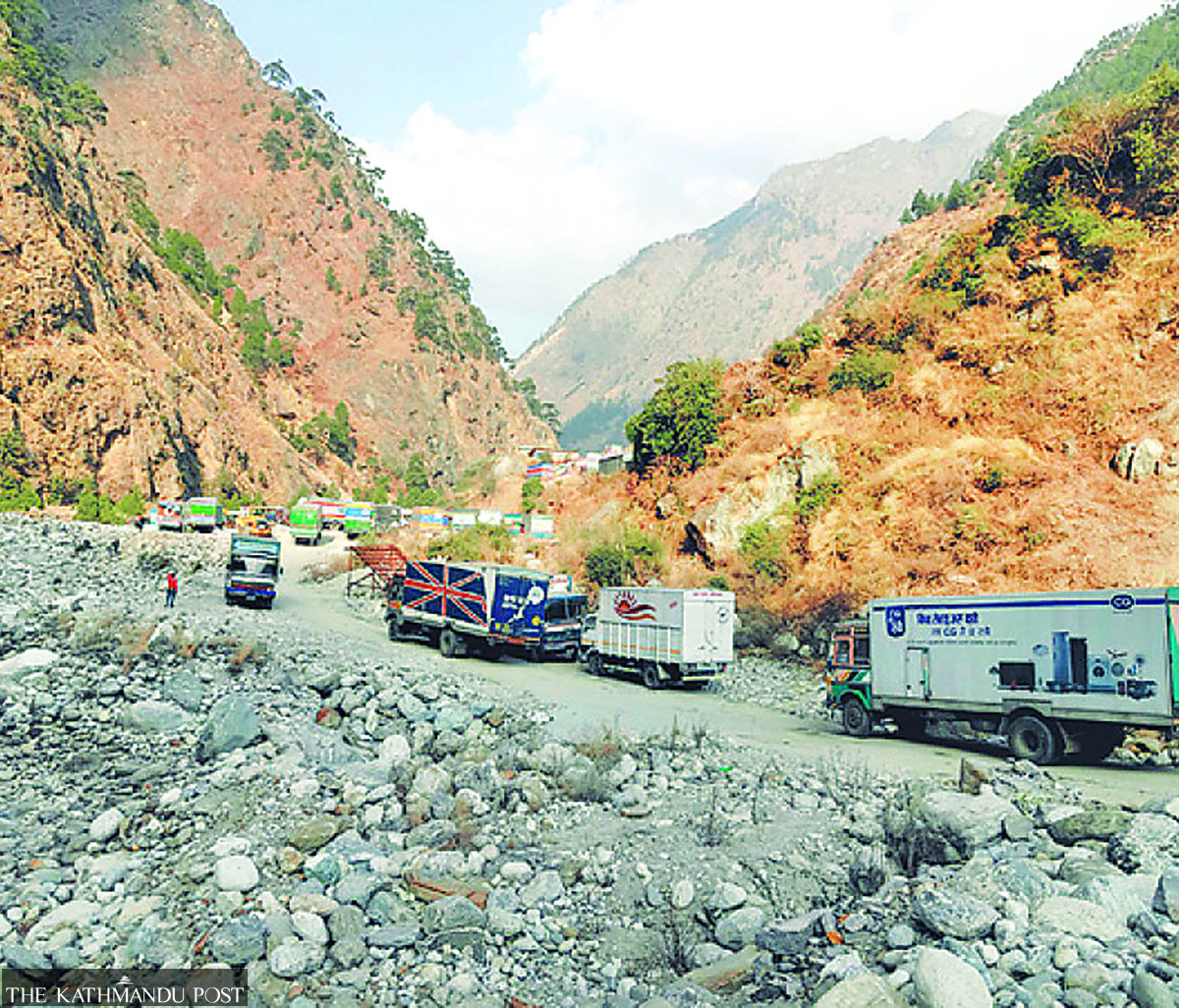 China is Nepal's second largest trading partner, accounting for 14 percent of its total trade. Post File Photo
Nepali traders accused China of conducting an "undeclared trade blockade" as hundreds of merchandise-laden container trucks were not allowed to cross the border into Nepal for several months. Since then, cargo movement has been allowed under a quota system.
The border closure has not only strangled commerce, but hundreds of small traders living in the border areas have also been left high and dry.
Merchants exporting wooden utensils and woollen carpet from Olangchung Gola, Taplejung to the Chinese market had been doing quite well, and the border closure severely hurt their livelihoods.
For trader Bimal Kumar Bohara of Byas Rural Municipality in Darchula, the closure of border was a monumental disaster.
"Trade has come to a standstill after the sub-customs office, set up by the government on the Nepal-China border to trade with Taklakot Bazaar, was shut down. It caused loss of income and employment for many Nepalis," said Bohara.
Officials admit there are issues in Nepal-China trade.
"But we have been discussing the matter with the Chinese delegation frequently. It will be eased in the coming days," said Ganesh Prasad Pandey, secretary at the Ministry of Industry, Commerce and Supplies. "The agreement to provide duty-free access to Nepali goods in China has effectively come into force."
He, however, denied that exports to China have been halted completely.
"Nepali goods are being exported by ship through India," he said.
China is Nepal's second largest trading partner, accounting for 14 percent of its total trade. But Nepal suffers a huge deficit in its trade with its northern neighbour.
China sends apples, computers and parts, electrical goods, machinery and parts, garments, shoes and sandals, telecommunications equipment and parts and other products to Nepal.
Nepali traders, however, have their hopes up following the renewed agreement with China.
Dhana Prasad Lamichhane, vice-president of the Nepal Pashmina Industries' Association, said the agreement is a welcome move.
"We expect that China will make it easy for Nepali traders to export goods," he said.
But former commerce secretary Chandra Ghimire told the Post that China had granted the special treatment to Nepal as per the provision of the World Trade Organisation to support the least developed countries, under which it can provide duty-free access covering 98 percent tariff lines
"It's nothing new. But Nepal needs easy trade facilitation," said Ghimire.
As per the trade and transit agreement with China, Nepal can import from and export to third countries via China, according to Ghimire.
"But it seems there are hassles in trade. The agreement says one thing and China does something else. The agreement needs proper implementation," he said. "Importing goods across the northern border is not easy. Nepali traders have been forced to shift to Kolkata port to export their goods, which has led to a low volume of exports."
As per a trade and transit agreement signed with China in March 2016, Nepal should get access to seven land and sea ports for third-country trade. But there has not been much progress.
For traders, it is time consuming and costly to ship goods through India's Kolkata port. According to traders, it takes more than a month to ship goods through the southern border points while it takes only a week to bring goods from the north.
Ghimire says Nepali traders prefer conducting trade by surface route through the northern border points which saves cost and time, and rightly so.
"Nepal needs to hold regular secretary or joint-secretary level meetings with China to address the grievances of traders," Ghimire told the Post.
The closure of the Chinese border since early 2020 has affected a large number of Nepali entrepreneurs exporting goods to China. The Kerung and Tatopani border points have been reopened, but both export and import trade has not picked up.
China closed its border points due to the pandemic in January 2020, and they have not been fully operationalised since then.
"The recent visit of Chinese Foreign Minister Wang Yi should have been focused on the progress in the construction of infrastructure at the border points and connectivity, including lab, warehouse or dry port to ease trade," said Ghimire.
---
---