Chicken prices jump as supply falters due to travel restrictions
Hatcheries import hens and roosters to produce fertilised eggs which hatch into broiler chicks. Production of chicks has plunged to 2.5 million birds per week from 4 million.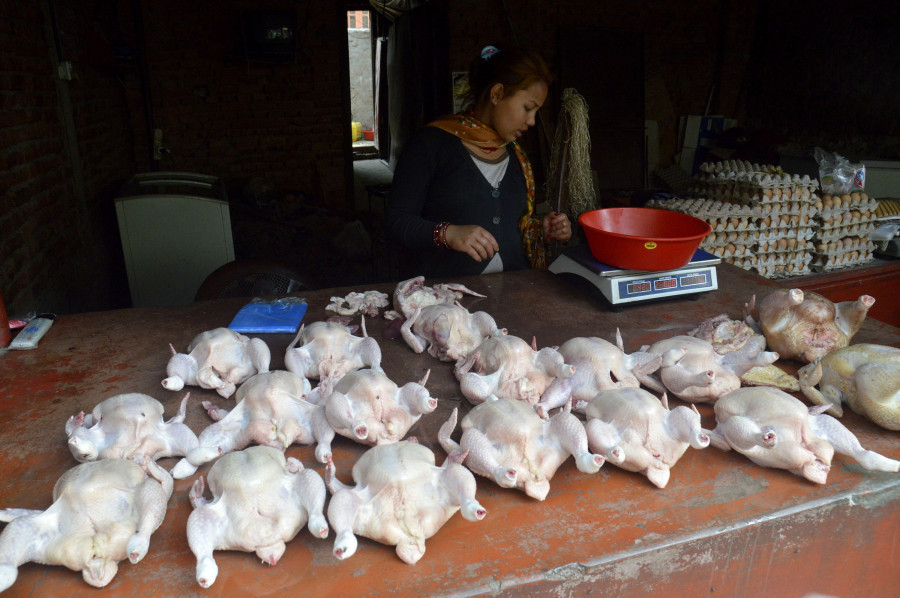 The price of chicken has increased to Rs 450 per kg in Kathmandu Valley. Post File Photo
bookmark
Published at : March 23, 2021
Updated at : March 24, 2021 07:43
Kathmandu
The retail price of chicken has surged to Rs450 per kg in the Kathmandu Valley amid growing demand and stalled imports of parent stock due to travel restrictions, poultry traders said.

Chicken sellers say the price may go up to as high as Rs500 per kg if supply does not improve.
Nepali hatcheries buy hens and roosters from foreign suppliers to produce fertilised eggs which hatch into broiler chicks.
According to Junga Bahadur BC, president of the Poultry Market Management Association, the wholesale price has risen to Rs390 per kg due to slowed production. "Demand is huge but supply is low."
Several poultry rearers who suffered huge losses during the pandemic have gone out of business. The lockdown and extended local restrictions in Nepal and abroad has prevented Nepali hatcheries from importing parent broiler chicken, insiders say.
"This has led to a sharp rise in the price of chicken in the market," said BC. Parent stocks are imported from Malaysia, Thailand, the United Kingdom and the United States, he added.
"As international flights were suspended for nearly seven months, regular orders and replacement of old parent hens and roosters with young birds came to a stop. This caused a drop in production," BC said.
"Even though international flights have resumed, the import of parent stock is not regular or easy," he said. The production of chicks has gone down to half.
BC said that chicken prices started climbing last month. "Demand for chicken is normal, but it outstrips supply," BC added.
Traders expect prices to rise further with a series of festivals and the marriage season approaching when consumption goes up due to the accompanying feasting.
Prices did not fall even though cases of bird flu were observed twice in recent weeks in the Kathmandu Valley as a result of lowered supply, BC said. "If production had been at normal levels, the outbreaks would have sent prices tumbling," he added.
Nepalis chomp through 1,000 tonnes of chicken daily. According to the Nepal Commercial Poultry Survey 2014-15 conducted by the Central Bureau of Statistics, Nepal's poultry industry has an annual turnover of Rs33.72 billion—producing chicken meat worth Rs20.52 billion, eggs worth Rs9.13 billion and chicks worth Rs3.60 billion.
The poultry business boomed after the 2015 earthquake.
Tika Ram Pokhrel, president of the Nepal Hatchery Industries' Association, said that demand for parent stock was high globally as the supply chain was disrupted last year.
"We asked for parent chicken from Thailand and they told us that we would have to wait till mid-June," he told the Post.
But Janak Poudel, president of the Poultry Producers Association, disagrees that supply disruptions sent prices soaring. "The poultry mafia and middlemen have increased the price on different pretexts," he said.
"It has been three months since the price of chicken has not declined. The price of feed and chicks has been raised repeatedly, so the price has been increasing," said Poudel.
"Farmers and consumers are being cheated because of lack of effective market inspection by the Department of Commerce, Supplies and Consumer Protection and the Ministry of Agriculture and Livestock Development," he said.
According to Pokhrel, the production of chicks has plunged to 2.5 million birds per week from 4 million. He said that production would not decline further as parent stocks were being brought by chartered aircraft.
But only large hatcheries are bringing parent stocks by chartered plane, he said. "Nepal has been producing little chicken which is not sufficient to fulfil demand," Pokhrel said.
He added that 2.3 million parent broiler chickens used to get replaced annually which has declined to around 1.6 million.
Of the 324 hatcheries operating in the country, about 75 closed down after incurring losses due to the lockdown, Pokhrel said.
Ashim Khadka, owner of Fresh Chicken House in Lazimpat, says he buys chicken at Rs390 from wholesalers and sells it at Rs435 per kg.
"There is a shortage of chicken in the market," he said. "Due to the high prices, demand has currently slowed; but it is expected to increase with the upcoming festivals," he said. Prices have been rising slightly every week, he said.
---
---