Domestic airlines struggle to remain in the air by discounting fares
Carriers are receiving around 7,000 passengers daily, down from 8,735 before the pandemic, officials say.

A file photo shows a Tara Air plane preparing to take off at Lukla Airport. POST FILE PHOTO
bookmark
Published at : January 21, 2021
Updated at : January 22, 2021 08:17
Kathmandu
Before the coronavirus, domestic aviation was on a high as Nepalis, lured by cheap tickets, took to the skies like never before and filled planes to capacity.

On some routes, price competition between carriers reached a point where the cost of air travel came close to the price of a bus ticket, to the great joy of travellers.
All that changed after the pandemic grounded flyers and airlines. In less than a year, the virus wiped out more than half of the domestic passenger traffic.
Tribhuvan International Airport statistics show that domestic carriers lost 1.73 million passengers last year that translates to a loss of more than Rs5 billion in passenger revenue, excluding losses in cargo revenue.
Domestic passenger traffic at Kathmandu's Tribhuvan International Airport in 2020 fell to its lowest level since 2009. But airline officials said that domestic carriers had recovered close to 90 percent of pre-Covid passenger numbers.
According to the statistics, domestic airlines carried 1.45 million passengers in 2020, a 54.28 percent plunge from the 2019 figure.
Aircraft movements also dropped to a multi-year low of 38,610 takeoffs and landings, representing a steep 57.94 percent fall from the year before.
When the pandemic started spreading, the government shut down all scheduled international and domestic flights from March 24, 2020.
"The heavy losses in passenger numbers has eroded the financial status of domestic airlines. We're living with the hope that flyers will come back," said Anil Manandhar, corporate manager at Shree Airlines.
He added that passenger movement had picked up, but revenues were small as the tickets were priced very low. Airlines are charging fares that they charged a decade ago, he said.
"It's basically a survival strategy. The prices we are charging currently does not even cover the cost of fuel," he said.
Domestic airlines returned to the air on September 21 after keeping their aircraft in the hangar for nearly six months.
"The passengers are coming back. While international airlines are struggling to get passengers, the occupancy on domestic flights has been better than expected," said Pratap Babu Tiwari, general manager of Tribhuvan International Airport. "The trend shows that domestic airlines are making a faster recovery due to cheap tickets."
According to airlines, they are receiving around 7,000 passengers daily. Before the pandemic, the number of domestic air travellers averaged 8,735 persons daily.
A Buddha Air official, which has been flying nearly 5,000 passengers daily, said that domestic airlines had recovered to 90 percent of the pre-Covid level in terms of passenger occupancy.
"It's all because of the low fares," said the official. "This shows that the price factor has remained a crucial booster of passenger occupancy for domestic airlines." Buddha Air is slated to add another ATR-72 plane to its fleet on Friday.
According to Tiwari, it was estimated that the fear of catching Covid-19 from fellow passengers would impact commercial travel. "But the situation has reversed."
On September 15, 2020, the government announced that domestic airlines would be allowed to resume services from September 17, but only if they kept half of the seats empty.
Private operators were quick to oppose the decision, saying they could not fly the planes half-empty. They warned that they would not conduct any scheduled passenger flights until the government rolled back its decision. The government was forced to back down, and airlines started flying from September 21.
"The Dashain, Tihar and Chhath festivals helped airlines to fill their seats in October and November. This was followed by the wedding season," said Manandhar.
But with the winter season in full swing, which has seen many flight cancellations because of bad weather, particularly in the Tarai, airlines have currently halved their flights, said Manandhar.
Traveller movement has been fluctuating since 2009 due to the airfare structure and safety concerns, but the domestic airline industry went on a record breaking spree after the 2015 earthquake.
Domestic passenger movement dropped to an eight-year low of 1.36 million in 2015 following the disaster that caused a severe economic downturn. But the very next year, passenger movement rebounded by 28.9 percent to 1.75 million.
The sun shone brightly for domestic airlines in 2017 too, and they recorded a 39.47 percent jump in domestic air passenger movement as they expanded their fleets to cater to growing travel demand.
Domestic airlines flew a record 2.45 million passengers in 2017 as travellers chose to fly rather than drive over bumpy national highways which seem to be perpetually under repair.
The year 2018 was another bumper year for domestic airlines when they flew 2.84 million passengers, up 19.22 percent from the 2017 figure. The carriers received 459,169 new flyers attracted by their low-fare schemes.
In 2019, although international passenger numbers at Tribhuvan International Airport dropped for the first time in four years, domestic passenger traffic increased by a solid 11.96 percent to 3.18 million.
According to operators, flying to Janakpur today costs Rs1,800 while travel by surface transport costs Rs2,000.
Buddha Air was the clear winner in passenger movement in 2020 although the pandemic had caused the carrier to lose half its passengers.
It recorded a steep 51.88 percent loss in passenger numbers last year, flying only 765,708 passengers.
Buddha's closest rival, Yeti Airlines, saw its passenger numbers plunge 54.38 percent to 380,379 in 2020.
Nepal's largest helicopter operator, Shree Airlines, which diversified into fixed-wing services in April 2017, flew 230,646 passengers, down 51.44 percent year-on-year, to take the third spot in terms of passenger carriage last year.
The year 2020 was a painful one for Nepal Airlines as it decided to ground all its six Chinese-made planes in a bid to cut losses. The national flag carrier flew 23,657 passengers, down 68.13 percent year-on-year.
Saurya Airlines, which started operations in November 2014, carried 16,459 passengers, down 79 percent.
Yeti subsidiary Tara Air, which only operates on remote sectors, also observed a sharp decline of 70.59 percent in passenger movement. It flew 9,755 passengers last year.
Summit Air, another airline serving remote destinations, saw passenger numbers drop 42.39 percent to 9,236.
Sita Air flew 4,905 passengers, down by 66.12 percent. Simrik Airlines flew 4,331 passengers, down 84.61 percent.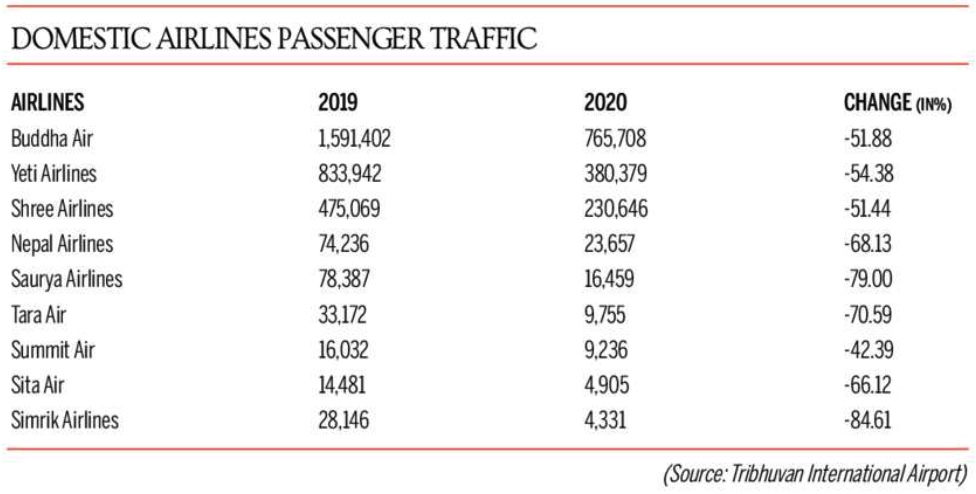 ---
---