Jungle resorts in Chitwan to reopen today amid strict safety protocols
Elephant rides, jeep safaris and canoe tours will resume in Bagmara and Kumroj buffer zone community forests.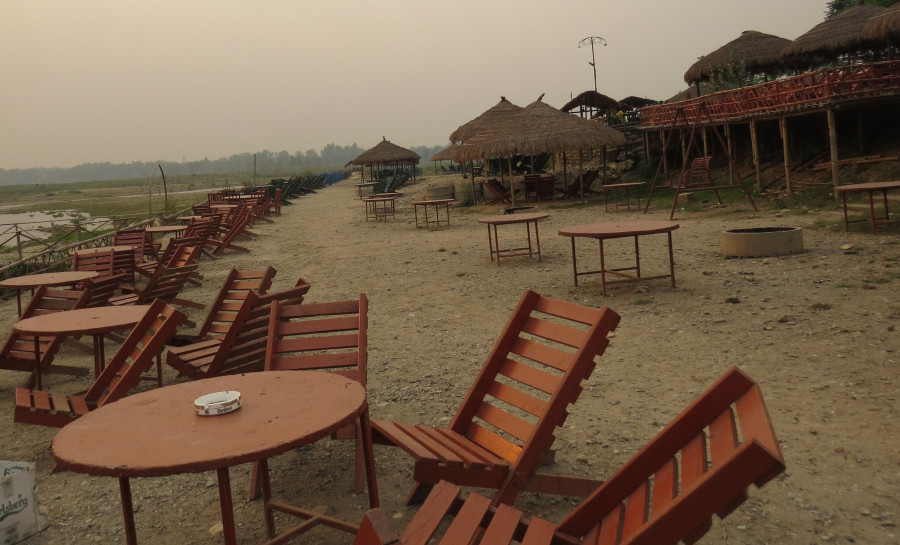 POST PHOTO: RAMESH KUMAR PAUDEL
bookmark
Published at : July 29, 2020
Updated at : July 30, 2020 08:22
Chitwan
Hotels and resorts in Nepal's popular jungle safari destination of Sauraha, Chitwan will be throwing open their doors to thrill seekers on Thursday, ending a four-month-long virus closure that brought the tourism economy to the brink of collapse.

Elephant rides, jeep safaris and canoe tours will resume in Bagmara and Kumroj buffer zone community forests, but jungle tours inside Chitwan National Park will have to wait until the monsoon is over as they are closed during the rainy season.
Hoteliers said it was uncertain whether tourists would return immediately, but they are hopeful that the decision to reopen the hotels will give a much-needed boost after being mothballed for months.
Hotels, restaurants, and trekking and mountaineering activities have been allowed to reopen from Thursday, but international flights will resume only from August 17.
The tourist industry will reopen amid stringent safety measures. The government has advised hotels and other hospitality businesses to implement a long list of rules to ensure the safety of their guests and staff.
The Regional Hotel Association of Nepal, Chitwan Chapter decided on Tuesday to reopen the hotels by adopting strict health safety protocols.
The government imposed a complete lockdown on March 24, ordering the entire population to stay at home to prevent the spread of the Covid-19 pandemic.
On July 21, the government decided to allow hotels and restaurants to open from July 30.
"Our decision is in line with the government's decision," said Deepak Bhattarai, president of the Regional Hotel Association, Chitwan. "All hotels and resorts have to follow seven sets of mandatory safety protocols to resume operations."
Nepal's first national park—Chitwan National Park located in the southern Tarai jungles—receives nearly 200,000 foreign tourists annually, and is the fourth most visited destination in the country after Kathmandu, Pokhara and Lumbini.
The national park is home to 125 tigers and 605 one-horned rhinos, making it a must-see destination for wildlife enthusiasts. The rich flora and fauna attract hordes of adventure seekers which has turned Chitwan into the most profitable park in Nepal.
Guna Raj Thapaliya, general secretary of the association, said that hotels and resorts have to do a mandatory temperature screening of visitors, provide sanitisers and masks, and maintain complete details of their guests.
"If guests should fall sick, the hotel or resort they are staying in have to take them to hospital." According to him, rooms should be kept vacant for 48 hours after the occupants have checked out, and they should be disinfected before being rented out to new occupants.
Hotels in Sauraha can produce 5,000 room nights. "But we don't see the possibility of filling them all right now," said Bhattarai, adding that the risk still remained.
"Besides, the floods in the Tarai region are another factor that may discourage visitors at this time." According to him, the hotels will call back only a few employees to work.
"We have opened jungle safari and boating activities," said Jitu Tamang, chairman of Bagmara buffer zone community forest.
Prakash Upreti, assistant conservation officer at Chitwan National Park, said that normally jungle safaris are suspended during the monsoon inside Chitwan National Park. "But we will facilitate activities in the buffer zones," he said.
Nepal's hotel industry got clobbered like it had never been before due to the virus outbreak. On July 19, Hotel Association Nepal unveiled a uniform payout structure for hotel employees to tide them over during the difficult period. All staff, from front office workers to general managers, will remain on salary, but they will get the same pay.
The association, trade unions and hotel workers agreed on the uniform payout structure. The new pay structure is applicable from April 13 to December 31.
The new arrangements means general managers who were making around Rs800,000 monthly will get the same pay as front door workers.
As per the agreement, all employees working in deluxe five-star (more than 200 rooms) and five-star hotels will get Rs10,000 and Rs9,000 per month, respectively.
Employees of four-star (more than 100 rooms) and four-star (less than 100 rooms) will be paid Rs8,455 and Rs8,000 monthly, respectively.
Likewise, employees of three-star and two-star establishments will receive Rs5,000 and Rs4,300 monthly, respectively.
According to the new arrangement, one-star and tourist-standard hotels will get payment based on mutual understanding between the employees and employers.
---
---