Tourist arrivals slowed significantly in 2019, raising concerns for Visit Nepal 2020
In order to meet the target of 2 million visitors, Nepal expects 350,000 Chinese arrivals but the coronavirus outbreak means that is unlikely.

A tourist takes pictures from a window of Patan Museum in Lalitpur. Post File Photo
bookmark
Published at : January 24, 2020
Updated at : January 24, 2020 07:33
Kathmandu
Tourist arrivals to Nepal slowed in 2019 after three years of solid double-digit growth, raising concerns over the country's ability to meet Visit Nepal 2020's target of 2 million arrivals.

Foreign tourist arrivals grew by a marginal 2 percent to 1.19 million last year, according to statistics released by the Department of Immigration. Among them, 995,884 arrived by air and 201,307 through different land routes, according to the department.
This means there were only 24,119 more visitors than the preceding year, which puts the country a long way off from reaching the 2 million target for 2020. Nepal will have to achieve a growth rate of nearly 70 percent in order to reach that figure.
Tourism entrepreneurs have largely attributed the slowdown to a lack of spillover from India ever since severe air pollution began to choke the Indian capital of New Delhi and other major cities were engulfed by protests. Tour operators tend to provide Nepal and India as part of a single package.
In a recent interview with the Post, tourism entrepreneur Basanta Raj Mishra had said that the drop in tourist arrivals in November was partly due to extreme pollution levels in India that led to hundreds of trip cancellations.
According to Mishra, Americans and Europeans, in particular, choose a combined tour of the region and end up in Nepal.
"A certain percentage of tourists spills over from India to Nepal," said Mishra.
The suspension of services by Indian private carrier Jet Airways, which used to operate five daily flights to Nepal, and the rehabilitation of the taxiway at Kathmandu's Tribhuvan International Airport during peak tourist season also affected arrivals, according to industry observers.
Aditya Baral, country director of travel aggregator Xcel Trip, said that a wave of protests against the Citizenship Amendment Act spread across Indian cities in December also impacted Nepal's tourism.
"Similarly, Jet Airways' withdrawal reduced five daily flights to and from Nepal. The rehabilitation of the taxiway at Tribhuvan International Airport was another factor behind some airlines reducing their frequency that led to a drop in overall arrivals," said Baral.
Not even a month into the Visit Nepal campaign, Nepali tourism is now looking at another possible setback with a new strain of coronavirus wreaking havoc in the second largest source market, China. According to reports, the death toll from the mysterious pneumonia-like disease has climbed to 17 with more than 500 cases confirmed in China alone. With the Lunar New Year holiday arriving, authorities are concerned about the increased risk of transmission from millions of Chinese travelling.
Nepal is expecting at least 350,000 tourists from China this year. The industry has high hopes that increased numbers from the northern neighbour will help bring the tally to the coveted 2 million goal.
According to Baral, stronger government-to-government ties between Nepal and China to support the Visit Nepal campaign might help, but it will be a tough task to increase numbers significantly.
Nepal observed a strong rebound in tourist arrivals immediately after the 2015 earthquake with arrivals jumping by 39.71 percent to 753,002 in 2016. The upward momentum continued with arrivals growing by 24.86 percent to 940,218 individuals in 2017 and 24.76 percent to 1.17 million in 2018.
In terms of arrivals, India topped the list, followed by China, the United States and the United Kingdom.
In terms of growth, everything was going well until October. Tourist arrivals by air fell drastically in November, the country's peak tourist season, recording the worst decline ever in a single month. The largest drop in a single month earlier was in November 2001 due to the royal massacre in June that year.
According to the Department of Immigration, tourist arrivals by air plunged 17.46 percent to just 98,548 individuals in November. That means Nepal lost 20,851 tourists in a single month, despite optimism that the 2019 South Asian Games would boost arrivals. The championships ended on December 10.
The department's statistics show that Nepal received 254,150 Indian tourists in 2019. Among them, 9,471 entered Nepal through the Rasuwagadhi transit point on the northern border. Tourism entrepreneurs said the tourists were counted twice, once when they first entered the country and again when they returned from their pilgrimage to Mansarovar in China. The year-on-year growth from India is 30.78 percent.
Arrivals from China rose 10.35 percent to 169,543 individuals. Among them, 151,200 came by air. Tourism entrepreneurs said that strengthening Nepal-China ties had provided a 'silver lining' to Nepal tourism.
"During President Xi Jinping's state visit to Nepal last October, airlines from both countries were encouraged to operate more direct services," said Hou Yanqi, Chinese Ambassador to Nepal, at a press meet in Kathmandu on Thursday.
On Thursday, private carrier Himalaya Airlines added Chongqing, a city in southwestern China, to its network.
"Following Beijing, Changsha, Guiyang and Shenzhen, direct flights from Kathmandu to Chongqing is another positive endeavour to implement the consensus by our two leaders, which will elevate cooperation in the aviation sector to new heights," said Hou. "This will promote the Visit Nepal 2020 campaign and help attract more Chinese tourists."
At the event, Tourism Minister Yogesh Bhattarai urged Chinese airlines to also operate flights to Nepal's new international airport—Gautam Buddha International Airport in Bhairahawa—saying that the facility would come into operation within a few months.
"That will be a big boost to Nepal's tourism sector in general and the promotion of Lumbini in particular," said Bhattarai.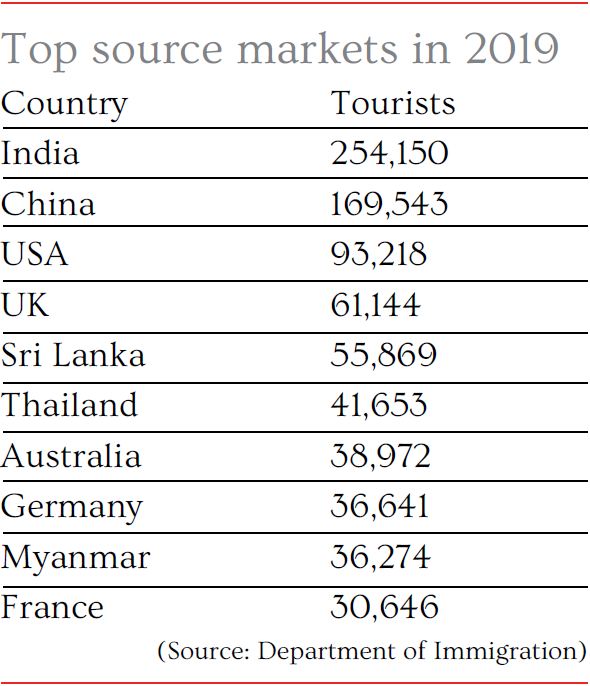 ---
---