NEPSE posts double digit loss for fourth straight week
The government continues to delay the implementation of crucial policies.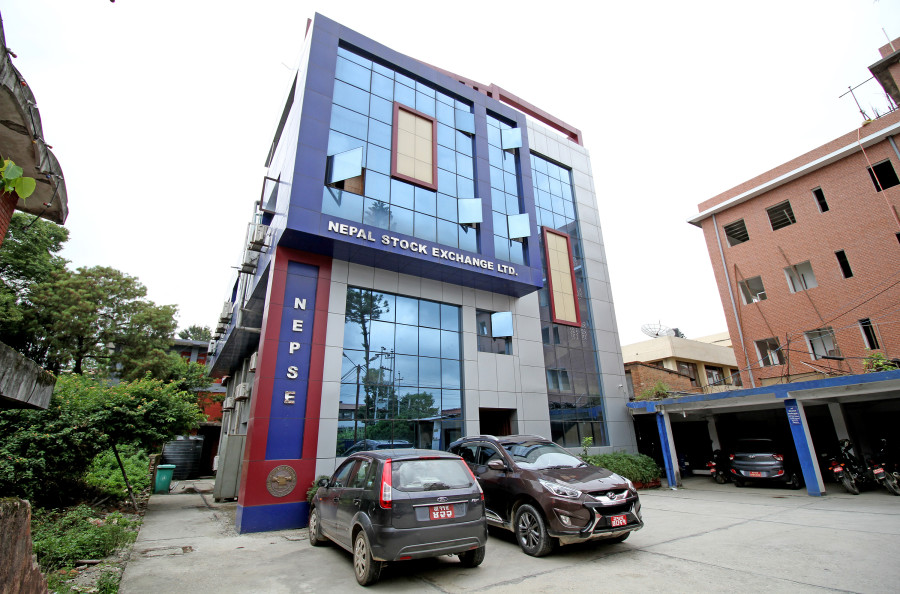 Nepal Stock Exchange Post File
bookmark
Published at : September 1, 2019
Updated at : September 1, 2019 08:09
Kathmandu
Nepal Stock Exchange sank by another 16.65 points last week as the government's inaptitude in implementing policy measures continued to chip away at the already fragile investor confidence.

It is the successive fourth week that the country's only secondary market has dipped by double digit points. Over the period, the market shrank by 67.65 points.
Despite the market downswing, the average daily turnover rose to Rs324.97 million last week from Rs309.20 million in the previous week.
The market opened at Rs1,213.07 points on Sunday and fell 3.45 points to close at Rs1,209.62 points. On Monday, the secondary market shed 6.49 points followed by a gain of 4.88 points on Tuesday. On Wednesday and Thursday, the market again went down 10.26 points and 1.33 points respectively.
Overall, the market was down 1.37 percent during the review period.
Stocks analysts said the government authorities are yet to finalise policy measures such as the calculation modality of capital gains, margin trading and issuing brokerage licences banks. "With the reasons, investors are unwilling to invest in the secondary market despite banks hinting at lowering interest rate on loans and several listed companies announcing bonus out of the profits they earned in the last fiscal year," said a stockbroker under the condition of anonymity.
The sensitive index that measures the performance of blue chips companies also went down 2.46 points to close at 261.25 points.
Last week, investors lost Rs20.34 billion in the book value of their investment portfolio, after the market capitalisation declined to Rs1,519.46 billion from Rs1,539.80 billion.
Except trading, rest of 10 groups observed a fall in their indices during the review period. Life Insurance posted the biggest loss with a drop of 211.17 points, closing at 5,491.79 points. Life-insurance followed in second place, losing 120.54 points.
Manufacturing, hydropower, hotels, 'others' and commercial banks recorded double-digit losses in their indices while microfinance, development banks and finance companies booked marginal losses.
Trading was the only gainer over the review period, adding three points to its index.
Regarding individual companies, promoter shares of Rural Microfinance Development Centre recorded the largest transaction worth Rs105.47 million. In this segment, promoter share of Prabhu Bank finished as runner up, followed by NIC Asia Bank, Nepal Bank Limited and Kumari Bank Limited.
Last week, stocks worth Rs1.62 billion were traded which was 5.2 percent more than the amount registered in the previous week. The total number of traded shares however went down to 6,024,980 units from 6,100,560 units.
During the review period, Nepal Stock Exchange listed a total of 21,189,564.48 units of primary shares of six companies.
Company Types of sharesUnits
Nepal Life Insurance Company Bonus 10,992,321.6
Century Commercial Bank Bonus 1,650,092.47
Unnati Microfinance Bittiya Sanstha Bonus 222,750
Nagbeli Laghubitta Bittiya Sanstha Bonus 143,800.41
Premier Insurance Company Nepal Bonus 4,905,600
Grameen Bikas Laghubitta Bittiya Sanstha Right 3,275,000
---
---