Govt unveils Rs 1,279b budget for 2017-18
The government has proposed to spend Rs 1,279 billion in the next fiscal year to meet various expenses and achieve economic growth target of 7.2 percent.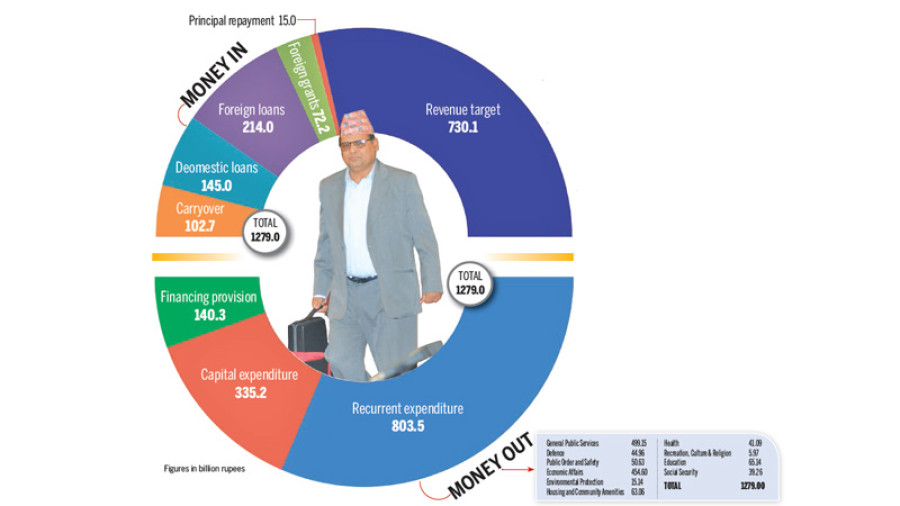 bookmark
Published at : May 30, 2017
Updated at : May 31, 2017 08:22
Kathmandu
The government has proposed to spend Rs 1,279 billion in the next fiscal year to meet various expenses and achieve economic growth target of 7.2 percent.
The budget for the fiscal year 2017-18 presented in Parliament on Monday by Deputy Prime Minister and Finance Minister Krishna Bahadur Mahara is 22 percent more than that of the current fiscal year.
Although the budget for the upcoming fiscal year has earmarked adequate funds for newly formed local bodies, provincial and federal elections, major physical infrastructure projects and post-earthquake reconstruction works, it has given continuity to some of the distributive programmes, which could have been avoided.
One such instance is the decision to continue extending Rs 5 million to each lawmaker under the Constituency Development Programme and Rs 30 million to every electoral constituency under the Constituency Infrastructure Special Programme.
These programmes, which are likely to cost over Rs 5 billion in taxpayers' money, have had very little developmental impact in the past, as lawmakers use the money to build small projects of no strategic importance in their constituencies, serve vested interest or secure vote banks, according to experts.
"These programmes should be phased out gradually after local governments become strong enough to cater to the developmental needs," said Swarnim Wagle, a senior economist and member of the National Planning Commission.
Many do not see any logic behind giving continuity to these programmes, as the government has already decided to empower local bodies by allowing them to frame budgetary programmes on their own.
The government in the next fiscal year is transferring Rs 225 billion, or 17.6 percent of the total budget, to local bodies, as per the commitment expressed earlier to devolve the responsibility of budget formulation for local bodies from the central to the local level. This policy shift was made after the country formally embraced federal setup in March.
"With this departure, three dozens of budget lines have been scrapped [from the budget document]," said Wagle.
From the next fiscal, each village council will receive a fiscal equalisation grant in the range of Rs 100 million to Rs 390 million, while each municipality will receive a grant ranging from Rs 150 million to Rs 430 million. Each sub-metropolitan city, on the other hand, will receive a minimum grant of Rs 400 million and a maximum of Rs 630 million, while every metropolitan city will receive a grant ranging from Rs 560 million to Rs 1.2 billion.
These allocations were made based on population, development status, cost of service delivery and geographical area, according to Finance Minister Mahara.
In addition to these grants, each local body will be entitled to a conditional grant ranging from Rs 12 million to Rs 783.9 million.
Also, village councils will be allowed to implement projects and programmes of up to Rs 5 million on their own, while such ceiling for municipalities has been fixed at Rs 10 million.
Sub-metropolitan and metropolitan cities, on the other hand, can implement projects and programmes worth up to Rs 20 million on their own.
"These projects and programmes, currently being implemented by the central government, must be handed over to the local bodies within mid-August along with the funds. Concerned ministries should also extend necessary technical support to local bodies to implement these projects and programmes," Mahara said, adding, "These measures will help people feel the difference brought about by federalism."
To further institutionalise federalism, the government is holding provincial and federal elections in the next fiscal year, for which "adequate budget" has been allocated.
All these expenses will bloat the size of the government's recurrent budget—which also covers salary and allowances of civil servants—by 30 percent to Rs 803.5 billion in the next fiscal year.
In contrast, the size of capital budget will expand by a moderate 7.4 percent to Rs 335.2 billion in the next fiscal.
"A modest hike in capital budget should not be considered worrisome because a big portion of grants extended to local bodies, which are enrolled in the budget document as recurrent expenditure, will also be used for capital works," Finance Secretary Shanta Raj Subedi had previously said.
Yet, former vice chairman of the National Planning Commission, Yubaraj Khatiwada, criticised the government for failing to maintain a balance while increasing funds for recurrent and capital expenditure. "This shows the government's immaturity," Khatiwada said.
Allocations made for capital expenditure are watched closely in countries like Nepal, as this money is spent on civil works and purchase of land, building, furniture, plants and machinery. This kind of expenditure generally helps the country to narrow the infrastructure gap, which has emerged as a binding constraint for higher economic growth in Nepal.
Despite moderate increment in capital budget, adequate funds have been allocated for national pride projects, such as Upper Tamakoshi and Budhi Gandaki hydroelectric projects; Rani-Jamara-Kuleriya, Bheri Babai and Sikta irrigation projects; Nijgad, Bhairahawa and Pokhara international airports; Kathmandu-Tarai expressway; Postal Highway; and East-West Electric Railway Line.
Also, Rs 62.5 billion has been allocated for the energy sector, Rs 30.5 billion for urban infrastructure and Rs 40 billion for the agricultural sector. Another, Rs 146.2 billion has been allocated for post-earthquake reconstruction works.
"Of the money allocated for reconstruction, over Rs 50 billion was government's own fund," Wagle said. "This will give us more flexibility in programme implementation, as foreign funds usually come with conditions and delay works."
Among others, Rs 140.3 billion has been allocated for financing provision, which includes money that is extended as loans to state-owned enterprises and cost incurred in principal repayment.
The appropriations made by the government for various purposes will now have to be approved by Parliament.
To fund expenses of the next fiscal year, the government is planning to raise Rs 730.1 billion in tax and non-tax receipts. Another Rs 15 billion will come through principal repayment and Rs 72.2 billion through foreign grants.
The resulting deficit will be financed through foreign loans of Rs 214 billion, domestic loans of Rs 145 billion and Rs 102.7 billion from savings of this fiscal year.
To ensure timely utilisation of funds allocated for various purposes, especially capital budget, the government has said programmes and projects incorporated in the Line Ministry Budget Information System will not have to seek spending permission.
Mahara, who took almost two hours to read the budget document, however, fell short of saying whether this provision allows ministries to tap funds allocated for the next fiscal year immediately or from the first day of the next fiscal year in mid-July.
---
---