Inflation slows, but still on higher side
Inflation has come down to single digit for the first time after the end of the Indian blockade.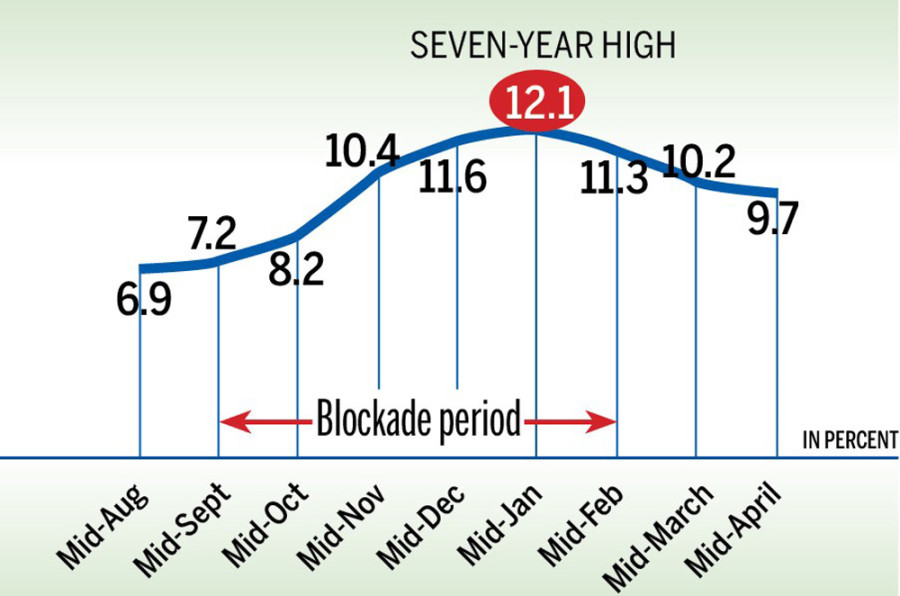 bookmark
Published at : May 18, 2016
Updated at : May 19, 2016 00:00
Kathmandu
Inflation has come down to single digit for the first time after the end of the Indian blockade.
With improved supply of fuel and other consumables through the southern border points, inflation has slowed to 9.7 percent in mid-April.
Inflation hit a seven-year high at 12.1 percent in mid-January, just a month before over four-and-a-half-month blockade came to an end. Inflation in Nepal is driven by supply factor rather than the demand; hence ease in supply disruptions has helped bring inflation down to single digit.
"Rate of inflation in Nepal is almost parallel to that in India, so high rate of inflation in the past few months was only due to supply side constraints," said economist Shankar Sharma. "The existing rate is also high, but if the current scenario continues, the inflation will keep on decreasing."
Nepal started reeling under shortages of fuel and other essentials from September 23 due to border blockade and supply disruptions which were a result of protests in the Tarai over the constitution that was promulgated three days before. Blockade resulted in spiraling prices.
The border blockade while resulted in halt of imports, delivery of goods within the country was also hugely affected due to acute shortages of fuel, thus creating a gap between demand and supply, which resulted in price hikes.
At 9.7 percent, inflation currently is at a five-month low, but prices of essential items, including food and beverages, have soared by 9.3 percent, and prices of non-food items have increased by 10 percent.
According to the Nepal Rastra Bank (NRB) macroeconomic report, pulses and ghee and oil sub-groups saw a price rise of 26.8 percent and 15.9 percent respectively during the review period.
The prices of cereal, pulses, vegetable, ghee and oil, sugar, spices and milk products are still in higher side. The prices of pulses, ghee and oil, spices have gone up by 26.8 percent, 15.5 percent and 15.9 percent respectively. Prices of clothes and footwear sub-group saw a growth of 15.5 percent and 15.3 percent respectively.
"The price level of clothes and footwear grew due to unavailability of cheaper Chinese goods imported through bordering Chinese market of Khasa," said Trilochan Pangeni, spokesperson at the NRB. The Tatopani-Khasa trade route is yet to come into operation since it was damaged by the quakes last year.
Kathmandu Valley witnessed a relatively higher rate of inflation at 11.7 percent followed by 10 percent in the hills, 8.3 percent in the Tarai and 8 percent in the mountain regions. Last year, Kathmandu Valley had seen inflation rate of 6.5 percent followed by 7.4 percent and 6.8 percent in the hills and the Tarai region.
---
---