Nature's first green is gold
Established in 2014, the Leaves Plates Company Inc is based out of New York and is currently selling thousands of leaf plates and bowls in the state, with sales averaging $45,000 (Rs 5 million) every month.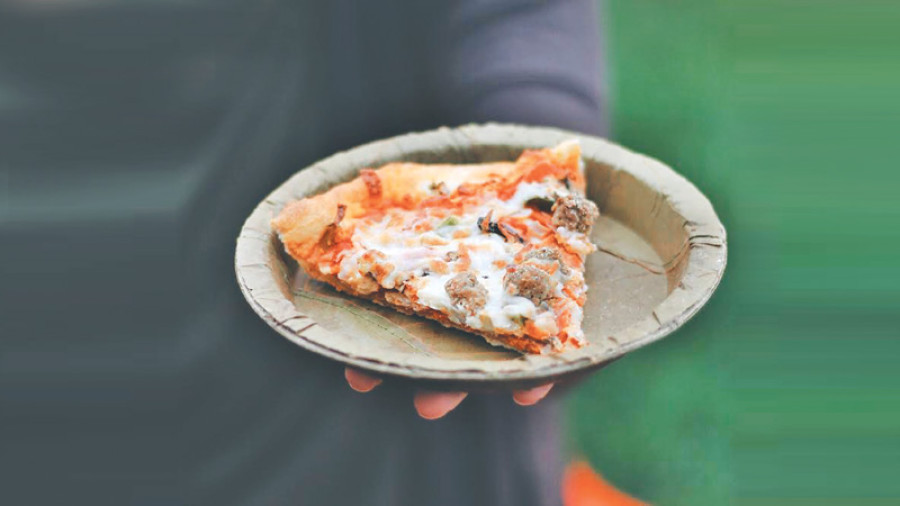 bookmark
Published at : December 10, 2016
Updated at : December 10, 2016 15:16
Prakash Bajgain is no stranger to headlines. In 2012, the then-aspiring researcher and a student at the Golden Gate College, in the Capital, came into the limelight when he was selected to present a paper challenging Newton's principle on friction at a Nobel conference in Lindau, Germany. That same year, he would go on to attend other conferences in China and Jerusalem, as well as author a book, Way to Science and Research. Now a student at the New York Institute of Technology and a researcher at Johnson Space Center, Bajgain is back in the news; this time for a reason that is strictly non-academic.
Bajgain is today the founding chairman of Leaves Plates Company Inc which has been promoting—with great success—the traditional Nepali tapari as a green and eco-friendly alternative to paper and styrofoam plates in the United States. These bio-degradable plates, fashioned out of Saal leaves, have been used in Nepal and parts of India for centuries, becoming synonymous with large feasts and the street food culture. Now, cashing on the concerns over the environmental impacts of plastic and styrofoam flatware, Bajgain's company is reinventing these age-old plates into a path-breaking solution for the future.
Established in 2014, the Leaves Plates Company Inc is based out of New York and is currently selling thousands of leaf plates and bowls in the state, with sales averaging $45,000 (Rs 5 million) every month.
Plastic, paper and styrofoam plates have dominated the flatware industry in the US for decades, with their disposability, light weight and low prices making them a hit, particularly with the fast food industry. But despite their ubiquitous usage, disposable flatware has always been derided for its environmental impact. "Leaf plates are the only flatware that is fully eco-friendly," Bajgain says over phone, "It leaves behind little or no footprints."
This is why the Clinton Foundation recognised Leaves Plates Comapany Inc as one of the brightest startup initiatives in the US. The company was selected to compete in the Clinton Global Initiative University-2016, which carried a million dollars in seed capital. Though the concept did not win the competition, its top five finish gave it significant traction. Now, with the company keying in their eco-friendly message to niche consumers, the demand is increasing every month.
Kickstarting the company, however, wasn't so easy. Garnering permission for the business and proving the product was safe for consumption, Bajgain recalls, was the first big hurdle. Once that was sorted, then came the difficult task of marketing the tapari to consumers that had never seen such a product before. The company initially went from place to place, targeting farmer's markets—where street food is a mainstay—distributing the leaf plates. The team would go on to distribute over 12,000 free samples before finally making their first sale.
The plates themselves are manufactured by locals in Hetauda and Andhra Pradesh in India, under the supervision of the company. Though a production plant has been set up in India, the production in Nepal is informal and supplementary at the moment. "We are formally establishing a plant in Hetauda by the end of December," says Bajgain, "Currently the installed capacity for production stands at around 50,000 units per week and with the establishment of a plant in Nepal the production will increase by two folds. The company so far has invested around US$300,000 (Rs 32.5 million), which will invariably increase in the days to come."
According to Bajgain, the company primarily sources the material from leaves that have fallen off trees, before sterilising them and fashioning them into plates and bowls. Lab test are then conducted on every batch of plates before they are shipped to the US.
According to a 2015 study, conducted by the US-based Pricewaterhouse Coopers' Health Research Institute, the American food service industry consumes $20 billion worth of disposable flatware. The figures are projected to increase annually by 3.9 percent, reaching $21.9 billion by 2019. "This shows there is immense potential for our company to progress. We are putting every effort to increase our visibility," Bajgain says. Leaves Plates Company Inc, which is currently chiefly operational in the state of New York, is gradually expanding within the US, while prospective markets in Canada and beyond are also being sought.
When asked why the plates have been a roaring success, Bajgain responds: "The world is at crossroads of sorts at the moment, and the future belongs to green technologies."
---
---