'Even new parties seem less inclined to embrace people's agenda'
CK Raut, the head of the Janamat Party, on different facets of national politics.

bookmark
Published at : January 22, 2023
Updated at : January 23, 2023 07:09
CK Raut, the head of the Janamat Party who earlier sought to establish Madhesh as an independent country, entered mainstream politics back in 2019. He won the federal election from Saptari-2 in the November 20 polls, defeating Upendra Yadav, the leader of the Janata Samajbadi Party. Raut's party is a partner of the seven-party ruling alliance. Post's Purushottam Poudel talked to him on different facets of national politics. Excerpts:

You are now in the same Parliament that previously restricted discussions on you, accusing you of secessionism. How does the new experience feel?
It is a feeling of pleasure. It was a unique experience for me when I got to address the
Parliament, which was forbidden to use my name earlier. In my first address, I took the opportunity to reiterate my commitment to the country's federal republican system.
You previously opposed closed-door decision-making. But you are now being accused of being a part of the same.
To make any decision, a meeting is necessary. I do, however, continue to support grassroots politics. I haven't been too much in Kathmandu even after the election. I will go back to my native place once I am done with meetings here. But in contrast to other leaders, I have not confined myself to meetings. I am familiar with the realities on the ground as I interact with people. In meetings with other leaders, I try to convey the realities of the people to the leaders.
How has your new experience in power politics been?
The first meeting related to power politics, which took place in Balkot on December 25, made me uneasy. Even at that time, I had gone on social media, which I seldom do, to express how uninspiring my first lesson in power politics had been. I support grassroots politics, and I am aware of the issues there. But what I witnessed in the closed room that day left me disappointed.
In every meeting, the rulers' attitude and haughtiness are evident. I discovered the mindset of disregarding people of other provinces is pervasive; it's not just the Madhesh people who are ignored at such meetings. After winning the election, not only the old parties, but the new ones are also showing less inclination to embrace people's agenda. I was not present in the meeting where they divided ministerial portfolios. They kept the good ministries for themselves. We were not given the Ministry of Industry that we were promised.
Earlier, you used to lament power politics but now you are a part of it as well.
I had spoken against the misuse of power politics, not against power politics per se. Power in itself is not wrong. When a leader is corrupted by power politics, that is when things go awry. We should be able to do what we promised to the people. If it was only a matter of position, we have that. But, during the election campaign, we had promised jobs, which is possible through the Ministry of Industry. We had also promised fertilisers to farmers, which we would get through the Ministry of Agriculture. But we got neither.
Does it make sense for one political party to voice discontent over not getting a particular ministry when there are seven parties in the government?
There is nothing wrong in asking for a ministry we thought we needed to fulfil our promises to the people. We haven't made any guarantees about delivering water to people's houses. We had a farmer movement and planned to provide farmers with fertilisers as our main electoral agenda. Our area of interest and skill is where we want to concentrate.
Your party has now been given the Ministry of Water Supply. What happens if you don't get a ministry of your choice?
We are capable of surviving even outside the government. For 10 years, we worked in the field. We are still working as hard as we can to help common folks.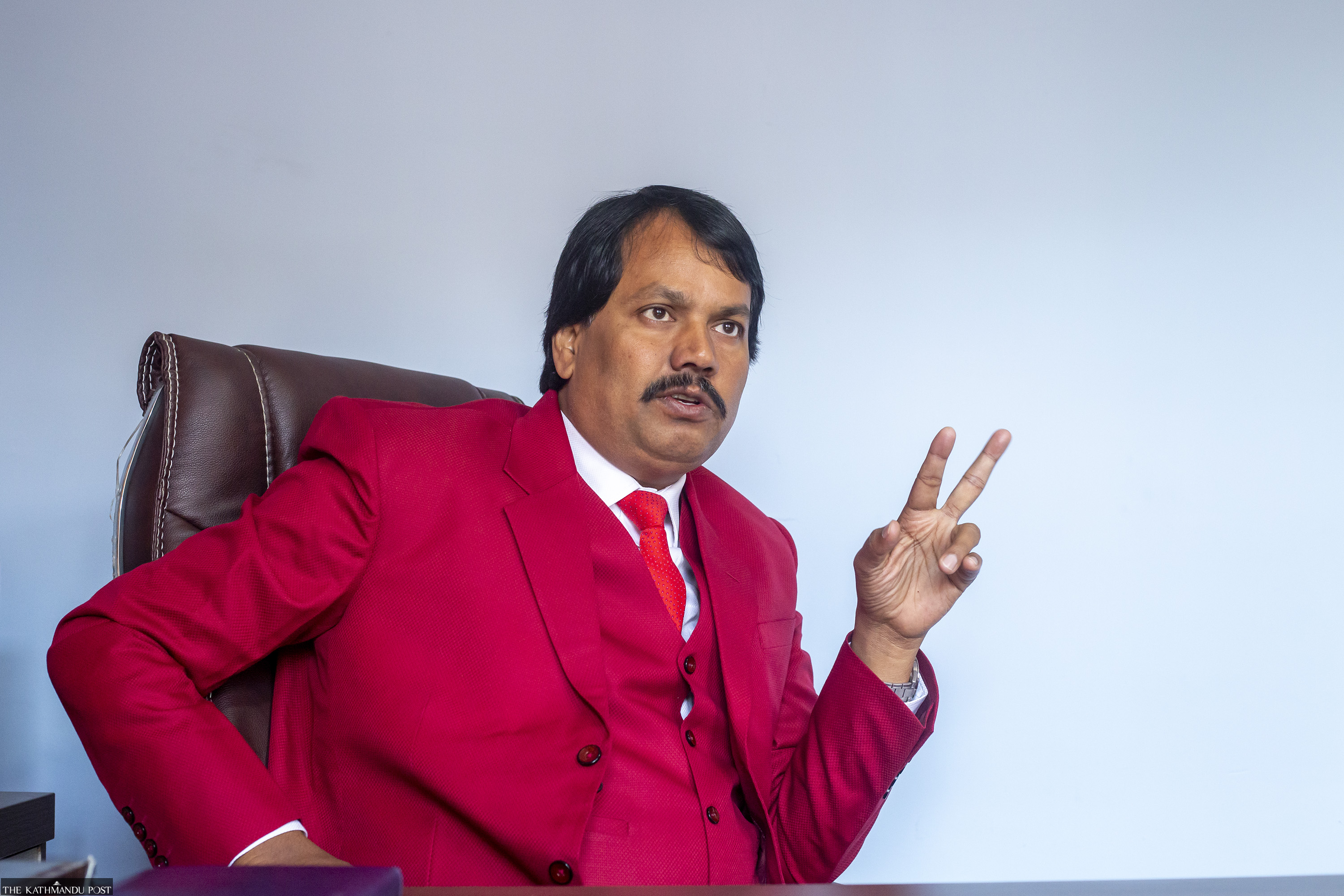 Prakash Chandra Timilsena/TKP
But your party is getting the chief minister of Madhesh province, right?
Yes, it is mentioned in the agreement that our party will get the chief minister of Madhesh province in the second half of the five-year term. But we did not get it as a gift. They said they will help us in return for our help. I am not optimistic about the chief minister of Madhesh province. Alliances here change within hours. We cannot say for sure whether this alliance will continue after two and a half years. Even now, we were made to participate in the Cabinet with the promise of the Ministry of Industry. If we don't even get that, I do not want to live in the illusion that an agreement after two years will be honoured.
How would you describe your politics: Regional or national?
Our goal is always national politics. Joining the federal Cabinet is not just to focus on a particular region, but to connect with all areas of the country. Our politics is for national development, not the development of only a particular region. However, there are such characters in central politics who want us to limit ourselves to Madhesh, Tharu and tribal politics. They repeatedly say it is not our job to run this country. Janata Samajbadi Party, Loktantrik Samajbadi Party, Janamat Party, and Nagrik Unmukti Party are all being sidelined.
Do you think the status of Maheshi politics in national politics has diminished because of the strong showing of the likes of Rastriya Swatantra Party and Rastriya Prajatantra Party?
I agree. Due to the failure of the Madheshi leadership, traditional parties won most seats in Madhesh in recent elections. Not only that, but a regressive power has also come back. As a result, the nation as a whole has moved closer to regressive values. We didn't expect a Maoist-led government to prioritise regressive forces.
The Madheshi parties were divided this time, and they suffered for it. Do you see them getting back together again?
We are discussing it. We have almost reached an agreement with the Nagarik Unmukti party. The Loktantrik Samajbadi Party is also ready to merge with us, and we continue to be in discussion with the Janata Samajbadi Party.
If the Madhesh forces come together, under whose leadership will that be?
People have repeatedly put the old leadership to the test. We can give them a respectable status in the party by establishing various posts. Yet what we see is that people favour young, fresh faces in executive positions.
You are one of the new faces of Madhesh. Are you saying Madheshi parties can be united under your leadership?
Yes, that is possible.
Are you saying even Upendra Yadav, whom you beat in the elections, is ready to work together with you, especially after he alleged that foreign forces were behind his electoral defeat?
Since the circumstances before and after the election are different, there is no excuse for staying away from unification. He might have made that accusation in response to the unexpected election results. The Janamat Party is a brand-new political entity with no ties to either domestic or international forces. The party is associated with the poor people of Madhesh.
You joined mainstream politics during the tenure of then prime minister KP Oli. He apparently had a hand in persuading you to enter the mainstream. But in an interview with Kantipur Television some time ago, you called Pushpa Kamal Dahal your role model.
Everyone has their ideal character. I respect Dahal for fighting the people's war to defend the values he held dear. I respect his struggles and consider them my inspiration.
You are already questioning the continuity of the ruling alliance. How long do you think it will last?
I think this alliance will continue for at least two years but, after that, I cannot say for sure.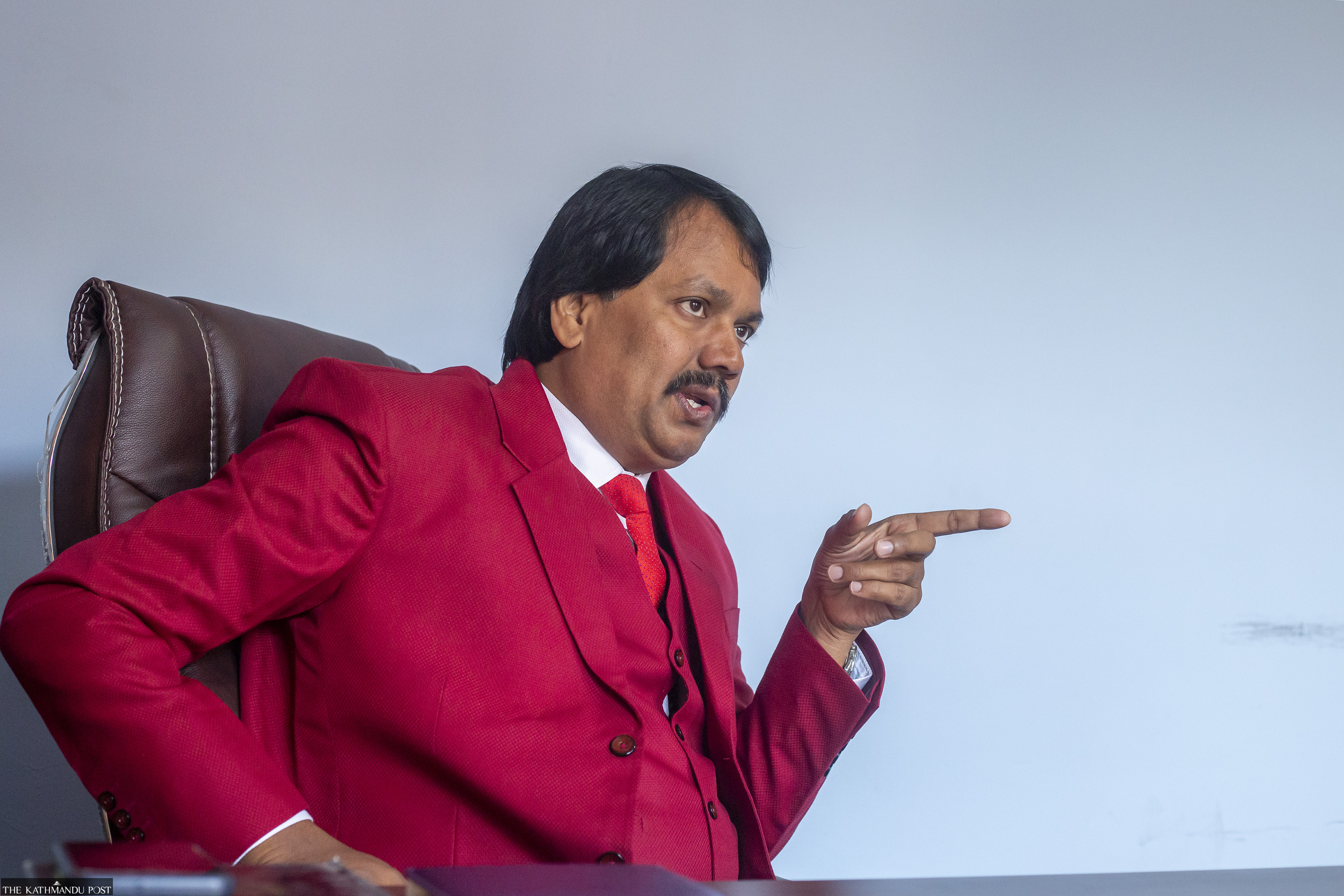 Prakash Chandra Timilsena/TKP
What will be your party's position when you cast v0te for the next president? Will you support a communist or a democrat candidate?
In our country, it can be difficult to distinguish communists and democrats. We will make the final decision based on the candidates in the fray.
Do you think the president should be someone from an apolitical background?
If an apolitical person becomes president, that is good for us. It is preferable to have a president who is knowledgeable about the law and comes from a non-political background. We have seen that when a party cadre becomes the president, they often work in their party's interests.
You said a person who understands the law should be the next president. Could that person be a former chief justice?
I am not suggesting anything. If the president of the country understands the law of the country, that is better. It is also argued that a scientist, a technician or a doctor can also be made the president, but in our context, it is preferable to have a president who has the legal knowledge of the country.
It is also said that the prime minister is helpless in his role. How true is that?
While addressing Parliament on Thursday, Congress general secretary Bishwa Prakash Sharma used a metaphor to tell that the prime minister is in prison. It is a fair metaphor.
---
---