New coronavirus subvariants BA.5 and BA.2.75 cause alarm
Experts say the global rise of BA.5 cases and the rapid spread of BA.2.75 in India and in 10 other countries are concerning for Nepal.

A man is performing rapid antigen test for Covid in this undated photo. Shutterstock
bookmark
Published at : July 13, 2022
Updated at : July 13, 2022 07:09
Kathmandu
BA.2.75, possibly a super contagious Omicron mutant that can evade immunity, has been spreading rapidly in India. The subvariant has been detected in 10 other countries as the more transmissible BA.5 dominates the global caseload.
The detection of the new mutant is yet another reminder that the coronavirus is here to stay, evolving and spreading continually, experts say.
Although many details about the new mutant variant are yet to be known, including its reproductive rate, scientists say that it may be able to spread rapidly and get around immunity from vaccines and previous infection. It is also unclear if the virus variant could cause more serious disease.
"It's still really early for us to draw too many conclusions," Matthew Binnicker, director of clinical virology at the Mayo Clinic in Rochester, Minnesota, US, was quoted as saying by the Indian Express. "But it does look like, especially in India, the rates of transmission are showing kind of that exponential increase."
BA.2.75 was first detected in India in early May. By early June, it made up almost 25 percent of samples in the country.
"The latest mutant has been spotted in several states in India, and appears to be spreading faster than other variants there," Lipi Thukral, a scientist at the Council of Scientific and Industrial Research-Institute of Genomics and Integrative Biology in New Delhi, was quoted as saying by the Indian Express.
Cases of the new mutant variant of Omicron have also been detected in about 10 other countries, including Australia, Germany, the United Kingdom and Canada.
Although the Ministry of Health and Population has not yet confirmed detection of BA.2.75 in Nepal, experts say any variant discovered in any part of the globe has every chance to enter the country due to high global mobility.
"Every variant of the coronavirus detected so far in the world has been detected in Nepal," said Dr Runa Jha, director at the National Public Health Laboratory. "Every subvariant of the major variants may not have been detected but most of the variants seen in other countries have been detected in our country."
Last week, the Ministry of Health and Population confirmed the BA.5 subvariant of Omicron in Nepal, which is more transmissible than previous variants.
As new cases of Covid-19 have been spiking at an alarming rate of late—the number of cases has doubled in the last three days—there have been concerns about whether BA.5 is responsible for the spike or the BA.2.75 subvariant has already entered the country.
On Tuesday, 177 people tested positive for the coronavirus, including 144 in 1,805 polymerase chain reaction tests and 33 in 1,321 antigen tests. The daily test positivity rate of PCR tests is close to eight percent.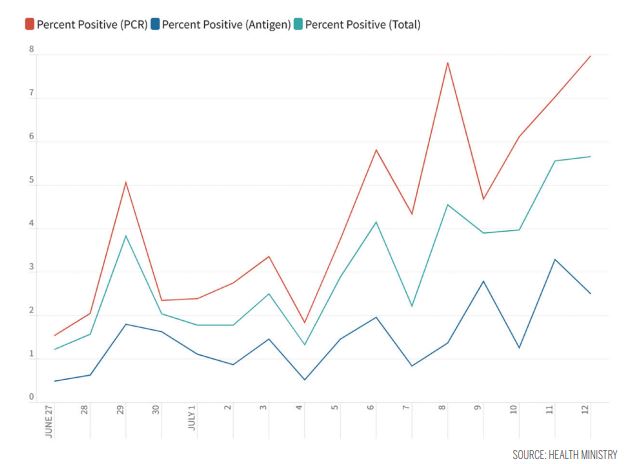 Doctors suspect that the number of infected people could be far more than the number provided by the Health Ministry, as contact tracing has not been carried out. Most of the people undergoing testing are those going abroad.
Active cases stand at 873 as of Tuesday, up from 93 on June 14.
Scientists are concerned about BA.2.75, as some of those mutations are in areas that relate to the spike protein and could allow the virus to bind onto cells more efficiently, Binnicker said.
Another concern is that the genetic tweaks may make it easier for the virus to skirt past antibodies—protective proteins made by the body in response to a vaccine or infection from an earlier variant.
Experts in Nepal said that the number of new cases of Covid-19 infection have been rising of late, which is a matter of concern.
"We do not know if the new virus variant, BA.2.75, has entered our country or not," said Dr Dibesh Karmacharya, chairman at the Center for Molecular Dynamics Nepal and Biovac Nepal. "We are unaware about many things, including whether our existing testing system, both polymerase chain reaction tests and antigen, detects the new virus variant or not."
Doctors say if the existing testing system does not detect the new virus variant, authorities should change the testing kits, either by making them ourselves or by purchasing. Secondly, surveillance should be stepped up to know if the virus has entered the country or not.
The Alpha (B.1.1.7 and Q lineages), Beta (B.1.351 and descendent lineages), Gamma (P.1 and descendent lineages), Delta (B.1.617.2 and AY lineages), Epsilon (B.1.427 and B.1.429), Eta (B.1.525), Iota (B.1.526), Kappa (B.1.617.1) 1.617.3, Mu (B.1.621, B.1.621.1), and Zeta (P.2) variants of the coronavirus have been detected so far.
"Detection of new variants in India is a matter of serious concern to us, as the Delta variant too was first detected in India, which caused devastation in many countries," said Karmacharya.
Around 8,000 people died in the second wave of the pandemic, triggered by the Delta variant that started in April last year. Entire health system of the country collapsed and patients were forced to die due to the inability of the authorities concerned to provide oxygen supply.
Moreover, Nepal shares about 1,800 kilometres long land border with India, which is porous and unregulated in most of the places through which people cross over to each other's country every day.
Thousands of migrant workers from the two countries visit each other's cities and towns on a daily basis and this increases the chance of spreading the virus variants, doctors say.
Jha, the director at the National Public Health Laboratory, said that one should not be panicked over the detection of the new variant, as mutation is normal for any virus.
Experts, however, say that it will be too late to take mitigation measures if authorities wait for the virus to create havoc.
By the time the Nepali health authorities learnt about the rapid spread of the Omicron variant, which caused the third wave, it was already too late to take preventive measures. It is estimated that almost all people in the country were infected during the third wave.
Experts say that stepping up surveillance, carrying out a maximum number of whole-genome sequencing on swab samples of infected people, and enforcement of public health measures are some of things authorities can do to lessen the spread of the virus.
"If we are able to detect the virus variant early on, we can change our strategy accordingly," said Karmacharya. "We don't know if the new virus variant evades vaccines and natural immunity or not. We should enforce public health measures to protect our vulnerable population including the elderly."
---
---