Unjabbed and the elderly at high risk amid Omicron threats
Experts call for ramped up vaccination, booster doses and a multi-pronged approach to curb coronavirus spread.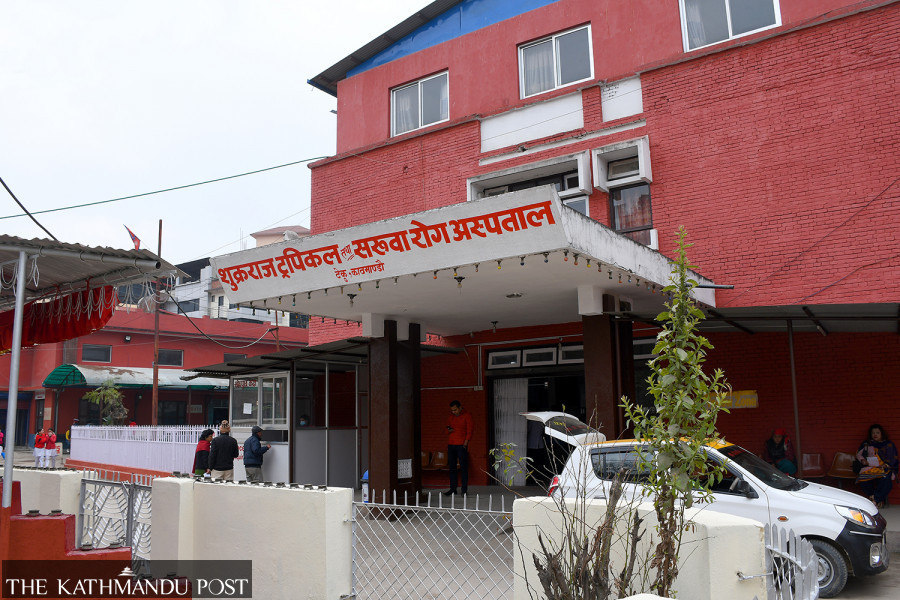 Doctors say unvaccinated people, especially if they are old, are at high risk from Covid-19. Post File Photo
bookmark
Published at : December 24, 2021
Updated at : December 24, 2021 07:30
Kathmandu
Two patients died of Covid-19 infection in as many days this week at the Sukraraj Tropical and Infectious Disease Hospital in Teku. They were aged 83 and 53.

"Both were males and unvaccinated," said Dr Manisha Rawal, director at the hospital. "One person died on Tuesday evening and the other on Wednesday morning."
According to the hospital, there are currently 12 people infected with the coronavirus under its care. Seven are receiving intensive care, while others are admitted to the high dependency unit of the hospital.
"All those whose conditions are serious are over 60 years of age. Some are vaccinated and others are not," said Rawal. "Data from our hospital indicates that only two doses of vaccine are insufficient for the elderdy people for protection against Covid-19 infections, and those unvaccinated are at high risk of becoming serious and even dying."
Authorities at Bir Hospital, which also provides treatment to Covid-19 patients, also said that the majority of serious patients are either old people or those who are unvaccinated. Some seriously ailing patients have received only a single dose of vaccine, said doctors attending to the patients.
Doctors say the trend of hospitalisations shows the unvaccinated population, especially if they are old, are at high risk. Likewise, only two doses of vaccine given to the elderly people about six months ago do not seem to be working now, as breakthrough infections are making them seriously ill.
"Additional doses of vaccine are needed for the elderly people for more protection," said Sher Bahadur Pun, chief of Clinical Research Unit at Sukraraj Tropical and Infectious Disease Hospital. "As unvaccinated people are at high risk of getting serious and even dying due to infections, authorities concerned should make every effort to find such people and vaccinate them."
Despite initial hiccups, the country now has enough vaccine doses in stock. The vaccination rate, however, has slowed down.
Nepal so far has received 38,539,367 doses of various Covid-19 vaccines—Vero Cell, AstraZeneca, Moderna, Janssen and Pfizer and BioNTech.
As of Wednesday, 9,838,376 people (32.4 percent of the total population) have been fully immunised.
This means the country still has enough doses to vaccinate 6 million people.
Public health experts have been saying that authorities must ramp up the vaccination campaign to cover more and more people and that they must ensure that the elderly first get two doses and then an extended dose.
Calls have also been growing to start administering booster doses. The government, however, has not taken any decision as of yet. Experts say officials must take a quick decision on expanding vaccination coverage and booster doses also because the Omicron threat is knocking at the country's door.
Omicron, a new iteration of the coronavirus, which was first confirmed in South Africa in late November has now spread to over 100 countries.
Nepal reported a new Omicron case on Thursday, weeks after two infections from the new variant were confirmed. The earlier two patients, however, had tested negative after a few days.
Neighbouring India has also been reporting a surge in Omicron cases. India has so far recorded 236 cases of the Omicron variant of coronavirus across 16 states and Union Territories. The Indian government has cautioned states to take actions to check the spread of Omicron and has banned all Christmas and New Year's gatherings in New Delhi, the capital.
India has been taking 14-day travel details of all international passengers and a negative RT-PCR test report in order to check the Omicron spread.
Daily cases of Covid-19 in the United Kingdom crossed the 100,000 mark on Thursday, the highest number recorded since the pandemic began as Omicron spread across the country. Reports suggest that the new variant has been confirmed in all 50 states of the United States.
Scientists worldwide keeping a close eye on the new variant have been saying that though the spread rate of Omicron is high, it may cause milder illness than the Delta variant. They, however, have warned a new big wave could hit the world.
Experts in Nepal say it's time authorities took multi-pronged approach—as the threat of Delta, the predominant variant in the country, is not over yet, Omicron could slip into the country from India any time, breakthrough infections could rise and there are still many people, including the elderly, who are unvaccinated.
Nepal needs to vaccinate 78 percent of the total population–or over 23,400,000 people.
If the government data is anything to go by, around 13,500,000 people still need to be vaccinated fully. Since the country already has over 12 million doses in stock and more jabs are in the pipeline, authorities must come up with a concrete plan—and at the earliest—to launch booster doses, according to experts.
Doctors say there is no room for being complacent by looking at past few weeks' data and that authorities must keep a close eye on the virus trend worldwide.
On Thursday, 293 people tested positive for Covid-19 (241 in 9,510 polymerase chain reaction tests and 52 in 2,116 antigen tests).
In the last 24 hours, two people died of Covid-19 infections.
The number of active cases stands at 5,161.
An outbreak is not a matter of if but when, said Dr Prabhat Adhikari, an infectious disease and critical care expert.
"The Covid-19 risk was always there; with the emergence of Omicron, it has just become bigger again," Adhikari told the Post. "Every responsible agency's goal should be controlling the risk and slowing down the spread."
In an update on Saturday, the World Health Organisation said Omicron cases are doubling in 1.5 to 3 days in areas with community transmission.
"Omicron is spreading rapidly in countries with high levels of population immunity, but it is unclear if this is due to the virus' ability to evade immunity, its inherent increased transmissibility or a combination of both," said the UN health agency.
The agency designated Omicron as a 'variant of concern' on November 28.
The WHO also said that the Omicron variant was likely to spread internationally, posing a very high global risk of infection surges that could have severe consequences in some areas.
The second coronavirus wave in April-May earlier this year had exposed the weaknesses of the country's architecture for preparedness and response, as hospitals were overwhelmed with no beds and oxygen cylinders.
"The ongoing vaccination drive is targeted at young people and children," said Adhikari. "Even after infections, very small percentages of these age groups get severely ill. The elderly and those with compromised immunity are at high risk even if they are vaccinated, hence booster doses must be given to them as soon as possible."
Though the National Vaccine Advisory Committee has recommended administering a third dose to the elderly people above 60, who were immunised with Vero Cell vaccine and those with compromised immunity, the Ministry of Health and Population has not yet decided to implement the recommendation.
The committee had recommended in the first week of December providing an extended dose, which is also in line with the recommendation of the World Health Organisation.
The UN health agency has recommended administering an additional dose to those with compromised immunity—cancer patients, those who underwent organ transplants, people living with HIV and those on immunosuppressants.
Officials said that the ministry has not yet decided about the booster shot and neither has the World Health Organisation recommended one.
The WHO has recommended administering an extended dose after two to six months of the second dose.
The WHO said that an additional dose may be needed as part of extended primary series for the target population where immune response rate following the standard primary series is deemed insufficient. The objective of an additional dose in the primary series is to optimise or enhance the immune response to establish a sufficient level of effectiveness against disease.
"In particular, immunocompromised individuals often fail to mount a protective immune response after standard primary series [two doses], but also older adults may respond poorly to standard primary series," reads the WHO's interim statement.
Public health experts say the sooner the authorities start booster doses, the better it is and they can start with frontline workers.
"Studies have shown that the immunity level wanes after six months of vaccination," said Adhikari. "It takes at least two weeks to develop antibodies against the virus, and what if there is an Omicron outbreak in between? Can we handle the situation?
"To prepare health workers to attend to the infected patients, booster doses should be given to them at the earliest."
---
---