With Delta variants circulating, experts warn of new second virus wave peak
All ICU beds and ventilators allocated for Covid-19 patients at TU Teaching Hospital and 22 of 24 ICU beds meant for such patients at Sukraraj Hospital, Teku are occupied.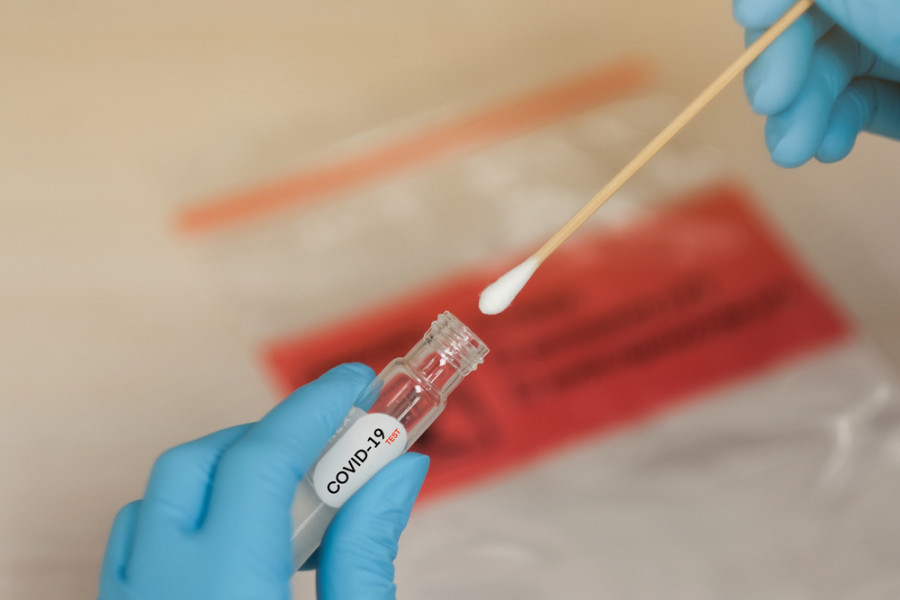 Shutterstock
bookmark
Published at : July 8, 2021
Updated at : July 8, 2021 00:55
Kathmandu
Kathmandu, the capital city with a high population density, is behaving as if there is no coronavirus.

After two months of a strict lockdown, almost everything has reopened. Tuesday onwards, public vehicles too have started operating with little restriction and marketplaces are seeing growing crowds.
Public health experts, who have long warned that a third wave could hit the country, say a second wave peak of cases cannot be ruled out yet. Two major concerns, according to doctors, are that the Delta and Delta Plus variants are circulating and Nepal's vaccination coverage is abysmally low.
"During the first wave of the coronavirus also, infections had reached the peak only after the lockdown was lifted. The ongoing surge in cases indicates another peak of the second wave," said Dr Krishna Man Shakya, vice-president of Nepal Public Health Association, a group of public health experts. "The projection is that new cases will increase massively after two weeks, as the virus is active in communities and people's mobility has increased."
The Epidemiology and Disease Control Division has said that the Delta and Delta Plus variants of SARS-CoV-2 have been circulating in the country. Both sub-lineages of the virus are reported to be highly contagious. The World Health Organisation in May declared Delta a variant of concern.
Existing vaccines are said to be effective against the Delta variants, but only when people are fully vaccinated.
Research suggests that Delta, officially known as B.1.617.2, is the most contagious of all the known variants to date, possibly 40 to 60 percent more transmissible than the Alpha variant, though studies are ongoing.
The second coronavirus wave that hit the country in early April had exposed Nepal's fragile health system which crumpled as cases multiplied. Hospitals were forced to turn patients away for lack of beds, oxygen and ventilators. Around 6,000 people died.
But cases started to decline, giving a false sense that the country had reached a plateau.
Just as restrictions have been eased, hospital beds have started to fill up again.
All 30 intensive care unit beds and 30 ventilators allocated for Covid-19 patients at the Tribhuvan University Teaching Hospital were occupied on Wednesday.
Just a few days ago doctors at the hospital had said up to 30 percent of the intensive care unit beds and ventilators were vacant.
"We can take no more patients who need intensive care beds and ventilators," Dr Santa Kumar Das, deputy director at the hospital, told the Post. "Patients have been visiting the hospital only after becoming serious and critical."
The Sukraraj Tropical and Infectious Disease Hospital said that of the 24 intensive care unit beds dedicated for Covid-19 patients, 22 are occupied. The condition at Patan Hospital is no different.
Even though the cases have fallen, the current pattern suggests the country is reporting the same number of new daily infections it was recording in the initial days of the second wave.
There were 1,015 new cases on April 18; 1,227 on April 19, and 1,667 on April 20—the period when the second wave made its way to Nepal.
On May 11, 9,317 people tested positive throughout the country, which was the single day highest ever.
Two and a half months later, cases have gradually started to rise again. Experts say if more tests are performed, more positive cases will be reported.
On Wednesday, 7,835 polymerase chain reaction tests returned 2,077 positive results. On Tuesday, 1,718 tested positive in 7,503 PCR tests and on Monday 1,745 tested positive in 7,499 PCR tests,according to the Health Ministry.
The number of active cases on Wednesday throughout the country stood at 26,544.
On April 18, just when the second wave had started to take hold, there were just 6,290 active cases across the country. But the number of active cases rose rapidly, leading the authorities to enforce prohibitory measures.
"If the number of new cases keeps increasing at the current pace, we cannot rule out the repetition of what we experienced in April and May," said Dr Anup Bastola, director at Sukraraj hospital.
About one fourth of the total polymerase chain reaction tests are still coming out positive, which doctors say is quite high.
"Instead of taking a proactive approach, authorities in Nepal have been reactive. They wait until the situation becomes grave and then they enforce restrictions," said Shakya.
Nepali authorities face criticism for making similar mistakes again and again—they enforce lockdowns and forget and when cases decline, they lift the restrictions. The lockdown period is barely used for preparations.
During the first wave, the authorities failed to build infrastructure and arrange for hospital beds, ventilators and oxygen. The second wave made everyone realise how fragile the health system was. After the second wave, countries around the world provided medical aid. But the Nepal government failed to manage vaccines.
As the cases are rising and doctors are warning about a second wave peak before the country is overwhelmed by the third wave, the government is scrambling for vaccines.
In the last four months, Nepal has managed to sign a deal to buy just 4 million doses of vaccine. The Vero Cell doses, developed and manufactured by Sinopharm, will start arriving in tranches from China starting Friday.
Apart from some doses—348,000 doses of AstraZeneca and an additional 1.5 million doses Johnson & Johnson—committed by COVAX, Nepal has failed to sign any other agreements with any other vaccine manufacturing firms to purchase the jabs.
Nepal needs to inoculate 72 percent of its 30 million population, or around 22 million people for which it will need 44 million doses of double-shot vaccines.
COVAX has committed to providing around 13 million doses, but there is no certainty by when Nepal could get the supplies.
Doctors say that all sectors must make coordinated efforts to prevent another catastrophe and delay the third wave.
"We have been repeating the same thing for months. Our suggestions have never been implemented," Dr Anup Subedee, an infectious disease expert, told the Post. "We do not have to do many things, we just need to follow the basics—enforce safety measures, increase testing, make contact tracing effective and isolate the infected."
Subedee, however, believes that the health facilities might not get overwhelmed immediately like they were during the second wave even if new cases increase in the coming days.
"A lot of people might have been infected and have recovered already," said Subedee. "Those who have not been infected are more at risk."
Health Ministry officials admit that they have not been able to ramp up testing and make contact tracing more effective.
"Our suggestions are also being ignored by the public," said Dr Samir Kumar Adhikari, joint spokesperson for the Health Ministry. "Everyone at all agencies concerned and members of the public must understand the importance of safety measures."
The coronavirus has taught one hard lesson to the world that no one is safe until everyone is safe, and as there is no end to the pandemic in sight, the only measure that can save lives is vaccination.
Doctors say until vaccines are available, every individual must consider themselves responsible not to become the cause of virus spread, as new and more lethal variants cannot be ruled out.
According to Dr Prabhat Adhikari, an infectious disease and critical care expert, delays in decision-making could be costly given the deadliness of the Delta variants that are circulating in the country.
"We should not forget that the case doubling time of the Delta variants is four days," said Adhikari. "If we take more time to make decisions on preventive measures, a third wave is not very far."
Das of the Tribhuvan University Teaching Hospital said the increasing public mobility and crowding could make the virus situation worse and that the people must follow safety protocols for their own sake.
"Infection conditions had not yet come to the level for us to say the situation is under control," said Das. "Despite having huge risks, we have reopened almost everything. Members of the public are also behaving as if there is no risk. There actually is a huge risk, still."
---
---