Don't rely on one country for Covid-19 vaccines, experts say
Nepal and India are likely to sign an agreement on procurement of vaccines during Minister Pradeep Gyawali's visit to New Delhi next week.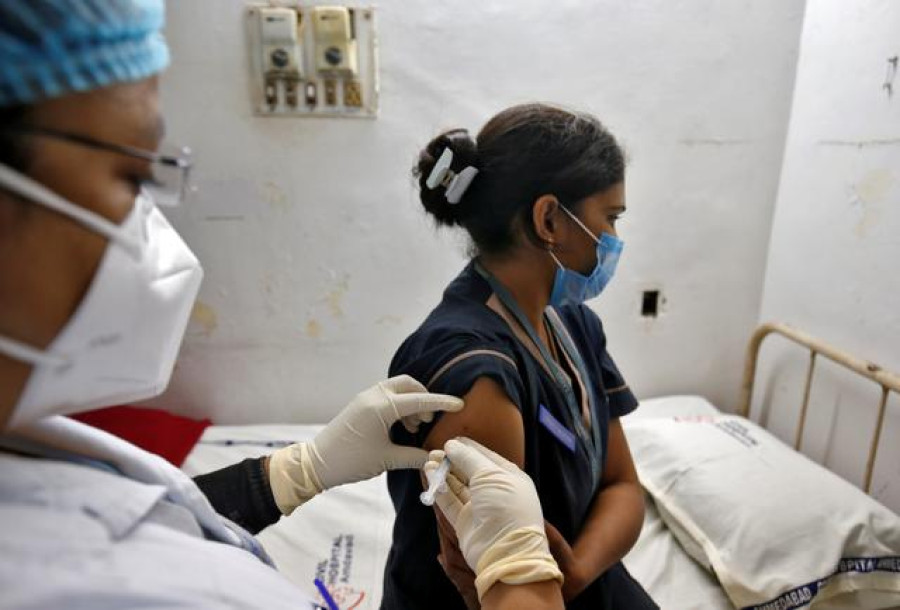 A medic administers a vaccine against Covid-19 during its trial in Ahmedabad, India. Reuters
bookmark
Published at : January 8, 2021
Updated at : January 8, 2021 07:48
Kathmandu
The government is considering plans to procure Covid-19 vaccines being manufactured in neighbouring India to vaccinate 52 percent of Nepal's population.

Experts say that Nepal should not rely just on one country for the vaccine as it would be difficult for it to provide the doses needed in Nepal all at once. Also, countries around the world where vaccines are being manufactured would want to inoculate their citizens first before allowing the jabs to be exported, they say.
"No company can provide all the doses required at once, and most countries do not allow exports until they have secured enough doses for their population," Dr Prabhat Adhikari, infectious disease and critical care expert told the Post.
"We should explore the possibility of buying vaccines with proven efficacy from other countries as well," he added.
Officials at the Ministry of Health and Population say that an agreement on the procurement of vaccines could be signed between India and Nepal during the upcoming visit of the Minister for Foreign Affairs Pradeep Kumar Gyawali to New Delhi next week.
The Cabinet had recently estimated that Rs 48 billion would be required to inoculate 52 percent of the population. While the World Health Organization's COVAX programme will provide vaccines for 20 percent of the population, children under 14 years of age, who constitute 28 percent of the population can't be immunised as vaccines haven't been tested on them.
Health Secretary Laman Aryal, a member of the high-level committee formed to procure coronavirus vaccines, said, "The Cabinet has decided something about the coronavirus vaccine." But he refused to provide details
The government is learnt to be looking at two vaccines being manufactured in India: Covishield (developed by Oxford University and drugs giant AstraZeneca) and Covaxin (developed and manufactured by Bharat Biotech). Both vaccines have received emergency use approval in India—the Oxford vaccine has also received approval in the UK. While Covishield uses the modified chimpanzee adenovirus as a vector, Covaxin is an inactivated vaccine with alum as adjuvant.
As Indian authorities have barred Serum Institute from exporting the Covishield vaccine, until India has sufficient doses for its population, the government is likely negotiating with the Indian government to procure the vaccines under a G2G deal.
Bharat Biotec's Covaxin has not yet completed its phase III trials.
"We have estimated that a single dose of the vaccine, which requires a two-dose regimen, will cost $10," Dr Shyam Raj Upreti, coordinator of Covid-19 Vaccine Advisory Committee, told the Post.
However, the Serum Institute of India has signed an agreement with the Indian government to supply jabs for $3 per dose.
"We don't have a clear picture yet about which vaccine will come and when they will come," Upreti, added. "If the government buys vaccines produced in India, or we get the jabs at the price set by the Indian government, we would save $7."
Due to the uncertainty over the vaccine, agencies concerned under the Health Ministry have been unable to train health workers to conduct the inoculation once the vaccines arrive.
An official at the Department of Health Services said that the vaccine procurement process is not simple as thought, as it is a multi-billion deal and there is a huge commission in it. "The government has announced snap elections and it is also going to procure vaccines by spending billions of rupees," said the official, asking not to be named. "The situation is ripe for corruption," said the official.
"The price for each dose of vaccine has been estimated keeping in mind the Pfizer and Moderna vaccines. But the government is looking at low-cost vaccines manufactured in India,'' the official said. "It is easy to pocket some of the money when your estimates are high, but actual costs are low."
---
---