Making Kanchemba, Thakali buckwheat fries, at home
A much healthier option than potato fries, Kanchemba is easy to make and delicious.

Photo courtesy: Prashanta Khanal
bookmark
Published at : May 8, 2020
Updated at : May 8, 2020 09:06
I had my first taste of buckwheat fries, or 'kanchemba', at a Thakali restaurant in Pokhara a few years back. I went to the place for some dal bhat, rumoured to be one of the best in town. But then, I saw kanchemba on the menu. I had never heard of it before, and as new foods always excite me, I ordered the dish. Served with a timmur-chilli achaar, the fries didn't have a pronounced flavour as such, but were delicious and kind-of addictive: crispy outside, but soft inside with a hint of buckwheat sweetness.
Buckwheat is a staple food of the Thakalis. If you visit Mustang in autumn, fields are covered with buckwheat flowering. Two varieties of buckwheat are grown in Nepal: common buckwheat (mithe phapar) and tartary buckwheat (tite phapar), with their characteristic bitter flavour. Common buckwheat is grown in all regions—the Tarai, Mid-hills, and the Himalayas, while tartary buckwheat is grown only in higher elevations because of its cold-resistant feature.
Thakalis make a variety of dishes from buckwheat flour, most commonly roti (unleavened pancake) and dhido or syangden (thick porridge). Buckwheat flour dumplings are cooked with dried mountain goat meat and vegetables to make soup known as alangkhu. Buckwheat flour batter is filled inside the mountain goat's intestine to make a sausage-like dish known as dhong. Buckwheat greens are also consumed, usually in the winter. They are preserved for the cold by sun drying them, and are cooked with dried meat or blood sausage into soup called dhopra-khu.
Back to the kanchemba. If you love fries, then you should definitely try making them, as they are a nutritious, healthier option to regular fries. It also makes a good snack to go with beer. The only ingredients you require are buckwheat flour and vegetable oil for frying.
Ingredients:
1 cup buckwheat flour
1 cup water
1 tablespoon ghee (optional)
1 cup vegetable oil, for frying
1 tablespoon timmur chhop, as dipping condiments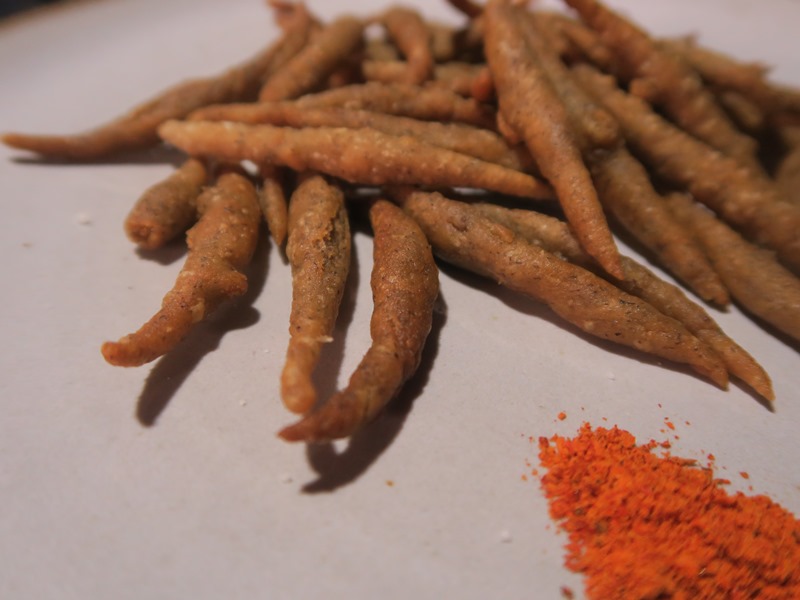 Photo courtesy: Prashanta Khanal
Directions:
Bring a cup of water to boil in a cooking pan or karai. Add buckwheat flour gradually in the boiling water, stirring constantly with a flat wooden spatula. Turn down the heat to lowest, add ghee (optional), and mash or knead the dough with the spatula for 4–5 minutes until a thick silky lump. It is the same process as making dhido. Let the cooked dough or dhido rest for a few minutes or until it is cool enough to touch with your bare hands.
Not traditionally done, but I add a pinch of salt and sugar while cooking the buckwheat flour—it helps in bringing out the flavours.
Grease your hands with oil to avoid sticking dough in your hand. Take a small marble-sized dough, and make small fingers with tapered ends by rolling in between your palms. You need to work with the dough when it's still warm, as it's difficult to mould and starts to crack when cold.
In a frying pan, add a cup of oil, preferably ghee if available. Traditionally, Thakalis uses ghee for cooking. When the oil is hot enough, fry buckwheat fingers in batches. Fry for about 3–4 minutes or until light brown. Remove from the oil using a slotted spatula draining the oil properly. Fry the buckwheat fingers as soon as you make them as they will dry out and pop up splattering the oil when frying.
Serve the crispy kanchemba with timmur chhop. To make timmur chhop, you can simply grind together lightly roasted timmur, dry red chilli and salt together. Or, simply sprinkle some salt and red chilli powder.
Some things to keep in mind: Make sure you mash or knead the buckwheat flour well while cooking. Oil should be hot enough for frying, and fry the fingers in small batches to not drop the oil temperature.
---
---