At the glamorous 2019 American Portrait Gala, a familiar Nepali face: Prabal Gurung
Gurung had been named earlier this summer as the honorary designer for the 2019 gala.

Via Prabal Gurung's Instagram
bookmark
Published at : November 19, 2019
Updated at : November 19, 2019 09:55
The Smithsonian's National Portrait Gallery unveiled six new portraits of contemporary personalities on Sunday in Washington, DC. Among the honorees: Nobel laureate Frances Arnold; Amazon CEO Jeff Bezos; famed actor Lin-Manuel Miranda; former PepsiCo CEO Indra Nooyi; Philip Bailey, Verdine White, Ralph Johnson, and the late Maurice White of Earth, Wind & Fire; and Vogue's chief editor Anna Wintour.

The biennial event began back in 2015, and honours those who have contributed to American culture and whose portraits have been commissioned or acquired by the gallery.
Where's the Nepal connection? The evening attended by the some of most powerful in politics and entertainment included New York designer Prabal Gurung, who had been named earlier this summer as the honorary designer for the 2019 American Portrait Gala.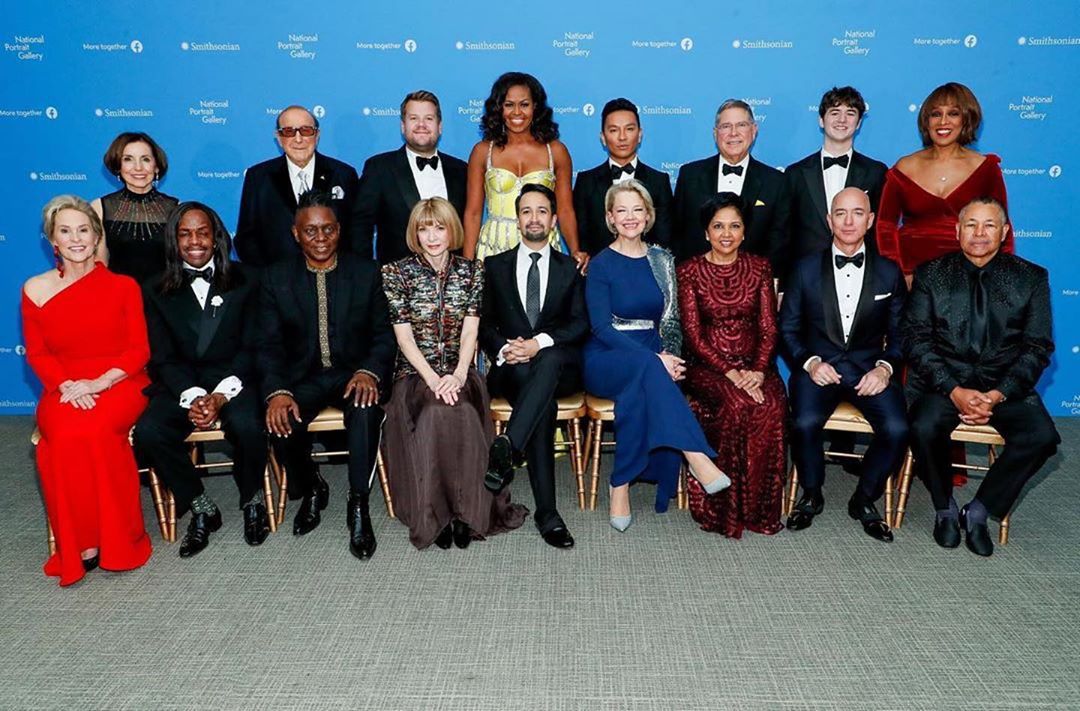 Gurung poses for a photograph with the evening's honorees. Via Prabal Gurung's Instagram
Gurung, who has earned fame for his designs and worked with clients including Obama, the Duchess of Cambridge Kate Middleton, and top-tier Hollywood celebrities, played a key role in the outfitting of the presenters for the star-studded evening—the first-ever role of its kind, according to Gurung.
"Last night was magical and surreal," Gurung wrote on Instagram. I am so honoured to have been named the first-ever Honorary Designer of the @smithsoniannpg celebration."
Gurung said it was a dream come true to have been included alongside an extraordinary group of honorees. "I feel fortunate to be included in the museum's mission to exhibit the diverse story of America — proving that art brings us together across oceans and borders," he wrote.
During the event, honorees, as well as presenters, highlighted the importance of the United States as a melting pot, and spoke about how they and their families found success after immigrating to the success.
---