No strings attached?
Nepal has said that any aid it receives is purely for development purposes.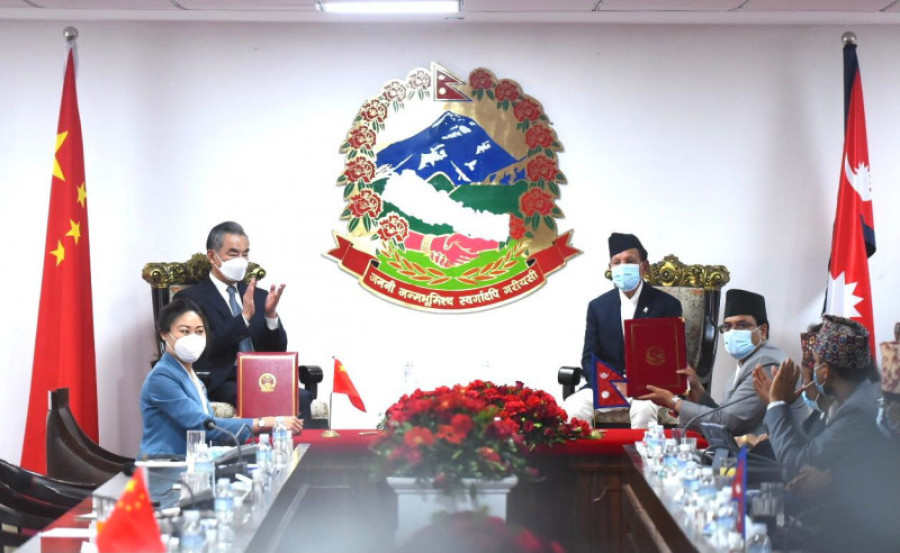 Photo courtesy: Ministry of Foreign Affairs
bookmark
Published at : March 27, 2022
Updated at : March 28, 2022 06:54
The visit by Chinese Foreign Minister Wang Yi could not have come at a more opportune moment for Nepal amid all the geopolitical commotion. It is no secret that the ratification of the $500 million Millennium Challenge Corporation (MCC) has ruffled a few feathers of our northern neighbour, and thus a high-level visit was in order. This visit, the first since Prime Minister Deuba assumed office, gives Nepal the perfect opportunity to clear any impending issues with China, and also pacify any concerns they may have with the ratification of the MCC.
Nepal's politicians probably need no reminding that the geopolitical dance they are now participating in isn't a game of musical chairs which they have mastered at the national level. One misstep could send us tumbling down the rabbit hole. Caution aside, during the visit that concluded yesterday, nine agreements were signed and witnessed by Foreign Minister Narayan Khadka and his Chinese counterpart Wang Yi. And like all previous pacts, they primarily focus on grants and development assistance. However, there was no particular clarity on Belt and Road Initiative (BRI) projects, as none of the agreements signed were related to it, citing the necessity for more negotiations.
Since the ratification of the MCC, the government has found itself in a fix concerning the implementation of BRI projects. Despite signing up for the BRI Framework Agreement in 2017, not a single project under it has taken off. While Nepal desperately needs funds to plan its infrastructure projects, and if BRI provides us with the impetus to move ahead, there should be no delay in agreeing to get the ball rolling. Just like the MCC, the BRI needs no politicisation. China pushing for initiating projects connected to the BRI was an inevitable act, and our politicians should not now see it as an opportunity to politicise a new issue.
While Wang and his delegation did not raise the issue of the MCC, it fell upon Narayan Khadka to issue a clarification to his counterpart, stating that Nepal would not accept any projects with strings attached and that any aid it receives is purely for development purposes. Be that as it may, Khadka needs no reminding that there is no free lunch. And what political leverage does Nepal command economically and politically in the international arena to warrant such a statement? On the one hand, we have a prime minister who unabashedly requests more projects as grants than loans citing economic priorities. On the other hand, the foreign minister issues a naïve statement about contributions with no strings attached.
The development of trade infrastructure is obviously of utmost priority. Therefore, it falls upon the government to tactfully tread the fine lines of diplomacy and use whatever aid comes our way for the country's development. And it would be even better if we were to rely less on grants and strive to improve our economic strength given our strategic location between two economic powerhouses. No nation will ever come forward to assist us to better our prospects; it is up to us to use it to our advantage.
---