Democracy's undoing
KP Sharma Oli and President Bidya Devi Bhandari have ticked all boxes of Machiavellian treachery in Nepali politics.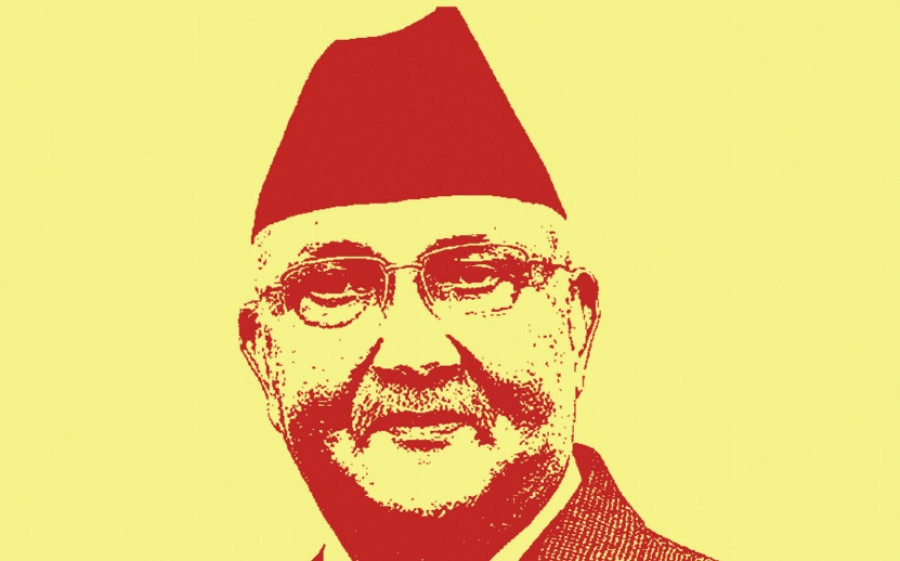 Post file photo
bookmark
Published at : December 20, 2020
Updated at : December 20, 2020 20:53
It takes a long, long time for democracy to grow and become mature enough to provide a sense of stability and security to the citizens of a political entity. It takes enormous moral, ethical, and mental integrity on the part of political leaders to turn the democratic system into a guardian of the people. But parliamentary democracy has a dangerous nemesis: A political demagogue with authoritarian impulses.

With one fell swoop, Prime Minister KP Sharma Oli pushed the country to yet another quagmire of instability and political crisis when on Sunday, December 20, he orchestrated a political coup as his Cabinet recommended the dissolution of the lower house of Parliament. President Bidya Devi Bhandari, always eager to sign off anything that is brought to her table, wasted no time to approve the Cabinet's recommendation, dissolving the House of Representatives based on Article 76 (1) and (7), and Article 85 of the constitution and called for a fresh mandate through parliamentary elections, slated for April 30 and May 10 next year.
As if the Covid-19 pandemic had not been playing a villain already, Prime Minister KP Sharma Oli dealt a coup de grâce on parliamentary democracy. Oli had, for quite some time, been facing a legitimacy crisis within the ruling Nepal Communist Party (NCP) since he had lost the majority, as the faction led by Pushpa Kamal Dahal, Madhav Kumar Nepal and Jhala Nath Khanal had been asking for his resignation owing to his poor governance and authoritarian impulses. But on Sunday, he surpassed all limits of betrayal of the popular mandate as he suppressed the political system after he failed to consolidate his position within the party.
Oli had come to power after the 2017 general elections through an unprecedented political mandate in several decades as his party emerged victorious with a majority in the federal parliament. This was, therefore, a once-in-a-lifetime opportunity to help steer the country towards the path of his much-touted slogan of prosperity through stable governance. Through his mischief, Oli has crushed the dreams and hopes of millions of Nepalis.
Not one to be left behind in the race to become commander-in-mischief, President Bhandari has remained a rubber stamp for the Oli government, supporting the prime minister in every political perversion he has committed in recent times. In playing the yes-woman for Prime Minister Oli, President Bhandari has thrown the legitimacy of the revered Office of the President—along with whatever little legitimacy she had—to the trash pile of politics.
Millions of words will now be spent on whether Oli's action is legal or constitutional. People will now wait, with bated breath, how the Supreme Court will untangle the meanings of the constitution. But this is not a question of legality or constitutionality anymore. Rather, it has to do with whether Nepali people will continue to have faith in parliamentary democracy in the days to come. If the political system they fought hard to establish can be manipulated by the whims of a demagogue, they have every reason not to trust this system and seek its alternatives. Once lost, people's faith in a political system is hard to regain.
Together, the prime minister and the President duo has shown that even the dirtiest of tricks in the political playbook is fair if they serve their purpose even if that means playing with the dreams and hopes of over 30 million people. In committing an incorrigible mistake of pushing the country decades back to the olden days of political instability, Prime Minister Oli and President Bhandari have together committed a grave injustice to the people of Nepal. History will never be kind to them.
---