Nepal received above normal rainfall in June causing disasters
Officials warn of more extreme weather events with nearly three months of monsoon remaining.

Post File Photo: Shiva Puri
bookmark
Published at : July 3, 2021
Updated at : July 3, 2021 09:13
Kathmandu
This year's monsoon received a lot of rain in its very first month.
Rainfall data for the month of June, the first month of the four-month monsoon season, show that most parts of the country received above average rainfall for the month, unleashing floods and landslides in various parts of the country.
According to precipitation data from 71 stations across the country, the month of June received 399mm of rain.
As per the Department of Meteorology and Hydrology data, the normal rainfall of those 71 stations for the month of June is 295.1mm. This June, however, these stations received rainfall 35.2 percent above average.
"June has received a lot of rainfall in most parts of the country," said Indira Kadel, a senior meteorologist with the department. "If we look province-wise, a significant amount of rainfall was concentrated in Gandaki Province and districts around Kaski."
Most of these areas—starting from the western part of Province 2 to hilly districts of Bagmati, Gandaki, Lumbini, Sudurpaschim and Karnali Provinces— received 110 to 200 percent of their normal rainfall in June.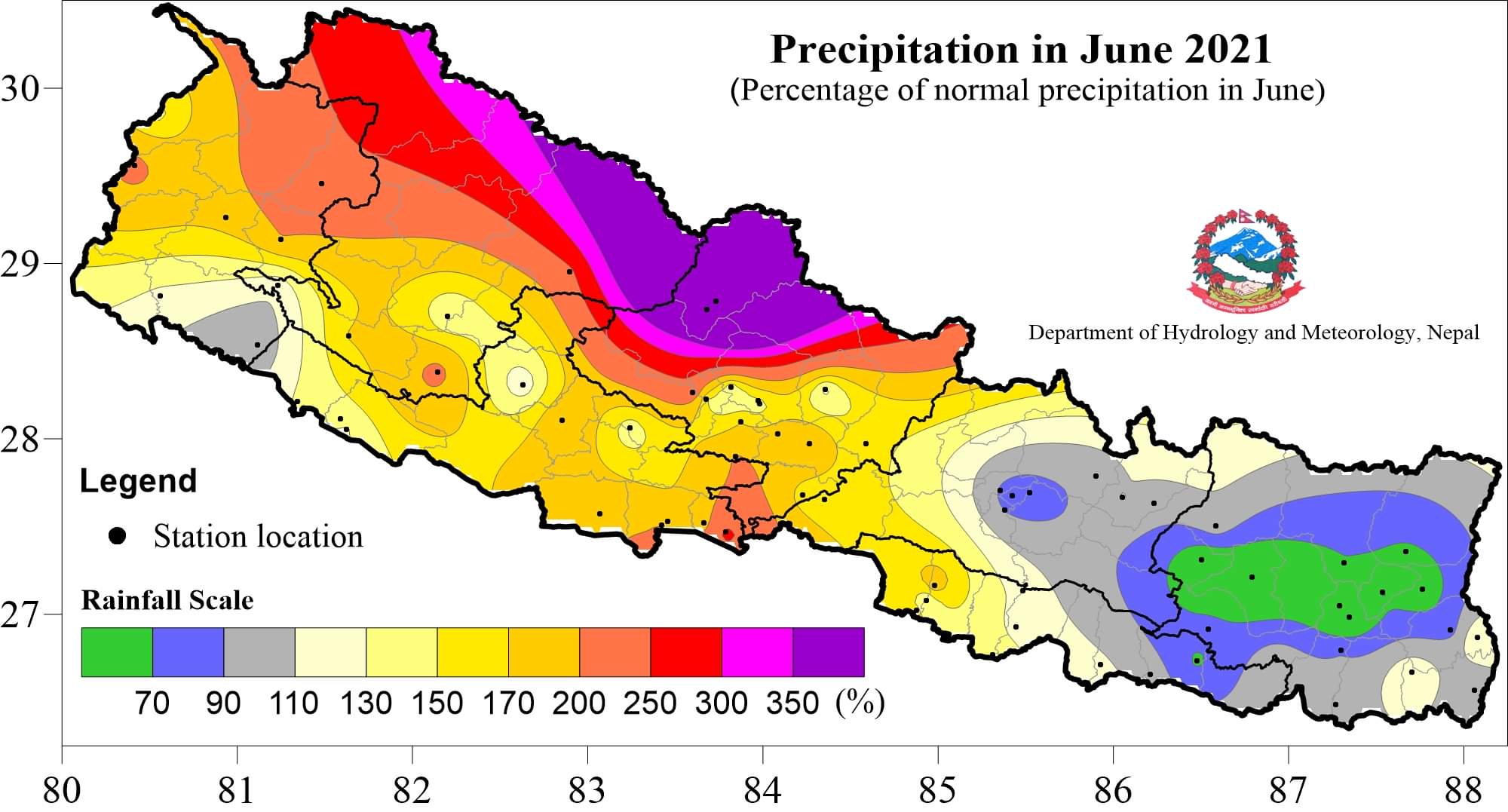 Photo Courtesy: Department of Meteorology and Hydrology
An area is said to have received "normal" rainfall if it receives rain equivalent to 90 to 110 percent of the average rainfall. If the figure falls below 90 percent, the area is said to have received "below-normal" rainfall. Figures above 110 percent are deemed "above-normal" rainfall.
The rainfall data of the same 71 stations have shown that the average rain for the monsoon period (June-September) has been 1490.1mm and June already contributed 26.78 percent of their average rainfall for the four-month period.
The rainfall recorded for June also looks bigger compared to normal precipitation for the month of June accumulated between 1981 and 2010.
Another set of data for rainfall recorded in 221 stations shows June on average contributes 19.3 percent—281.7mm—rainfall to the monsoon period.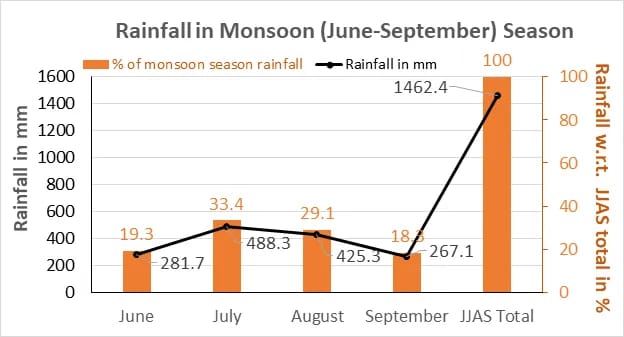 Photo Courtesy: Department of Meteorology and Hydrology
"Except Province 1, which recorded normal and below normal rainfall, and central and eastern parts of Bagmati Province that recorded normal rain, most of the areas have seen above-normal rainfall," said Kadel, also the chief of the Climate Analysis Section of the department. "Some areas like Manang and Mustang in Gandaki Province recorded more than 350 percent of their normal rainfall."
The highest proportion of rainfall in June was recorded in Mustang. Jomsom station, with a normal average rainfall of 23.9mm for June, received 200mm—835 percent of its average rainfall. The Thakmarpha station of Mustang received 218mm rain against the normal of 43.4mm in June, 501.6 percent above normal precipitation.
In terms of rainfall amount, 1,195mm of rainfall occurred at Lumle station of Kaski district in June against a monthly average of 890—35 percent of its average rain.
Dhankuta station received only 42.2 percent of its average rainfall for June, which is 147mm, as it recorded 62.1mm last month.
In eastern Nepal, districts like Khotang, Okhaldhunga, Udayapur, Bhojpur, Taplejung and Panchthar received rainfall below normal.
The adverse impact of above normal rainfall was evident in the form of monsoon-related disasters in various parts of the country.
Days after the monsoon entered the country, several districts, mainly in the hilly region, were buffeted by floods and landslides. Districts like Sindhupalchok, Manang, Lamjung and Gorkha were hit hard.
"Heavy rainfall led to monsoon-induced disasters like floods and landslides in different districts. Haphazard construction of roads and other infrastructure in the hilly areas and encroachment of riverbanks multiplied the effects of rain-triggered disasters," Kadel said. "When roads are haphazardly built in hilly areas, the topsoil can be washed away with the rain, causing landslides or debris flow as we have seen during floods."
The country also witnessed an above normal pre-monsoon (March to April) this year. When the monsoon season finally came, it came with a bang.
Even mountain districts like Mustang and Manang, which are otherwise dry areas, saw a lot of rain in June. Manang suffered unprecedented floods and landslides that displaced hundreds of families.
According to a fortnightly report of monsoon 2021, prepared by the National Disaster Risk Reduction and Management Authority, as many as 26 districts were affected by monsoon-induced disasters between June 14 and June 29.
"If we include more incidents in the last few days, then a total of 35 districts have been affected by the monsoon mayhem so far," Bed Nidhi Khanal, deputy spokesperson for the authority, told the Post. "We have experienced an aberrant monsoon with extreme and intense rainfall, which can be linked with the impacts of climate change. We are witnessing too much rain in a short period of time, leading to loss of lives and properties."
According to the report, the monsoon caused massive damage in Sindhupalchok and Manang, among other districts.
The report compiles a total of 144 water-induced disaster incidents—33 floods, 67 landslides and 44 heavy rain. These incidents left 27 people dead, 26 missing, 22 injured and displaced 676 families, most of them in Manang, Sindhupalchok and Lamjung. Various road networks were also disconnected and public properties like schools, suspension bridges, concrete bridges, government offices, hydropower projects were also hit by floods and landslides last month.
On Thursday alone, as the monsoon is picking up once again, at least six people were killed in monsoon-induced disasters in different parts of the country. There are once again warnings of surging water levels in rivers and streams, causing floods and inundation in the nearby areas. Vehicular movements were once again disturbed on Friday because of heavy rainfall which also swept away many bridges.
As per the prediction, the country is likely to see above normal monsoon which could lead to more disasters in the coming weeks.
Officials say that with nearly three months of the monsoon remaining, the public needs to be safe as the country will witness more extreme weather events.
"If we do not work towards minimising risks by relocating vulnerable communities, improving early-warning systems, changing our settlement patterns and building infrastructure considering the risk, we will continue to face losses of lives and properties," said Khanal.
"With at least 100 days of the monsoon remaining, we all need to be extra alert and follow weather updates. We need to avoid making unnecessary travel plans at least, especially when the travelling is done by road in hilly areas."
---
---