Mountain districts are receiving more rainfall this monsoon
Manang sets a new record for daily rain, witnessing heavy flooding. Meteorologists say the phenomenon is unprecedented for an otherwise dry region.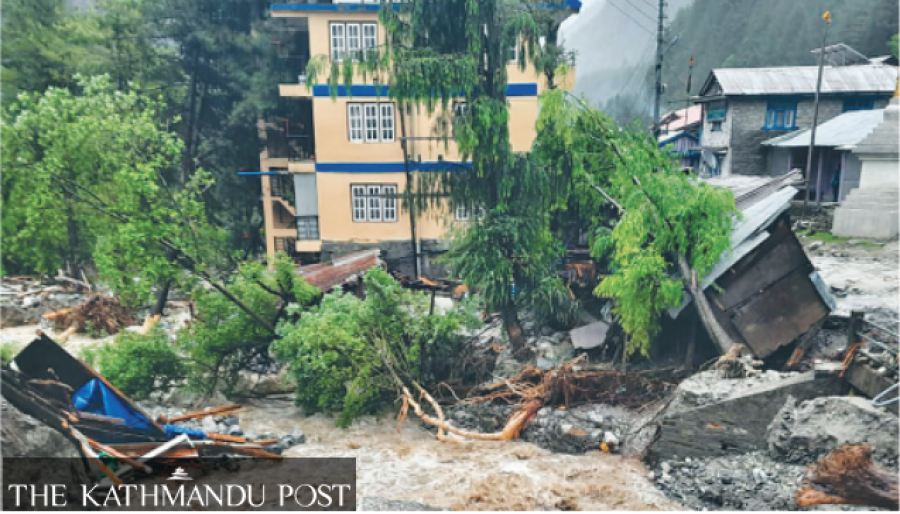 In the first week of monsoon, Manang received unusually heavy rainfall that caused flooding. Photo Courtesy: Homnath Panthi/Armed Police Force
bookmark
Published at : June 19, 2021
Updated at : June 19, 2021 07:05
Kathmandu
An analysis of data on natural hazard event frequency shows that between 1971 and 2020, Manang was the district least affected by such events.
In the first week of monsoon this year, however, the mountain district north of the Himalayas witnessed heavy rainfall causing widespread floods and landslides.
To understand the reason behind the uncommon devastation, meteorologists say the rainfall patterns during the pre-monsoon months of March to May need to be analysed.
"Manang had already received too much rainfall between March and May. As a result, the land was already saturated, and the continuous heavy rainfall caused floods in the district," Indira Kadel, senior meteorologist with the Department of Hydrology and Meteorology, told the Post.
Humde weather station of Manang recorded 232mm of pre-monsoon rain this year while the average pre-monsoon rainfall in the past six years was 135mm. In other words, the pre-monsoon rainfall was 172 percent of normal.
The rainfall recorded in Manang in the first week of monsoon is also already higher than normal.
Since the beginning of June, Humde of Manang has already recorded 84 percent of its average monsoon rainfall, according to the department's data.
Between June 12 and June 16, Humde received 175.8mm of rain. On June 15 it recorded 54mm. The next day, it set a new record of 82.23mm, surpassing the previous record of 41.5mm on June 6, 2020.
The amount of rain on June 15 and 16 is among the top three one day records of rainfall since 2015, when data for the district started to be available.
Normally, Humde receives 234mm rain during the monsoon months of June to September/October.
"As the surface had been already saturated [with pre-monsoon rain], not much water could go into the soil even after infiltration; so the rainwater resulted in floods," said Kandel, who is also the chief of the Climate Section under the department. "Also, as the region has loose soil, rain causes fast soil erosion and debris to flow with the floodwater."
It was not only Manang but also neighbouring Mustang district, which is also north of the Himalayan mountains, has seen heavier than usual rainfall.
During the pre-monsoon period, the Jomsom weather station of Mustang received 202 percent of its normal pre-monsoon rainfall. This year the weather station recorded 142mm of rain compared to the normal 70mm during March-May.
Since the monsoon began, Jomsom weather station has already received 64 percent of the season's rainfall with 86.5mm rain recorded between June 12 and 16.
Jomsom's average monsoon rainfall is 160mm.
According to Kadel, these two districts received more rainfall this monsoon because of a weather system developed after collision between monsoon clouds coming from the Bay of Bengal and moisture coming from the Arabian Sea, supported by jet streams—relatively narrow bands of strong wind in the upper levels of the atmosphere. The weather phenomenon lifted clouds up to high mountains.
Incessant heavy rainfall since Monday had flooded many small rivers and rivulets in Manang with floodwaters entering villages and causing damage.
Floods in the Marshyangdi river and landslides, triggered by continuous rainfall since Monday evening, had displaced more than 350 people since then. Around 300 people are taking shelter in the new prison building in Chame, the district headquarters.
On Thursday, as many as 35 victims of floods and landslides—24 from Sirantal area of Naso Rural Municipality and 11 others from the Thoche area of the same rural municipality—were rescued by a Nepal Army helicopter.
On Friday, another 80 persons, who had gone to harvest yarsagumba in the highlands, were rescued by helicopter from an altitude of 5,000 metres, two days' walk away from Phu village. Phu is a two-day walking distance from Chame.
The yarsagumba collectors were left stranded due to snowfall, landslides and floods caused by the rains since Monday.
On Friday, another 88 people were rescued from lower altitudes of Manang. According to Chief District Officer Bishnu Lamichhane, 139 villagers have been rescued from different parts of the districts until Friday.
Floods have inundated the whole of Talgaun, a village with more than 55 houses. In Chame, five houses are inundated and another five have been washed away. In Dharapani, ten houses have been flooded.
The devastation from rains in the mountain district has surprised meteorologists.
"The region is too dry for such a scale of rainfall," said Kadel. "After a wet pre-monsoon, rainfall in Manang has been record-breaking this season."
The department has been collecting rainfall data in Manang only since 2015 and therefore there isn't adequate data available over a long period to analyse the rarity of the devastation this year. Another rainfall station at Talgaun was washed away by the recent flooding, according to Kadel.
"Mustang has also recorded a similar amount of rainfall, indicating both districts have received extreme rainfall that could cause damage," said Kadel. "On the basis of available data and our communication with local residents, there was continuous heavy rainfall which was much above normal for the area."
The amount of rainfall in the two mountain districts would be considered normal for a place like Pokhara, Kadel said.
"But it is extreme for a dry region like Manang," said Kadel. "Chances of flood and damage simply increase because infrastructures are not constructed accordingly. People's lifestyle is different in regions more prone to heavy rainfall. It was bound to cause massive damage as houses are constructed considering the dry climate."
While most of the country awaited rain during the pre-monsoon period, which was largely dry across the country, Humde weather station recorded 51mm rain in April, higher than the month's normal of 37mm.
In May it received 166mm, more than six times the normal of 24mm—based on the data between 2015 and 2020.
"This year's data prove that Manang has received too much rainfall in the last three months. In the past, the highest amount of daily rainfall would be between 20mm and 30mm," said Kadel. "One can only imagine the situation when daily rainfall crossed 80mm in one day."
The forecast for this year's monsoon, which entered the country on June 11, is that rainfall in most parts of the country will be 'above normal'.
Forecasts that high mountains and mid-hills will receive above-normal rainfall mean mountain districts like Manang and Mustang could receive more rain in the remainder of the monsoon season.
According to Kadel, the senior meteorologist, there is a 55 to 65 percent probability of high mountain areas receiving above normal rainfall this season.
So far, the northern part of Gandaki Province and northwestern Bagmati Province, which borders Gandaki, have had significant rain among other mountain districts.
"Since there has already been a significant amount of rainfall, we cannot deny there will not be more rain during the rest of the monsoon season," said Kadel. "There is the possibility of more rainfall in these two districts and elsewhere in the mountain region, which could lead to incidents similar to one witnessed in Manang."
Aash Gurung contributed reporting from Manang.
---
---