Every year scores die by drowning, a silent catastrophe in the country
Drowning of five girls in Dhanusha is a reminder. Monsoon increases the risk. Ponds need to be fenced and awareness raised to avoid such tragedies, authorities say.

Santosh Singh/TKP
bookmark
Published at : June 13, 2021
Updated at : June 13, 2021 09:56
Kathmandu
On Friday afternoon, a group of eight children—five girls and three boys—between 10 and 14 years had taken goats out for grazing in Mukhiyapatti Musharniya Rural Municipality, Dhanusha.
As the temperature rose, they decided to swim in a newly dug pond to cool themselves. Temperatures rise up to the high 30's Celsius in the Tarai.
All of them took a plunge together, but only three boys came out alive.
The five girls—Lakshiminiya Yadav, 12, Chandrakumari Bhagat, 10, Manju Purbe, 13, Chandani Thakur, 12, and Lalita Sahani, 12—died by drowning.
"Incidents of kids drowning and falling in boring pits often take place in Tarai districts," Bhagwan Jha, chief of Water Resource and Irrigation Development Division Office in Dhanusha, told the Post over the phone from Janakpur.
The death of five children by drowning in a pond, which was being dug up and rainwater had filled up, left the whole village grieving.
What happened in Dhanusha, however, is a common occurrence in the country. Round the year, deaths from drowning in ponds, lakes, rivers, canals and even pits left dug out for construction like roads are reported from different parts of the country.
"What happened in Dhanusha yesterday [on Friday] is a heartbreaking incident," said Anil Pokharel, chief executive officer with the National Disaster Risk Reduction and Management Authority. "No one can ever imagine such a disaster, involving so many children at once, can take place. This is tragic."
Death by drowning is a 'silent disaster' for the country, he said.
"Drowning deaths are silent disasters like snake bites," said Pokharel. "We don't have exact data on how many people die every year by drowning across the country. However, such casualties could be in scores every year."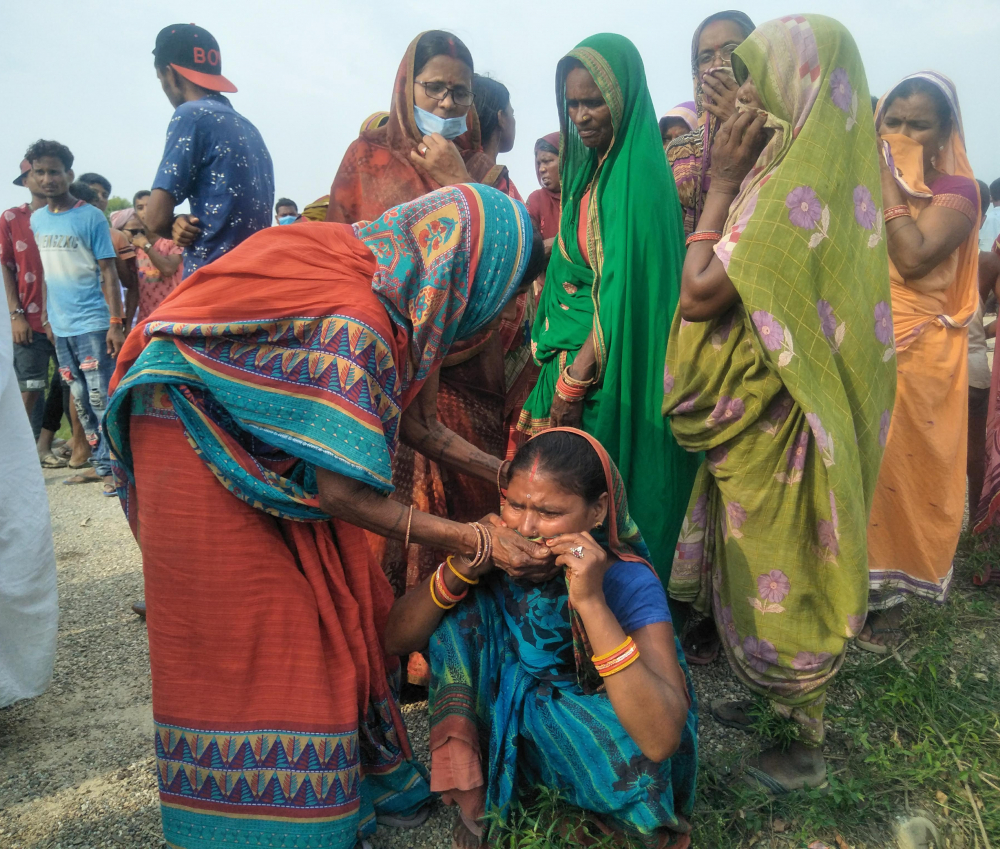 Santosh Singh/TKP
Last year, three children died when they drowned in an under-construction pond in the Kamaldhap Tourism and Wetland Construction Site in Prithvinagar of Bhadrapur Municipality, Jhapa.
According to the World Health Organisation (WHO), drowning is the third leading cause of unintentional injury deaths worldwide, accounting for seven percent of all injury-related deaths. As per the WHO estimates, nearly 236,000 died by drowning in 2019.
Although the global burden and death from drowning is found in all economies and regions, low-and middle-income countries account for over 90 percent of unintentional drowning deaths, according to the UN agency. Analysis shows that boys and adult males with increased access to water are most at risk of drowning.
The situation is no different in Nepal, although large-scale and official data on drowning deaths are not available.
Findings of a study published in 2018, however, showed an alarming picture of drowning casualties in the country.
The study collected and analysed drowning cases reported to Nepal Police between 2013 and 2015, and found that there were 1,507 cases of drowning deaths in the three-year period.
Of these drowning deaths, Tarai districts, with 700 cases, reported 46.4 percent of such incidents. Most of these deaths—more than 88 percent—had occurred in natural water bodies like ponds, rivers and lakes.
"Most of these deaths occur in Tarai districts where there are water bodies around. The general life revolves around such wetlands for day to day needs," said Pokharel. "Besides, new water bodies are forming in new places where excavators dig out construction materials. There are also brick kilns that dig large holes where there used to be none. All these increase the risk of people, mainly kids, drowning."
According to the 2018 study, more males die by drowning than females. Younger people below 20 years of age accounted for over a half—52.7 percent—of the deaths by drowning reported between 2013 and 15.
Such deaths were highest in the 10 to 19 age group, followed by 0 to 9 years and then declined as age groups increased, the study said.
According to Jha, a lack of knowledge among children about such water bodies and newly constructed pits and ponds, which are not fenced, is dangerous.
"First of all, children are not aware of the depth of these water bodies and they step into ponds. Second, there are new ponds being constructed. Such ponds and haphazardly dug ditches don't have proper boundaries," said Jha, who is also the team leader for the Chief Minister Cleanliness Campaign of the Province 2 government.
"When kids step into such ponds, which are without proper ghat and boundaries, they are trapped in the marsh and cannot easily come out. Besides, guardians are also not taking the required precautions of keeping their children safe and away from water bodies."
The fact that fewer children than in the past seem to know how to swim is another reason for drowning deaths, according to Pokharel.
"In the past, most of the people living around water bodies knew how to swim. Even younger people could swim well," said Pokharel. "It seems perhaps the local communities have failed to transfer swimming skills to children. This could be because of changing lifestyles too."
With the monsoon here, the number of deaths by drowning could go up.
The 2018 study also identified a seasonal pattern of drowning deaths, showing high number of drowning incidents during the four-month monsoon season—peaking in July—with 43 percent of the total deaths by drowning and relatively fewer in the winter months. Most such deaths occurred while swimming, bathing and crossing the river.
The federal government has prioritised making the general public aware of how to remain safe from drowning and keep their children away from water bodies besides compiling relevant data.
"We have been working on compiling data and tracking such incidents to come up with larger statistics on drowning patterns in the country," said Pokharel. "We need to find out how many people are drowning every year and where they are dying. We do not have any such data as of now. We must pay attention to this disaster. Therefore, we have been making videos to create awareness among the general public."
The authority has released drowning-related videos in the Nepali, Maithili, Bhojpuri, Tharu and Doteli languages.
"We need ponds and water bodies for our needs. But we can make them safer by fencing or putting up warning signs and not letting children near water bodies," said Pokharel. "Besides, strict actions should be taken against those who have dug up ditches and ponds and left them unsafe for children like those in Dhanusha."
---
---