Extraction of sand, pebbles and stones is widespread across the country
The government decision to allow the export of these natural resources would devastate the already fragile environment.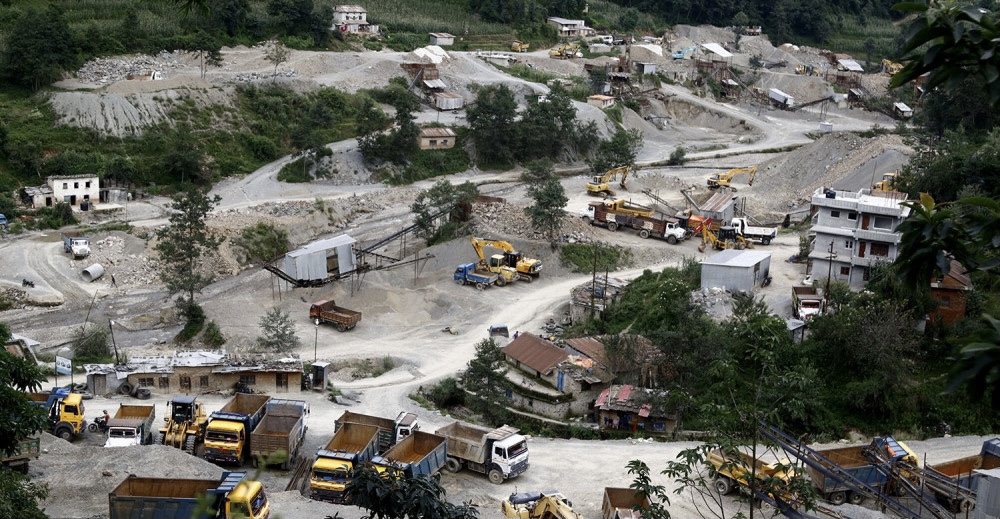 Illegally operated mining and crusher industries in Lele Nallu area of ​​Lalitpur. Keshav Thapa/TKP
Published at : June 5, 2021
Updated at : June 5, 2021 19:22
Ecosystem Restoration is the slogan for World Environment Day being celebrated across the world Saturday.
But in Nepal exactly a week earlier, the government in its budget for the fiscal year 2021-22 that begins in mid-July said that it would allow the export of stones, pebbles and sand from across the country to decrease the trade deficit.
The announcement means revoking the existing ban on the export of river and mine-based construction materials.
There has been widespread opposition to the announcement as it would turn parts of the country, particularly the Chure-Bhawar area, source of water for the Terai home to nearly 50 percent of the country's population, into a desert.
Conservationists, politicians and the general public have called the move shortsighted, counterproductive and catastrophic for the environment and guided by ill-intentions.
Here is a compilation of pictures of the exploitation taking place across the country by the photo department of the Post.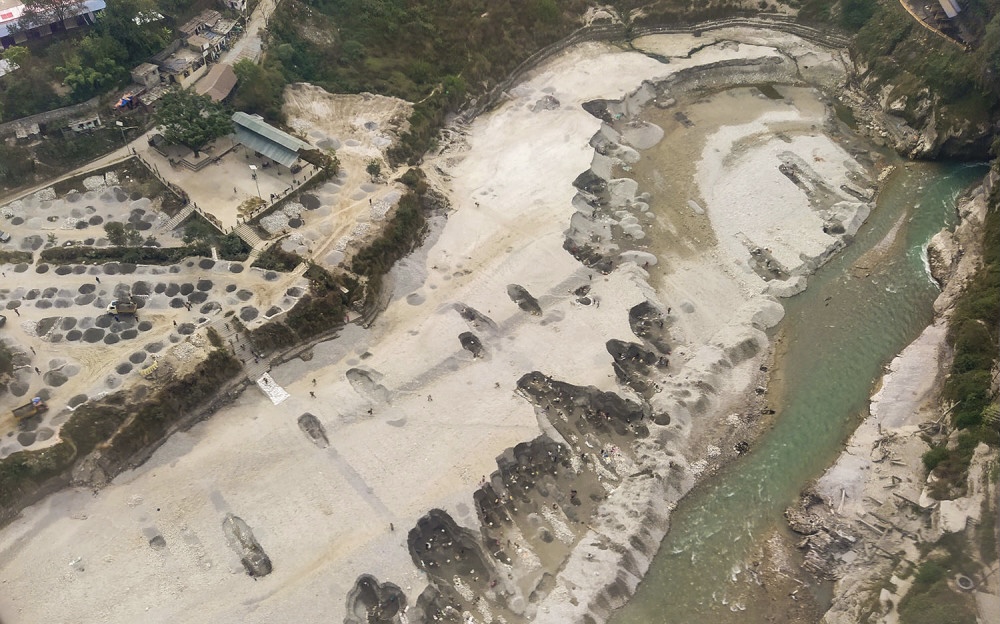 View of the Ramghat area of Pokhara where sand is excavated and stored on the banks of the Seti River. Deepak KC/TKP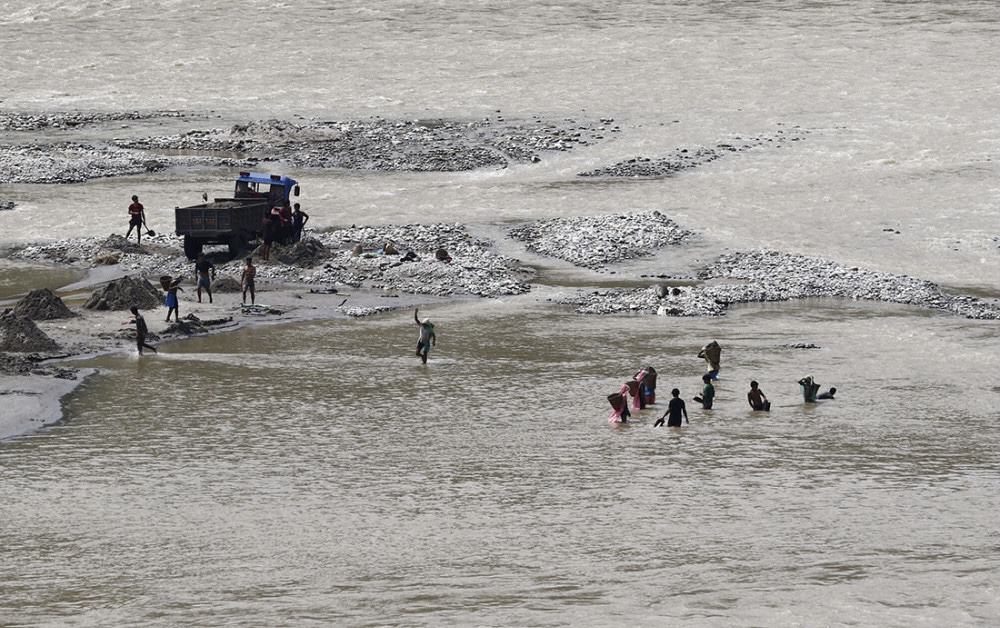 Workers extract sand from the Trisuli river despite flooding. Keshav Thapa/TKP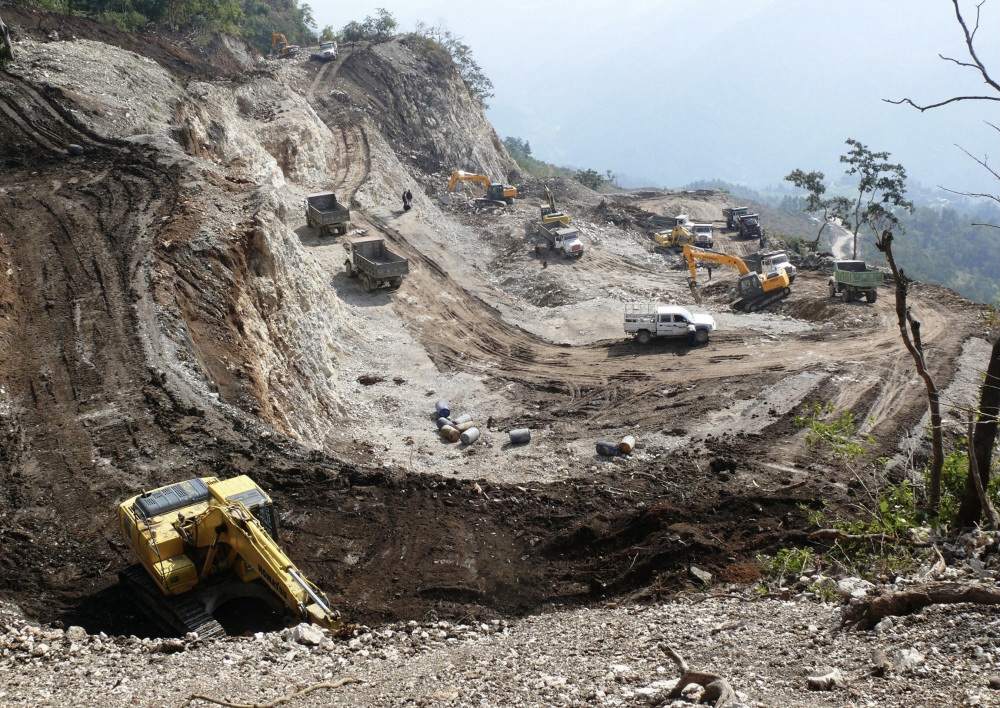 Siddhartha Minerals, a limestone mine in Palpa has changed the natural landscape. Madhav Aryal/TKP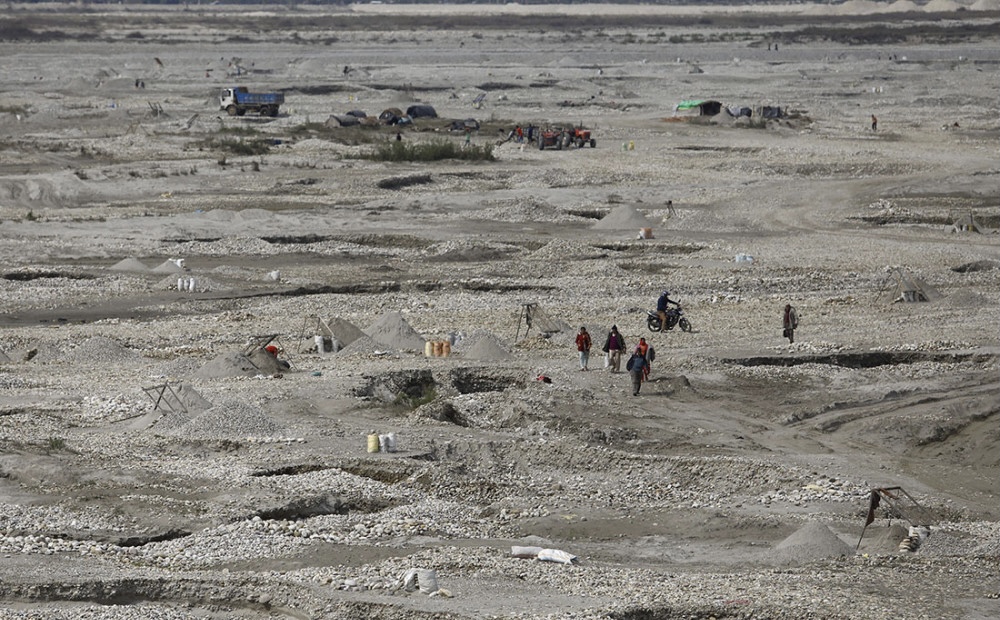 Workers extracting sand from the Mahakali River in Kanchanpur. Hemanta Shrestha/TKP
Extraction of sand taking place in Sunkoshi river of Sindhupalchowk. Angad Dhakal/TKP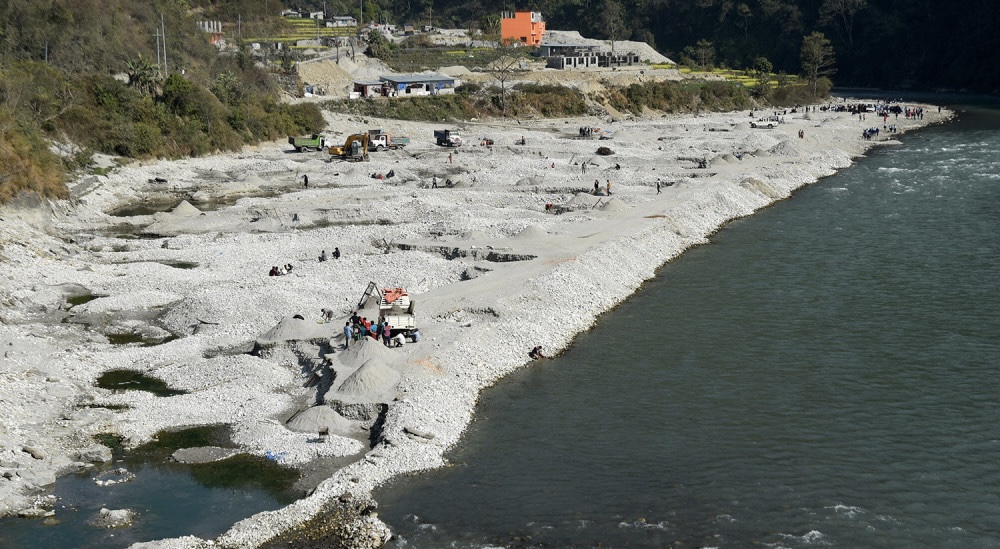 Illegal extraction of sand in Sunkoshi river of Sindhupalchowk. Angad Dhakal/TKP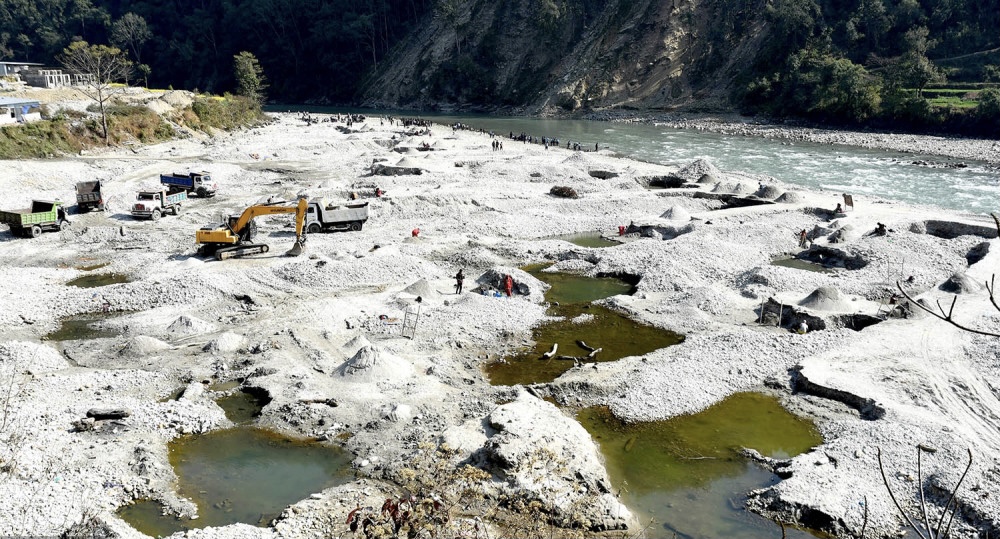 Illegal extraction of sand in Sunkoshi river of Sindhupalchowk. Angad Dhakal/TKP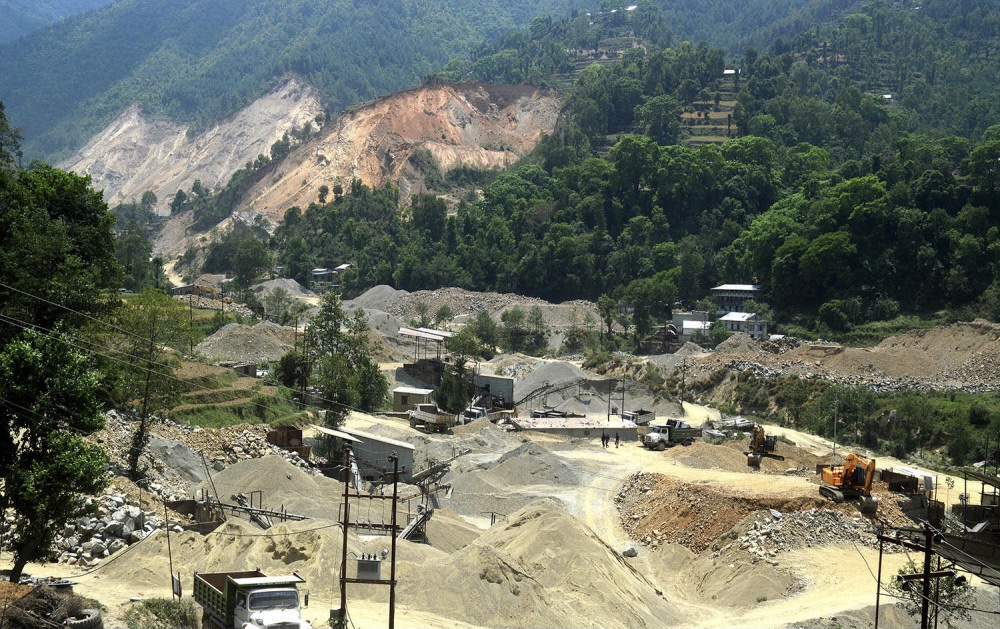 Illegally operated crusher and quarry at Nallu Khola in Tikabhaira of Godavari Municipality, Lalitpur. Post file photo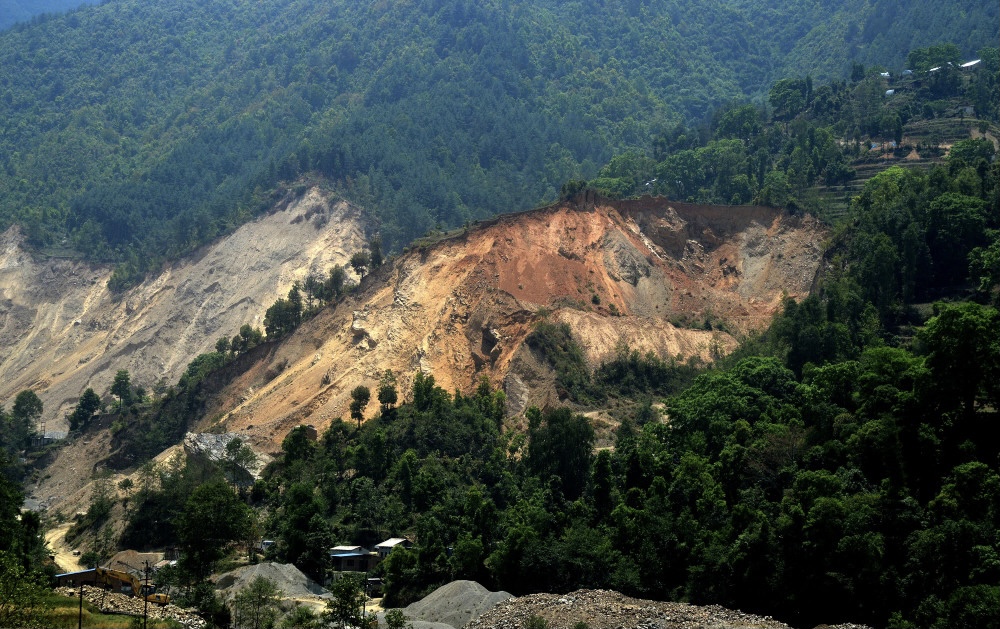 Illegally operated crusher and quarry on Nallu river in Tika Bhairav, Lalitpur . The excavation in the forest near the headwaters of Nallu Khola has changed the landscape. Photo credit: Survindra Kumar Pun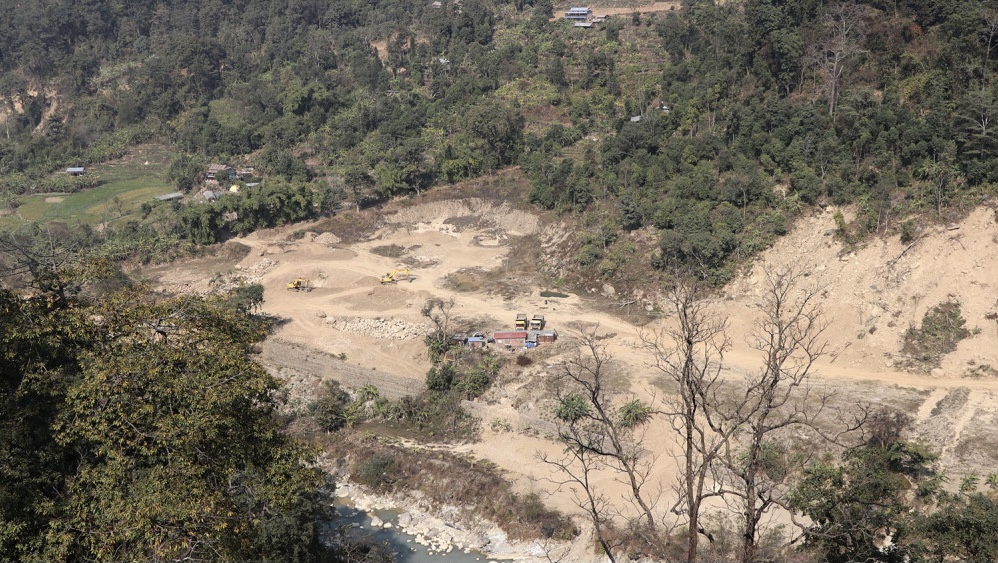 A 7-meter long pit has been dug in Gobarbandi of Tinau Rural Municipality of Palpa. It is not allowed to dig a pit more than one and a half meters to level the land. Madhav Aryal/TKP
A mountain dug by a crusher operated at Namobuddha in Kavrepalanchowk. No action has been taken against the crusher industry despite it operating illegally due to political patronage the operators have. Hemanta Shrestha/TKP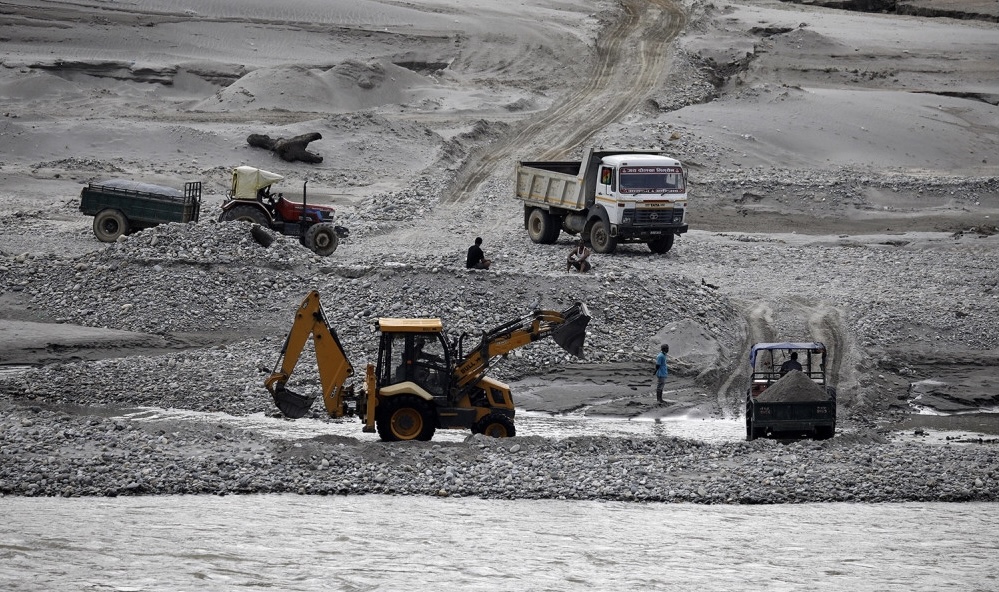 Sand is being extracted from Sunkoshi and Tamakoshi rivers in Khurkot, Sindhuli. Hemanta Shrestha/TKP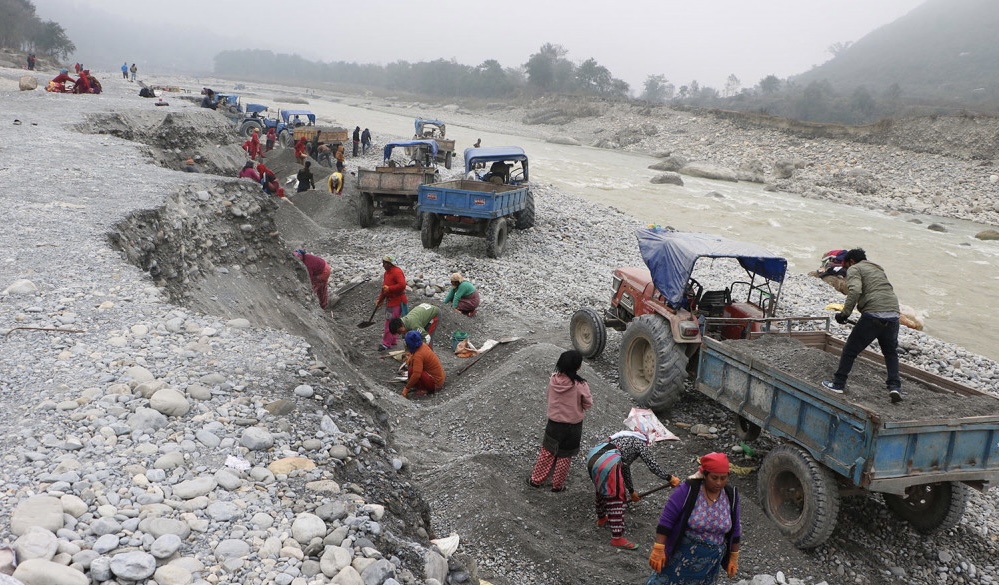 Workers walking on the sand on the banks of the Seti river in Shuklagandaki Municipality, Tanahu. Samjhana Rasaili/TKP

Sand being excavated from Barganga river at Ramghat of Kapilvastu in AD 2018. Prakash Chandra Timilsena/TKP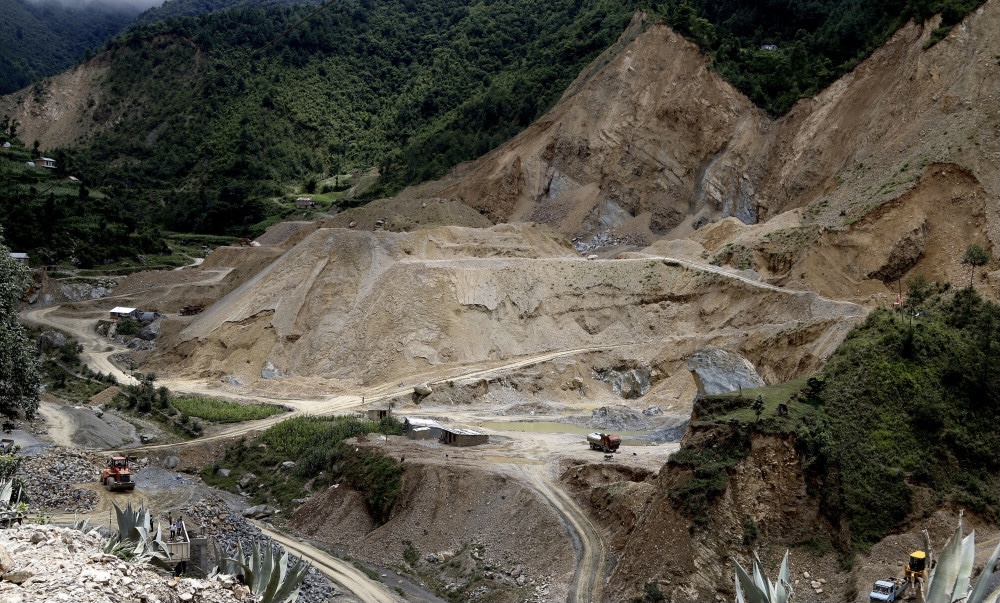 Stone quarries and crusher industries operate illegally in Nallu and Tikabhairav ​​of Lele, Godavari Municipality, Lalitpur. Despite the directive of the Parliamentary Committee on Natural Resources to close it six years ago, it is still operating smoothly with the connivance of the local administration and the police. Keshav Thapa/TKP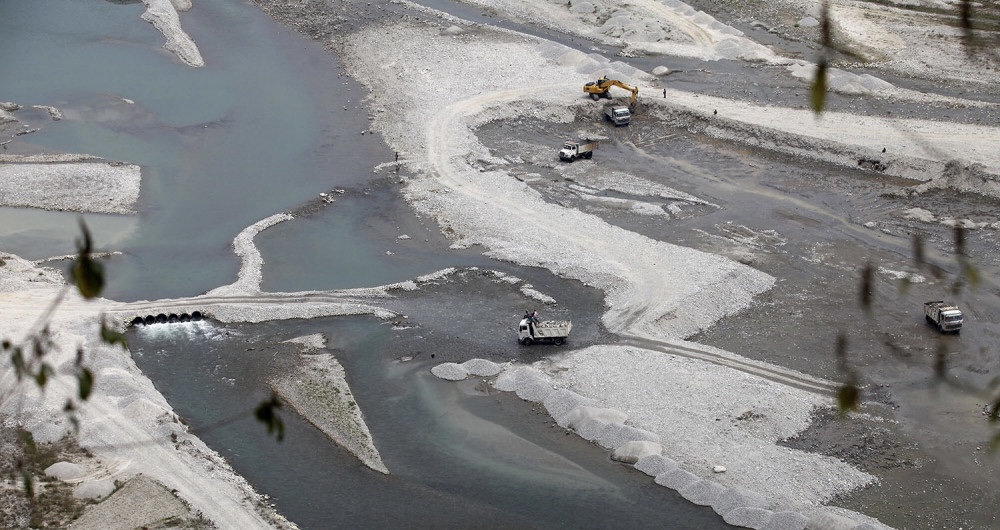 Pouring excavated sand from Idravati river of Melamchi into a tipper. Kiran Pandey/TKP
---