Officials hope data on two snow leopards movement will help in conservation efforts
Fitting two males of the species in Shey Phoksundo National Park in Dolpa with GPS collars, weighing 300-400 grams, will also provide information on their habitat, behaviour and prey base.

This male snow leopard fitted with a GPS collar and named Lhangken weighs 38 kg and is six years old. DNPWC/WWF Nepal
bookmark
Published at : June 3, 2021
Updated at : June 3, 2021 12:30
Kathmandu
Conservationists have started monitoring the movement of two snow leopards inside the Shey Phoksundo National Park in Dolpa district with the aid of satellite collars.

The aim of the study is to gain a better understanding of the snow leopard habitat and their behaviour for their conservation.
A seven-year-old adult male snow leopard weighing 37 kg was fitted with a GPS collar in the Rapka area of Saldang on May 19. The second snow leopard, a six-year-old adult male weighing 38kg, was collared in the Dhora area of Saldang block on May 25.
They have been named Ghangri Ghapi Hyul and Langyen, respectively.
According to Gopal Khanal, acting chief conservation officer at the Park, after prior assessment and groundwork for the study, which started on May 16, satellite GPS collars were finally put on the two snow leopards.
"We managed to collar both the animals fairly quickly. Although the whole study has been going on for fifteen days now, we managed to collar them within a week," said Khanal. "Collaring two snow leopards, which is a cumbersome process, within a week is encouraging. The process has taken us up to 45 days in the past."
A team of 30 members comprising park officials, wildlife experts, technicians, and veterinarians from the World Wildlife Fund Nepal and the National Trust for Nature Conservation as well as independent scientists involved in snow leopard conservation, had initiated research on the animal focusing on Nijal village in the park's Saldang block.
With the installation of satellite collars, the authorities have started tracking the movements of Ghangri Ghapi Hyul and Langyen.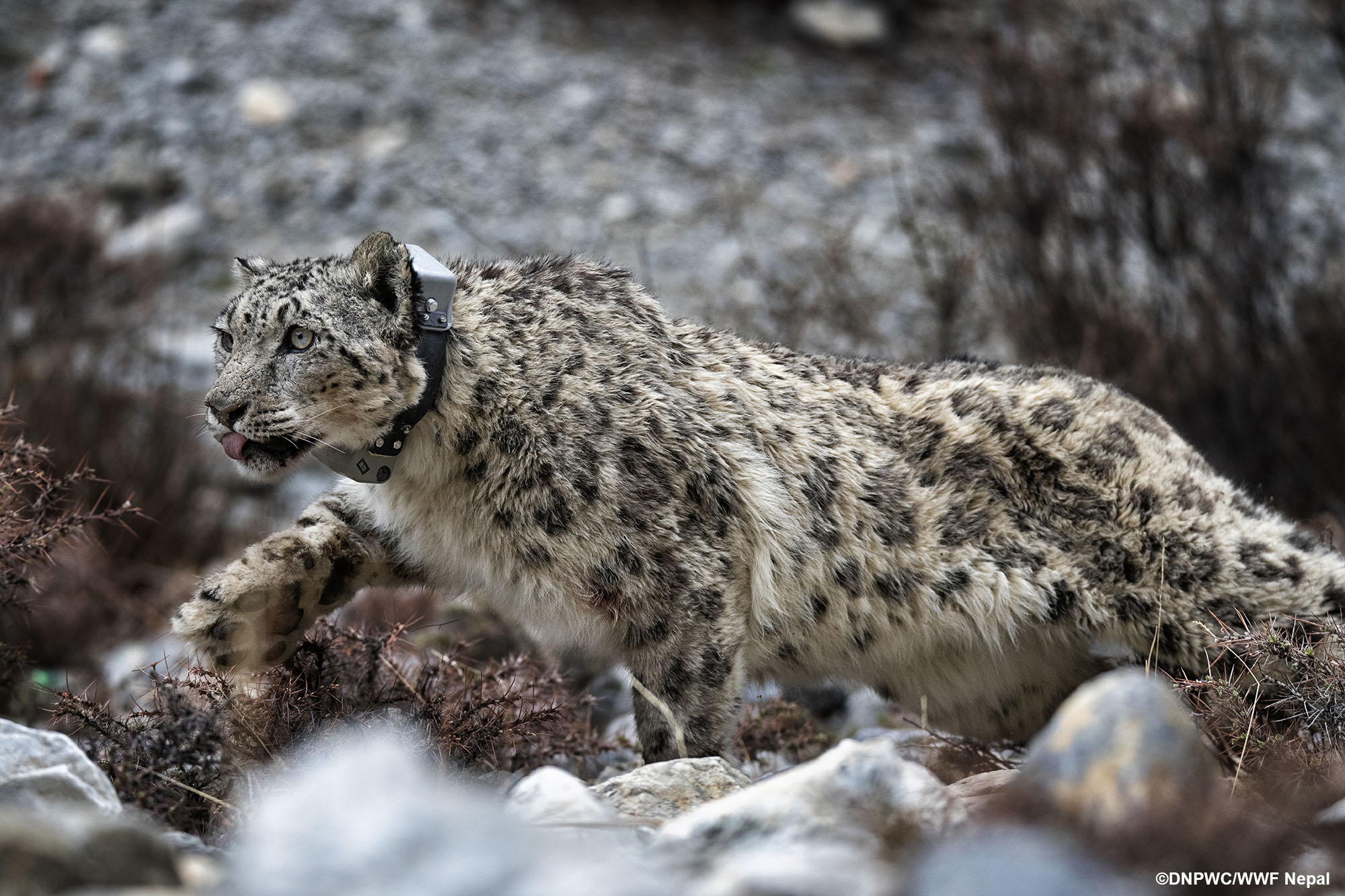 Ghangri Ghapi Hyul is a seven-year-old male snow leopard weighing 37 kg. DNPWC/WWF Nepal
The GPS devices will relay valuable information on their habitat, behaviour, prey base and activities, among other crucial insights, to the researchers.
"Satellite collars will provide data on the distance they have covered. This information can be significant in determining the total area we need to protect for them as well as in defining their home range," said Khanal, who has also conducted studies on snow leopards in Dolpa. "For instance, one-year data of one snow leopard's movement will show how much area the animal covered in a year. Based on that movement data, we can calculate what will be the tentative number and distribution of species in the study area."
The GPS collars transmit the location of the animals every four hours and relay the data to the researchers. The devices usually last up to 18 months.
"The data will provide further details on which block and habitat of the park they reached, at what elevation, daily movement distance which can also be calculated into their annual movement distance. Likewise, a trend on their seasonal movement, if they wander differently during summer and winter, will also be analysed," said Khanal.
As per the latest data transmitted by the satellite collars, the two snow leopards are roaming in their respective habitats at an altitude of 3,069 to 4,960 metres.
Ghangri Ghapi Hyul has covered 24 km in seven days while Langyen has covered 2 km in one day. These snow leopards are wandering at a distance of 6 km from each other.
According to Khanal, although the movement is already happening, they have not walked enough as they have not got used to the devices, weighing around 300-400 grams, tied around their necks.
The data obtained through the collars can help conservationists identify key areas for human-snow leopard conflict mitigation, habitat management and transboundary cooperation. They will also aid in preparation of appropriate policies and strategies for snow leopard conservation.
"Once we start tracking their movement, we know where these animals have reached and how long they have stayed there. If they remain stationary in one place for a long time, it could mean they have killed prey, giving information on the ecology and their own behaviour," said Khanal. "As we get to know about their movement and habitat, it will be easier to introduce conservation activities."
Besides tracking their movement through satellite collars, on-site monitoring will also take place simultaneously. As per the requirement, the team will conduct on-site observation at sites where the collar-connected snow leopards roam.
"If a snow leopard is located at one location for 24 hours, then it is either dying, has potentially died or hibernating after killing a prey," said Khanal. "This animal does not stay at one place unless it has killed a prey. If it wanders at one location, then it might have killed a prey and could be eating. On such occasions, the team could reach the location, following the GPS signal, and gather more valuable information such as type of prey species and availability."
The latest installation of satellite collars on two snow leopards is part of the government's larger plan to study snow leopards.
In 2018, the government had decided to collar 12 snow leopards.
As per the plan, eight snow leopards from the Annapurna Conservation Area and the Manaslu Conservation Area, which lie in the central complex of snow leopard habitat in the country, and four snow leopards from Shey Phoksundo National Park (in the western complex) would be collared.
According to Hari Bhadra Acharya, spokesperson for the Department of National Parks and Wildlife Conservation, the plan is to study 12 snow leopards in three protected areas in the next five years.
"In this fiscal year, two snow leopards have been collared in Shey Phuksundo National Park," Acharya said. "For similar studies in other two protected areas, we have two and a half years and we are looking for financial support."
The ongoing study in Dolpa is led by the Department of National Parks and Wildlife Conservation with financial and technical support from the World Wildlife Fund Nepal and the National Trust for Nature Conservation.
Of the four snow leopards that were to be collared in Shey-Phoksundo National Park, Dolpa, two snow leopards were collared last fiscal year. However, both the animals were found dead within six months of collaring.
According to Acharya, one of the animals apparently died after falling off a cliff, whereas the second died of an unknown cause.
"As both snow leopards had died within six months of collaring, they could not transmit reliable data," said Acharya. "Before Dolpa, GPS technology was used to study the snow leopards in the Kangchenjunga Conservation Area."
Between 2013 and 2017, four snow leopards—two females and two males—were collared in the Kangchenjunga Conservation Area.
Monitoring snow leopards in the Shey Phoksundo National Park, Dolpa is also looked at significantly as the location where the satellite collar was fitted on one of the snow leopards was about 12 km from the Chinese border. The park authorities and wildlife experts hope to get information on whether the snow leopards will migrate to China from Nepal or not.
Snow leopards that were collared in Kangchenjunga Conservation Area had crossed the Nepali border and reached both China and India.
"If any of these snow leopards reach China, then it will disseminate a message that conservation activities should take place at a transboundary level too, as species do not recognise administrative borders as seen in Kanchenjunga," said Khanal. "This park, which is in the trans-Himalayan region of northwestern Nepal, was selected as a study site also because it is different from the eastern landscape of Kanchenjunga."
Shey Phoksundo region is dry and possesses a varied environment than the Kanchenjunga region. It is considered that the western landscape has better snow leopard density because it has a better prey base too.
Nepal is one of the 12 countries where snow leopards are found. The estimated population of the animal is between 301-400 in Nepal.
The elusive creature dwelling in high mountains is under constant threats like habitat loss and fragmentation, poaching and impacts of climate change, among others.
"The status of snow leopards in terms of threat is similar to that of rhinos, elephants, tigers and clouded leopards. They fall in the vulnerable category on the IUCN Red List of Threatened Species and are protected species under Nepal's conservation laws," said Acharya, who is also an ecologist. "Snow leopards face difficulties surviving in a harsh environment. They have died after falling off cliffs while hunting or have been killed by avalanches."
But worst of all, conservationists say human-snow leopard conflict is a major threat to their existence.
A study conducted by Khanal in Dolpa region has shown that snow leopards tend to eat livestock despite availability of prey in the habitat, making them prone to retaliatory killings.
"As snow leopards prey on cattle, sometimes even massacre dozens at a time, they are killed in retaliatory acts by local communities," Acharya said. "They give birth to many cubs and need meat to feed the young, but since it is not easy to hunt in the mountains, they venture into human settlements and kill livestock. This behaviour puts them at a greater risk of being killed by humans."
---
---