An artist's intuition for colours and her imaginings
Shivangini Rana's art exhibition is one vibrant sensual treat.

Shivangini Rana in front of her painting titled 'Butterfly Abstracted', which is one of the highlights of her art exhibition. Srizu Bajracharya/TKP
bookmark
Published at : July 14, 2021
Updated at : July 14, 2021 08:08
Lalitpur
Colours have a way of pulling people closer to things in life; they are sometimes what urges us to look deeper within life's ordinariness.

At Siddhartha Art Gallery, Shivangini Rana's exhibition, 'Beautiful & Bold', does just that. It pulls you closer to the hues of life. At a glance, her acrylic works may look like an artist playing with colours but give it time, and you will see your own meaning unfurling in her artworks.
Just a little ahead of the gallery's entrance, on the first wall that greets visitors, two large paintings of a feather resembling the colours of peacock infatuate our imagination. When you let your mind wander into these worlds for a moment, you can feel the colours spreading in water, perhaps a river, as the feathers slowly float in it. You can feel the glistening sunlight in the reflection of water and feel a sense of calm.
Rana painted the series 'Peacock' in Nepalgunj a few years back when she started gardening, she says.
"I was around nature so much at the time. Birds and flowers surrounded me, and just like that, I was painting them," said Rana, as she walked around her works at the gallery.
"Most of these paintings represent the feelings that embrace me and things I am going through in life. It reflects how I feel and see colours," said Rana. "And to people, it may seem I use a lot of vibrant colours, but if you look closely, you will see that black is a dominant colour in my artworks."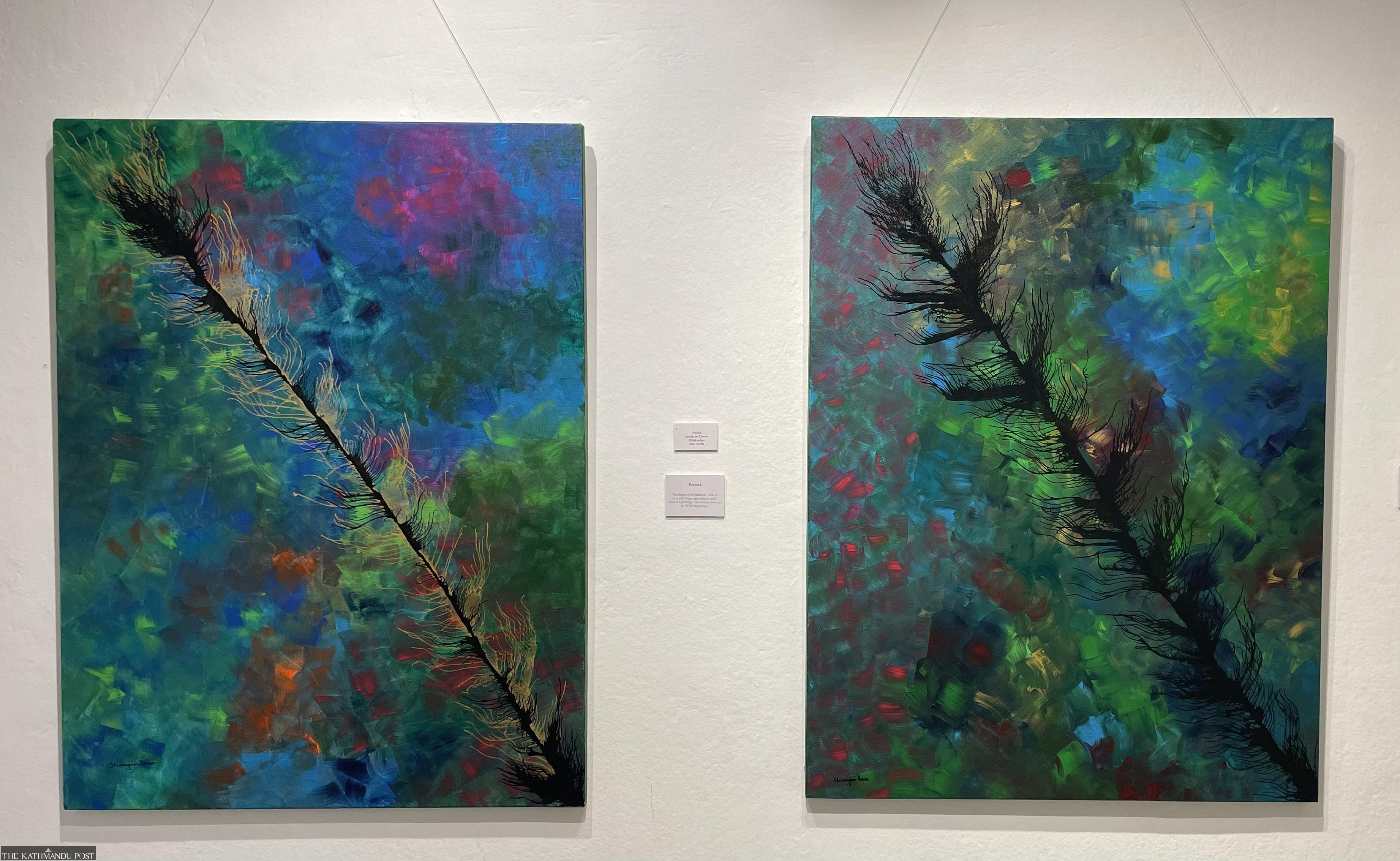 Srizu Bajracharya/TKP
One of the exhibition's highlights is Rana's painting titled 'Butterfly Abstracted', which portrays a kaleidoscopic butterfly on a black base—a choice that successfully manages to hold the attention of viewers. The mosaic coloured wings of the insect look like splotches of coloured water and embrace a rejuvenating experience.
And at such a time when the city is slowly reopening after almost two months of lockdown, the butterfly seems like a metaphor for trusting the change we have gone through.
"I think butterflies are a sign of growth and change. In these trying times, I thought this painting would resonate with our hopes for life," explained Rana.
Rana, who is a self-taught abstract artist, is as multicoloured and dynamic as her paintings. She studied hospitality management and has worked at some of Nepal's leading hotels. In 2012, she participated in the fifth season of MTV India's reality show Splitsvilla. The following year her debut movie, 'Madhumas', was released. Over the years, she has also worked as a model and has appeared in many magazines.
Rana is also the founder of Lucky Ace Events & Entertainment, an event management company, and a gallery in Nepalgunj. Currently, she is also the owner of Hotel Batika, a boutique hotel in Nepalgunj, and Bardia Adventure Resort.
"I have always believed that there is always something to learn from the path we decide to take and have never shied away from exploring things and giving my all in what I set out to do. I stay open to opportunities in life," said Rana.
But when the Covid-19 pandemic hit the country, Rana's busy life, she says, came to a grinding halt. When the first of the pandemic-induced lockdowns began in 2020, Nepal's hospitality industry was hit hard. Rana, who was busy managing two of her hotels for the last few years, suddenly found herself with plenty of free time.
"It wasn't easy going from leading a very hectic lifestyle to having nothing much to do and seeing the hardships of everyone. And once I began painting, I just immersed myself in it. I found my joy and peace doing it. And it has been a meditative process," said Rana, who began painting professionally five years ago.
Painting has been a part of her life ever since she was a child. As a girl, Rana would sometimes paint with her mother, who is also an artist.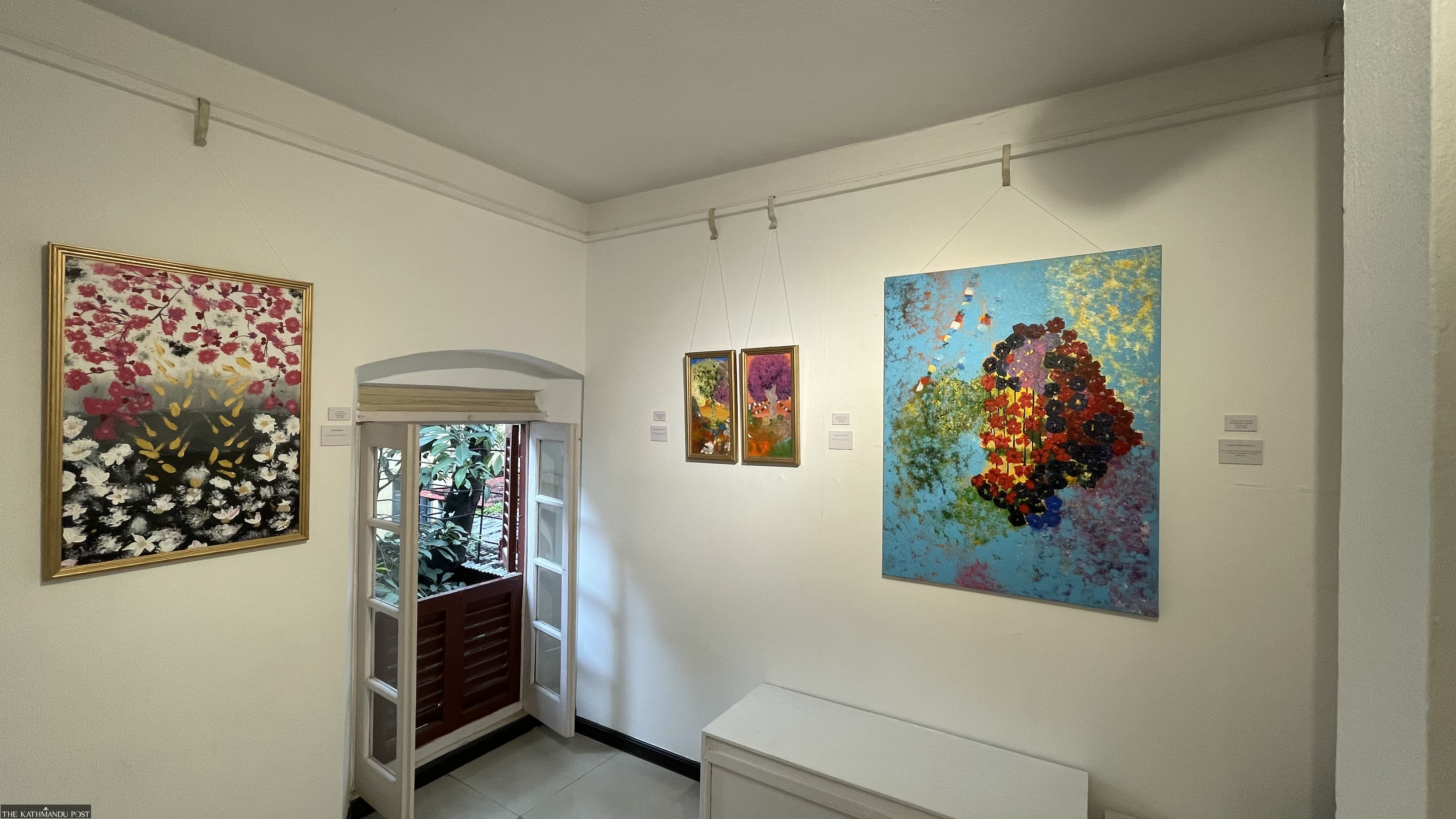 Srizu Bajracharya/TKP
Most of her collection in the solo exhibition portrays Rana's life experiences and her love for nature. She captures colourful gardens and galaxies and stories of her imaginations. There's also one work in the exhibition where she tries to portray her angst when she tested positive to Covid-19 twice. Rana first got infected with Covid-19 last year. A few weeks ago, she got reinfected.
It was a difficult time that had her thinking if this was the end of everything. "But I tried my level best to stay strong," she said.
In her painting titled 'Stranger Things', Rana portrays her experience of battling the infection. The work uses hues of grey, black colours and the distinct colour gold that often captures the meaning of prosperity and even hope in some sense. The painting also resembles an X-ray of a smogged lung. The gold strokes hold the haze in, perhaps meaning the only way out of the doom is to hold on to your strength.
"Shivangini has this instinctive idea of colours that she knows how to explore. Her command over colour is striking, and her work reflects her spontaneity," said Sangeeta Thapa, the founder-director of the gallery.
In many ways, Rana's works in the exhibition feel vast as the viewers viewing them bring their own subjective meaning of the colours. This trait is also distinct to abstract works that allow viewers the freedom of using their own semantics—there is no particular way of how the artworks should be read. Instead, they can mean what people see in them.
Rana also is not an artist who pre-plans how her idea should manifest on canvas; she just ruminates over her feelings on the canvas, she said.
"My ideas mostly start with a colour obsession where I start imagining colours and their combinations. It just happens to me when I see something beautiful or something captivating. So, when I am at home, I try to return to that feeling again in my workspace. Sometimes it's about a series I want to create but the initial creation is always random," said Rana.
As an artist, Rana prefers to work when there is nobody around.
"The paintings you see here all happened during the wee hours of the morning, between 2 am to 3 am. I cannot work when there are people around me. I need to be left on my own. But sometimes, I can't believe that I painted these works," said Rana.
Since she started painting professionally five years ago, Rana has also been slowly working on her visibility as an artist. Her Instagram page 'shivanginirana_art' is where she curates all of her works and it has more than 1,000 followers. Her art page on Facebook has over 9,000 followers.
And over the years, a lot of people have bought her works as well. With her ongoing exhibition, Rana says she is aware that many people might choose not to come to see her artworks as the Valley has just reopened after more than two months of lockdown and many are still wary of being in public.
Holding an art exhibition at such a time is a risk, but one both Rana and Sangeeta Thapa are willing to take to restart the art scene. It's a step towards recovering the losses of our times, they say.
"It's a risk we are taking but with precautions, and Shivangini has been optimistic even with all the challenges we have ahead," added Thapa.
Rana, too, is happy and enjoys interacting with visitors.
"I am just excited about bringing my works to people. There might not be many viewers given our situation, but it's still a beginning for me to delve deeper into this art journey," said Rana. "And I hope people who come will enjoy it."
'Beautiful and Bold' will be on display until July 30, 2021, at Siddhartha Art Gallery, Babar Mahal Revisited.
---
---