The unsung heroes behind hit numbers and chart-toppers
Despite their critical role in shaping the sound and success of an artist, music producers in Nepal go unnoticed and their contribution to the latest hits are unrecognised.

Photo: Courtesy of Bikesh Bajra
bookmark
Published at : April 23, 2023
Updated at : April 23, 2023 12:44
When Akshyata Karki first heard 'Kaalpanik', a moody ballad by Bartika Eam Rai, she was instantly hooked. It was three years ago. She played the tune on repeat then and continues to listen to it now. But it was only recently that she came to know about Diwas Gurung, who produced, engineered and mastered the hit song. Karki was impressed by Gurung's work and began to explore his discography, and in the process, developed a newfound appreciation for the producer's musical prowess.

Her exploration helped her become a more informed listener, she says. "Digging into Gurung's work helped me see 'Kaalpanik' in a new light," said the 19-year-old high school graduate. "I was now able to appreciate the song better and understand its nuances."
Behind every chart-topping hit and iconic album, there is a music producer, one who oversees all aspects of studio production and the creative process—from recording and arrangement to editing, mixing, and mastering. They bring an artist's vision to life. But despite their critical role in shaping the sound and success of an artist and by turn the industry at large, music producers in Nepal usually go unnoticed and their contribution to the latest hits unrecognised.
Bishal Pradhan, a 28-year-old producer who goes by his pen name 'Foeseal', says that Nepal has been late to embrace the very concept of a 'music producer', the reason why their contributions are often ignored.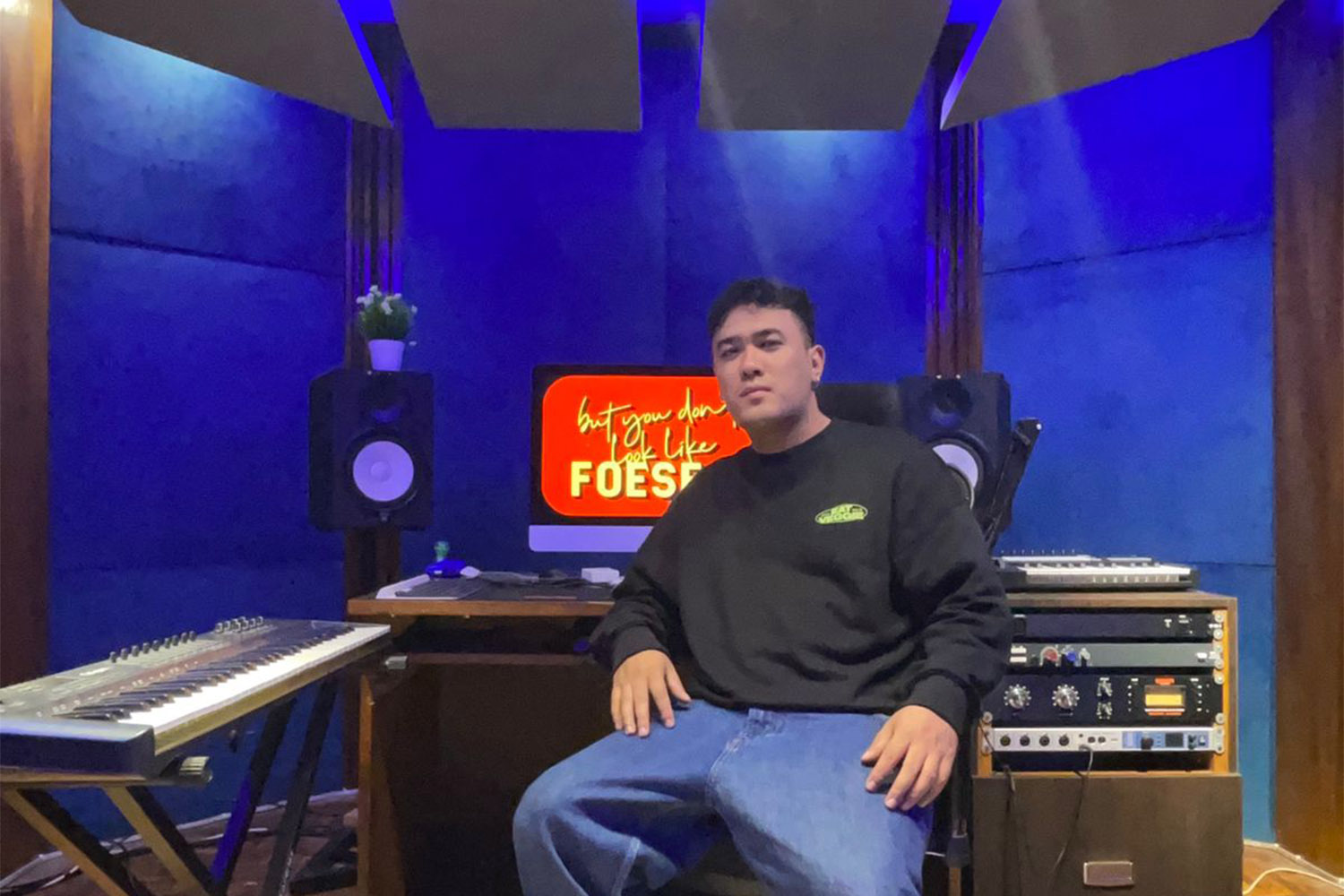 Bishal Pradhan, who is populalry known as 'Foeseal', has contributed to songs racking in over 150 million views on Youtube in the last one year alone. Photo: Courtesy of Bishal Pradhan
"Until a few years ago, the concept of music production in itself was an alien idea for the general public," Foeseal said. "It is only recently that people are becoming aware of the long and winding process behind creating a record."
Music producers, responsible for creating and shaping the sounds that make chartbusters, are overshadowed by the vocalists who become the face of the song, says 28-year-old Bikesh Bajra, another music producer.
"Many listeners assume that singers are solely responsible for their creations," Bajra said. "But this perception discredits the producer who crafted its sound. The obscurity of music producers is also due to the fact that their work is largely behind the scenes."
Bajra had a musical upbringing. He had the opportunity to witness the Nepali music landscape and the changes up close, even before he started producing music on his own. He is the younger son of the late Biju Bajra, a prominent music producer behind songs such as 'Bistarai Chayo' by Karna Das, 'Mai Thuli Bhaichhu Re' by Reshma Sunuwar and Sugam Pokharel's 'Timi ma Bhanda', to name a few. The junior Bajra says not much has changed in the way a music producer's contribution is perceived outside the music industry.
"There hasn't been any significant change in how the general public acknowledges a music producer's work," he said. "Nor in the remuneration they receive for their work."
Jyoti Shrestha, another producer who goes by 'Storenutter', believes that the very nature of a music producer's job prevents them from "establishing" themselves. The nature of their work and the subsequent result change with every project they take up, making their work seem transient.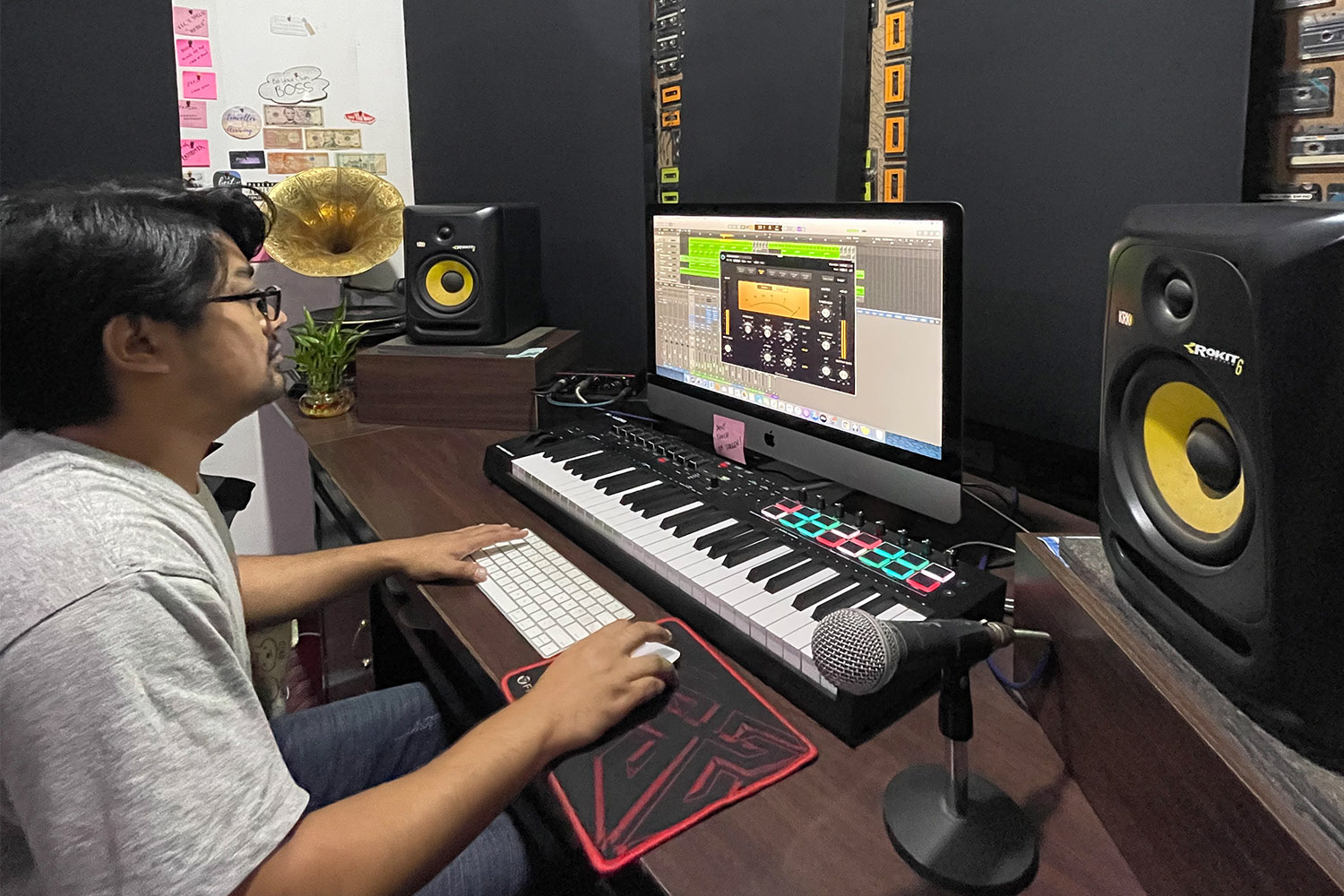 Jyoti Shrestha, who produces music under the alias 'Storenutter', is the CEO of Kathmandu-based music label ClassX Presentation. Photo: Courtesy of Jyoti Shrestha
"That's also why it's hard for those outside the music industry to understand what exactly a music producer's role is," Shrestha said. "I don't think even my family understands what I do, even though I have been producing music for over a decade now."
Shrestha has produced popular tracks such as 'Mayalu', 'Laakhau Hajarau', 'Lai Bari Lai', and collaborated with artists like Dong, VEK and Yabesh Thapa.
Shrestha, who runs the Kathmandu-based music label ClassX Presentation, says that although on the surface, it may seem music producers remain misunderstood even in today's information age, things have definitely changed for the better.
Technological progress and digital access have proved to be a boon for the entire music fraternity, including music producers, says Shrestha. "Producers these days can promote their work removed from the singer's shadow," he said. "They can monetise their independent work. Listeners are much more aware of what goes into the making of a song these days, and they appreciate talent whether the talent is the face or the backbone of a successful song."
Singer-songwriter Sushant KC, who produces his own music and also collaborates with other producers, says music producers become heaven-sent for artists when they hit a creative block. "It's always easier when there are multiple creative minds collaborating on projects. It makes the process a whole lot easier," KC said. "I've been working with two types of producers—producers who can arrange any composition that I throw their way, and producers who create beats that I can write my song on."
KC went on, "A music producer's contribution to a musical project is invaluable. They are the curators and deserve credit."

Music is said to be a universal language and the platform to showcase one's talent has also gone global. Amid this, Nepali music producers, rather than limiting themselves to the Nepali music industry, must foray into the global scene for credible recognition, Foeseal says.
"I believe that all music producers are global artists," he said. "It's just that only a noted few have made that leap." Music producers such as Sagun, who is one of the biggest lo-fi artists worldwide, Aman Karna, who recently released an EP (Extended Play) in collaboration with Pakistan's 'Cape Moze Records', Prasidha Yonzon, alias YNZN.P, who has collaborated with an Indian music label, and Aasis Beats, who signed with a Korean music label last year, are a few examples of how Nepali music producers can expand their reach towards an audience who understands and appreciates their work, he adds.
While musicians and performers are often able to generate revenue through royalty, merchandise sales and touring, producers do not have similar income streams.
A producer's income is limited to the fees they charge when working on a project. To sustain, a producer has to work on multiple projects a month, shares Bajra, who works at his family-owned 'Bajra Creation Records' at Babarmahal.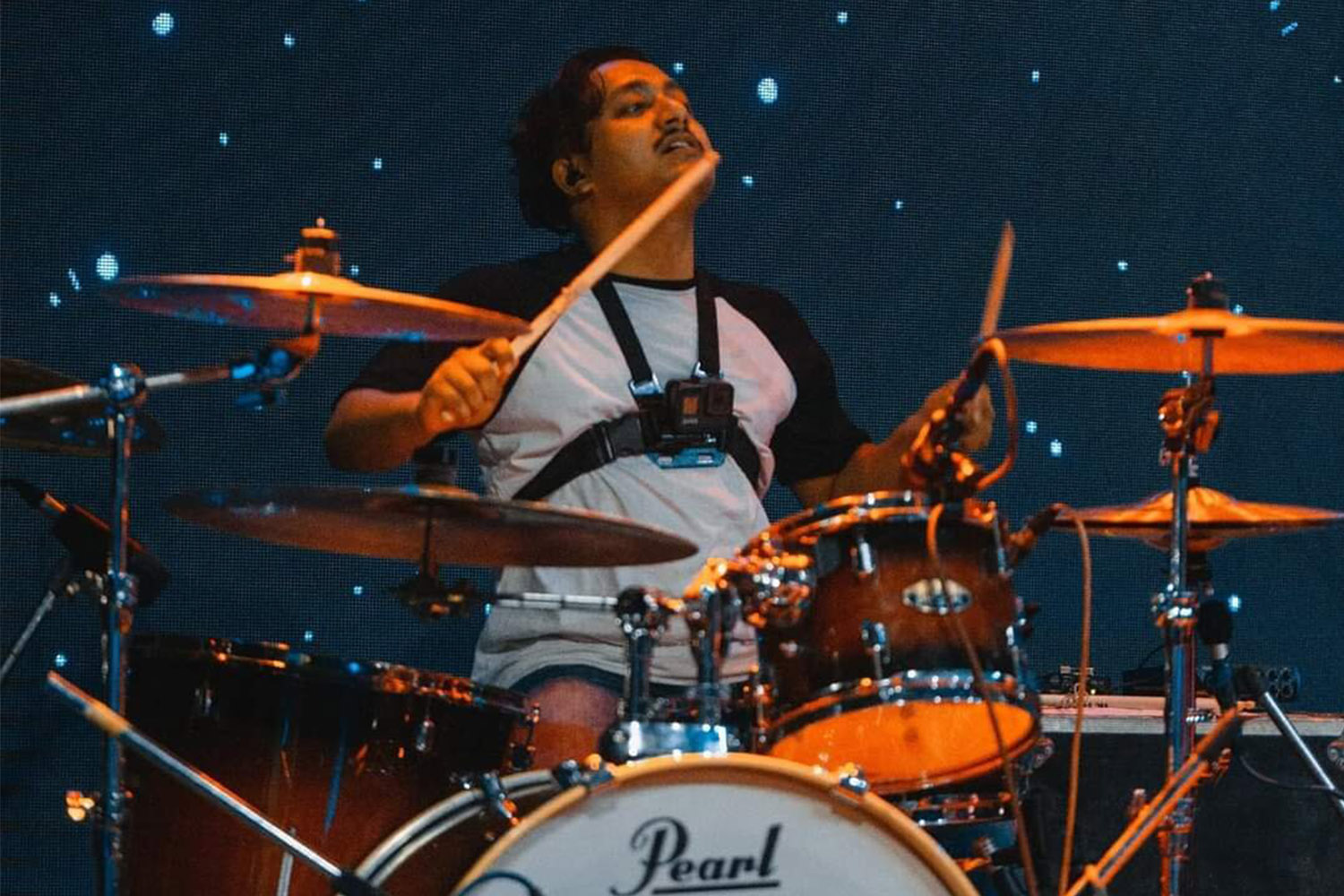 Producer Bikesh Bajra is also the drummer for the Nepali post-rock band 'Space'. Bikesh Bajra via Facebook
Depending on the producer and the studio, the production charge per song can range from Rs10,000 to upwards of Rs50,000.
Shrestha, however, believes that the financial benefits for a producer entirely depend on what financial module they choose to work with. The 32-year-old, who started producing music a little over a decade ago, says that he rarely works in the base-fee module wherein the client pays an upfront fee. This has allowed him to break out of the one-time payment cycle that holds back many producers.
"The fee module allows only one-time payment and is not beneficial for producers in the long run," he said. "I prefer working on a split module, where the revenue generated from the music is shared between the producer and the artist. That way, I secure my cut from the music I produce. Ultimately, it all comes down to how smartly you work."
But the liberty to work on the split module is not guaranteed for all. Some producers operate out of rented spaces and incur monthly expenses they can't afford to accumulate. "There are many producers who have to take care of the monthly overhead costs of their business," Foeseal said. "For them, it would be impossible to work on the split module because one has to wait for the song to release and become successful in order to generate royalty."
Given that not every song is a hit, the split module may not be a sustainable option for all producers. Many have to carefully plan out their finances, cutting down costs wherever possible.
In such cases, charging a fee upfront becomes a rather secure financial decision, says Foeseal.
Music producers may have years of expertise but when they decide to step out from behind the scenes and create their own music, they face challenges in replicating the success of the projects they have worked on as producers.
One of the challenges for producers venturing out independently with their records is their lack of an established fan base that musicians and performers enjoy. However, to be able to produce one's own creations has its own advantages despite no guarantee of the record's success upon release. "I have realised that producers make music for other producers," Foeseal said. "When we work on a project for someone else, our creativity is limited by the artist's demands. On the contrary, when we work on our own music, we experiment with our creations with a little tweak here and there that only other producers notice. These little creative freedoms are worth the uncertainty of going solo."
Despite the lack of recognition and their often misinterpreted roles, young Nepali music producers say they are content with where they are today as long as their contribution adds value to the modern Nepali music scene.
"I have been into music for more than a decade, and suffice it to say that it has never been about fame or recognition for me," said Bajra, who has also produced music for projects such as Shrinkhala Khatiwada's 'Miss World 2018 contestant introduction video'.
Foeseal, who contributed to records racking in over 150 million views on Youtube last year alone, agrees with Bajra.
"I don't think fame is a necessity for me. Yes, financially, we can do better," Foeseal said, "but when has a true artist worked for fame and money?"
For Shrestha, too, fame has never been the end game. "I don't see a reason to stress over something that one can manipulate," he said. "If popularity and numbers are what people equate to success and fame, I would rather stay away."
---
---