Staying true to the artist inside
Guitarist and music producer Aman Karna talks about his love for making music.

Photo courtesy: Rubin Pradhan
bookmark
Published at : January 23, 2023
Updated at : January 23, 2023 09:05
Kathmandu
In a family with a musically inclined father and five elder sisters, Aman Karna, guitarist and music producer, grew up listening to songs of Mohammad Rafi and Kishore Kumar on radio from the earliest age he can remember.

Sprouting in such an environment where the songs were constantly there as a backdrop, the apple didn't, infact, fall far from the tree.
Karna, too, shared the same passion for music but unlike his family members, he did not just limit the passion to a hobby, but rather decided to make a career out of it.
"In my early teens, out of the blue, I suddenly had this urge to play guitar. That is when my journey from a listener to a musician started and I always took music seriously ever since," says 31 years old Karna.
Even with no formal classes on guitar or any YouTube video lessons to learn from, Karna is a self-taught guitarist who learnt playing guitar listening to the rhythm of the songs he liked and trying to replicate them.
As a child Karna was highly influenced by the Bollywood songs of the nineties. But by the time he was 14, his taste in music entirely changed. He started listening to rock bands like Bon Jovi, and heavy metal bands like Metallica and Iron Maiden. An average student back at school, and with not many things to do at home, Karna also formed a band in his locality in Bhairawa.
"Back then, there weren't many things for us to do. There were no distractions like the smartphones we have now. Even for other distractions like television, there would be loadshedding for 8-10 hours. So, I would practice guitar. At one time, I used to practice it for 14 hours straight," remembers Karna.
Taking music seriously from a very young age, Karna's rock band practiced songs until they excelled it. This diligence even landed them gigs and helped them make a presence at the local scene.
Everything was going good until adulthood kicked in. Although everyone from the band was pretty serious about music, coming together to practice was no longer viable. After separating from the band, Karna came to Kathmandu when he was 20 in 2014. He had also completed his higher secondary studies by then.
But early on in his career, Karna had already understood that only playing guitar wasn't enough to take him places.
"I had this clarity that guitar alone wouldn't be enough. So, I started learning basic drums and keys myself. I haven't still excelled them the way I have excelled my guitar. But even that basic knowledge helped me create music alone, " adds Karna who worked independently producing jingles for short films and advertisements over the years.
That was until he met Abhishek Pokhrel and Prajwal Aryal. Having a similar vision, the three ended up making an indie band, 'The Phosphenes'in 2016. Karna is the guitarist and als0 the manager of the band. He had a knack for management from a young age– his need to have everything sorted and well managed is what led him to look at the management aspect of the band.
Unlike Pokharel and Aryal, Karna has been pursuing music as a full time career. Even while being with the band, Karna, however, hasn't stopped creating music independently. But this feeling of creating music for himself is something he realised much later in his life.
"I love how the collaboration with the band works. When three individuals come together, the flow of ideas becomes multi-dimensional. But talking about the growth, you don't grow as much in the band as you do independently," adds Karna.
Dedicating almost a decade to others catering the music they want, Karna is finally working on creating the music he wants.
"After all these years of creating music, never had I once created music for my own sake. I was either making music for the clients or the band. In 2020, I realised I had no music of my own style. That is when I worked on creating the music I wanted to make."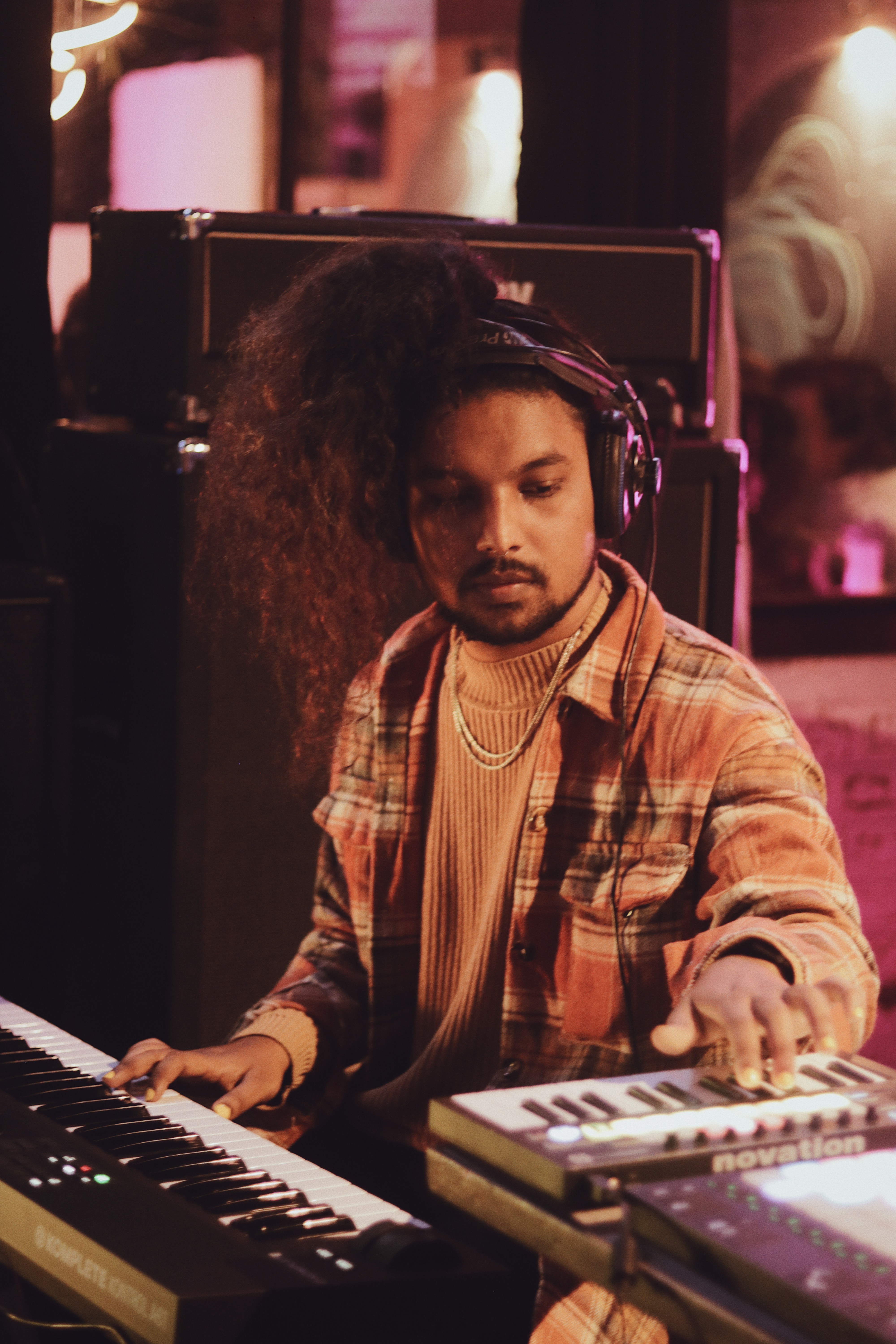 Karna, a full-time musician, has been pursuing music professionally since 2015. Photo courtesy: Lowri Sams
Karna released his first independent EP 'Mixed Bag' in 2020. This mixed genre EP, he says, was an experiment and where he only focused on creating music that he wanted to. His musical precision and direction can be seen in his second EP 'Bollymood' which was released in December 2022 with Cape Monze Records, an electronic indie music label based in Karachi, Pakistan.
Like the name suggests, 'Bollymood' is a collection of five tracks that collide Karna's Bollywood influences with ambient downtempo, electronic music.
"People often disregard Bollywood music and judge others for listening to those songs. But growing in the nineties, the influence it had on us Nepali cannot be disregarded. I wanted to celebrate my love for Bollywood music in this EP," says Karna who wants to stay true to the artist inside him without being of how people label him. The tracks in his EPs have no lyrics — a challenge Karna took on to see how long these tracks would keep the listeners' attention.
The music Karna makes independently is much different to the music he does in 'The Phosphenes' but both have their own niche. Even after pursuing music professionally for the past 7 years, the limited viewership on his YouTube does dishearten him but it never demotivates him to create music.
"Music, for me, is not just a passion but also my job and my meditation. I have given all my body, soul, and mind to music. Half of my life has been music, and it is the best I know," says Karna.
Signing with the record label based in Pakistan helped Karna broaden his market to the South Asian community but there's no stopping here for Karna and his visions. He and his band, both share the belief that it is India where they can get their breakthrough in the global music market. After all, singers like Prateek Kuhad got their big break in India.
"I don't see my band [The Phosphenes] and myself as different entities. Both with my band and through my individual ventures, I want to leave a mark on the global audience within the next five years," claims Karna.
---
---