For Grammy-nominated musician, the flute sings to the soul
Manose Singh Newa recounts his journey to the world stage—from Pashupati's Kiranteshwor to San Francisco and beyond.

Photo courtesy: Manose Singh Newa
bookmark
Published at : November 27, 2019
Updated at : November 27, 2019 10:18
Kathmandu
When an eight-year-old Manose Singh Newa first held a flute, he had no idea of the passion he would develop, nor that it would lead him to be nominated for a Grammy award. He is the first Nepali to accomplish such a feat on the world stage.
"I developed a taste for flute by the grace of Lord Krishna," says the man, who considers his flute playing as a form of meditation.
Newa has been nominated for 'Best New Age Album of The Year' for his album Deva, which he produced in collaboration with German musician Deva Premal and England's Miten. The 41-year-old played flute in the hymn "Gayatri Mantra" for the album, and has also contributed to the vocals and composition of the hymn.
Born and bred in Boudha, Newa started playing the flute inside Boudha stupa and at the gates of Pasupatinath temple in Kathmandu before setting out to collaborate with international artists. But it isn't just the deft skills on the flute that led him to success, Newa believes, but also his approach to music and the instrument.
"For many, playing the flute is a hobby," he says, "But for me, it is a form of meditation that gives my soul immense joy."
His spiritual connection with music is what helped him transcend his humble beginnings, he says. While playing at the gates of Pashupatinath, Newa learned about the Kiranteshwor Ashram, where he met Guru Madan Dev Bhatta. Bhatta's teaching sharpened his skills and even won him the first prize in a children's classical music competition. He then received the opportunity to learn with other flute masters and eventually played at Radio Nepal and Nepal Television.
But it was only after going on a tour with his musical group, Prastar, when he was just 16- or 17-years-old, that he realised the power of his flute. It was on that tour that he came to understand the west's affection for eastern music, its philosophy, and culture. Prastar consisted of Homnath Upadhayay, Dhruvesh Chandra Regmi, Atul Gautam and Pramod Upadhayay along with Newa. The group played Nepal's traditional music in Germany, Switzerland, and the US, among others.
Later, he formed another musical group, Sukarma, with Regmi and Gautam. At the same time he also became part of rock band 1974 AD, during its early years.
"1974 AD was among the first bands to perform modern songs in international arenas," he says. "During my time with the band, I was able to create a fusion of classical music with folk and jazz." Fans of the rock band may still remember Newa's flute in the band's famous songs "Pinjadako Suga" and "Samjhi Baschu".
During his international tours, he was particularly drawn to the musical diversity celebrated in the US. He realised the amalgamation of diverse cultures gave opportunity to intertwine genres and musical cultures-plus, it gave equal respect to individual cultures.
"America was like a catalyst," he says, who then decided to permanently settle in the US. "I learnt that whatever is accepted here becomes a trend everywhere."
Being an artiste of a traditional instrument, Newa established his music in the US by introducing its audience to Nepal's rich culture. According to him, he thought he could better contribute to the expansion of Nepal's music and its roots from the US than from Nepal.
"Playing the flute was never for materialistic gain," he says. "It is a means of worship and prayer for me." And even though he was far away from home, he never forgot his religious and cultural roots. He takes his Grammy nomination as a totem of success for that vision.
His migration to the US also helped him hone his skills to suit both the eastern and western tastes in music. He was able to create a form of fusion that appealed to global audiences without losing its originality. This was the reason, he says, many westerners were instantly in awe of his music. Not long after, he started getting gigs at various places in San Francisco, where he had settled after migrating to the US. This is when he met Deva and Miten, who also loved the eastern philosophy and spiritual songs and mantras.
"They said that my flute's sound resembled that of Lord Krishna, and I took this as an opportunity to introduce them to Pashupati and Boudha," says Newa, who remains with the duo after 15 years. "For me, my country is my culture and religion."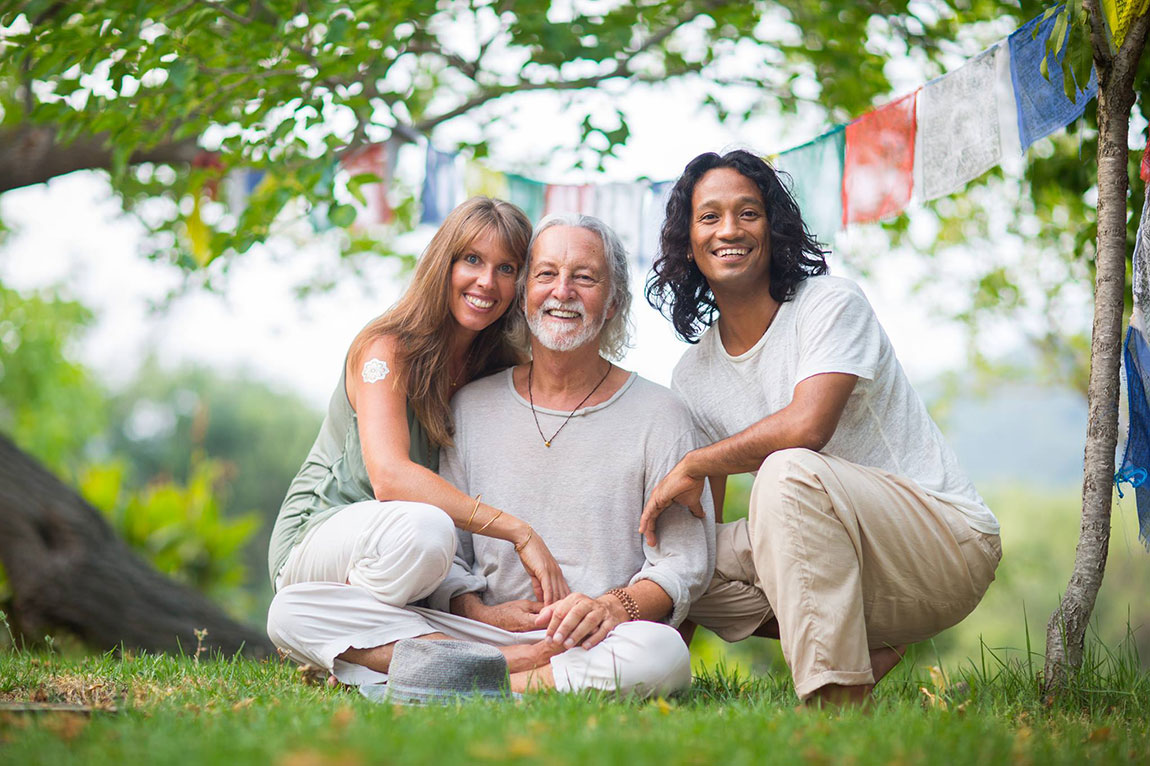 (From left) Deva Premal, Miten and Manose Singh Newa. Photo courtesy: Manose Singh Newa
In the Grammy-nominated album Deva, Newa has composed a song, which he says he was inspired to compose after hearing his paternal aunt, who sings religious hymns at Pashupatinath temple, sing a hymn for him while she was visiting him in the US last year. For that composition, the vocals are provided by Newa and Deva, while Indian sitarist Ravi Shanker's daughter Anushka Shankar plays the sitar.
"Hymns are precious ornaments of any culture. It is a great achievement for us that people all over the world have appreciated the hymns we have created," says Newa.
Since they have launched their album, the trio has toured across various nations in Europe, the Americas, and Russia. Newa remembers during his Moscow show, around 6,000 people in the audience were spellbound to the sound of his flute. He has visited Russia 11 times to play his music and he has always received a warm welcome to the country.
"A lot of people want to learn eastern philosophy and it is easier to introduce them to it through music," he says. "The flute's sounds open the hearts of those who listen to it."
This musical group, however, has not yet performed in Nepal. But Newa has plans to organise a programme in Nepal in the coming year. "To play at Pashupati's Kirateshwor alongside Bagmati gives me pleasure which I cannot get anywhere else," he says.
This article was translated from Nepal magazine.
---
---