Chronicles of a wildlife photographer
Chungba Sherpa defies age and challenges nature's extremes to capture Nepal's fauna.

Manoj Paudel/TKP
bookmark
Published at : October 2, 2023
Updated at : October 2, 2023 07:50
Kapilvastu
Chungba Sherpa, now in his early 60s, has found a unique passion in the later years of his life—wildlife photography. While most individuals retire and start living in a more relaxed manner at his age, Sherpa is on a constant quest, navigating the heat of Tarai and the biting cold of the Himalayas, journeying in cars or helicopters, trying to capture the beauty of nature through his lens.

Born and raised in Khumbu Pasang Lhamu Rural Municipality Ward 2, Chaurikharka in Solukhumbu, he is no stranger to harsh climates and rugged terrains. This has helped him in many of his photography adventures as well. In a recent pursuit to capture a snow leopard, Sherpa waited out in the wilderness, battling unpredictable weather and deserted settlements for over two weeks, camping out in a tent. But the leopard never showed up, and he returned home disappointed.
Sometime later, Sherpa ventured into the Annapurna Conservation Area, intent on getting a shot of the leopard this time. His determination paid off on the sixteenth day as the elusive creature made a rare appearance, and Sherpa seized the opportunity, capturing the shy leopard in over forty frames, varying the angles. "Out of the forty-two pictures, eighteen turned out to be beautiful," he reveals, adding that his personal favourite is one where the leopard is looking down into the lens directly.
Sherpa's dedication was put into perspective when an incident involving an American photographer, Kittiya Pawlowski, unfolded. Pawlowski's alleged snow leopard picture stirred controversy on social media, later proven to be fake. Sherpa's authentic and hard-earned photographs, especially the ones taken after days of patient waiting, gained newfound appreciation in light of this revelation.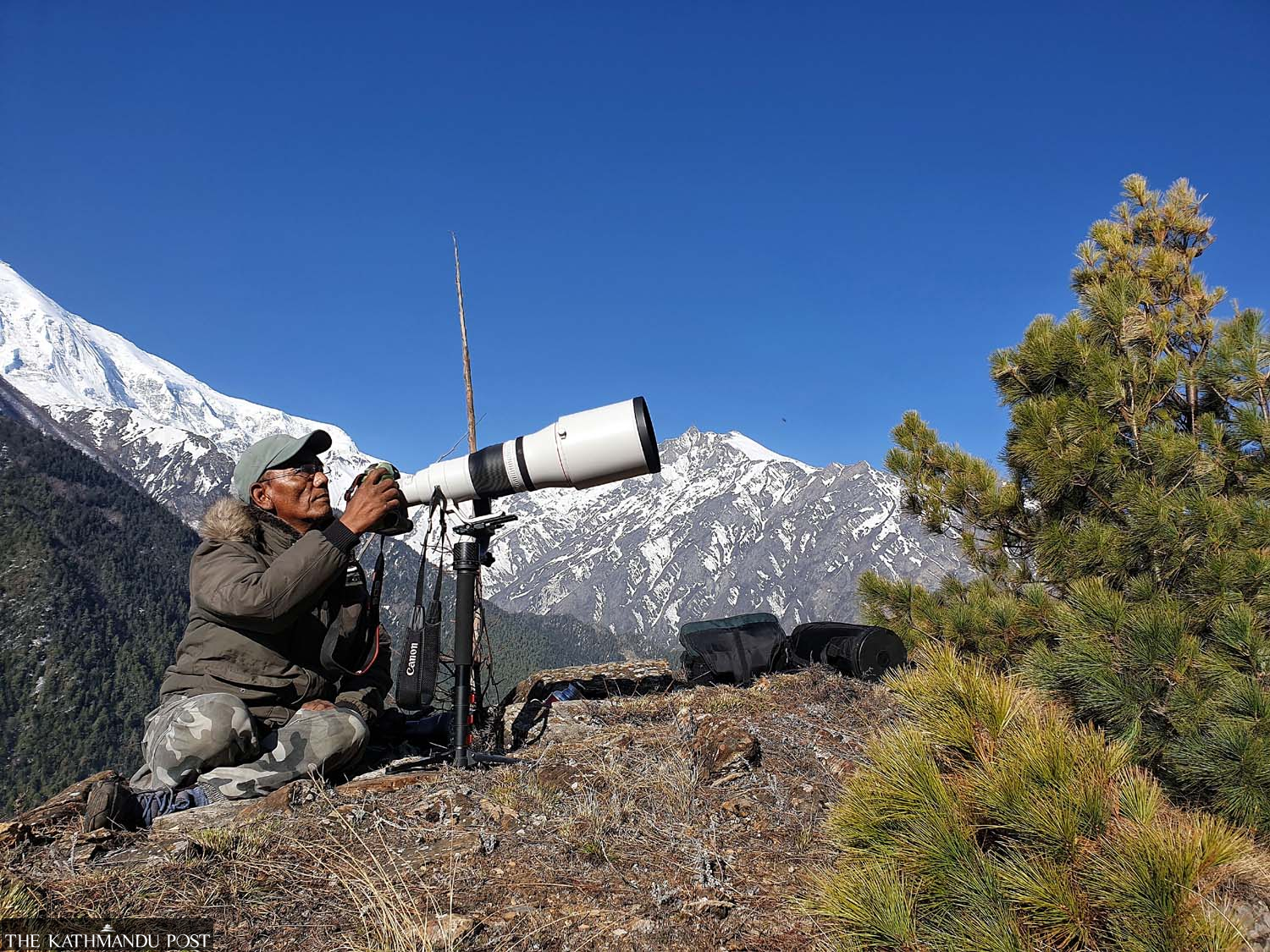 Manoj Paudel/TKP
Photography wasn't always Sherpa's sole focus. While he was interested in the field from a young age, familial responsibilities led him to work in the tourism business, temporarily setting aside his passion for the lens. With his children now established professionals, Sherpa found his way back to his true calling, with their wholehearted support amplifying his joy.
His journey into wildlife photography began five years ago. He invested significant time and energy into it, taking online classes from institutions in India, the US, and Malaysia.
According to Sherpa, he realises just how much he loves adventure every time he ventures into the wild. His heart races with excitement—especially when photographing prey animals like tigers, which he mentions are his favourite to capture. Over the last five years, he has captured over 40 tigers in Chitwan, Bardia, and Shuklaphanta.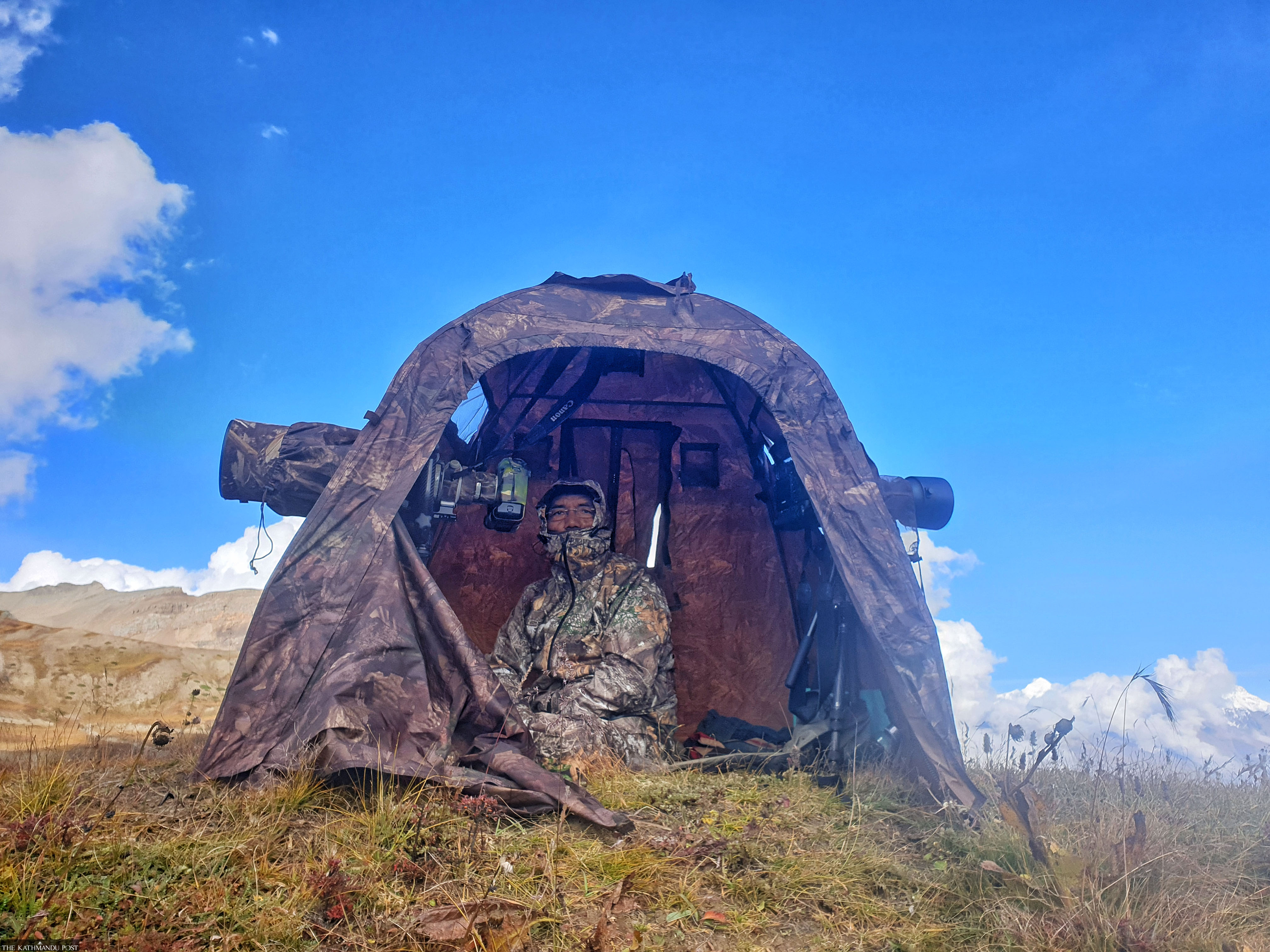 Manoj Paudel/TKP
"I remember adjusting the frame for 15 minutes to get one shot of a tiger once. Another time, I photographed a group of four tigers in Chitwan, which was a little scary, but now that I think back on it, I had fun throughout that whole ordeal," he explains.
Besides these encounters with tigers, Sherpa's lens has also captured other creatures. High-altitude locations often become his workspace, and he relies on high-quality equipment to capture his shots. He spends long hours in tents equipped with all the necessary gear, including camouflage clothing and various lenses. His equipment usually weighs around seven to eight kg.
Last October, he reached Limi Valley in Humla, near the Chinese border, to photograph the wildlife in the area. Here, he came across a species of wild yak that hasn't been photographed much. He captured a stunning image of the animal from about 15 to 30 meters away. This adventure alone cost him about Rs500,000—he took a helicopter from Simikot to Thakchi (near the Chinese border) and set up camp at an altitude of over 5,100 metres for three nights. But he believes all of it was worth it as this feat opens opportunities for wildlife study and research in Nepal.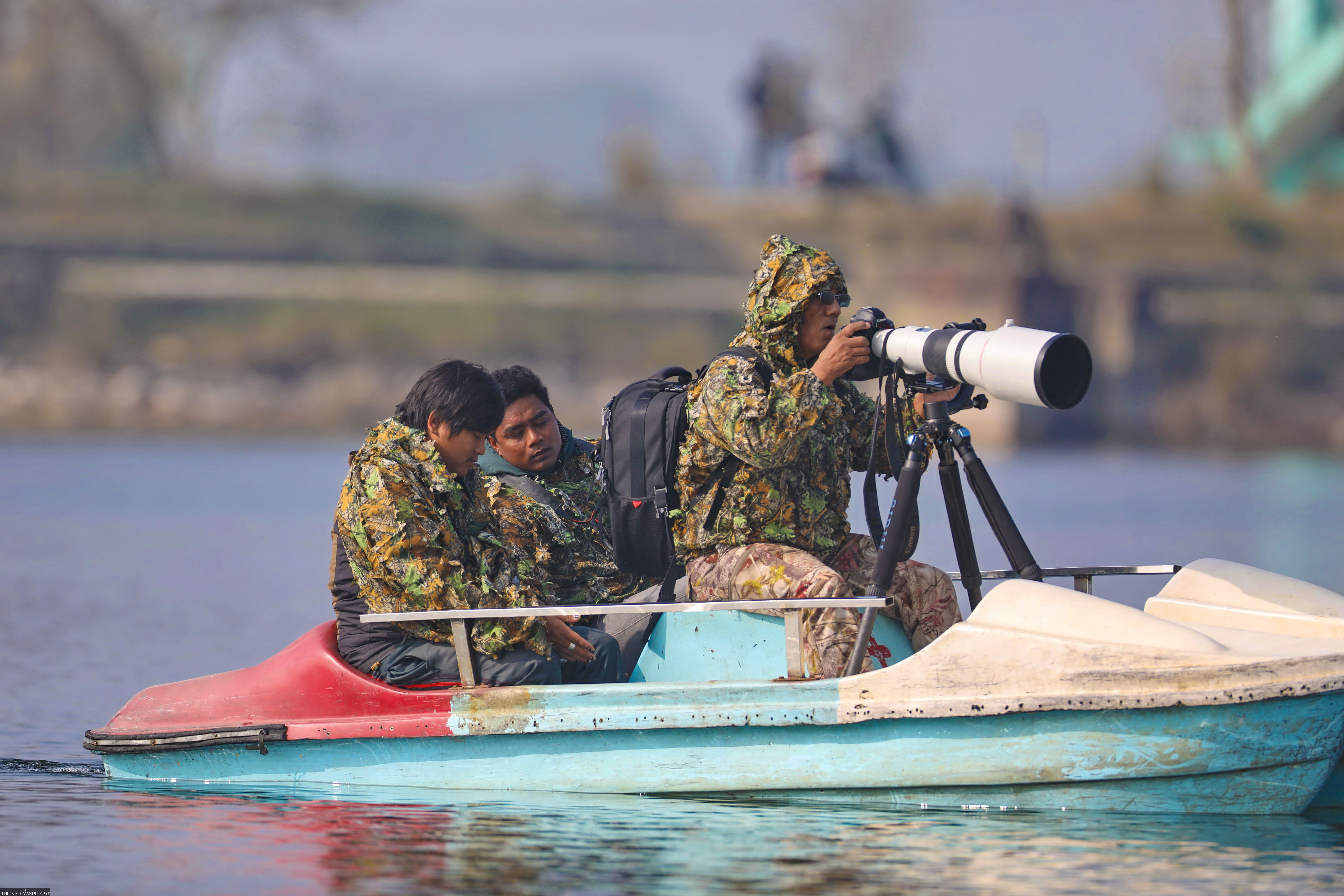 Manoj Paudel/TKP
"As far as I know, the only other time this species of wild yak was photographed (before) was in 2015 by the researcher Geraldine Werhahn. The same image is used in our Rs5 notes," he says.
In his pursuit of the perfect shot, Sherpa often encounters dangerous situations. He has faced charging yaks, aggressive bees, and even a stare-down with a tiger. In Shuklaphantha, a wild elephant even destroyed his tent and tripod, and Sherpa managed to escape the angry animal narrowly.
His passion for photography has taken him from the remote village of Chaurikharka in Nepal to the wild landscapes of Tanzania in East Africa—another one of his journeys that cost him a fortune. His 15-day stay in the African country amounted to around Rs1,400,000, but he was able to capture another elusive animal that hasn't been photographed a lot at the Tarangire National Park—the serval cat. He also managed to photograph many other animals, including lions, hippos, zebras, and giraffes.
Sherpa's work transcends boundaries. His photographs have been featured in newspapers, journals, calendars, and books worldwide—from Hong Kong and India to Switzerland and beyond—becoming windows into Nepal's natural beauty. He firmly believes that his work is a testament to his homeland—a showcase of its magnificence and an invitation to the world to witness the splendour of Nepal's wildlife.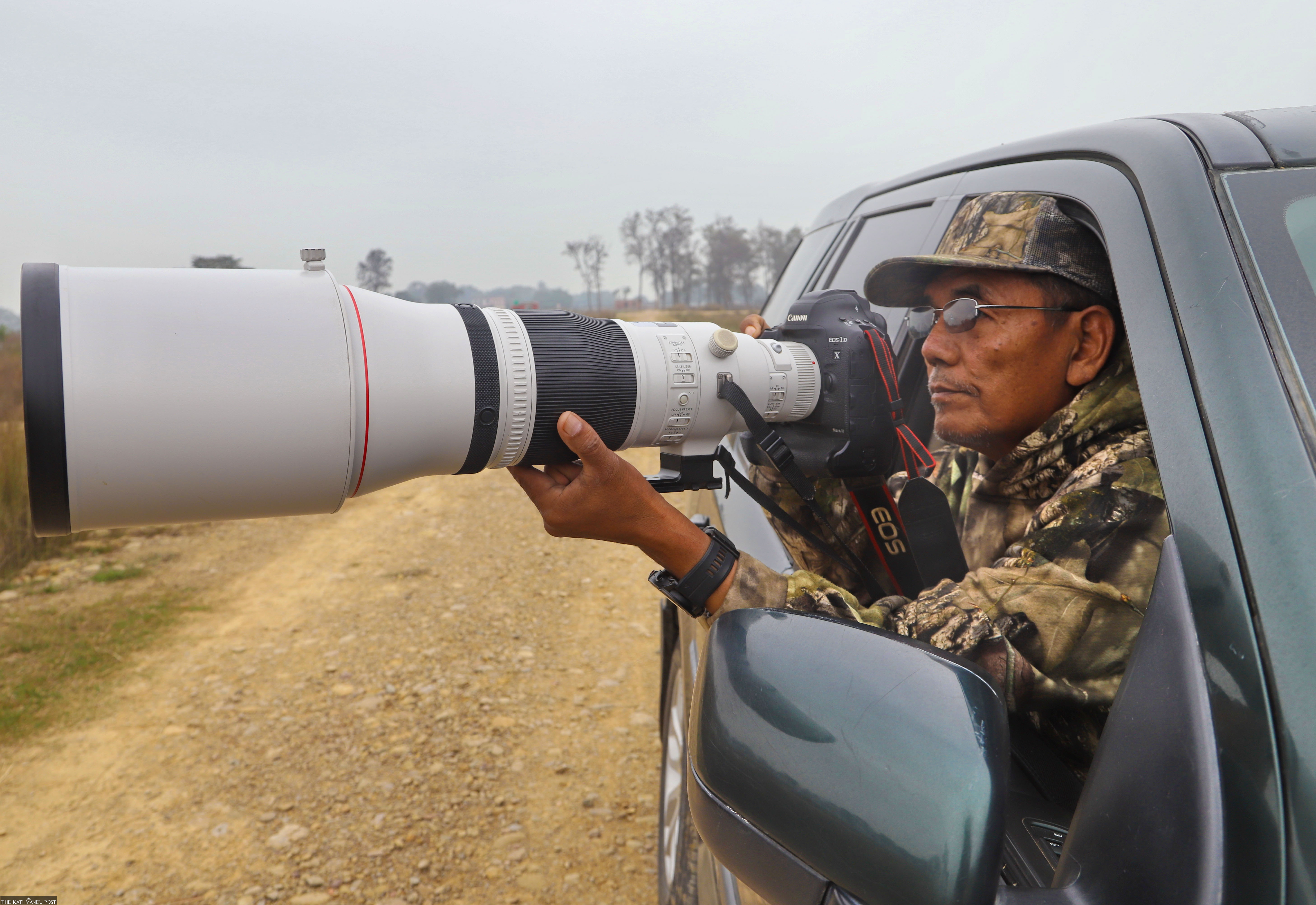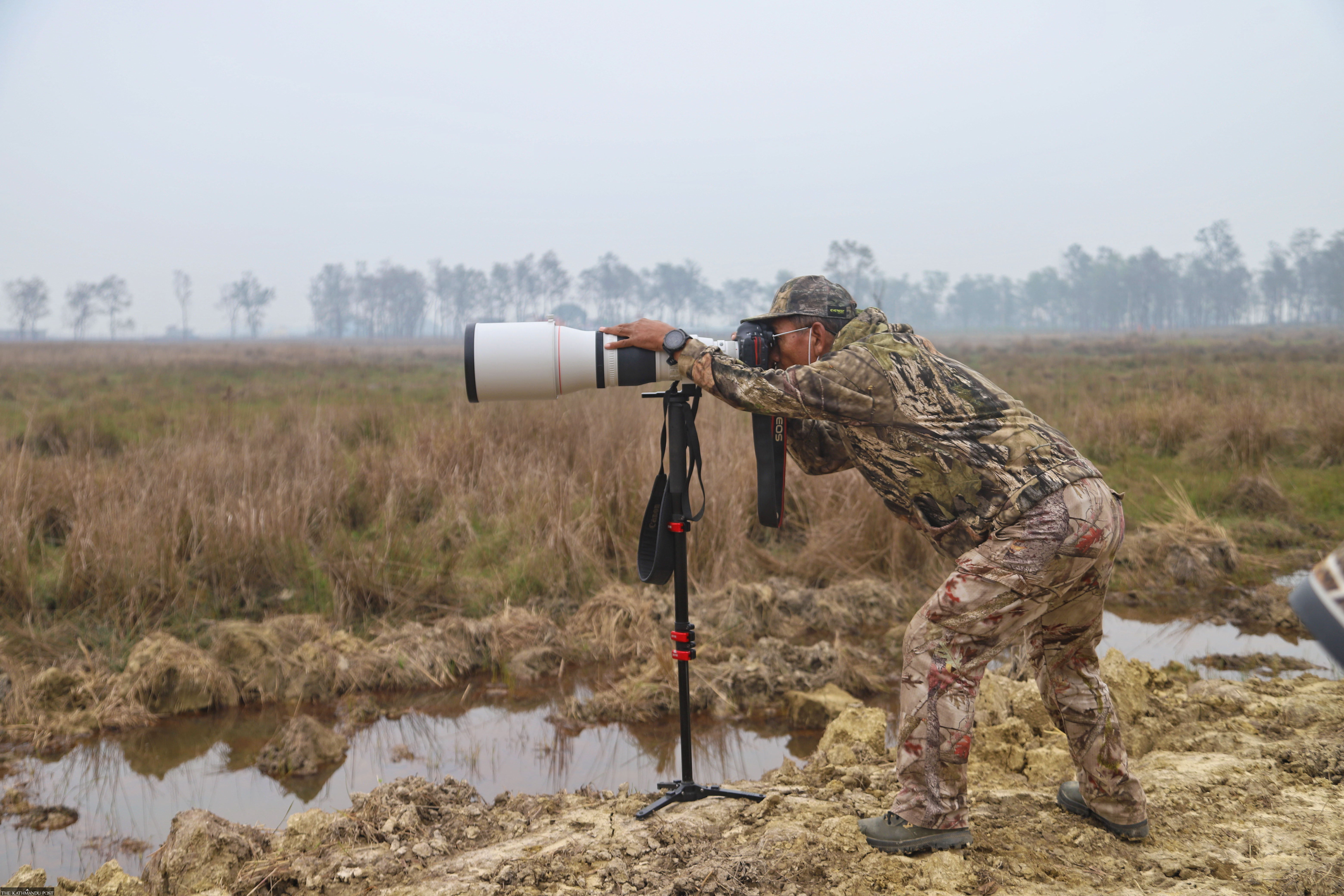 ---
---