Women taking the lead
'Nirvik Nari' featured four panel discussions, all emphasising women's participation in various fields like health, technology, media and sports.

Panellists of a Nirvik Nari event at Hotel Yak and Yeti, Durbarmarg, Kathmandu. Angad Dhakal/TKP
bookmark
Published at : March 30, 2023
Updated at : March 30, 2023 08:25
Kathmandu
On March 29, the third edition of 'Nirvik Nari' took place at Hotel Yak and Yeti in Durbarmarg, Kathmandu. The function was organised by Ncell and backed by The Kathmandu Post's sister publication—the monthly magazine—Nari. 'Nirvik Nari' featured four panel discussions, all talking about women's participation in various fields like health, technology, media, sports etc.

The event started with a keynote speech by Sapana Pradhan Malla, Supreme Court Justice. She highlighted the laws, policies and regulations that are made to protect women in Nepal, adding that though there are laws regarding many issues of women like abortion, marital rape, and domestic violence, the Nepal government and Nepali people as a whole have a lot more to do to make the lives of women easier and equal to that of men.
Malla drew parallels from the recent release of Nepal's 2021 census to show how more women are entering the work field. However, she argued that as modern pressures are increasing, it is important to discuss matters like depression and reproductive health to ensure Nepali working women don't bear the brunt of handling everything from work to family all on their own.
She also talked about the need for intersectionality when talking about issues of gender. "From caste, class to ethnic minorities, Nepali women have had to face compound forms of discrimination," said Malla.
After the keynote speech, the event moved forward with its first panel discussion titled 'Women's health first'. Moderated by Laxmi Bhandari from Nari magazine, the panellists were Subekshya Pokharel Freedom (advocate), Sajeena Dhungana (counsellor/psychotherapist), Dr Nawaraj KC (author of Shunya Ko Mulya) and Dr Swasti Sharma (fertility specialist).
This panel mainly talked about health issues that plague most Nepali women. The occurrence of infertility in Nepali women and how it affects them in sinister ways was widely discussed in the panel. "In our society, it's always the woman's fault if a couple can't conceive," said Dr Sharma. "But if it's the men who have a low sperm count, families ask me to hide this fact."
In the same panel, advocate Pokharel spoke about her personal experiences with postpartum depression. "A mother is always a god. But I just gave birth and I felt far from it. And instead of dealing with what I was going through, I was too busy mirroring myself to this god-like image of mothers," she said. Pokharel highlighted the need to include the conversation of postpartum depression in public discourses.
The second panel, titled 'Youth Perspectives' featured four panellists: Sabitra Bhandari aka Samba (striker for Nepali national women's football team), Shreya KC (climate change champion), Prathana Saakha (cofounder BIC technology) and Priyanka Rani Joshi (Miss Nepal World 2022). The session was moderated by Prakriti Dahal from Nari magazine.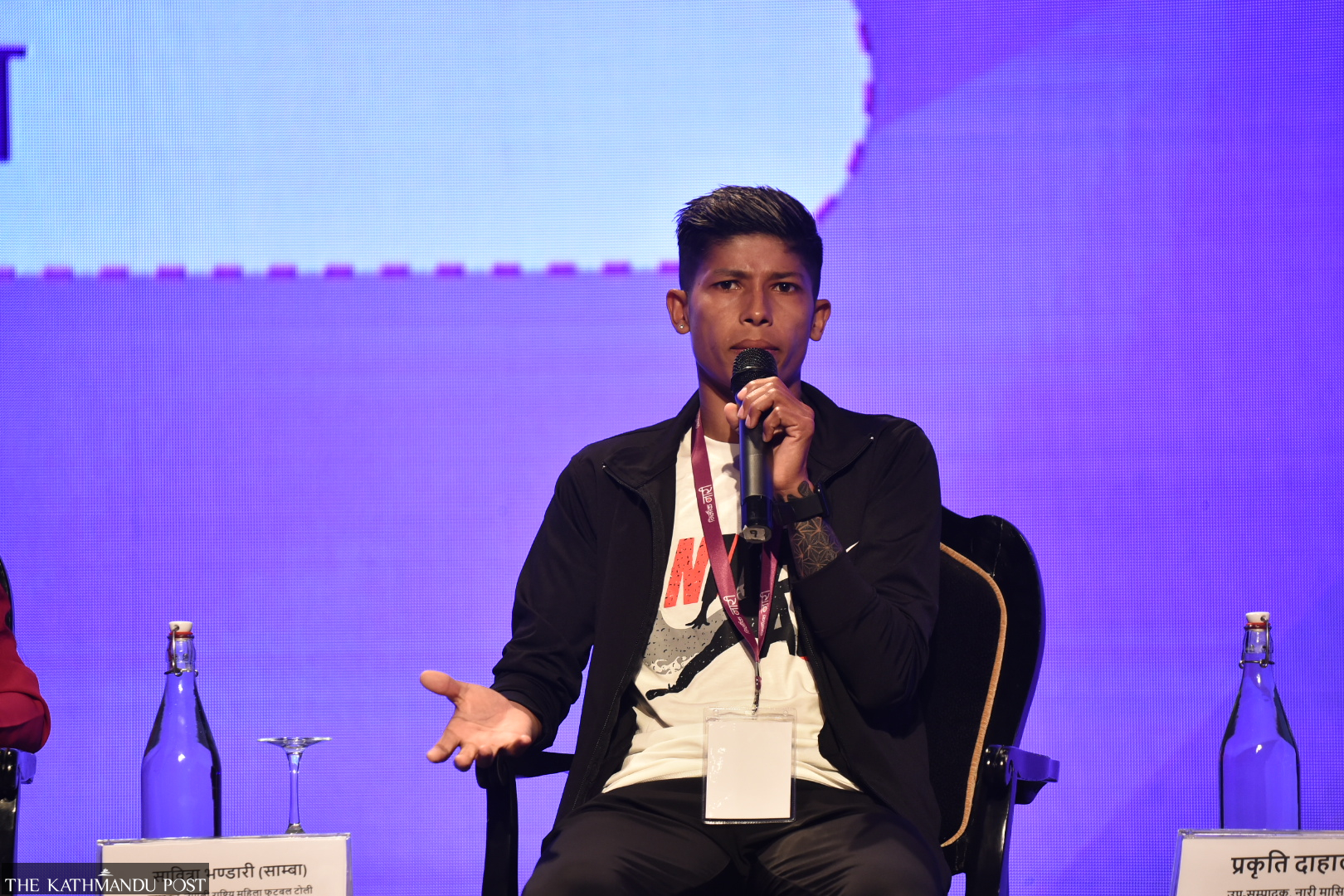 Footballer Sabitra Bhandari (Samba) speaking at the function. Angad Dhakal/TKP
The aim of the panel was to bring about young women's voices on issues like climate, business and sports, among others. KC talked about the sixth assessment report by The Intergovernmental Panel on Climate Change (IPCC) which issued a final warning on the climate crisis, revealing that if countries don't start acting now, global temperature will rise to 1.5C above pre-industrial levels. "Climate crisis shouldn't just be a young people's issue but a collective movement with people of all ages," she said.
Similarly, Bhandari spoke of her struggles of growing up in rural Nepal and having to fight for the right to play football. "My female friends who were as good as me had to give up on their dreams just because they were women. That has to change," she said.
The second half of the event began with a keynote speech by Yuvraj Shrivastava, chief human resource and administration officer of Ncell Axiata Limited. Shrivastava talked about how technology intervention has brought more technical transparency and psychological safety among users. He also revealed the internal workforce scenario of Ncell, where 25 percent of his colleagues are female. He recognised that more efforts need to be taken to improve the gap. Different stakeholders need to work together to achieve gender parity in the tech force, according to Shrivastava.
"We need to work as if it were a tech revolution and not just in bits and pieces," Shrivastava said.
After the keynote speech, the event moved forward with the third panel discussion on, 'Tech for Empowerment'. This session featured Prof Timila Yami Thapa (IT specialist), Kanchi Maiya Bhandari (food vlogger), Karvika Thapa (CEO of Kimbu Tech and director of VS Int'l College), and Sunaina Ghimire Pandey (managing director of General Technology) as the panellists. The session was moderated by Anshrica Dewan, the national editor at The Post.
The panel discussed how technology intervention has helped women strengthen their economic resources. Bhandari shared anecdotes of her difficult life in her village and her transition into a food vlogger. "My YouTube journey started after I lost everyone close to me, and I was in dire straits. My son helped me make my first cooking video, and since then, the reception has been great," she said. The panel then discussed how to ensure a significant rise in the participation of women in the tech industry, the business use of technology and even the challenges women face while utilising technology.
The fourth panel of the event was titled, 'Women's success stories' and featured Bimala Rai Poudyal (former foreign affairs minister), Neeru Rayamjahi Khatri (president of FWEAN), Dr Shrujana Shrestha (consultant dermatologist) and Bimala Parajuli (entrepreneur). Dil Bhusan Pathak, the editor-in-chief of Kantipur Television, moderated the discussion.
This session focussed on the struggles and success stories of these women who have endeavoured and made a mark in different fields. The panellists discussed their struggles with migration, job opportunities, poverty, identity, gender roles, societal norms and patriarchy. In order to uplift women and support their independence, glass ceilings need to be broken at various levels, according to Khatri. "To support women today, we need advocacy, capacity building, networking and professional development," she added.
---