Endless explorer
Miss Earth Nepal 2022, Dr Sareesha Shrestha, health advocate and media personality, discusses her environmental advocacy, pageantry journey, and aspirations.

Photo Courtesy: Sachin Malla
bookmark
Published at : March 27, 2023
Updated at : March 27, 2023 07:53
Kathmandu
Kathmandu

Sareesha Shrestha's name was introduced to the entire country last year when she was crowned Miss Earth Nepal 2022. She represented the country in the 22nd Miss Earth pageant in the Philippines that took place in late November last year. She is a medical doctor who works for health literacy in Nepal's disadvantaged communities through her initiative, The Sahayatri, a beauty queen and truly a force to be reckoned with.
Shrestha recalls how her teachers had to encourage her to participate in extracurricular activities because she was a quiet, studious child. She focused mostly on her studies and gave less thought to non-academic activities. She wasn't aware of a whole new world of opportunities until she began looking into club activities in high school. Shrestha gradually began stepping beyond her comfort zone and taking part in extracurricular activities, which helped her realise her own potential. While studying for her MBBS, she became President of the KIST Medical College Rotaract Club. This helped her strengthen her leadership skills because she began taking up space and sharing her ideas. As she gained confidence, she entered a local pageant during her second year. This was the dawn of her pageantry journey.
Pageantry, according to Shrestha, is not the same as modelling. It certainly has some modelling aspects to it—you must learn how to pose and walk, wear glamorous outfits, apply make-up, and so on. Yet, the main goal is to nurture your individuality, invest and make time for yourself.
"As a doctor, my job is to serve people. Pageantry, on the other hand, became a way to celebrate myself. It was more about self-love," Shrestha says, adding that it also helped her break the monotony of her arduous studies.
Beauty pageants gave Shrestha the confidence she needed to speak confidently in front of large crowds. She is also grateful for the platform it provided for advocacy, allowing her to raise awareness and positively influence others about causes she is passionate about.
Shrestha also won the 'Best Eco Video' award for Miss Earth 2022. From elementary school, she has been interested in environmental movement. She had been advocating for nature and wildlife protection long before she won Miss Earth Nepal–through the Friends of the Zoo initiative and environmental clubs at her schools. Shrestha had also engaged in roadside tree plantation and cleaning campaigns with Rotaract. Winning Miss Earth Nepal only catapulted her journey to make an impact in the environmental sector. "Since Miss Earth is entirely dedicated to environmental awareness, it provided me with numerous chances to interact with environmentalists and concerned authorities, which helped me design my Eco project," says Shrestha.
When Shrestha was discussing ideas for her Eco-project, the news was swamped with concerns about Sisdole, Nepal's largest dumping site. This prompted her to launch a pilot project for solid waste management, which she planned to expand by collaborating with other NGOs and INGOs. For this project, she worked on two levels. Initially, she was successful in establishing a recycled sustainable school garden in a Lailtpur-based school where waste management and waste segregation classes were also offered. Secondly, an assessment of the population of Sisdole was conducted, and it was discovered that the majority of them were waste workers whose families were living in poor conditions. Shrestha conducted health and occupational safety awareness camps amidst the residents of Sisdole. The impact and awareness she was able to raise in Sisdole earned her the international accolade of 'Best Eco Video' in Miss Earth.
Shrestha is a TU gold medallist in Pathology in addition to her pageantry career. "I was quite competitive in school, but throughout MBBS, I realised that having in-depth knowledge in your profession is much more important than scoring the highest," she says, adding that her focus had been improving her understanding of the courses and capacity-building. Several questioned her decision to enter pageantry and modelling. She remembers crude comments from people who would question her abilities to continue her studies and say that her involvement in modelling and pageantry would be damaging to her academics. But she paid them no heed.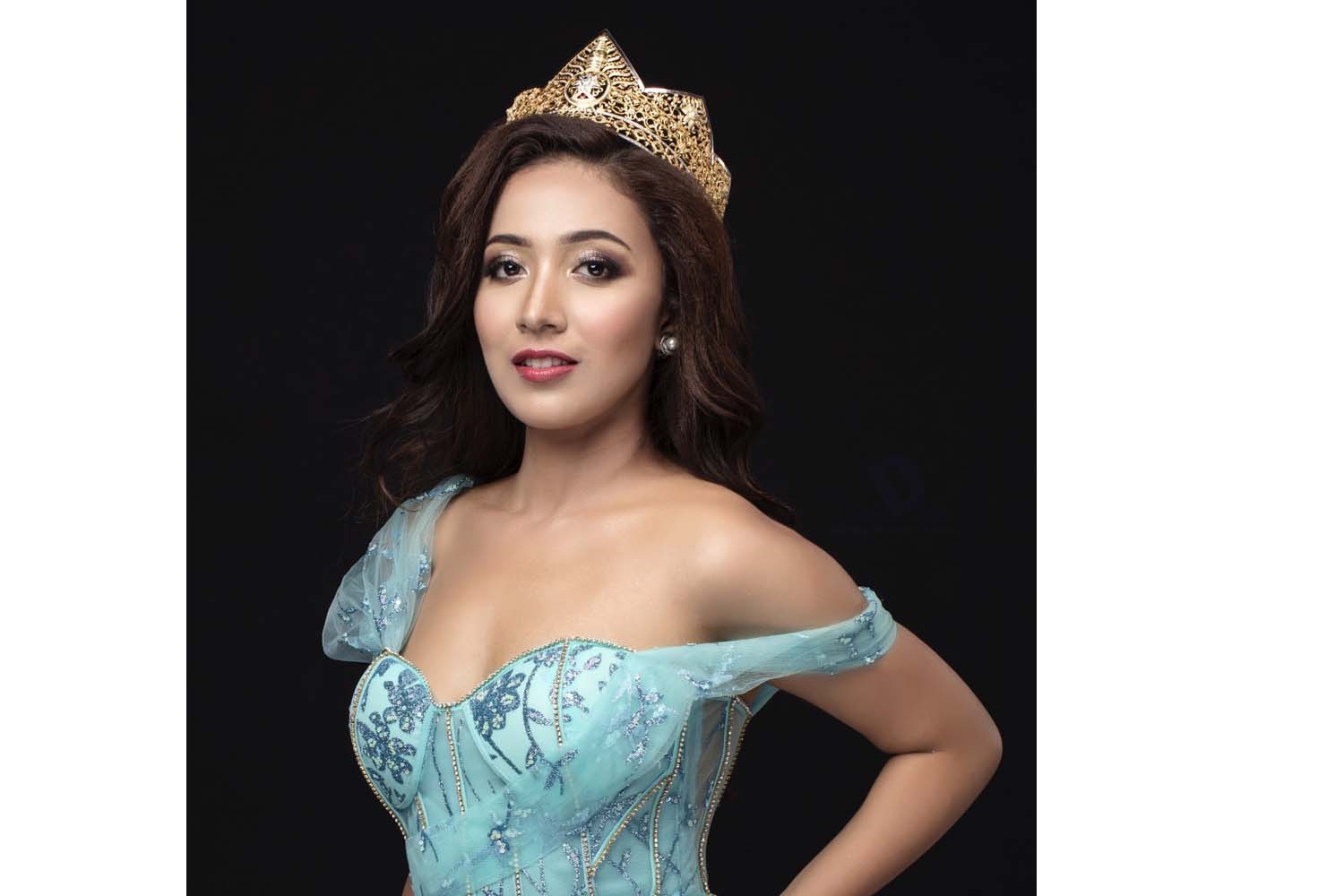 Photo Courtesy: Creative D Studio
The gold medal came as a huge surprise to her, and she says that she was only able to do it because of her dedication towards medicine. Shrestha feels that life is too short not to discover one's true potential. She does not want to limit herself to a specific profession and wants to discover her life's purpose. The challenging part is finding a fine balance between each commitment she makes. And till date, she has been doing so solely driven by her passion.
Shrestha emphasises the importance of perseverance no matter what field you try your hand at. Persistence is essential in any job, be it pageantry or any other field, she says. Many mistakenly believe that modelling possibilities or pageants like Miss Nepal will provide you instant stardom, undermining years of hard effort.
According to Shrestha, it is also vital to proceed with caution in the industry. "Calculative risk is important while associating yourself with any organisation," she says. She also adds that one must be informed of the organisation's principles, obtain testimonials from previous contestants, and examine the organisation's past events. Furthermore, you must have an open communication channel with your parents, guardians, or friends in order to ventilate and take the necessary steps at the opportune point. Shrestha believes it is critical to have a clear vision of what you want to achieve in any field and to move with conviction.
The debate over whether beauty pageants are for empowerment or objectification has raged for a long time. Shrestha points out that pageants, like society, are evolving. A widespread argument is that pageants commodify women. Shrestha believes that pageantry, when done right, is a terrific platform for women to foray into areas of interest, obtain body autonomy, and voice their ideas for a better cause.
Shrestha will crown her successor this year. She aspires to pursue an MD degree and expand her venture, The Sahayatri, which focuses on health literacy. She wishes to combine her environmental advocacy and health literacy campaigns and continue exploring what lies ahead in the future. "It's the finest moment to be a woman because there are so many strong female role models," Shrestha says. She also wants to use her life experiences to influence and motivate young girls who look up to her.
---
---