Two Kathmandu girls and the magic of 'Hare Rama Hare Krishna'
How two Kathmandu girls lived the Bollywood magic and made lifelong memories on the sets of Dev Anand's 'Hare Rama Hare Krishna'.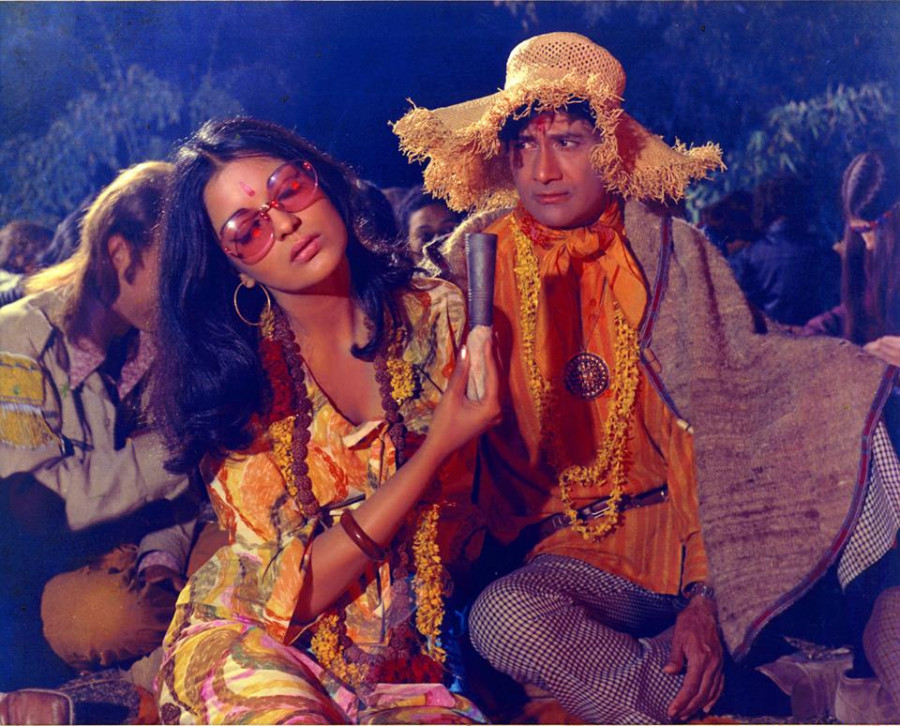 Zeenat Aman (left) and Dev Anand in a scene from 'Hare Rama Hare Krishna'. Bollywood Pictures Gallery
bookmark
Published at : May 13, 2022
Updated at : May 14, 2022 07:54
"It took my breath away," said Gerda Anita Weise, a Swiss national who grew up in Kathmandu. "I was 17 and Dev Anand was saying he wanted me in his movie."
The sense of thrill was no different in 15-year-old Meena Singh when Dev Anand approached her parents for their approval to have her in his film.
The two Kathmandu girls were selected by the legendary Dev Anand to play in his 1971 Bollywood film 'Hare Rama Hare Krishna'—a tale of the ills of the hippie movement—that became an instant hit upon release, with its chartbuster song 'Dum Maro Dum' assuming iconic status. And for the 10 weeks that the shooting lasted, the girls dove into the magical world of Bollywood.
That was a time when Bollywood films had already arrested Kathmandu's imagination through the screens of its cinema halls, and so the film's actors were familiar to the Kathmandu Valley's denizens. Dev Anand's iconic movements and trademark scarf and cap, Mumtaz's dance moves, and Prem Chopra's villainy, all these were firmly ingrained in Kathmandu audiences' hearts; they also knew Mehmood Junior and Rajendra Nath as seasoned comedians, and Zeenat Aman as an emerging actress.
So, when Dev Anand descended on Kathmandu with his shooting crew, the entire Kathmandu was gripped with Bollywood fever. King Mahendra himself had taken special interest and allowed Dev Anand to shoot in the heart of the Valley, and assured every possible support. To see the magic unfolding in their own courtyards, Kathmandu locals thronged the shooting sites with festive fervour. As Dev Anand wrote in his memoir, 'Romancing With Life', the 10 weeks of the shooting was, "one huge celebration" and Kathmandu was "agog with excitement, living day and night with the phenomenon called 'Hare Rama Hare Krishna'". The shooting left an enduring impact on Kathmandu's psyche, evident from how its memories have lived on through the generations.
It was only natural for Singh and Weise, young teenagers attuned to the world of Bollywood cinemas, to be awestruck when Dev Anand approached them. Indeed, as actors in the film, the sense of excitement was much deeper in them, and from the very first, they ventured into a magical journey—of thrills and surprises of interacting with Dev Anand and other stars, being insiders to the shooting process and forming friendships with the actors, and experiencing celebrity-like fame. Although both of them went on to take career paths other than acting, their experiences would form inseparable part of their identities.
Gerda Anita Weise (far left) and Meena Singh (far right) with Zeenat Aman in this screenshot of the film 'Hare Rama Hare Krishna'. Screengrab via YouTube
Dev Anand surprise
Dev Anand had used many local actors in his film for small roles. But some had special roles, like Ram Krishna Prajapati and his brother Shyam Krishna from Indrachowk, who played roles of Dronacharya's (Prem Chopra's character) aides. Singh and Weise were selected to play roles of friends of the film's central character Jasbir (Zeenat Aman's character), appearing beside her for most of the film, including in the iconic 'Dum Maro Dum'.
Today, both Singh and Weise recall the thrilling moment Dev Anand appeared before them in a manner that was no less than his film persona.
According to Singh, his inquiries led him to the doors of Angur Baba Joshi, the then headmistress of Padma Kanya Campus, the all-girls college in Bagbazar.
"Padma Kanya in those days was famous as a place for smart and good-looking girls and Dev Anand requested Angur Baba Joshi to help him find some artists from her college," recounted Singh. "I often participated in musical and stage performances. Shortly before Dev Anand's arrival, I'd led Padma Kanya Campus at a grand inter-college opera competition. Our team emerged the winner and I was awarded a gold medal and other prizes by King Mahendra and Queen Ratna in a grand ceremony. This made me really popular at Padma Kanya and a favourite of our principal Angur Baba Joshi. […] She was also a good friend of my father and she gave our phone number to Dev Anand."
Soon afterwards, the telephone rang at Singh's residence. Her mother received the phone as the person on the other end spoke in English, inquiring after her husband.
"He's away," she replied.
"Oh, I'm Dev Anand speaking," the man said.
The mention of the legendary actor's name on the other end of the phone sent the mother's heart racing for some time. But, that was a time when eve-teasing and bluff calls were very common, recalled Singh, and that she herself got many such calls. So the mother soon collected herself.
"'Look, some bluffer claiming to be Dev Anand,' my mother said, putting down the phone," recalled Singh.
The telephone came a couple of more times, just for her mother to pick up and put it down. Finally, gathering that the mother didn't understand English, Dev Anand spoke in Hindi, and managed to convince her that he actually was Dev Anand from Bombay. He left a message for her husband. Singh's father, who was a Member of Rastriya Panchayat, had accompanied King Mahendra in his tour outside the Valley. Once he returned, Dev Anand invited them for dinner at Hotel Soaltee, where he requested him to allow Singh to be in his film.
"My mother was totally against the idea," said Singh, recalling the conversation that happened between her parents after returning home that night. "'No. She shouldn't act in the film. It'll disturb her studies,' she said. But my father, being a staunch supporter of King, said, "Even our King has granted permission to shoot this film. So shouldn't we support him?' and convinced her."
Weise, meanwhile, came to Dev Anand's notice under more dramatic circumstances. By sheer chance, she was spotted by the actor himself, amidst the crowds that had gathered to see the film's shooting.
Weise was three when in 1957 her architect father Robert Weise came with his family to Kathmandu on an assignment with the Swiss assistance for Nepal, and decided to stay here. She grew up in Kathmandu, attending St Mary's School in Jawalakhel, becoming fluent in Nepali, and growing a love for Bollywood films. Like hundreds of Kathmandu locals, she was also drawn to the 'Hare Rama Hare Krishna' shootings and was a regular at the shooting site in Ekantakuna where the song 'Kanchha Re Kanchha Re' was being shot.
Dev Anand noticed her among the crowd and was curious why a young white girl was drawn to his shooting with such interest.
One day, he called her in his makeshift office on the site, and opened his packed lunch to share with her. Weise recreates the conversation that ensued thus:
"I've been seeing you here every day. How?"
"I grew up in Kathmandu. Although I'm a foreigner, I'm a Nepali in spirit. How can I be somewhere else when such a shooting has come here?"
"I want you in my movie."
"Which role will I play? I don't want to play just any role, [but has to be some special role]."
"No, no, it's a good role. I'll give you one special role."
The next day, she was escorted by Dev Anand's security to where the actor was.
"You'll play the role of the heroine's friend and will accompany her. There'll also be scenes where you'll have to dance with her," he said.
"Ok. Sounds good. But I'll have to ask my parents first."
But her mother rejected outright, concerned that Weise would pick up bad company during the shootings with the hippies.
Her father too declined in the beginning.
'Dev Anand's here and he himself approached me, I'll act in the film anyhow," she was adamant.
In the end, her mother gave in.
"I permit you, but you can't hang around after the shooting. The hippies smoke marijuana around there. I'll be fine if Dev Anand sends a vehicle for pick-up and drop after the shooting," she said.
Dev Anand agreed to these conditions.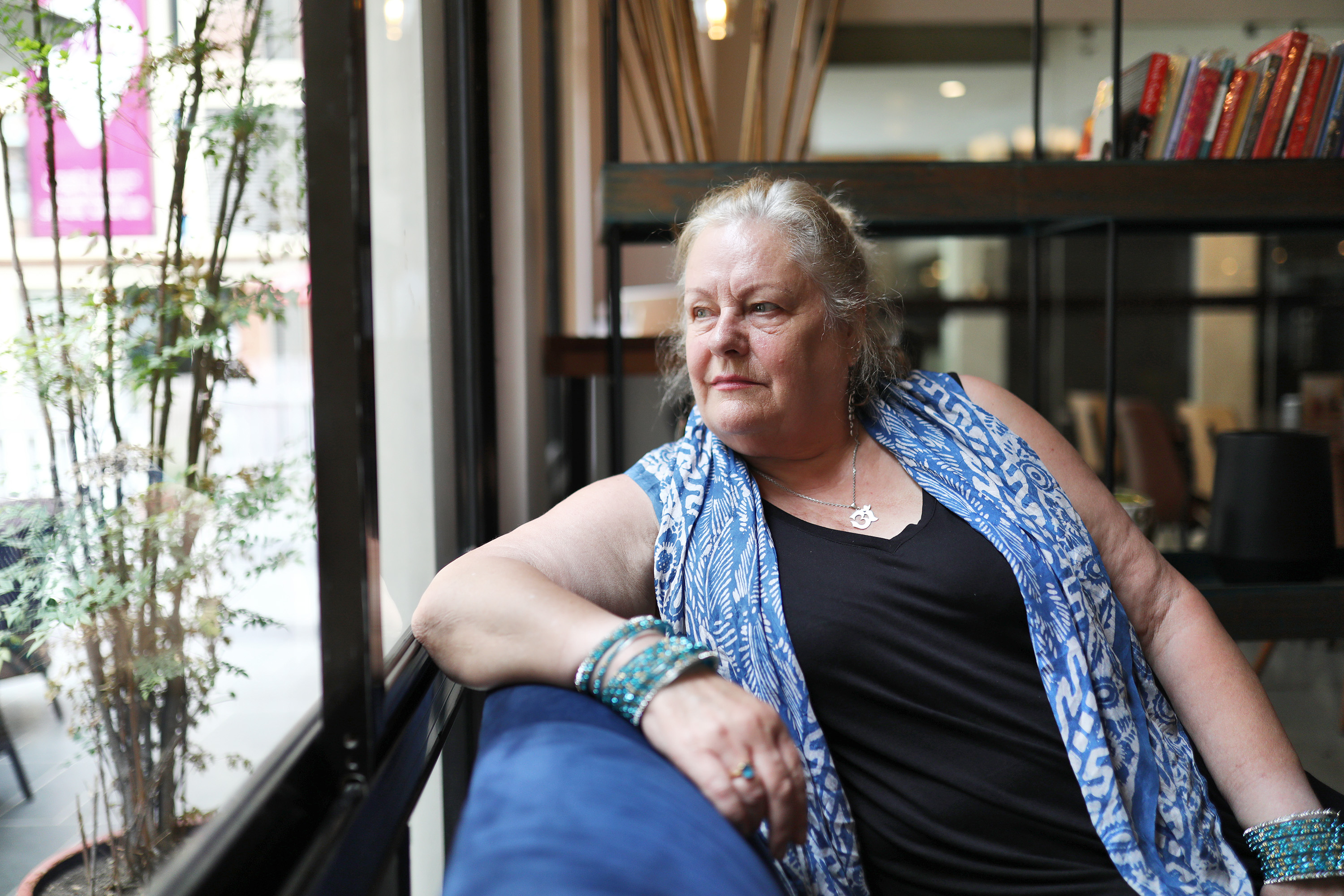 Gerda Anita Weise was a teenager when she landed a role in the movie 'Hare Rama Hare Krishna'. Sanjog Manandhar/TKP
Part of Bollywood magic
Growing up, Weise was an avid film goer. On the screens of the Jaya Nepal Cinema Hall and Ranjana Film Hall, she had witnessed Bollywood movies' power to make Kathmandu locals forget their daily woes and transport them to a magical world.
"I'd see many simple women who probably worked in their fields all day and had a hard life glued to the cinema screens," she said. "But before the film screen, they were transported to some other world of songs and dances. They heartily cried and laughed while watching films."
During the shooting of 'Hare Rama Hare Krishna', she saw the locals throng to see the shootings and spellbound at seeing the magic live.
"There was a crowd wherever the shooting was," she said. "That was a time with no TV and other [means of] entertainment like [we have] today, and people went to watch movies. Dev Anand was a big name, so was Mumtaz. So, the locals were astonished, and said, 'Oho! We used to see them in movies, and now we're seeing them right here'."
Weise and Singh became integral parts of the processes of creating that Bollywood magic the crowds were viewing.
As part of the crew, they were also privy to behind-the-scenes accounts of the filmmaking—like whether the actors really smoked hashish during the shooting.
Singh said, "Many people close to me were curious if we actually smoked marijuana in the songs 'Dum Maro Dum' and 'Phoolon Ka Taron Ka'. Kathmandu was full of hippies at that time and there were real hippies working in the film. I and other Nepali actors belonged to another group of film crew comprising of Dev Anand, Zeenat Aman, and others. Hippies smoked real hashish. But Zeenat and other actors stuffed lumps of cigarette tobacco in the chillum and smoked it."
Weise had her own share of fond on-set experiences, like the shooting of the final scene in which Jasbir dies of drug overdose.
"All of us had to cry and we had drops put into our eyes to make them water. It was supposed to be tragic, but we all kept giggling. The funniest part was Zeenat too got the giggles. The scene was shot over and over again and finally Dev Anand gave up and changed the whole thing," she is quoted in 'Navketan', a book by Indian author Sidharth Bhatia on Dev Anand.
For these girls, it wasn't only a lifetime opportunity to work with Bollywood stars; what also augmented their magical experience is the bonding they formed with them.
"All of us rejoiced in being on the sets with the stars," said Singh. "Moreover, the local actors and the stars developed a strong bond. Dev Anand and Zeenat Aman were both very friendly. Dev always called everyone by their names, and the Nepalis and Zeenat Aman talked for hours behind the sets."
From the party Dev Anand threw for the entire film crew when Mumtaz won the best actress in the Filmfare Award for the movie 'Khilona' to the dinner with Prem Chopra, these were instances that offered them an opportunity to mingle with Bollywood stars off the sets.
They both relished the friendliness of Prem Chopra, Iftekhar, and Mehmood Junior. They became particularly close to Zeenat Aman, who was only a few years older than them, spending time with her, and her mother who had accompanied her.
"Zeenat was so nice. We were very close, very friendly… She became very, very popular [among Nepali actors]. She would speak with everyone," Singh said.
"I also met her mother who'd accompanied her to Kathmandu. After the shooting, we went to Zeenat's room at Hotel Soaltee. We'd sit there and talk with her mother," Weise shared.
But, it wasn't merely proximity with the stars that augmented the girls' sense of being part of the Bollywood magic; like Bollywood stars, they also experienced celebrity-like status.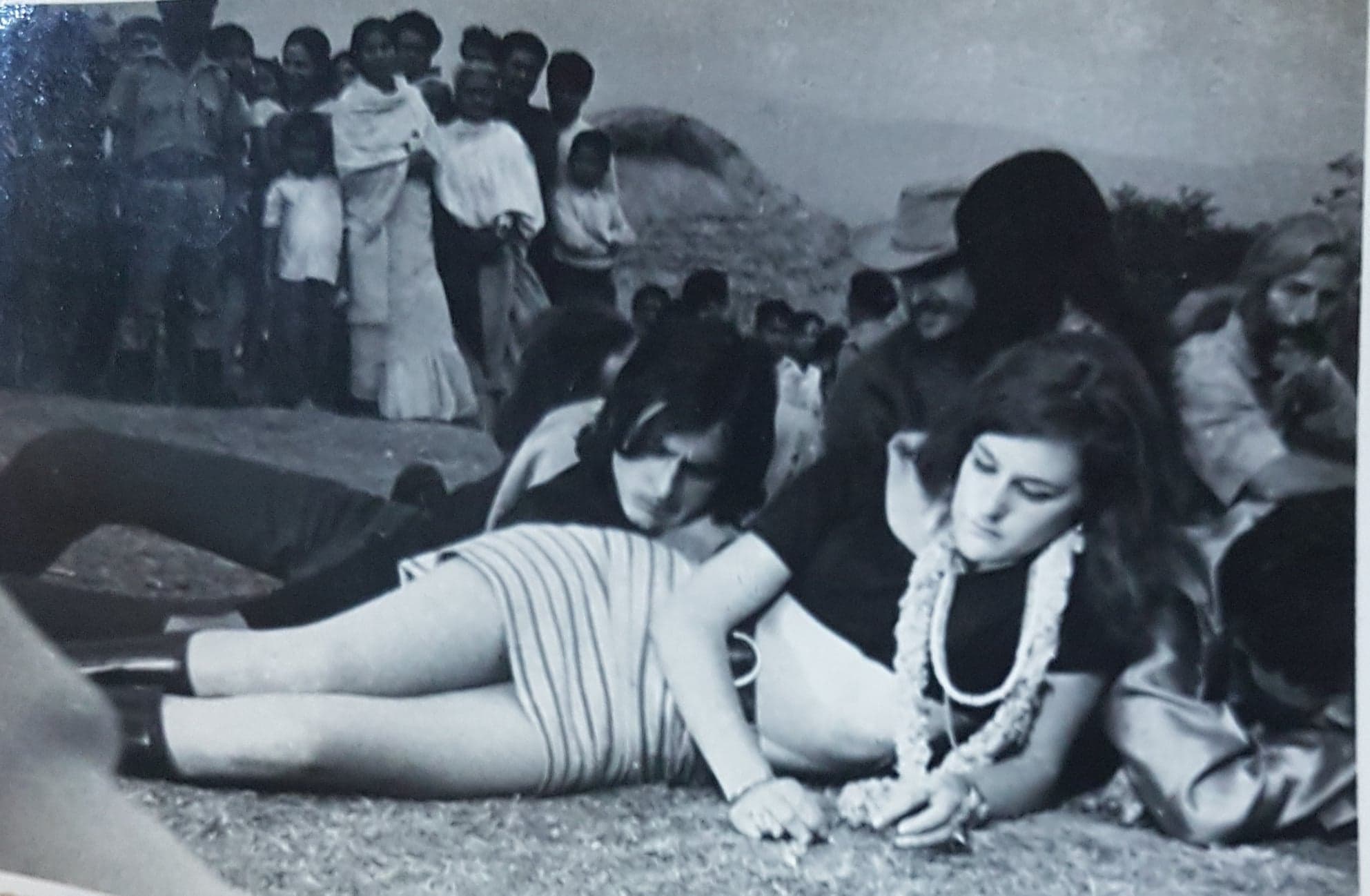 Gerda Anita Weise (foreground) on the sets of the shooting of the song 'Phoolon Ka Taron Ka'. Photo courtesy: Gerda Anita Weise
Unending fame
Weise had to pass through crowds that had gathered to see the shooting to reach Kasthamandap at Basantapur Durbar Square where the 'Dum Maro Dum' song was being shot.
"People in the crowd would extend their hands, trying to touch me like they'd a movie star," she said. "Seeing me at the shooting sets, the locals might've thought that I'm a foreign film star. And the police had to escort me through the crowd—of course they had to do this to other actors as well. I really found this amusing. They'd also ask for my autograph."
It wasn't that the crowd's adulation lasted only during the shootings. After the film's release, she became a recognised face for Kathmandu locals as the girl from 'Hare Rama Hare Krishna'. And wherever she travelled outside Nepal, there was always some Nepali or Indian who recognised her.
Singh too was flooded by calls from relatives and acquaintances telling her that they'd seen her in the film. And in the streets, she became a familiar face.
"Once released, the movie became a super-duper hit," she said. "For many years after that, wherever I went, many people would keep staring at me, […] and ask if I'm from the 'Hare Ram Hare Krishna'."
After the shootings, Weise returned to Switzerland. Singh, meanwhile, continued her studies, and also acted in lead roles in two Nepali films, 'Mann ko Bandh' and 'Kumari', before taking up another career. But the recognition brought by 'Hare Rama Hare Krishna' continues to this day.
"Even today, people become so excited to meet me. Even someone who might not recognise me, someone else introduces me to that person and they start talking of 'Hare Rama Hare Krishna'. This happens so often that I find it so embarrassing at times that I don't want to discuss the movie."
To her surprise, people have even recognised her in the most unimaginable places. A few years ago, she was in California in the US, perusing through items in a shop owned by Tibetans, when from the corner of her eyes, she saw some ladies gazing at her.
"I never expected this to happen in faraway places like California. Eventually the ladies came over to me and said that they'd seen me somewhere. But as I usually don't like talking about it, I didn't say anything. Eventually they found out for themselves and exclaimed that they'd seen me in 'Hare Rama Hare Krishna'."
A part of Weise's identity too continues to be attached to the film.
"I currently live in Australia. People from my generation have watched or know about 'Hare Rama Hare Krishna'," she said. "But even today, their children too say, 'This didi played in Hare Ram Hare Krishna'. This was from so many years ago, and still people ask in amazement."
Journalists and authors have asked them to share their experiences. Although both have been shy to share their experiences, Weise has given interviews to books and newspapers, including for Navketan.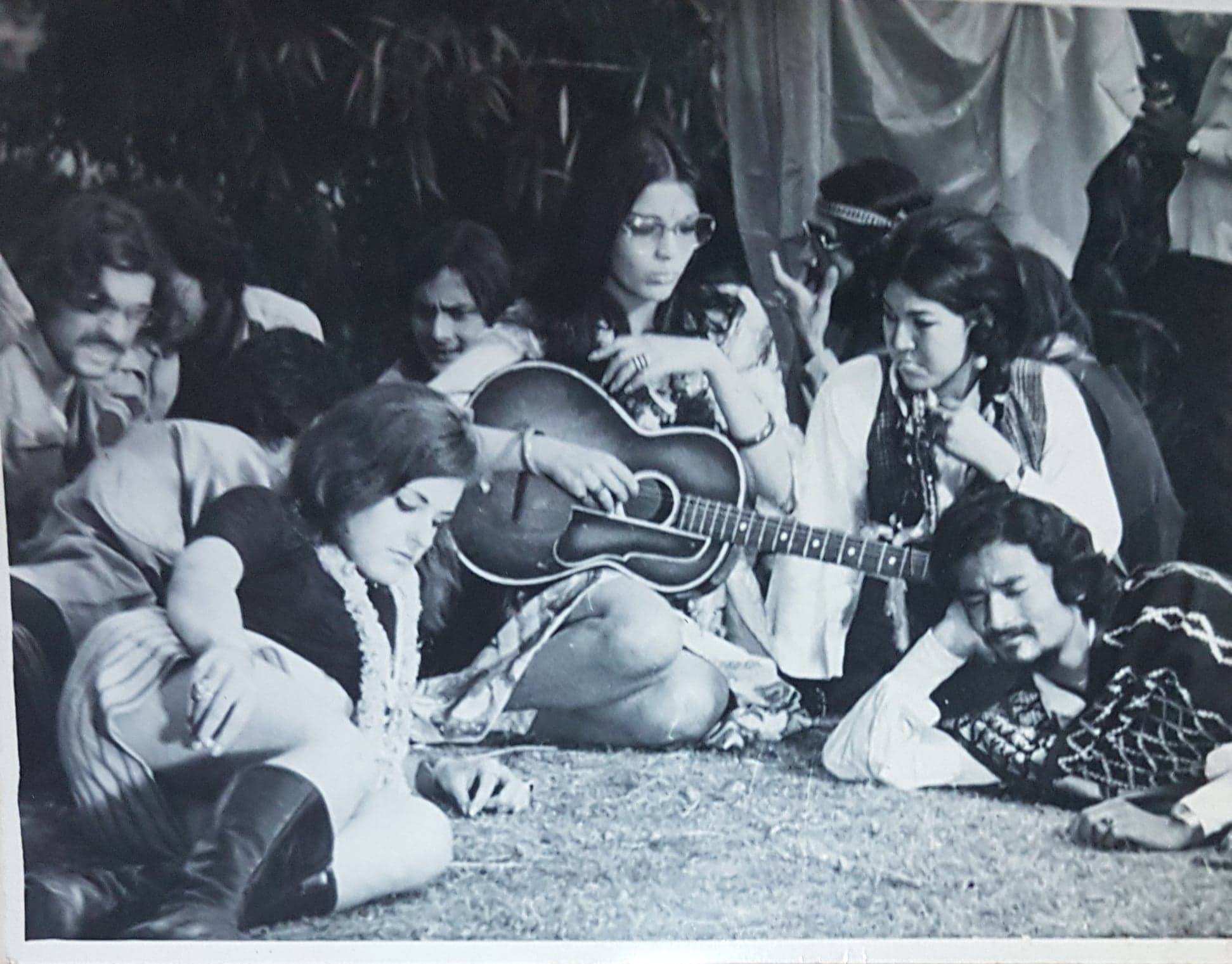 Gerda Anita Weise (left) and Meena Singh (far right) during the shooting of the song 'Phoolon Ka Taron Ka' from the film 'Hare Rama Hare Krishna'. Photo courtesy: Gerda Anita Weise
Magic goes on
Enduring recognition would fuel Singh and Weise's 'Hare Rama Hare Krishna' memories. But, all through the five decades since the film's shooting and release, certain experiences have relentlessly stayed as powerful impressions.
To this day, they are amazed at Dev Anand's work ethics and humility they saw during the shooting.
"I'd a great time shooting and Dev Anand was the most wonderful human being you could imagine," she said. "A great loving person with a big heart, just someone so special. All others were great and fun, but Dev really was special."
Singh particularly remembers an episode as elucidating the actor's work spirit.
"[This incident] made a powerful impression on me on Dev Anand's professionalism. We were shooting in Bhaktapur. One or two days into the shooting, he was wearing an […] orange-coloured cap. One day, everyone was ready for the shooting, but the cap wasn't found. And it's quite a lot of expenditure for the production to delay the shooting.
"Dev Anand was adamant and said 'The cap should be there for continuity. How can it disappear in the middle of the dialogue?' So the shooting stopped. He apparently disappeared into the crowd and found some local person wearing the same coloured pants. He had the production unit buy that pants and stitch the cap from that cloth, which he wore. Only then did the shooting begin."
What also keeps their magical memories alive is friendships that persisted.
"Recently, my husband and I were in Bombay and we met with Zeenat Aman and her son for dinner," Singh said of her enduring friendship with the actress.
Gerda and Singh too evolved into lifelong friends. In 2019, when Weise was in Kathmandu, Singh joined her for dinner at her house in Thamel, where they relieved their memories from 50 years ago.
And, there is something else that has and will continue to fuel their memories.
"Recently, my husband and I were having dinner with a friend at a restaurant in Mumbai," recalled Singh. "A South Indian couple were sitting on a table next to ours. Out of the blue, the friend told the couple that I'd acted in 'Hare Rama Hare Krishna'. Within seconds, the South Indian girl opened YouTube on her phone and played 'Dum Maro Dum'. 'Oh yeah, she's there!" she exclaimed and became so excited."
With the film, and particularly 'Dum Maro Dum', garnering iconic stature across generations, their magic is set to continue.
And as Singh says, expressing her amazement at the song's popularity even after five decades, "This song is playing in at least one place at any given time."
---
---