Carrying forward a sweet legacy
The 112-year-old Badri ko Halwai Pasal has undergone some aesthetic changes, but its core has remained the same.

Deepak Tamrakar (left) and Kedar Tamrakar (right) are great grandsons of Nani Beti Tamrakar, who started Badri ko Halwai Pasal in 1909. Sanjog Manandhar/TKP
bookmark
Published at : September 28, 2021
Updated at : September 28, 2021 19:15
Lalitpur
Hardly anyone who travels through Jawalakhel chowk, with its iconic roundabout containing the commanding King Birendra statue in its centre, will say that they haven't noticed the signage of the sweets shop Badri ko Halwai Pasal. Tucked behind the northern periphery of the statue, the 112-year-old shop has borne witness to over a century of Nepal's often turbulent and resilient history from the same location.
It was officially established by Nani Beti Tamrakar, great-grandmother of the current owners, Kedar Tamrakar and Deepak Tamrakar, in 1909. Kedar says, "The sweets shop was started to cater to the demands of Jung Bahadur Rana's Jawalakhel Palace. My great-grandmother's house was in Thapathali, and she moved to Patan after her marriage. She then moved to Jawalakhel with her brother to open the sweets shop, and our family has continued her legacy ever since. For many years, the shop didn't have a name, but around 15 years ago, our family decided to name it Badri ko Halwai Pasal, after our father Badri Tamrakar."
The 112-year-old Badri ko Halwai Pasal has undergone some aesthetic changes, but its core has remained the same. Kedar, 60, says that he takes pride in carrying on the legacy of making traditional Newa sweets. "Traditional Newa sweets like jeri swari, balbara, khaja fini, rato puri, etc., are a part of Newa culture, and they are needed from birth to death ceremonies. And for all these years, we have catered to the community's demands for quality sweets," says Kedar.
The timeworn sweets shop is adorned with relics of the past. The east-side entrance of the shop flaunts a majestic wall of 'ankhi jhya'. Deepak, co-owner and younger brother of Kedar, informs that in the past the handcrafted intricate 'ankhi jhya' were opened upwards during festive seasons and sweets were handed to the frenzied crowds. Now, the windows are more aesthetically pleasing than a functional design but their cultural history and significance is still important, says Deepak.
Inside the shop, a giant rectangular mirror on the northern wall, like the ones found in barbershops, greet customers. On the eastern and western walls, old photos are hung. In one of the photos, the current owners, their grandmother Gun Maya, and their childhood friend pose in front of their house and sweets shop about 50 years ago. Another is an aerial view of Jawalakhel chowk taken about 15 years ago; another shows an early version of the Central Zoo with few houses in its background.
On a recent morning, Niranjan Ranjit, 48, a resident of Dhobighat, enjoys a breakfast of haluwa-swari with his wife. He shares that he visits the sweets shop around four times a month.
Much like the previous and current owners of Badri ko Halwai Pasal who have handed down the art of making traditional Newa sweets from one generation to another, their regular customers have also handed down their preference to the sweets shop for any sweets-related necessity to their children. For Ranjit, his connection with the Badri ko Halwai Pasal started when his grandmother used to buy sweets from the shop when he was a child.
"Maybe because I have been coming here since I was a kid, I feel that the sweets in this shop[Badri ko Halwai Pasal] are the purest ones. That's why I come here to buy the necessary sweets for any festival or puja conducted in my house," says Ranjit. "My kids prefer sweets from Indian chain sweets shops, but for me, I still go back to Badri every time."
The owners say that regular customers come from all over the Valley. They believe that their reputation as a credible and long-running sweets shop attracts customers who want unadulterated traditional sweets for religious festivals and rituals.
Kedar shares that they sell around 200-300 packets of khaja fini per month and 10-15 kgs each of popular sweets like jeri-swari and haluwa-swari each day. During the wedding and festive seasons, the store gets overwhelmed with orders for a lunch-box type assortment of sweets. Even in off-seasons, the shop swarms with hungry customers wanting to buy their share of jeri-swari or haluwa-swari.
However, the traditional sweets shop has also faced stiff competition from the influx of Indian sweets shop chains in the Valley. "The Indian sweets shops have given us immense competition. We do not have the means to compete with international chain sweets shops," says Kedar. "Traditional Nepali and Newa sweets are mostly made from flour and are not overly sweets like the Indian sweets, which are mostly made from milk and khuwa."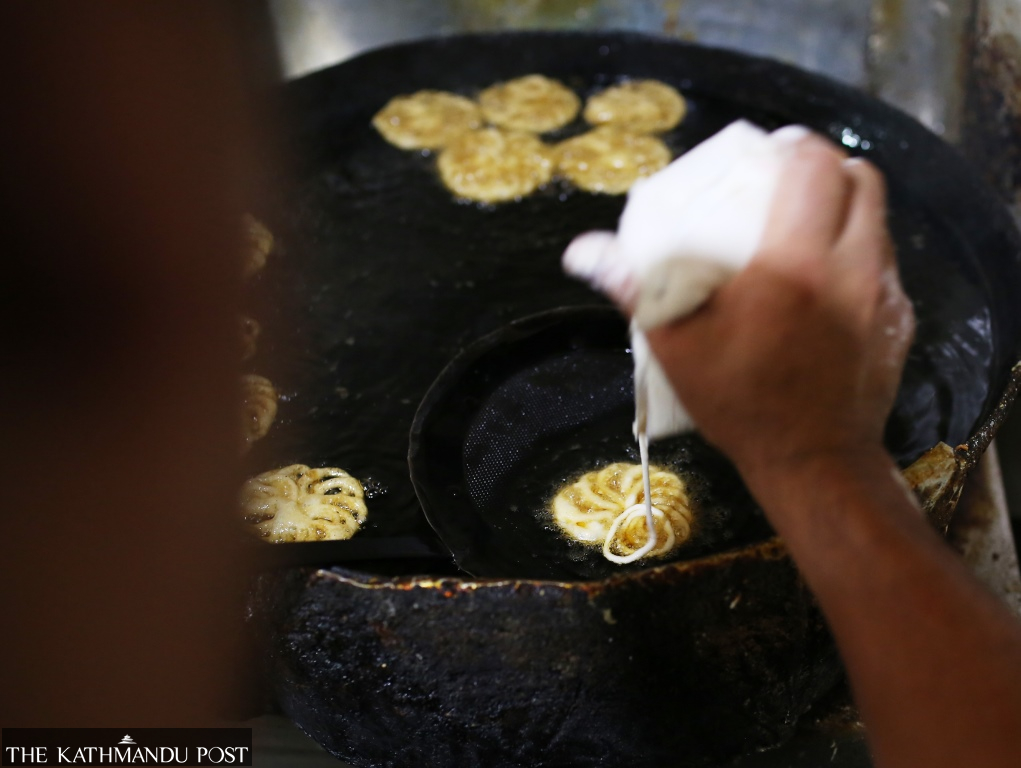 Badri ko Halwai Pasal sells around 300 packets of khaja fini per month and 15 kgs each of popular sweets like jeri-swari and haluwa-swari each day. Sanjog Manandhar/TKP
Badri ko Halwai Pasal also has had to adapt to changing taste buds of the customers. As Indian sweets started to get popular in the Nepali market, the shop also added Indian sweets like rasbari, kaju barfi, kala jamoon among others, to their menu around 15 years ago.
Currently, the owners have given in to a new demand—digital payment. A new QR code payment plaque of Esewa beams at customers from the payment counter of Badri ko Halwai Pasal.
"Many banks have offered to set up a digital payment system, but we didn't relent because most of our customer base are seniors who do not use such methods. But middle-aged and young customers increasingly ask about digital payment. So when an Esewa representative came about two weeks ago, we didn't say no," says Deepak.
There were even plans to add an instant coffee machine, but the plans had to be shelved due to the store's limited space, says Kedar. Just in front of the payment counter, a refrigerator, which holds yoghurt, gudpak, and cold drinks, makes a low humming sound. Next to it is a small deep freezer that holds a variety of ice-creams.
"During bajai's era, the shop didn't even have chairs or tables. She used to sit in the middle of the shop and cook sweets for the customers. Fridges or dine-in culture didn't exist back then," says Kedar.
Kedar and Deepak reminisce about how they were both die hard fans of volleyball when they were teenagers. "Bajai and aama used to take care of the shop at that time so we were free to pursue our passion for volleyball. But as I started to grow older, I needed to be more responsible and take care of the shop, so I had to quit thinking about volleyball," says Kedar.
His brother, on the other hand, had a bit more freedom to chase his passion. Deepak says, "Watching my dai play volleyball inspired me to play the sport. We both even played a match together on the same team. But then, one couldn't earn a living by pursuing a career in sports. There was no scope," says Deepak. But he was successful enough to be part of the national volleyball team in the 1995 South Asian Games. For Deepak, the pride of wearing the national sports jersey and representing Nepal was "one of the proudest moments of my life."
Now, the two brothers have long given up their hopes of a shining volleyball career but are still members of the local Jawalakhel Volleyball Training Centre.
Sawan Tamrakar, 31, and Prajeet Tamrakar, 27, the fifth generation of the family, have also joined the family business, much to the joy of their father, Kedar. "Children continue the family business for a reason, you know. Parents and grandparents have already laid the groundwork so children do not need to start from zero," says Kedar.
Kedar's two sons, Sawan and Prajeet, have continued the family legacy of sweets and expanded upon it. They have established a factory in Thapathali to mass-produce foods like lakhamari, khajuri, nimki, potato chips, furandana, etc. The various sweets and dry foods produced from the factory are distributed to stores and supermarkets all over the Valley.
Looking back at the city's politically turbulent past witnessed by Badri ko Halwai Pasal, Kedar says that the most unsafe period was during the 1990 People's Movement. During that time, he says, "There was no certainty of anything. Things would seem peaceful and we would open the shop, but then there would be a protest in the afternoon and we would have to close the shop hastily."
In comparison, the recent Covid-19 pandemic-induced lockdowns were less troublesome. The lockdowns were scheduled, and the restrictions were clearly informed beforehand, unlike the past violent protests. "Since we were allowed to operate the factory, we were able to get by even though we had to close our sweets shop. We simply made various sweets and dry foods in the factory and focused on selling them throughout the pandemic," says Deepak.
The only outlet of Badri ko Halwai Pasal is at Jawalakhel for now, but that may change soon. Sawan shares that they are planning to open a new outlet soon to expand their customer base. "There's a new sweets shop opening in Kumaripati. We also cannot fall behind," says Sawan. "We are currently doing some market research, and we are planning to open a new outlet soon within the Valley."
The story has been updated to include a comment from one of the owners of Badri ko Halwai Pasal.
---
---