Meet the keepers of old books
For decades, secondhand book shops have allowed people to buy books at affordable prices. But these shops are now finding it increasingly difficult to stay afloat.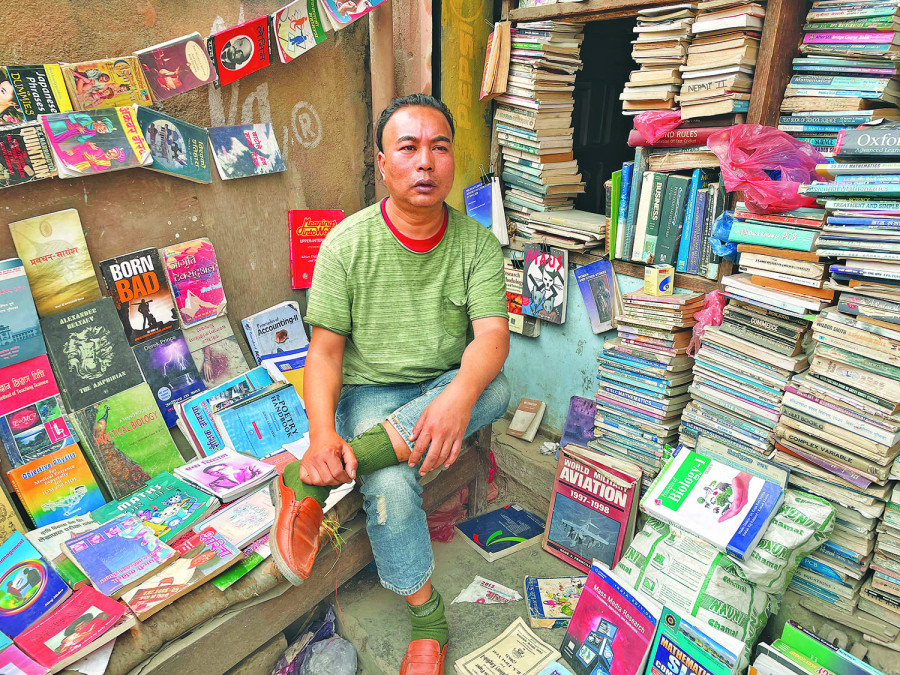 At Saran Khadgi's bookstore in Sanepa students make up the majority of customers. Srizu Bajracharya/TKP
bookmark
Published at : April 22, 2021
Updated at : April 22, 2021 19:34
Kathmandu
In Saran Khadgi's small book shop in Sanepa, piles of used books lie everywhere. The air inside the shop is thick with the distinct smell of old books. From the outside, Khadgi's shop isn't exactly a place you would imagine to encounter a world of books.
Located in one of Sanepa's quiet lanes, the shop's most frequent visitors are students, the majority of whom come searching for secondhand course books. On rare days, adults—old and young—can be seen inside the store reading from Khadgi's collection.
"I opened this place more than seven years ago to make books accessible to as many people as possible, and what better way to do this than by dealing in secondhand books, which are much cheaper than buying brand new books," says Khadgi. "Even though I have only studied till secondary school and am not a very learned person, I understand that books are valuable, and they carry knowledge to change the world," he says.
Just then two students enter his shop and ask Khadgi where they can find MBBS books. A few minutes later, one of the students, 20-year-old Krishna Dhami, comes out with a wide smile on his face and a book in his hand.
"I am preparing for the medical college entrance exam. We were passing by the shop and thought we should try looking for books here. It's a good place to find books at affordable prices, which is really helpful for students like us," said Dhami, who was able to buy the book he was looking for for half its original price.
Students and book lovers can not only buy books for half the price at secondhand book shops like Khadgi's, but they also get to sell their used books and get enough in return to buy other books.
With changing times, however, the secondhand book market has shrunk a lot, say bookstore owners. But despite that, the market has played a significant role in making knowledge accessible to people of all backgrounds.
Every admission season, secondhand bookshops, like Khadgi's, are still thronged by students who want to sell their used books and buy books at affordable prices. "Students benefit the most from this market," said Ramji Paudel, the director of Hajurko Pustak Sansar, a secondhand bookshop near Kathmandu Model Hospital at Exhibition Road.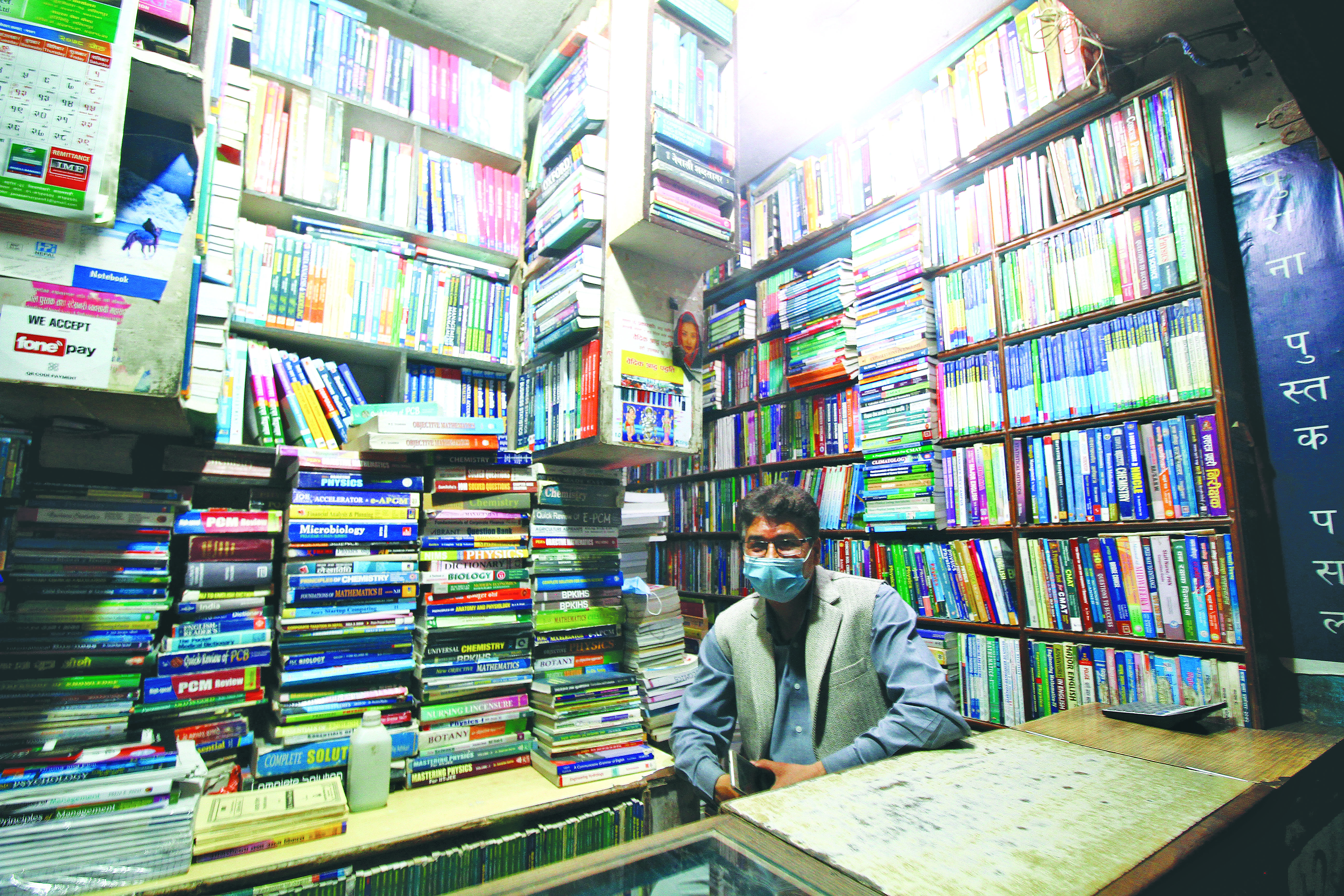 Ramji Paudel has been in the secondhand book business for over 20 years. Beeju Maharjan/TKP
Paudel's shop is one of the many secondhand book shops in Exhibition Road, which is very popular among students who attend colleges and schools.
This prime location means Paudel's shop is much busier than that of Khadgi's book shop in Sanepa. "We see anywhere between 80 to 100 students on a daily basis," says Tulsi Paudel, who owns Hajurko Pustak Sansar. "Even teachers who had studied using old books recommend our places to students because they understand that this market aids affordable education for students."
The Paudel duo has been running the bookshop for over twenty years and they know the secondhand book market like the back of their hands. For Ramji Paudel, a publisher and former Nepali language teacher, the secondhand book market not only makes available books at affordable prices but also teaches people a lot about saving money.
"We are the quiet mediators of knowledge, and if this market is to disappear tomorrow, many students and book lovers will find themselves in a difficult position," he says.
Initially, the Paudels had started their bookshop with new books but shifted to selling secondhand books as the movement of recycling and reusing surged worldwide and in their circles. "We thought of it as a service that would benefit many. Today, many are accepting and talking about the idea of recycling and reusing, and it is the right thing to do—and I think in a way, that is what we are doing here," said Ramji Paudel.
Like the Paudels, Nabin KC also got into the secondhand book business twenty years ago, long before the idea of recycling and reusing books had taken momentum. He used to sell new books in front of the RNAC building, now NAC. After some of his customers urged him to start selling secondhand books, he decided to give it a try.
Until last year, KC used to sell secondhand books from the footpath in front of the RNAC building. But he had to shift his shop elsewhere when Kathmandu Metropolitan City barred vendors from doing business on the roadside.
"We shifted inside Sankata road after that. Ever since I moved from the footpath to a proper shop, my business has suffered as there are less customers here than on the road. Now that I have to pay rent, I have no option but to stick to the rigid discounted prices of my books," he says.
KC is a straightforward man; he admits he doesn't understand books as bibliophiles do, but he understands the business side to it, and he knows to him, this has been a meaningful journey. At his shop, a green signboard reads, 'Ma ek byapari, byapar mero karma, pasal mero mandir, grahak mero puja, grahakharu ko santos, yehi ho mero prasad', 'I am a businessman, and my work is my duty, my shop is my temple, my customers are for me to worship, and their satisfaction is my reward.'
"Things are getting difficult now, but I need to continue with this business because this is the only thing I know," said KC
Although not as popular as in the road, KC's bookshop still sees students who come looking for their course books. Though small, KC's bookshop houses books of a wide range of courses—from IT, Science, Medicine, Commerce to Management. His shop also works as a library for many book lovers—they sit on mudas and read away silently at the shop. "My shop is open to people who want to read; if they find my collection interesting, it's a good thing for me," he says.
Faced with a slumping business, KC, in a bid to increase revenue, has also started selling new coursebooks for college-going students
"Some of the key challenges that are threatening the very existence of this business is how course books are changing and the increasing number of students relying on the internet for study materials," says KC. "Especially this year, plus two courses and so many other education courses have changed. And every time that happens, it puts people like us in a difficult situation. If this trend continues, we don't know if we will be able to continue."
KC, Khadgi, and many like them are the unlikeliest people advocating for equitable distribution of knowledge, and by now, their second-hand book shops have made books financially accessible to thousands of students.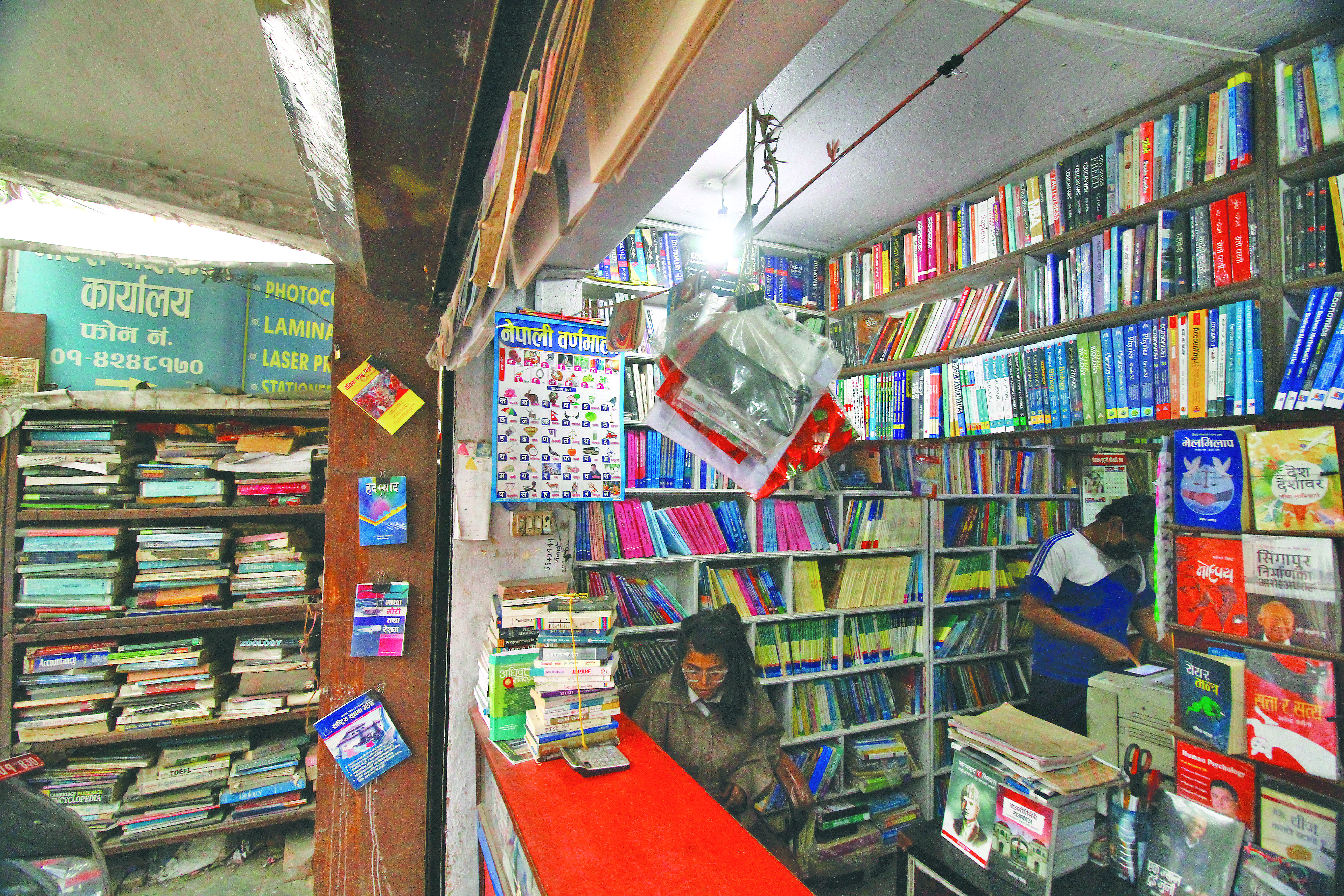 Shrota Baral has been helping her father run his secondhand book shop. Beeju Maharjan/TKP
"My father and mother started a secondhand bookshop to make books of all sorts available and affordable to people who want to study but cannot afford to buy brand new books," says Shrota Baral, a second-year law student whose father owns and operates International Secondhand Book Shop at Bhrikuti Mandap. "Throughout my school and college days, I have only used secondhand books."
One of the good things about buying used books, says Baral, is the books have remnants of memories of the previous users—sometimes as useful study notes and answers.
"I always leave behind study notes in my books and I know that such notes will come handy to the next owner," says Baral.
Despite the important role secondhand book shops have been playing in making books accessible to all, the industry is facing immense pressure. And one of the main reasons for it is Kathmandu's ever-increasing real estate demand prices.
"The reason why the secondhand book industry exists is because there are so many people who cannot afford to buy brand new books. But with rental prices in the city skyrocketing, it is becoming increasingly difficult for businesses like ours to keep prices low and still make profit," says Paudel.
Paudel says he might soon be bound to pay a monthly rent of Rs 44,000 for his shop, which he rents from Valmeeki Vidyapeeth college."Monthly rents of the shutters in the area doubled last year, after the college called for a tender to make rent contracts," says Paudel.
Another challenge the industry faces is the sporadic supply of old books.
The secondhand market depends all too much on people's initiative to bring books to a collector or vice-versa. Most rely on students, then locals and sometimes, scrap dealers.
While many bookstores have started focusing on selling books online, the same isn't the case with secondhand book stores.
The idea, say bookstore owners, is still too far-off for them as their business is small and serves mainly the local market.
"Of course, going digital would be good, but for that, we need to have a steady supply. With courses changing and an unreliable supply network, that is difficult," says KC.
For the Paudels, the question of going digital also pertains to the future of their bookshop—for how long do they see their shop serving people. "I am getting old, and my wife is getting old too, the business is slowly waning, and I am not sure if I can strive to build a new way for my business at an age where I want things to settle. Plus, my children are not going to look after the business, so digital is not even an option we have considered," says Paudel.
However, International Secondhand Bookshop has adapted to the changing times. It recently started selling its books through its Facebook page, via which they answer queries of customers.
"If we are to survive in this tough business climate, online presence, which makes it much easier for people to get information, is a must," says Baral. "Because ultimately it is the knowledge that empowers our lives and places like ours are significant to make knowledge accessible to people."
But the truth remains that the number of secondhand bookshops in the city has gone down a lot, and many that exist are facing challenges in staying afloat.
"I don't know if people read much today and understand the importance of places like ours. The internet has everything," says Khadgi at his Sanepa book shop where days go by without seeing a single customer.
"Sometimes, it's disheartening. But still, I open my shop, hoping someone will find something they need here. Because I still believe old books have more value than we think."
---
---