Officials and ministers face contempt case for not enforcing court order to ban visual pollutants
Four years into the Supreme Court order, government authorities have failed to save the city from unsightly advertisements.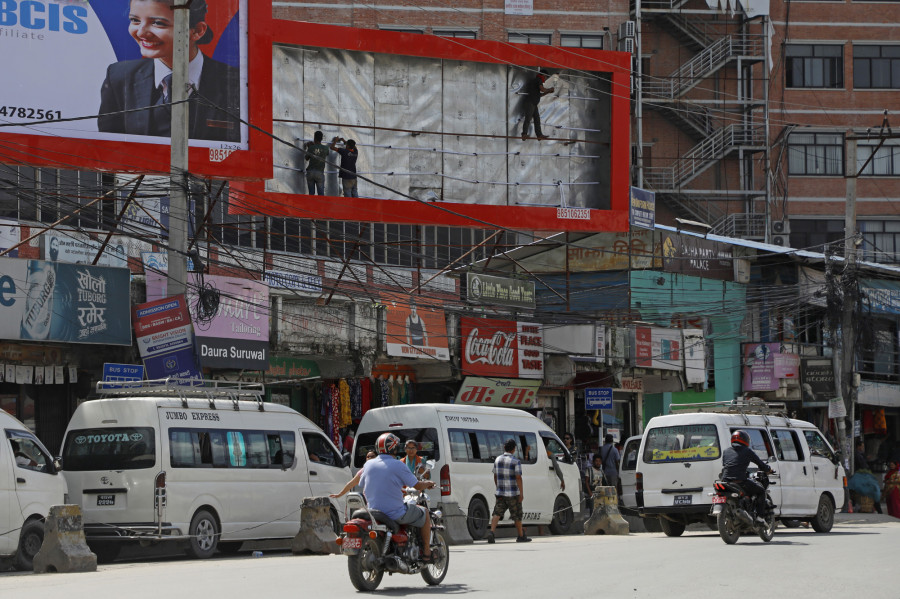 Hoarding boards, wall paintings and posters still pollute Kathmandu Valley visually. Post File Photo
bookmark
Published at : December 1, 2019
Updated at : December 1, 2019 07:45
Kathmandu
A contempt of court case has been filed against government officials and ministers over their failure to implement a 2015 Supreme Court ruling for clearing Kathmandu of visual pollutants, including hoarding boards, wall paintings and posters.

Four years ago, the Supreme Court had asked authorities, including the Kathmandu Metropolitan City (KMC), to rid the capital city of all forms of visual pollutants that ruin the city's aesthetics.
But four years since the court's order, the ruling remains far from enforced despite several notices from Judgment Execution Directorate, the body that ensures the court's verdict is implemented.
Padam Bahadur Shrestha, a senior advocate who filed the writ petition at the Supreme Court in 2015, said he was left with no option than filing a contempt of court case after government agencies and officials paid no heed to the decision.
"It has already been four years since the country's highest court passed its verdict," said Shrestha. "Even the directorate had sent several notices. But nobody took it seriously."
Walls, rooftops, and streets across the Kathmandu Valley are plastered with banners, pamphlets, and hoarding boards, which are generally described as elements of visual pollution. Visual Pollution is defined as anything that blocks the natural view or aesthetic beauty of a specific site, landscape, or city.
The officials against whom the case has been filed include KMC mayor Bidya Sundar Shakya, its chief administrative officer Kedar Neupane, KMC Environment Division chief Hari Kumar Shrestha and City Police chief Dhanpati Sapkota. Likewise, government ministers Shakti Bahadur Basnet, Hridayesh Tripathi, Ram Bahadur Thapa, and Mohammad Ishtiaq Rai have also been made defendants in the case.
"I had to file the case because they have not done their job effectively as office bearers," said Shrestha. "They have not even responded to the correspondence of the directorate. Defying the verdict of the Supreme Court is a serious offence but these agencies and officials have continued to do just that."
Since the court verdict in 2015, the directorate has dispatched five letters to authorities, questioning the status of the court's decision and the progress.
In the latest letter sent by the directorate on November 13, it asked the KMC to submit a progress report within seven days. But officials in the city office never submitted the report.
---
---