US Ambassador attempts to clear the air on the Indo-Pacific Strategy
Randy Berry calls the strategy a US policy—not a secret alliance any country is asked to join.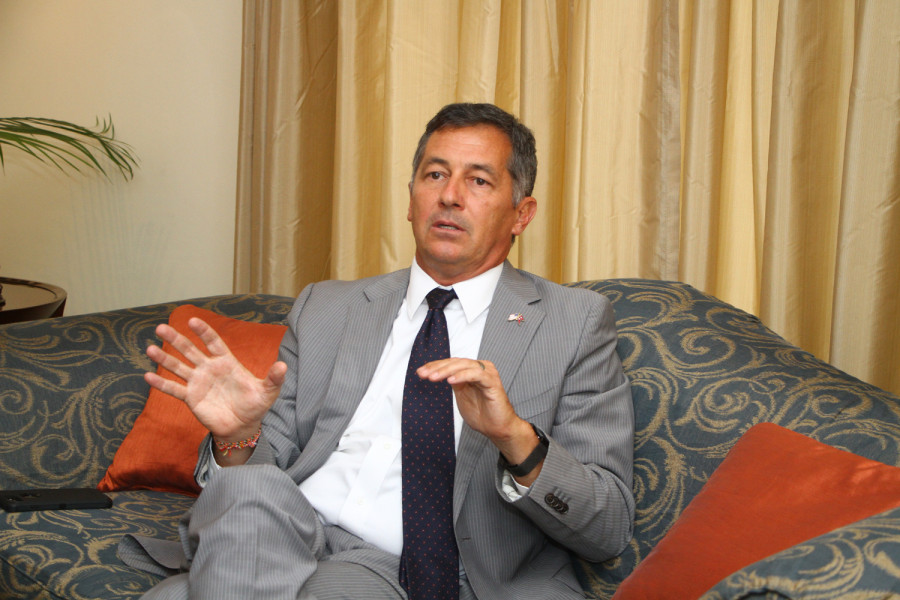 Post file
bookmark
Published at : September 28, 2019
Updated at : September 28, 2019 06:59
Kathmandu
In an attempt to dispel false notions surrounding the US-led Indo-Pacific Strategy in Nepal, US Ambassador Randy Berry has reiterated that the strategy is a US "policy" and it does not require or demand membership from anyone.

Ever since the visit of Foreign Minister Pradeep Gyawali to Washington in December last year, the Indo-Pacific Strategy has been a subject of speculation among Kathmandu's political and diplomatic circles. Some sections of the ruling party have opposed what they call Nepal's participation in the strategy, linking it to the government's attempt to ratify an agreement with the Millennium Challenge Corporation (MCC) through Parliament.
"We have explained that the Indo-Pacific Strategy is the name we give to US policy. It describes what we Americans strive to do to protect and advance a free, open, and secure Indo-Pacific Region," Berry said on Friday, during a programme held in Kathmandu.
[Read: Nepal disapproves of Washington's Indo-Pacific Strategy, Beijing says]
"Some people claim it is a secret military alliance or some kind of member-based organisation meant to trap Nepal," Berry continued. "But the fact is, as Foreign Minister Gyawali has told Parliament and repeated to the press: Nepal has never been asked to 'join' anything."
After returning from the US, Gyawali had clarified that his discussion with his US counterpart had focused solely on Nepal's key role in the Indo-Pacific region and not on Nepal's participation in the strategy.
Despite this explication, controversy has continued, leading the US envoy to meet with a number of political leaders, including Prime Minister KP Sharma Oli, ruling party leader Madhav Kumar Nepal and Nepali Congress President Sher Bahadur Deuba in an attempt to express US concerns and expedite the ratification of the MCC agreement through the House.
[Read: US Embassy seeks clarification after Beijing says Nepal 'disapproves' of Indo-Pacific Strategy]
Still, doubts persist within Kathmandu's political and foreign policy circles, some of whom believe that the strategy comes with "strings attached" and is an attempt to counter China and its Belt and Road Initiative.
Two back-to-back visits to Nepal by two senior officials from Washington earlier this year further exacerbated the debate, with one official saying that the MCC is very much part of the Indo-Pacific Strategy. Another official explicitly said that Chinese investment in Nepal should serve Nepal's interests, not China's. Subsequently, Gyawali was summoned to the House and questioned by parliamentarians.
Some in Parliament are also concerned about Nepal's agreement with the MCC, the US's bilateral foreign aid agency, to construct electricity transmission and transportation projects. The agreement was not ratified by Parliament in its session that was prorogued last week.
"Let's be clear on the origins of this extraordinary partnership: Nepal asked the United States to develop an MCC Compact," said Berry, who further clarified that agreements with the MCC require parliamentary ratification in every country, not just in Nepal.
"If we did not ask for ratification, people would say: why are you forcing this project on us? Ratification means this is obviously a sovereign issue, and Nepal's government is free to chart its own course, and buy-in is critical," he said.
The US envoy also pointed out that prerequisite talks with India regarding a cross-border power line to be built under a grant from the MCC was a fact of geography and economics. If Nepal wants to sell power to Bangladesh, it will require an agreement with India, he said.
"Some might prefer to find conspiracy hiding behind every door, but sometimes the answer really is just simple geography, the simple economics of making this project work, and a discussion-based in fact," he said.
The Indo-Pacific Strategy, Berry said, is not about excluding any country.
"Look around the region: no one has 'joined' the US Indo-Pacific Strategy. Why? Because no one has been asked to join," he said. "The Indo-Pacific Strategy is simply the name we have given to everything we do in the region, and security is an important part of ensuring the Indo-Pacific Region remains free and open."
Berry went on to present a comprehensive overview of Nepal-US ties and gave several accounts of its engagements in Nepal, from Peace Corps volunteers and military cooperation to US-funded projects in Nepal.
At the event, a number of diplomats and foreign policy analysts also spoke in favour of the US-led initiative.
Former UN Under-Secretary-General and Foreign Secretary Gyan Chandra Acharya said that as a landlocked country, Nepal should look beyond its neighbours.
"To protect our sovereignty, promote the rule of law, democracy and economic growth, we should accept this initiative," said Acharya. "We should promote it for our own national identity and sovereignty and we should take forward the MCC, too."
Former foreign policy adviser and ambassador Dinesh Bhattarai also said that Nepal values its relations with the US but we should also hear the voices of India and the European Union in this regard.
"Nepal should maximise its economic cooperation and exercise strategic autonomy without fear and favour," said Bhattarai. "We are constructively engaging with the US and our engagements are based on issues."
---
---