The unchanging tunes of six Nepali musical instruments
Kutumba keeps the music alive in popular Nepali songs.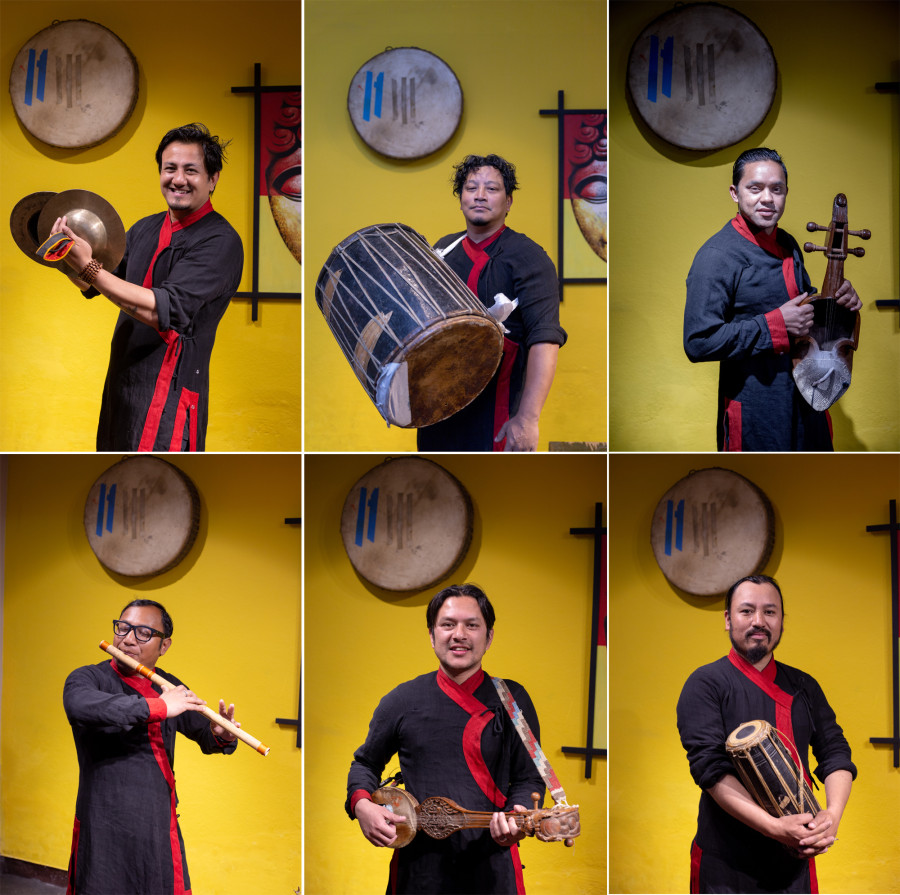 bookmark
Published at : March 6, 2020
Updated at : March 6, 2020 09:52
Kathmandu
A song is the most known kind of music in the contemporary world but when one talks about "pure" or "absolute" music, the focus shifts towards instrumental music that has no non-musical aspects, elements, or accompaniments.

Musical instruments are universal components of human culture; archaeologically, it has been revealed that pipes and whistles come from the Paleolithic period and clay drums and shell trumpets from the Neolithic period.
If you look at the history of musical instruments in Nepal, you'll find them intertwined with Nepali culture and religion with different instruments used for different occasions, right from birth to death.
However, in the contemporary world of popular music, instrumental pieces are hardly heard and that holds true for Nepali pop music too. But whenever instrumental music is heard, rest assured it's usually 'Kutumba' who is producing them. An eight-membered band, Kutumba has become the epitome of Nepali instrumental music. From Tungna and Sarangi to Khin, Damphu and even singing bowl, Kutumba are known for taking the folk genre to a different level while staying true to their roots. The Post sat through one of their practice sessions, to learn a little bit about six of the most used instruments in traditional Nepali music and even learned to play one of them.
Sarangi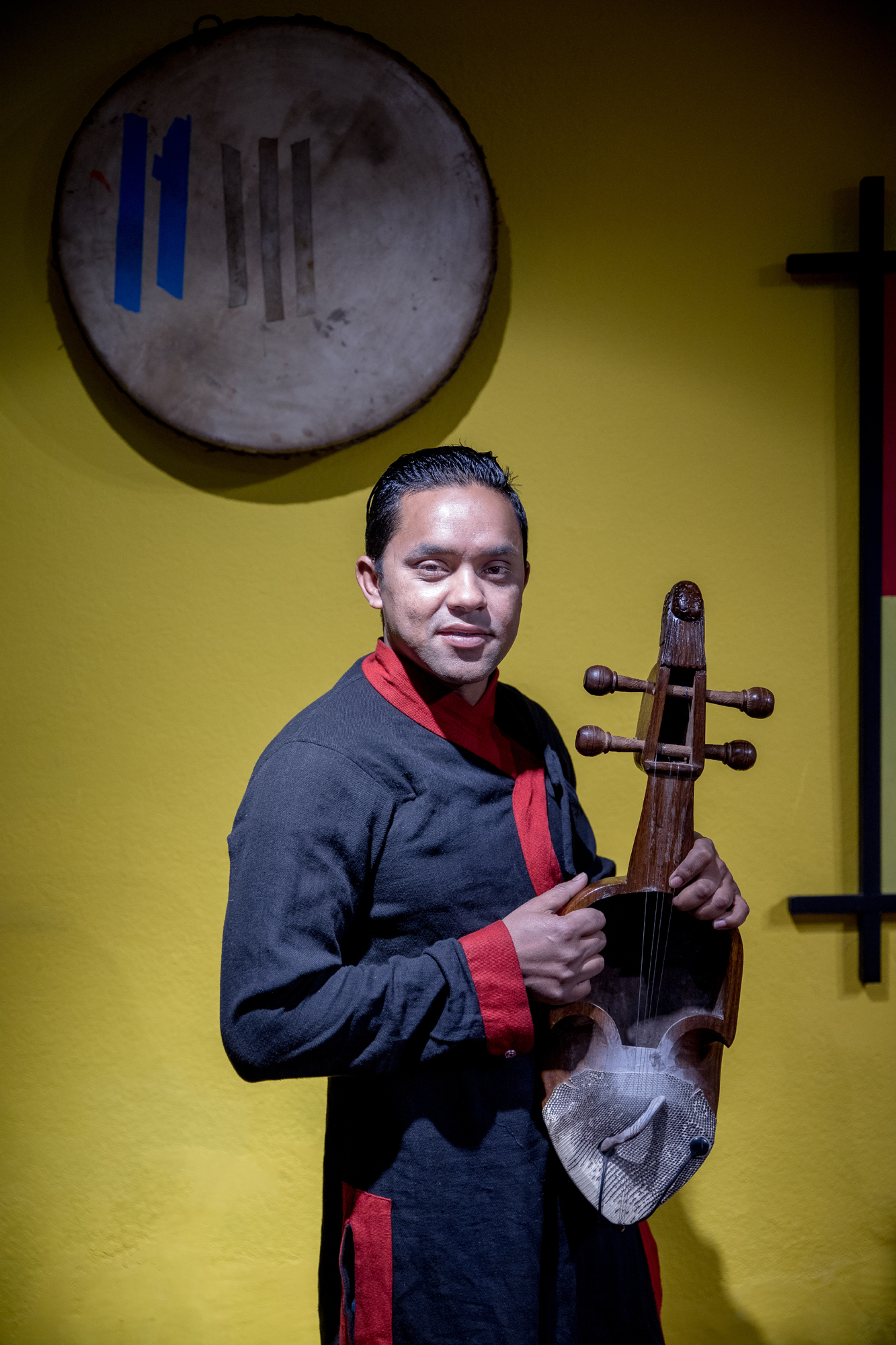 Hritik Shrestha/TKP
Sarangi, a traditional stringed instrument, was first used by the Gandharba community in Nepal. The people of Gandharba community travelled across Nepal, collecting news and stories and relaying them to common folks in the form of songs. The sound produced by a sarangi is said to most resemble the sound of the human voice.
Kiran Nepali, one of the musicians of Kutumba and the founder of Project Sarangi (an initiative to promote Sarangi), says, "The Sarangi is made up of a single piece of wood and the type of wood used determines the tonal quality of the instrument." A third-generation musician, Kiran also plays with other acts like Bipul Chettri, Navneet Aditya Waiba and Playing for Change.
Bansuri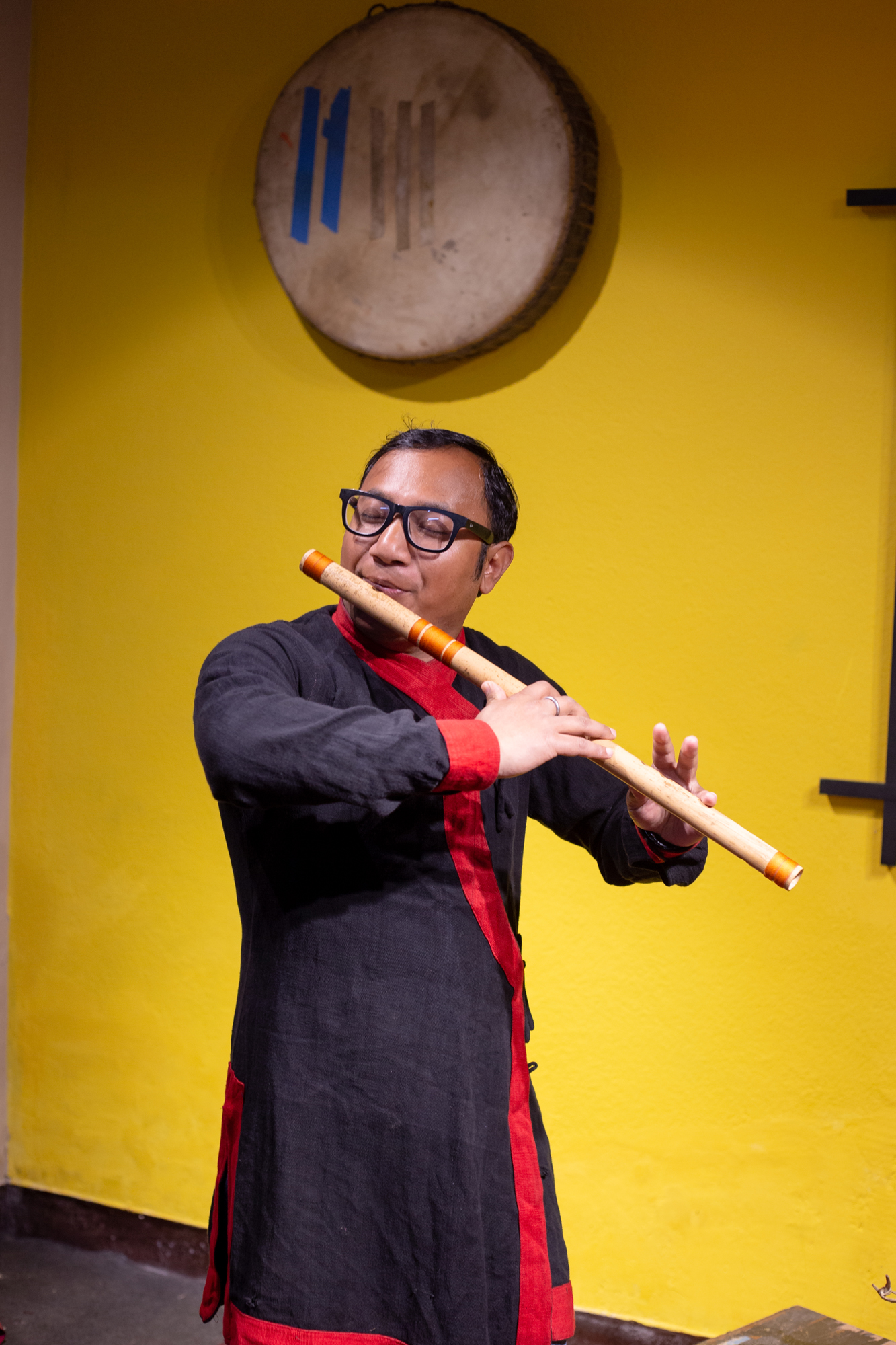 Hritik Shrestha/TKP
Bansuri (or flute) is a classical musical instrument made from a single hollow pole of bamboo, which is called baas in Nepali and that's where the instrument gets its name from. It is from a family of musical instruments in the woodwind group and has seven holes. According to Rubin Kumar Shrestha, the flautist of Kutumba, Bansuri has strong connections to Hindu religion. "Bansuri is an integral part of hymns. That said, it's not limited to just religious serenades. It can accompany any song. Young musicians are experimenting with Bansuri in different genres and that's just amazing," says Rubin.
Dhimay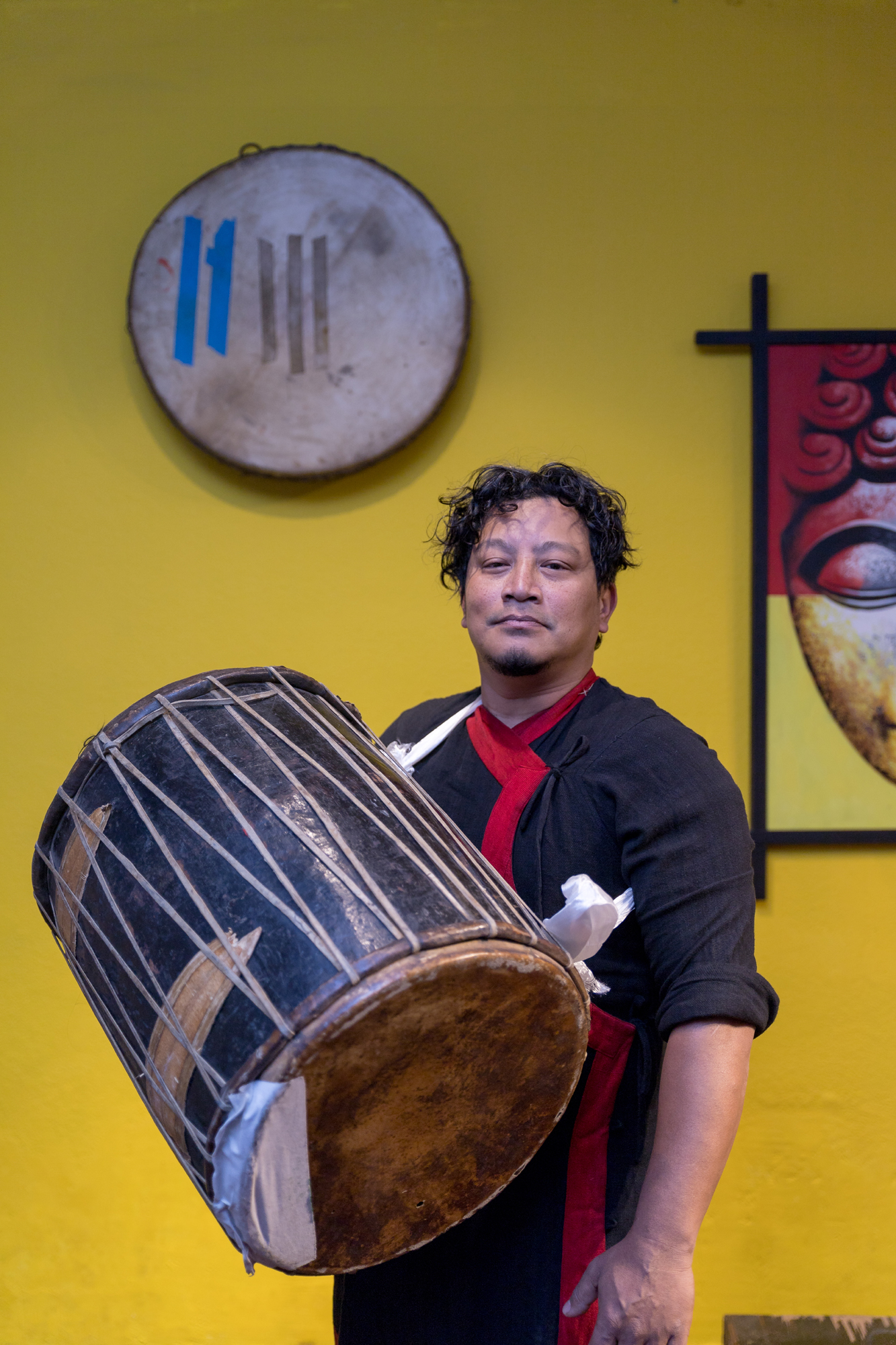 Hritik Shrestha/TKP
Dhimay is a drum-like Nepali musical instrument. It is played by Newars in Jatras and festivals alongside other musical instruments. In the traditional context, Dhimay is played with idiophones of different types, depending on the local tradition. According to local legends, the instrument is believed to have been invented by Lord Shiva.
In Dhimay-ensembles, called Dhimaybaja, the drum is accompanied by cymbals like Bhushyah, Chushyah, and sometimes by Tai-nai, a gong-like instrument. Pavit Maharjan, Kutumba's Dhimey player says, "Like Madal, Dhimay is made up of a single piece of wood but compared to madal, it produces a louder sound. These days, Dhimey is played as a sort of bass drum, accompanying western instruments like the guitar."
Tungna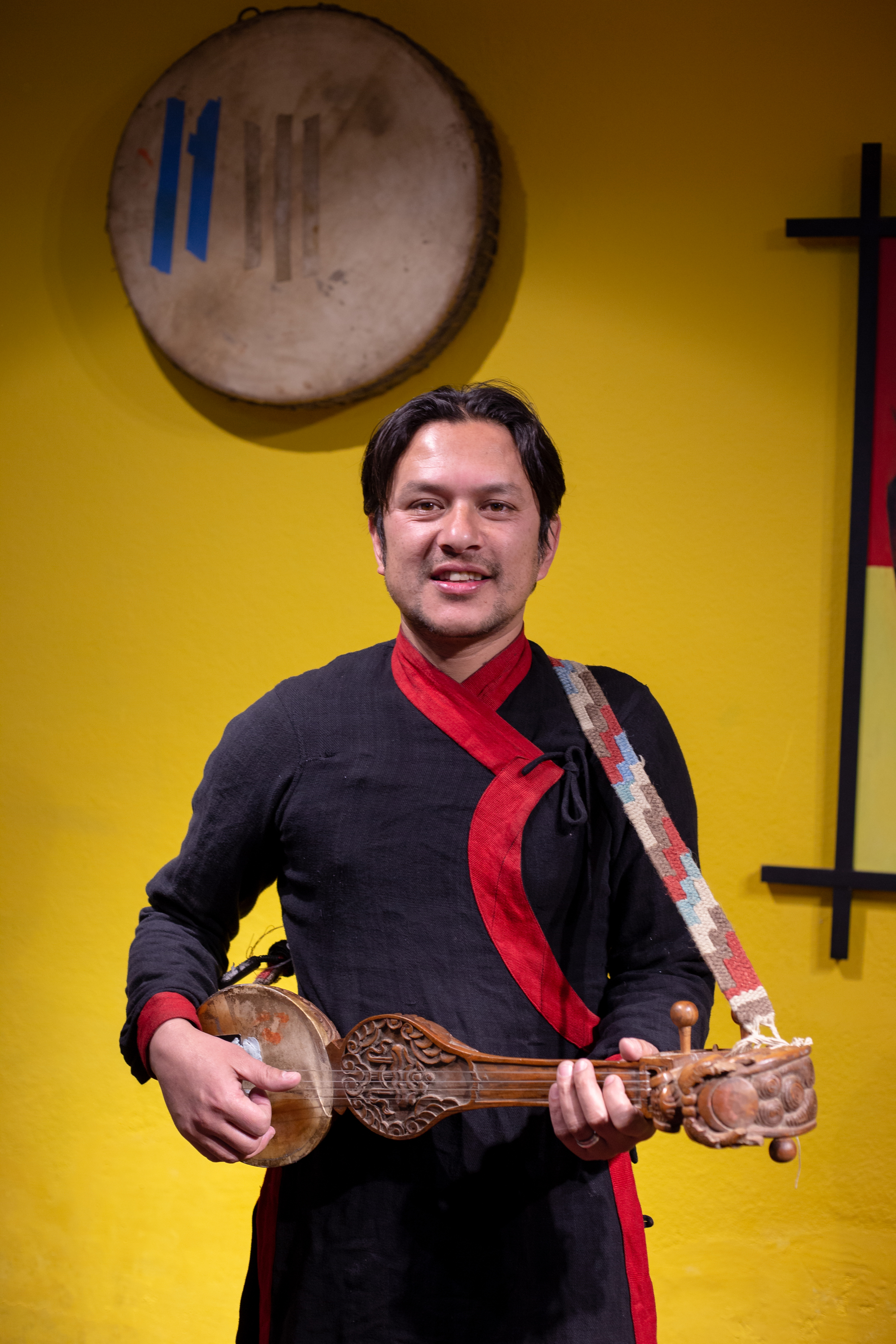 Hritik Shrestha/TKP
Tungna, a four-stringed instrument, somewhat similar to a sarangi, is also made up of a single piece of carved wood.
"It resembles Sarangi but the two instruments are very different from each other," says Arun Manandhar. "Tungna has a hollow cavity in the front which is covered by goat skin. In Sarangi, only the strings are made from sheep intestine, rest is all wood. The intestine of a carcass is pulled out after it's rotten and woven to make the strings."
Initially, Tungna was played by the Tamang people during their festivities and special occasions and gatherings. But today, other communities also play Tungna to create a melodious sound alongside other instruments.
Madal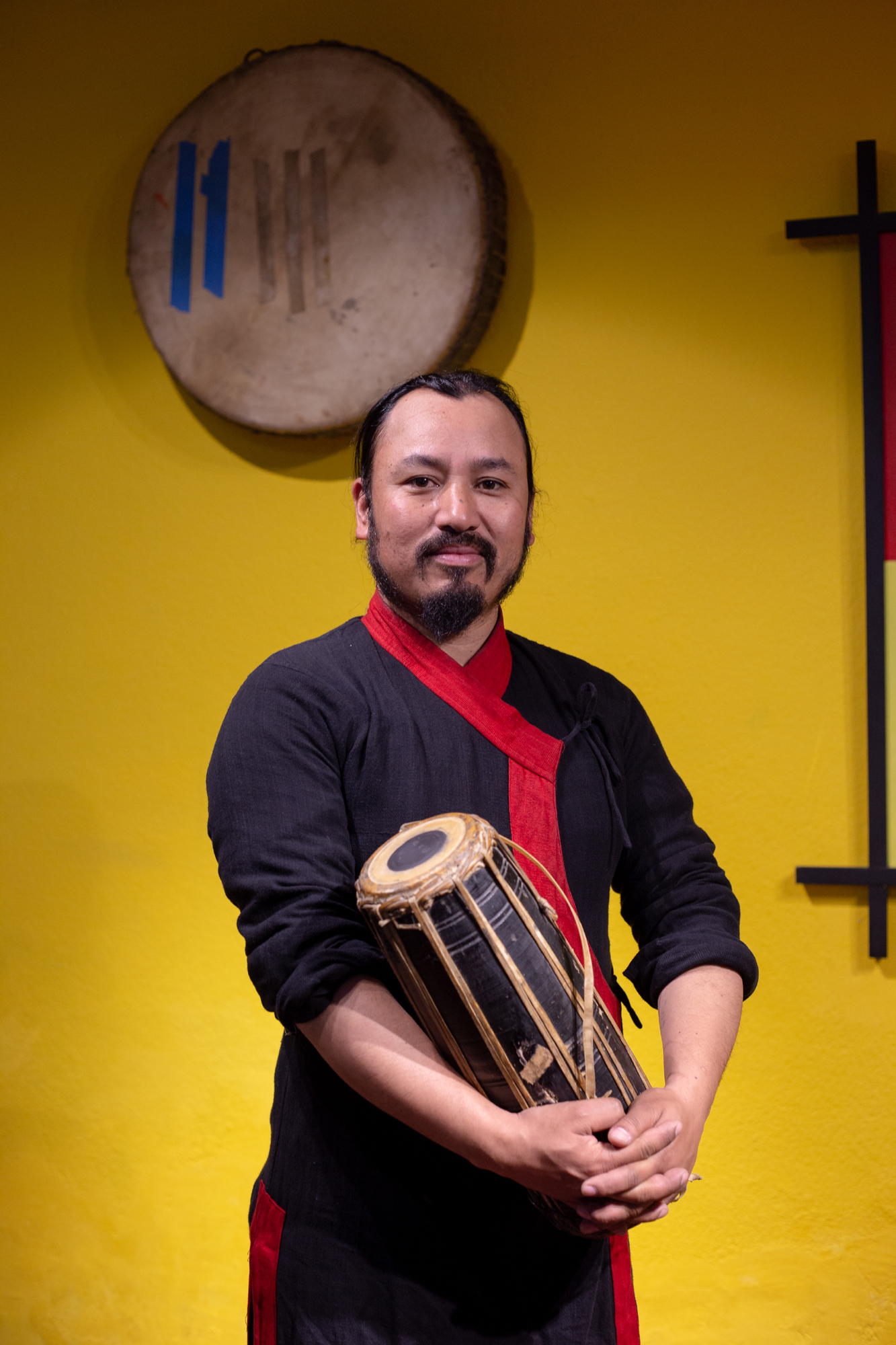 Hritik Shrestha/TKP
Madal is a typical Nepali percussion instrument and is considered to be the backbone of most Nepali folk music. It is an integral part of festivals across communities in Nepal.
Typically, a wooden log is carved to form a hollow cavity, called Ghar. The heads of the drum are made of double-layered goat skins, and a black paste made of flour, iron filings, and egg is burned in to a circular area in the centre of each head. This circle, known as khari, adds weight to the head and significantly alters the sound of the drum, giving it a bell-like quality. The two heads are slightly different in diameter. The smaller one is called Bhale and the larger one is called Pothi.
A madal has a strap that goes around the waist of the person playing it. The heads vibrate to produce sound when struck.
Jhyamta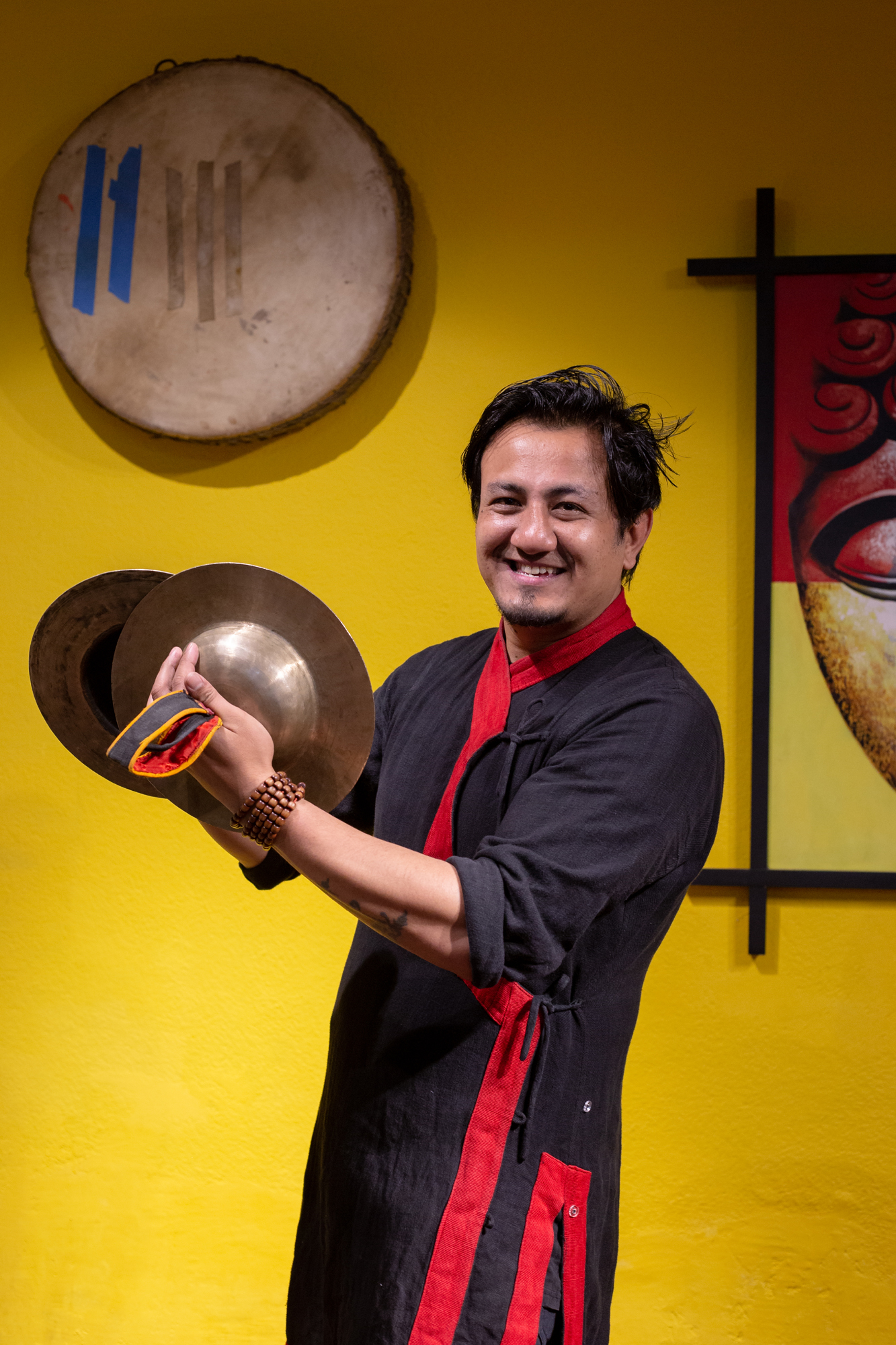 Hritik Shrestha/TKP
Jhyamta is a traditional musical instrument that looks similar to a cymbal. In Nepal, the Kirati community uses Jhyamta with dhol in various cultural festivals such as Sakela, Chyabrung, Udhauli, Ubhauli and other social functions.
Loud but rhythmic to the ears, Jhyamta belongs to the Panche Baja musical family. The right way to play is by rubbing the plates with the right hand rising and the left hand descending clashing the two plates. Another version of Jhyamta is Bhushyah.
---
---