Captain Fantastica
With just the right amount of self-confidence on and off the court, Sadina Shrestha is a paragon of virtue.

Royal Raj Manandhar/TKP
bookmark
Published at : February 28, 2020
Updated at : February 28, 2020 07:41
Kathmandu
When you think of the best athletes in the world across different sports, it is quite easy to imagine them having very different recipes of success. But despite excelling in completely different sporting disciplines, there are some surprisingly consistent similarities between athletic super achievers, showing that it is a lot more than just sheer talent. One such trait most of the successful sportspersons share is being a natural leader both on and off the field. If you're an avid follower of Nepali sports, Paras Khadka is the first name to cross your mind. But if you stretch out from the men's sports category and take a right to that of women's, you'll come across Sadina Shrestha, captain of the national women's basketball team.
A team player through and through, Sadina has witnessed multitudinous defining moments of the national team. From being a member of the first senior team representing Nepal abroad to captaining the national team and winning the silver medal in the first-ever women's basketball competition in South Asian Games, Sadina's sporting journey mirrors that of the women's basketball in Nepal. But for someone who has pertinaciously been shedding lights on basketball, the first sport that she played was football. "One of my elder sisters, Sharila, played football for the national team. So, watching her play made me want to pursue football too," said Sadina. However, she later made a leap of faith from the football field to a basketball court and the rest, as they say, is history.
One of the sports anyone gets exposure to during their school days is basketball—we can see at least one basketball court in almost every well-established school having ample property within its premises in the Valley. "It was a rising trend to have a basketball court on school premises back then, and there was one at my school (RIBS) too. That was where I used to practice when I was younger," she said. "I first competed in a national level basketball tournament when I was in class IX. I played in the 'second five' and used to eagerly wait for my turn to play."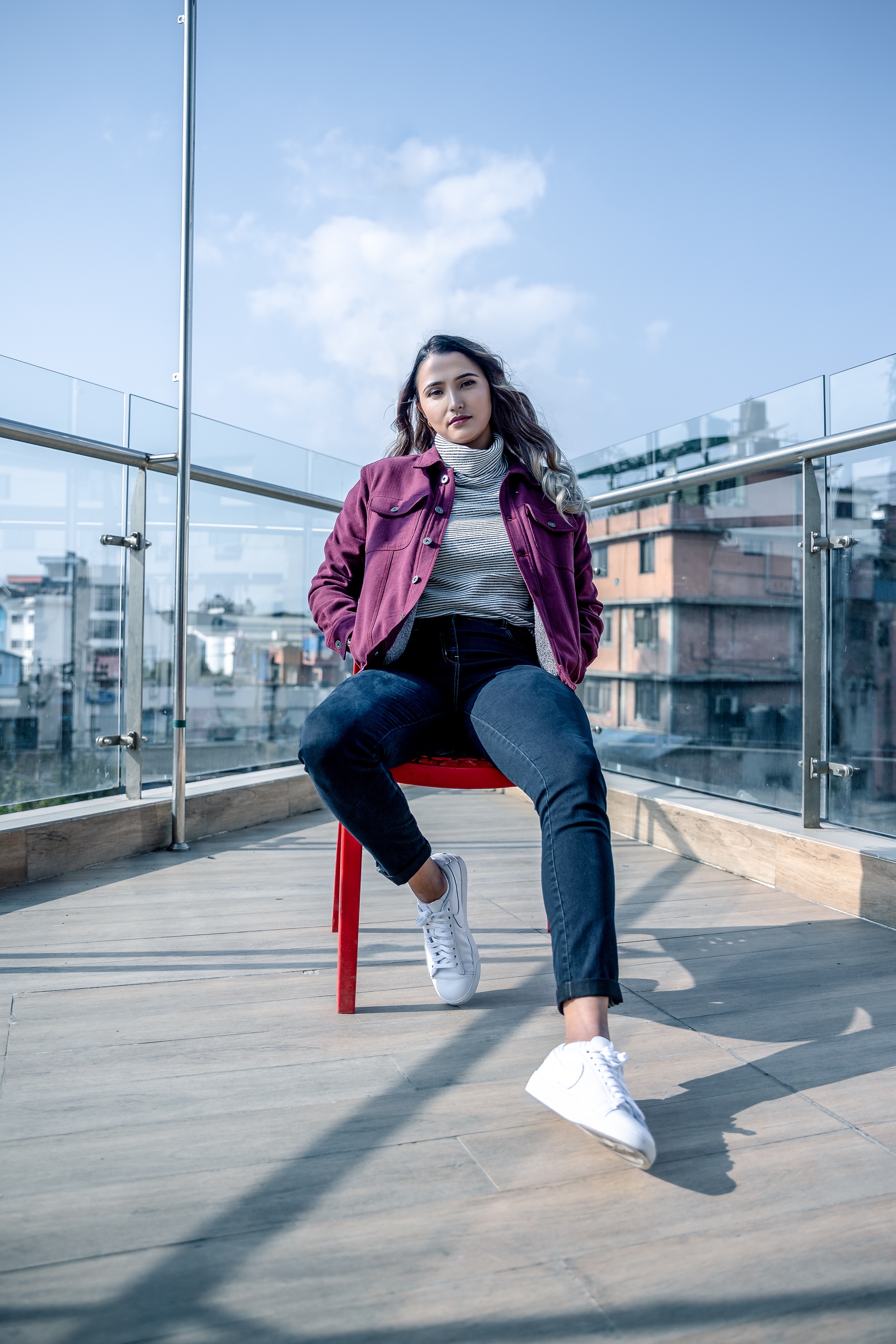 Royal Raj Manandhar/TKP
Almost a decade has passed since Sadina joined the national women's basketball team. "I joined the national team back in 2011. That same year I played in the 3-on-3 category in the South Asian Beach Games which was held in Sri Lanka," she shared. "That was the first international game I played in and coincidentally it was also the first international game that senior women's national basketball team played in." Another defining stage in her sporting career as well as in Nepal's basketball is the 1st SABA Women's Championship held in Kathmandu in 2016. "In the first-ever South Asian Women's Basketball Championship, we bagged the silver medal," she said.
Until recently, women's basketball was not included in the famed South Asian Games (SAG). SAG 2016 was supposed to include women's basketball competition, and the teams were called in as well. However citing "unacceptable interference by Indian Olympic Association in the affairs of the Basketball Federation of India", International Basketball Federation (FIBA) did not recognise the basketball competition and it was excluded at the last minute. "We were well prepared and had reached Guwahati to participate but unfortunately we could not compete," Sadina said. However, in the most recent South Asian Games, the one that was held in Nepal, women's basketball was included for the first time, and the national team, captained by her, bagged a silver medal. Sadina takes this win as "the highest achievement of the entire basketball sports in Nepal" and said, "There were four events—men's full-court, women's full-court, men's 3-on-3 and women's 3-on-3—and we claimed two silver medals (for women's full-court and men's 3-on-3) and two bronze medals (for Men's full-court and women's 3-on-3), which is the biggest achievement in Nepali basketball so far."
Basketball is a game of communication. Whether you are on the defensive end of the court, on the bench, or on offense, you should always be communicating. Communication saves breakdowns and helps the team's overall success. But to excel as a team, it is equally important to have a well-maintained relationship off the court as well. When asked about how close she is with her teammates, she shared, "We're very tight. Back in December, one of my teammates got married. The whole team attended the wedding and we even performed a choreographed dance for the newlywed, that too in our training kits. So, you can imagine how close we are."
Royal Raj Manandhar/TKP
Besides being a national team player, Sadina also plays from Bhat-bhateni Samriddhi Gorillas. She is also the first trained female basketball coach in Nepal⁠—with a license in Sports Management from Leipzig University, Germany. She led the Nepali U-23 basketball team to Asian Games Indonesia in 2018. Coming from a sporting family has played a huge role in shaping her career as a basketball player. "I have five sisters, most of whom are into sports. We've never had to face barriers when it came to sports and our family was always supportive of our choices," she said.
However, she does bring to light an incident that almost changed her whole life. "Back when I was in school, I accidentally lost my footing and hit my face on a pole. I was severely injured, to the point where I almost lost my eyesight. That was the only time I was advised by my family to quit sports. But they came around," she shared.
There's something about basketball that activates men's egos. It's almost as if they still consider it a sport that women should not be playing. But Sadina dunks and plays the game with a skill-set that rivals the men's game which gives her team an edge to get past any team they face. Inspiration for a whole generation of future power forwards, Sadina hopes to change the scene of women's basketball in Nepal, one jump shot at a time.
Wardrobe: LOGO-Made in Nepal

---
---