Pedaling bicycles for food delivery is a new trend in Kathmandu
E-commerce companies are hiring more delivery staff to fill a swelling tide of orders and many low-income adults have opted for food delivery jobs using bicycles.

In this recent photo, Sagar Chaudhary waits at a traffic stop on his way to his food delivery destination Elite Joshi/TKP
bookmark
Published at : February 3, 2022
Updated at : February 3, 2022 13:54
Kathmandu
Not every delivery company cares about the environment. But there are a few who care about sustainability.

Sagar Chaudhary, a first-semester student pursuing a hotel management degree at the Asian Institute of Hotel Management, Khumaltar, is a part-timer at Foodmandu.com, an on-demand food delivery company.
Unlike others, the 22-year-old Chaudhary delivers food by bicycle.
Chaudhary clocks in at his job after 11am and makes around 14 deliveries a day, within the 3 kilometers inside the Ring Road. He normally clocks out at 8pm.
"I make an earning of over Rs25,000 a month. That's enough to meet my needs at least for now," Chaudhary told the Post.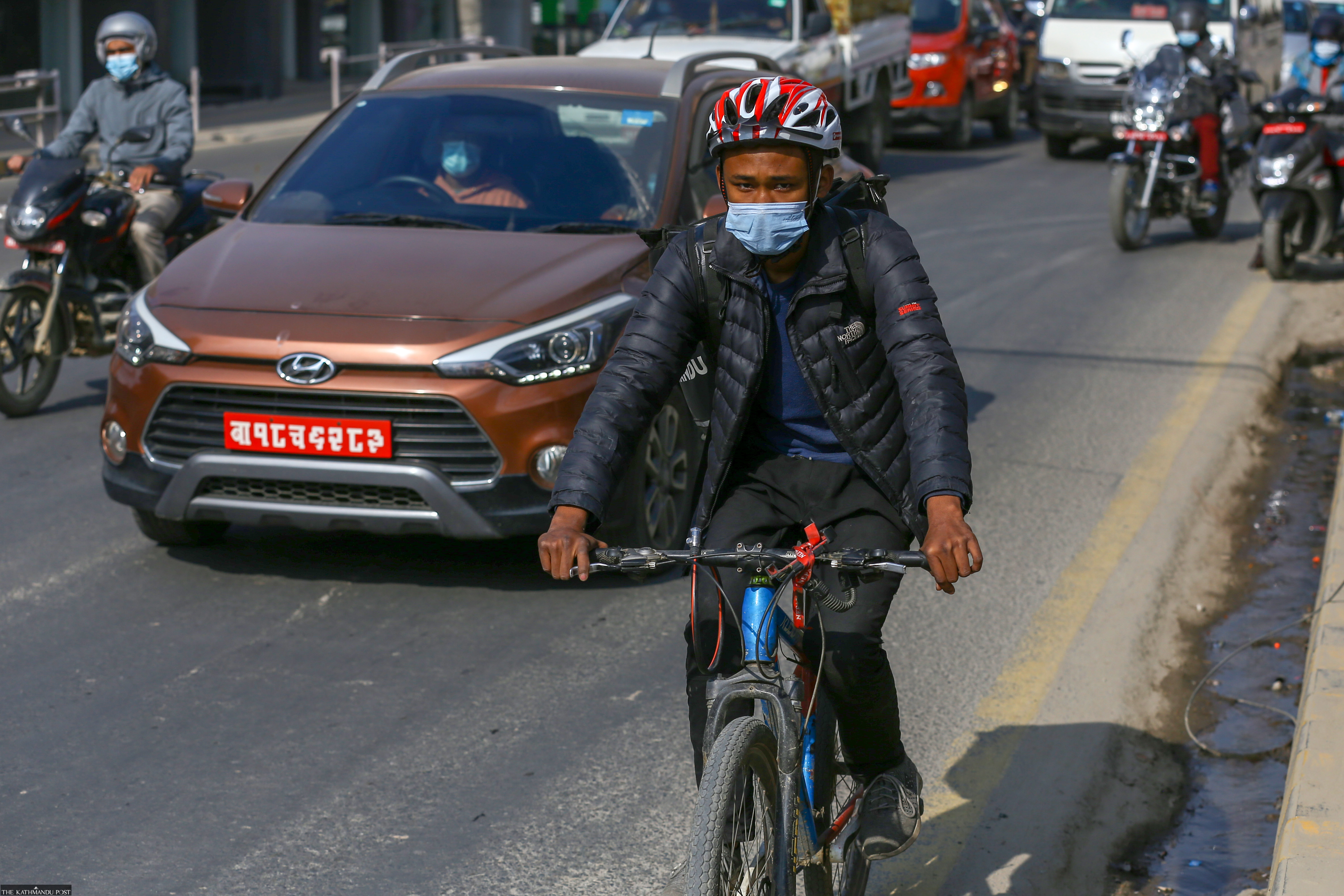 Elite Joshi/TKP
He believes in sustainable practices to improve the environmental impact.
He is now an eco-friendly delivery boy.
Chaudhary bought a second hand bicycle in October last year at Rs8,000 before joining Foodmandu in November.
"Cycling is also a means of therapy," said Chaudhari, who shares an apartment with his two brothers in Sankhamul. "I love cycling and my job allows me to do what I love."
Bicky Thakuri [name changed] also works as a delivery boy for another company.
The 25-year-old is employed by Pathao Nepal, a Bangladeshi aggregator of cabs and two-wheelers. It also provides food delivery service.
He too uses a bicycle. "It's a great experience to deliver goods through a cycle," said Thakuri, who lives in Kalanki. The Covid-19 pandemic led to months-long lockdowns and was a nightmare for the people like Thakuri. Tens of thousands of people were either furloughed or laid off.
A class 12 graduate, Thakuri was among them. He used to work for a bakery in Dillibazar. He also served in a restaurant as a cashier.
"I was laid off. Actually, both jobs did not satisfy me." Thakuri loves pedaling now. He uses his brother's old bicycle. He says that the income depends on the number of deliveries you make a day. Most of the time, his monthly earnings go past Rs 20,000.
"My job is simple. I pick the delivery from restaurants and use online maps to find the destination and cycle up to there. Customers really appreciate what I do," said Thakuri, who hails from Krishnapur Municipality in Kanchanpur.
"The good thing about using a bicycle is that during the pandemic even if the government imposed the odd-even number plate rule, it does not apply to us," said Thakuri. "We don't have to spend on fuel either."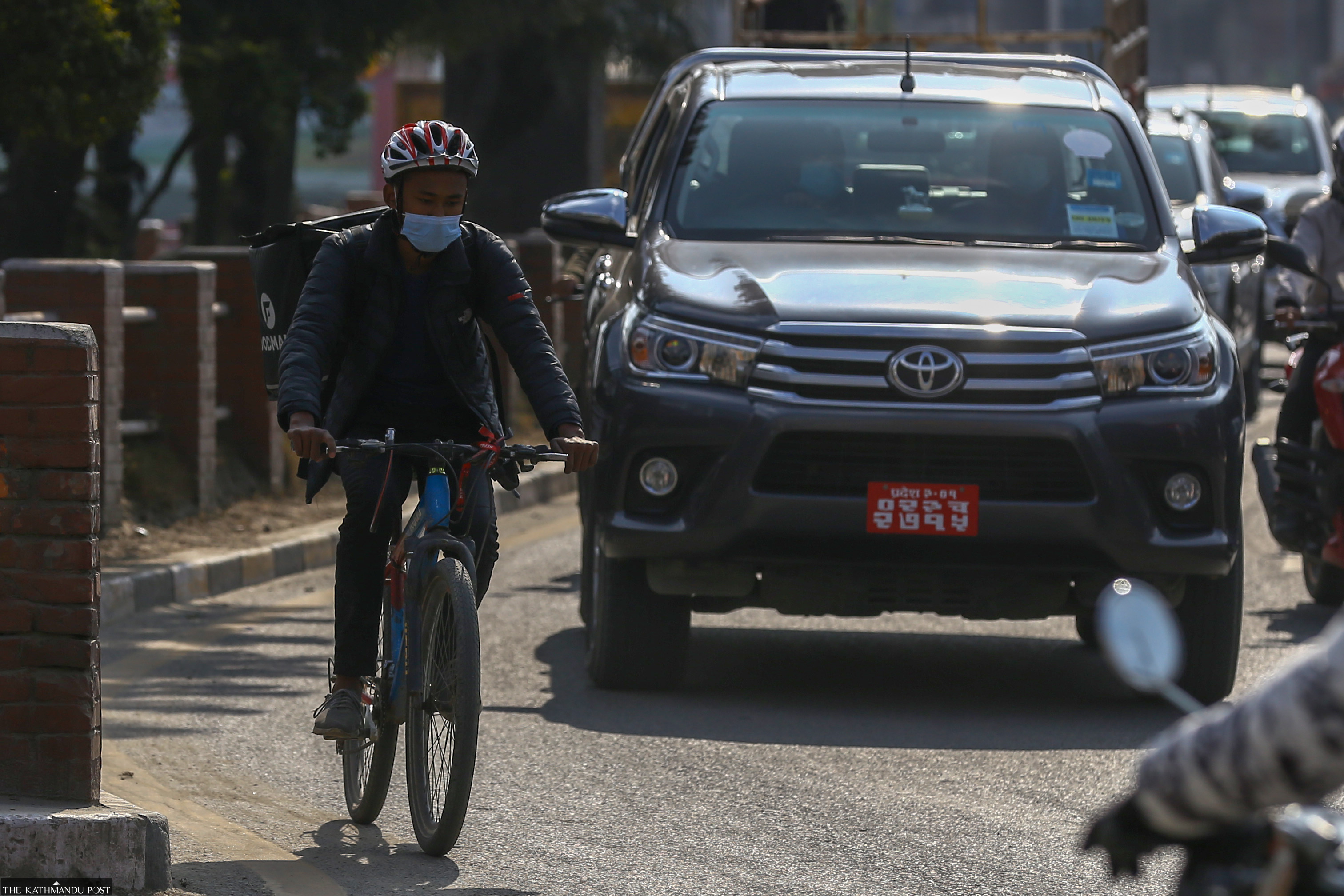 Elite Joshi/TKP
While crowds toting bulging shopping bags are thronging Kathmandu's fancy markets and historic bazaars like New Road, Durbar Marg and Asan, online buyers are also tapping away on their keyboards, and keeping the servers of internet stores humming.
After virus restrictions were removed and people started going out of their homes to shop, e-commerce entrepreneurs had initially worried that their business, which was booming amid the lockdown, could be hit. But they were pleasantly surprised to find out that their fears were unfounded.
E-commerce companies are scaling up operations to keep up with escalating demand for their services as the Omicron caseload explodes.
The demand for home deliveries of food and other items has seen an unprecedented rise in the last two years as people are spending more time at home.
E-commerce companies are focusing on the supply side, managing logistics and even hiring more delivery staff to fill a swelling tide of orders. With the increase in demand for delivery services, many people like Chaudhary and Thakuri have signed on for the job.
Soyal Thakali, a fleet team leader and supervisor at Foodmandu, said that his company started pushing bicycles for deliveries two months ago—a low cost delivery system.
"We currently have around 50 cyclists," said Thakali. The number of staff using bicycles, however, is increasing gradually. In addition, the company has a massive 200 staff who use motorbikes and scooters to deliver food.
Chaudhary was suffering from depression because the two companies he had served earlier had to close down leaving him jobless.
"I then came to know about the job at Foodmandu which offered an option of using bicycles for delivery. I applied for the job and got it," shares Chaudhary.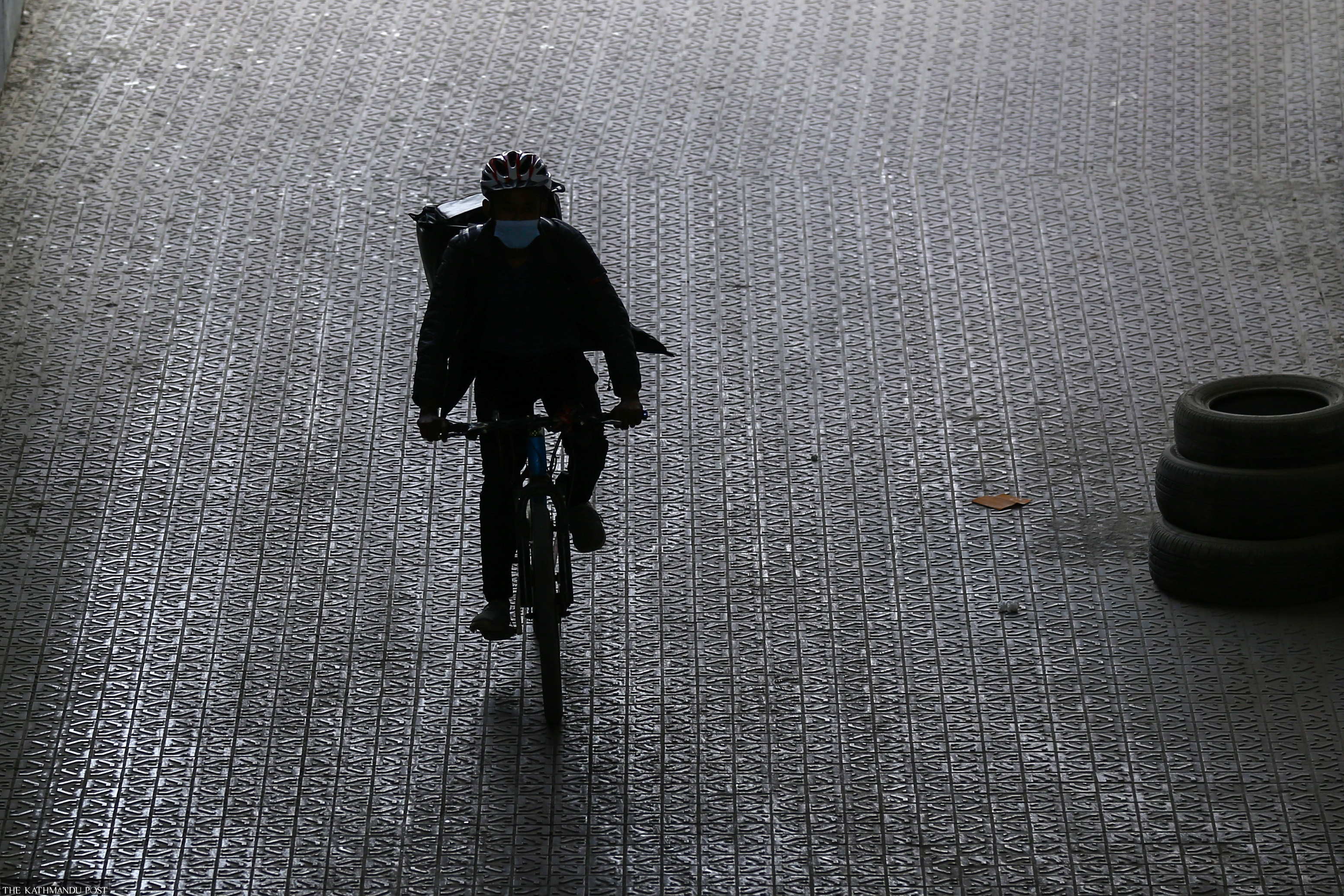 Elite Joshi/TKP
Foodmandu too launched the delivery system using bicycles to attract people with low income and to rope in the people who lost their jobs to the pandemic.
"We opened applications for bicycle users since there are many people who lost their jobs during the pandemic. A lot of people can't afford to invest in a petrol-powered two-wheeler," said Thakali. "As we announced the vacancy, it was almost all college students who applied for the job."
Suraksha Hamal, head of marketing at Pathao Nepal, said the company is encouraging more use of environment-friendly bicycles for deliveries.
"We conducted a training for 161 cyclists, including a few women, two months ago," said Hamal. "We currently have 66 food delivery people who use bicycles."
Pathao pays its delivery people based on the number of deliveries they make in a day.
"We wanted to open this platform to the people from low economic backgrounds and to students who need to make a living," said Hamal. "Some of our delivery people have earned up to Rs 60,000 a month."
Bhojdeals, another player in the food delivery service market, too has employed around 40 cyclists in the past few months.
According to the compiled data of the three delivery service providers, there are around 150 people who use bicycles.
The environmentalists hail the new eco-friendly practice.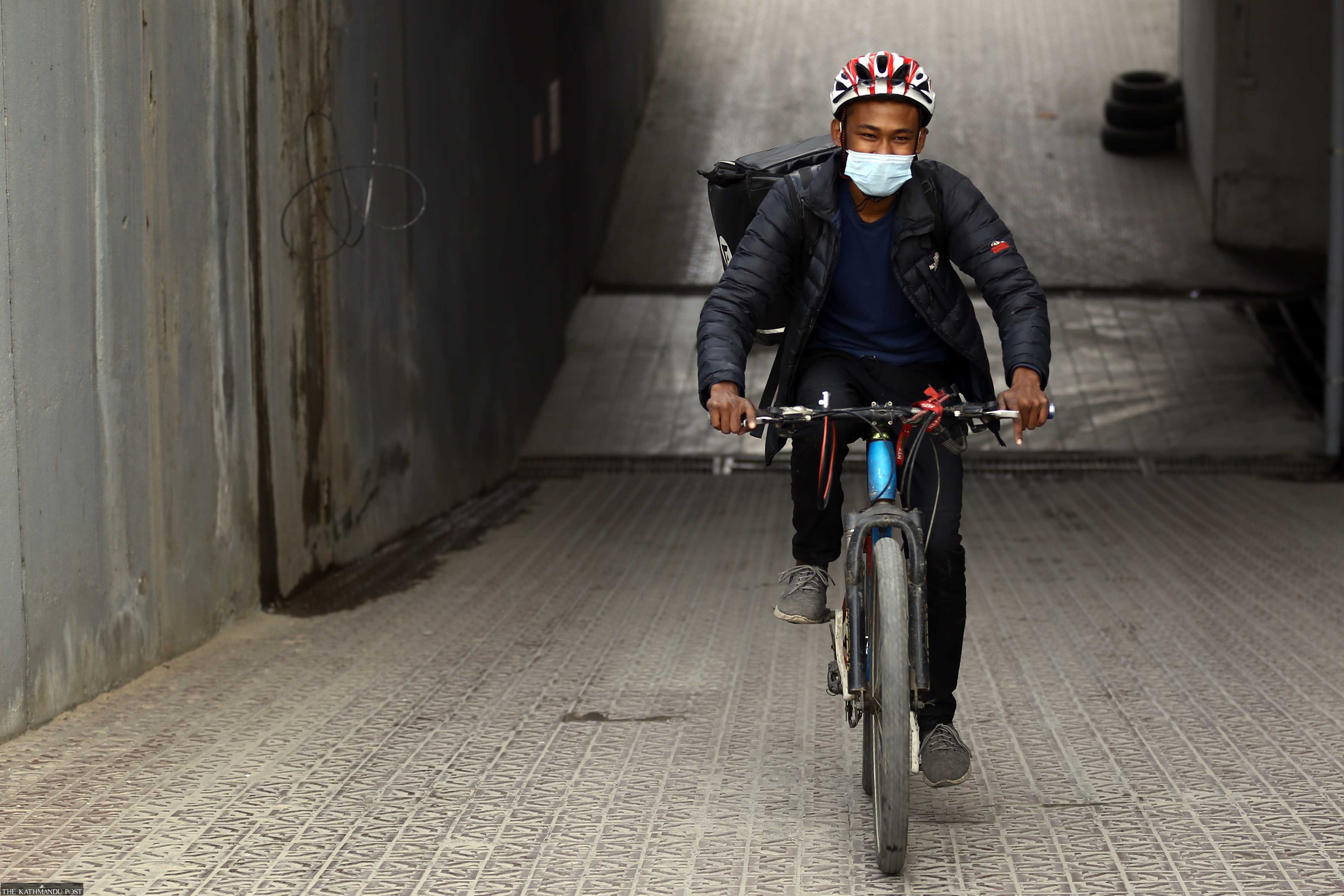 Elite Joshi/TKP
Bhusan Tuladhar, an environmentalist, who closely follows urban environmental issues, said, "This is an environment-friendly service, and most of Kathmandu is accessible by bicycles. The food delivery companies should now focus on increasing the number of cyclists and electric bikes for the purpose within the Ring Road."
Tuladhar says that if companies adopt environment-friendly approaches to run their businesses, it raises awareness among the public about the need to be sustainable. It will also encourage the younger generation to be environmentally responsible."
In a wake of growing pollution, the Delhi government on January 15 issued a draft 'aggregator's policy' under which ride aggregators and delivery services should procure electric vehicles in their new fleet for delivery purposes.
The policy comes on the heels of dangerously high air pollution levels in India.
"My parents are happy with my job," said Chaudhary. "I don't depend entirely on my parents to fund my studies. I manage on my own. The bicycle is fulfilling my basic needs."
---
---