Former king hits the dance floor and Nepalis go gaga
The former monarch's dance moves at a night club have drawn tongue-in-cheek reactions on social media.

Courtesy: Lord of the Drinks via Facebook
bookmark
Published at : November 18, 2019
Updated at : November 18, 2019 13:23
Kathmandu
Videos and images of Nepal's deposed king Gyanendra Shah taking to the dance floor have generated a buzz on social media.

Kamal Thapa, chairman of the royalist Rastriya Prajatantra Party that has been making a pitch for a constitutional monarchy in the country, tweeted on Sunday night a clip of Shah shaking a leg in one of the Kathmandu's nightclubs. More videos surfaced on Tuesday, providing much fodder for social media.
"Former king and his family enjoying fullest- loved it - playing his innings dancing before the wickets," a Twitter user wrote.
"There isn't any news of anyone having a heart attack after hearing that Gyanendra Shah removed his coat and danced in a night club with his family, is there?" another user said facetiously on Twitter.
Nepal abolished the 240-year-old monarchy in 2008, rendering Shah the last king of the country. Since then, Shah has been living the life of a civilian. His outings—and rare remarks—however, continue to create a buzz in the fledging federal republic of Nepal.
Oftentimes, political leaders, who played an instrumental role in overthrowing the monarchy, take a dig at the former king's activities.
राप्रपाले परिकल्पना गरेको राजा सहितको लोकतन्त्रको एक उपमा।जनताको राजा,नागरिक राजा।जनताको सुखमा रमाउने,दुःखमा चिन्तित रहने, जनताको साथमा रहने।संबिधानको परिधिभित्र रहने, राष्ट्रियता र राष्ट्रिय एकताको प्रतिक-राजसंस्था pic.twitter.com/7daB9xiXO8

— Kamal Thapa (@KTnepal) November 17, 2019
Earlier in August, Nepal Communist Party co-Chair Pushpa Kamal Dahal warned of evicting the deposed king from Nagarjun Palace, a forest retreat on the outskirts of Kathmandu, if Shah tried to actively pursue politics. Shah has been living in Nagarjun after he was removed in May 2008 after the country was declared a federal republic following a people's movement.
In the videos, Shah is seen not only dancing but also interacting with patrons and taking selfies with attendees. Shah was accompanied by his family members, including Himani Shah, the former crown princess. According to deshsanchar.com, Shah had just hopped into the bar without any prior notice.
"It feels exciting to see the enthusiasm of Gyanendra sarkar in old years," tweeted another user.
"Fantastic! Who would criticize this?" wrote another.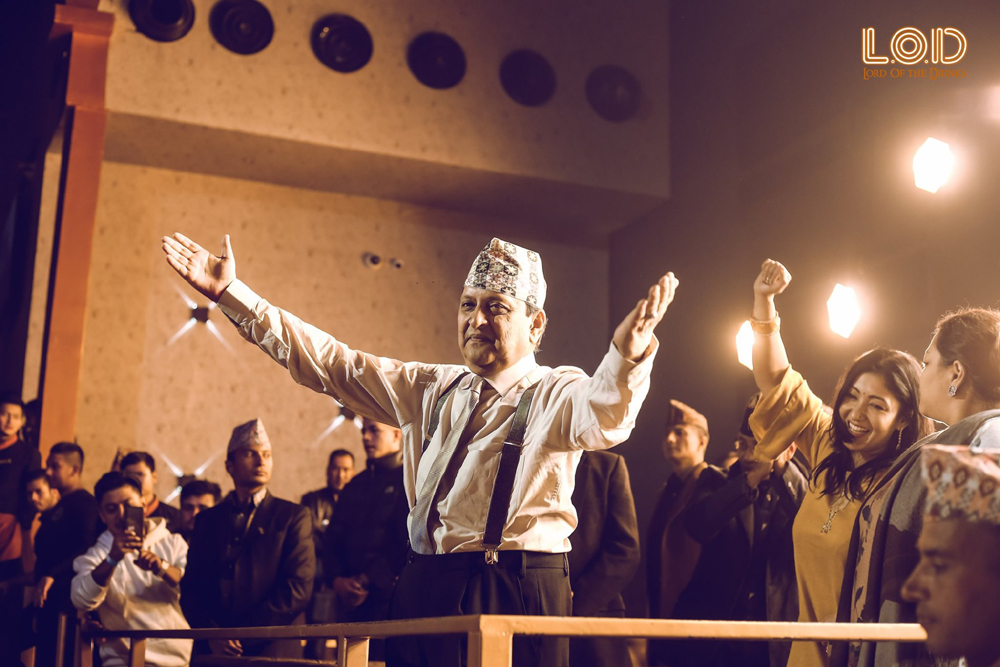 Courtesy: Lord of the Drinks via Facebook
The praise for the former monarch on social media also comes at a time when users have not held themselves back in criticising the government and people in power.
Some refrained from making any political connotations and just praised his moves.
"Nepal's former & last King Gyanendra Shah looks like a great dancer with a heart," tweeted one.
One Twitter user, however, took a pot shot at the way online portals ran stories on Shah's outings.
"The night club invited Gyanendra Shah and advertised itself... as it made various portals run the story…. A good way to market itself," the user wrote in a series of tweets.
---
---