The key to frequent travels is spontaneity
Asim Poudel has travelled across most of Nepal, but Everest Base Camp remains his most memorable trip.

Asim Poudel posing with Mt Everest in the backdrop. Photo courtesy: Asim Santos Poudel
bookmark
Published at : April 28, 2023
Updated at : April 28, 2023 08:28
"Travelling gives me a sense of relief that nothing else can replicate," says Asim Santos Poudel, a 22-year-old travel enthusiast. Though he's a graphic designer by profession, his true calling is exploring and travelling to new places. Poudel was lucky enough to be able to travel across Nepal since childhood. For him, being a traveller doesn't mean just sticking to popular spots but daring to go places no one has ever been. "That's where the real stories are," he says.

His first recollection of a proper trip was visiting the Pathibhara Devi Temple in the hills of Taplejung. The temple is notorious for being a difficult hike. So it was only natural that his parents wondered if Poudel, who was only 14, could complete the hike. "They were convinced that I couldn't walk the distance. And I wasn't confident myself," he says. But making sure to walk one step at a time (and to everyone's surprise), he reached the temple. "That was quite a thrilling experience. I also realised how much I enjoy travelling," he recalls.
From then to now, Poudel has travelled to most places in Nepal. As his ancestral home is in Jhapa, he frequently visits the Tarai region with his family, mainly during festivals. While en route to Jhapa, he makes sure to visit the surrounding towns and villages to learn more about the local way of life.
"As I was born in Kathmandu, any place outside the valley used to feel like an imaginative place because all I ever saw was people coming into Kathmandu and not many people going out," he says, adding that hearing about different anecdotes, dialects, and cultures of the people he met in Kathmandu made him want to explore the country. "There is so much diversity in Nepal. I had to travel, and I had to experience them all," he says.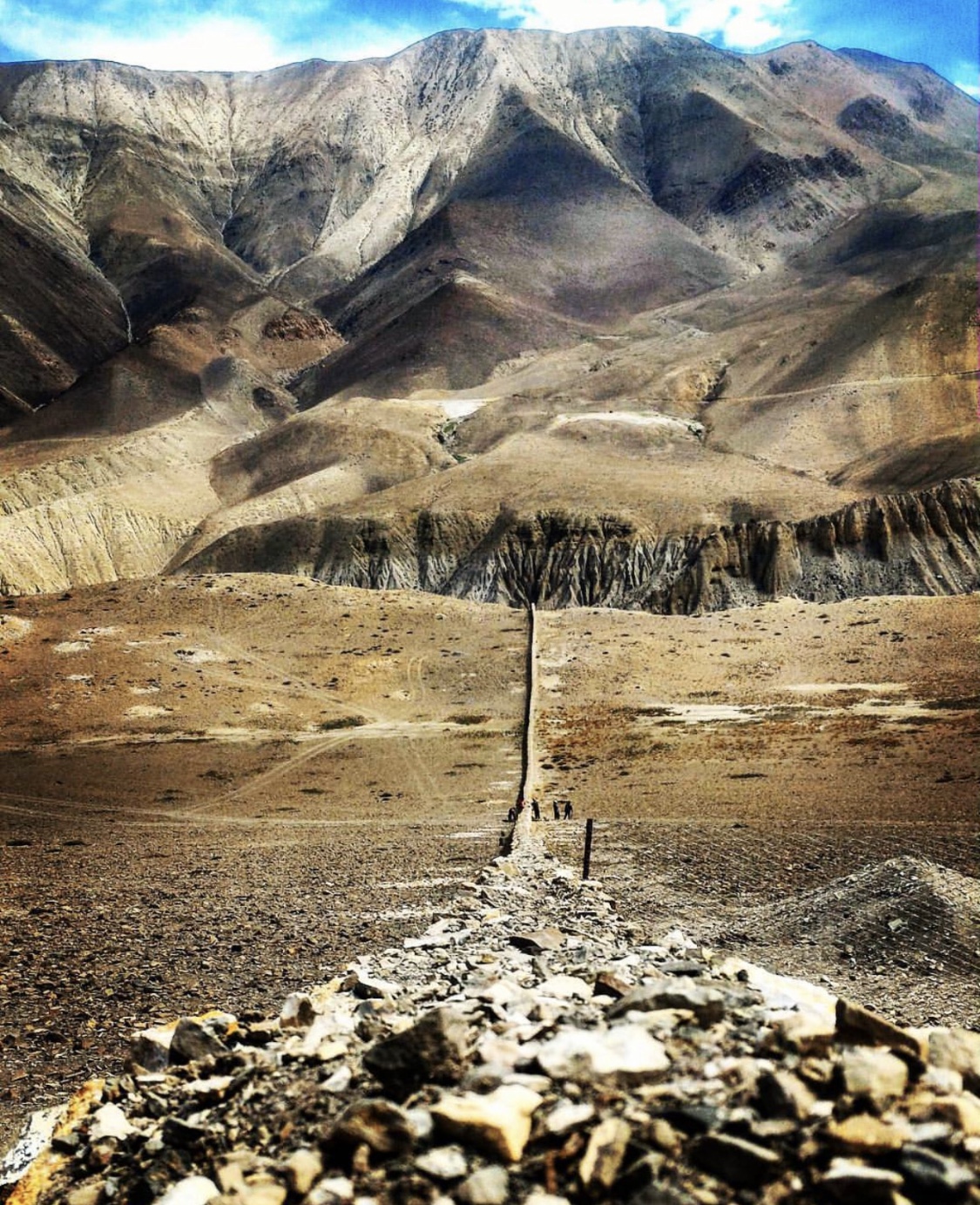 Photo courtesy: Asim Santos Poudel
Instead of waiting for his family to free up time to travel together, Poudel decided to travel on his own. His first trip was to Mustang with his friends right after finishing his SLC (School Leaving Certificate, now known as SEE) exams. "The trip to Mustang was challenging because it was my first time managing everything. As a student traveller, there was also a strict budget," he says. "But the freedom I felt was worth all the hardships," he says.
After the Mustang trip with his pals, he began to travel frequently. According to him, the key to frequent travelling is spontaneity. "I'm always ready to travel. If someone asks me to go somewhere with them, I pack my bags the very minute," says Asim.
Poudel has travelled to several spots in Nepal, from east Nepal to the west. He has been to Phidim, Jhapa, Morang, Bhedetar and Dharan.
Moreover, he's also travelled upwards to regions like Kanyam, Fikkal, Sindhupalchowk, Hetauda, Kusma and Gamgadi (Mugu).
But the mountains are where his heart and passion lie. From Solukhumbu to Humla to the serene Tilicho Lake in Manang, his thirst for the surreal mountains makes him come back time and again. Poudel's travel highlights also include the Annapurna base camp, Ice Lake and many others, and in this way, he has travelled the whole of Nepal.
"I got to see Ice Lake and Tilicho Lake as they are located in Manang. Many Nepalis know about Tilicho Lake but not the Ice Lake," says Poudel. The Ice Lake, also known as Kicho Lake, is situated at 4620m above sea level. "There were very few people around so, trekking to Ice Lake was like stepping into a foreign, almost fantastical land," he says, adding that for him, Ice Lake will always have a special place in his heart.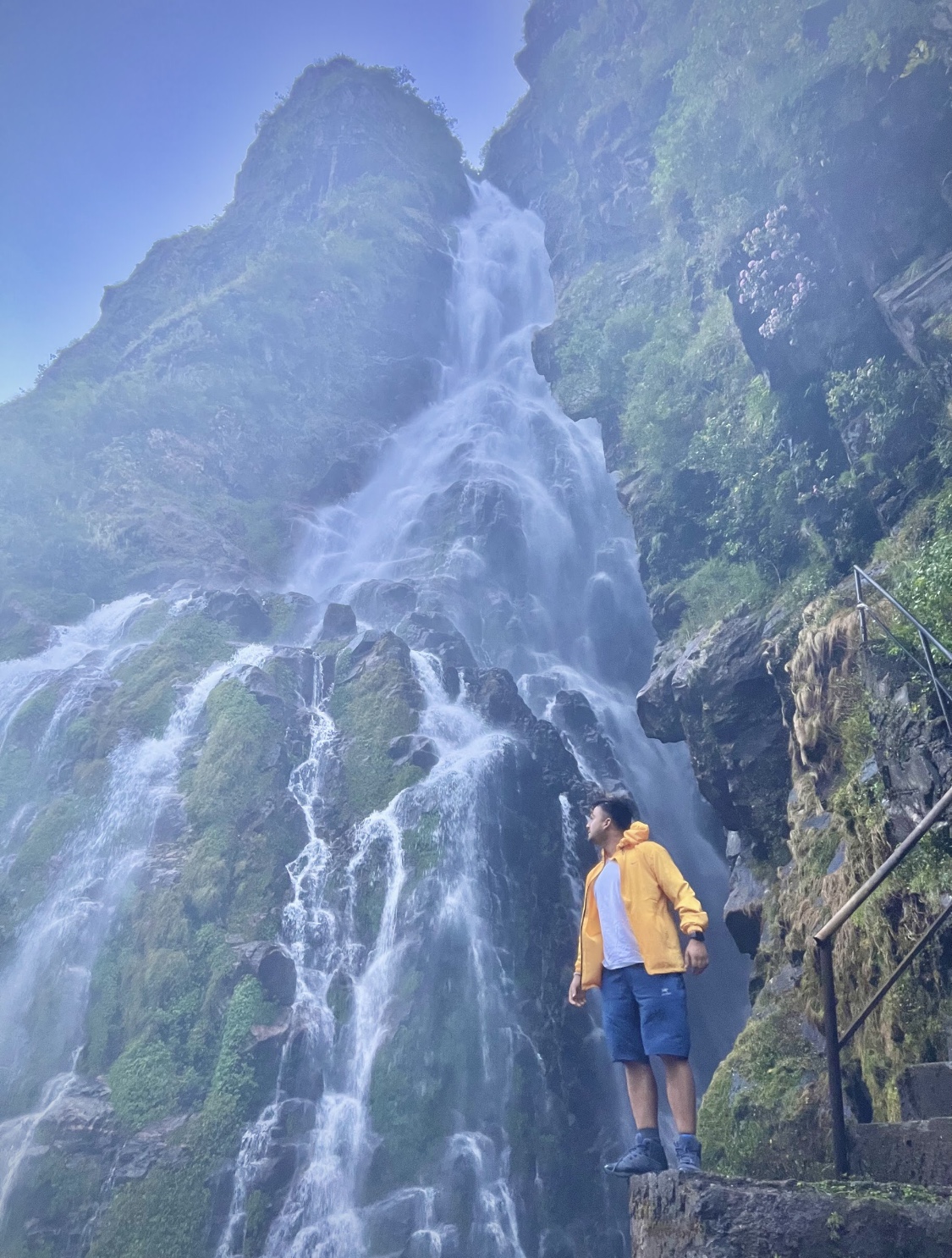 Photo courtesy: Asim Santos Poudel
Poudel finds time to travel at least every other week. "Human beings need to take a break from their stressful lives and at least temporarily forget about their problems," he says. But for him, travelling is more than relaxation. It can even change a person's perspective about their life. "Only by stepping out of one's comfort zone can one see how beautiful this world is," says Poudel.
Poudel occasionally also bikes to places. "A short bike ride is a very fun experience. And it's something I do alone," he says. Poudel has travelled to Nagarkot, Shivapuri, Phulchowki Danda, Chandragiri, Champadevi, Pilot Baba and Chisapani on his motorbike. "These short trips are the best for a quick mood booster," he says.
Despite having been to most places in Nepal at a relatively young age, Poudel's biggest dream was to go to Mt Everest. From April 1 to 11, he finally realised his dream—making the arduous walk from Lukla to the Everest Base Camp. Though the season was busy, making it difficult for Nepalis to find their footing amidst all the foreigners, he was motivated by the serene scenery to continue his journey. "As Nepalis, we should take advantage of our country being home to the tallest mountain in the world," he says.
---
---