A leisurely hike from Tallobesi to Bhairabi Danda
Just a few hours away from Kathmandu, Dhading gives you a taste of rural Nepal with its terraced fields and winding dirt roads.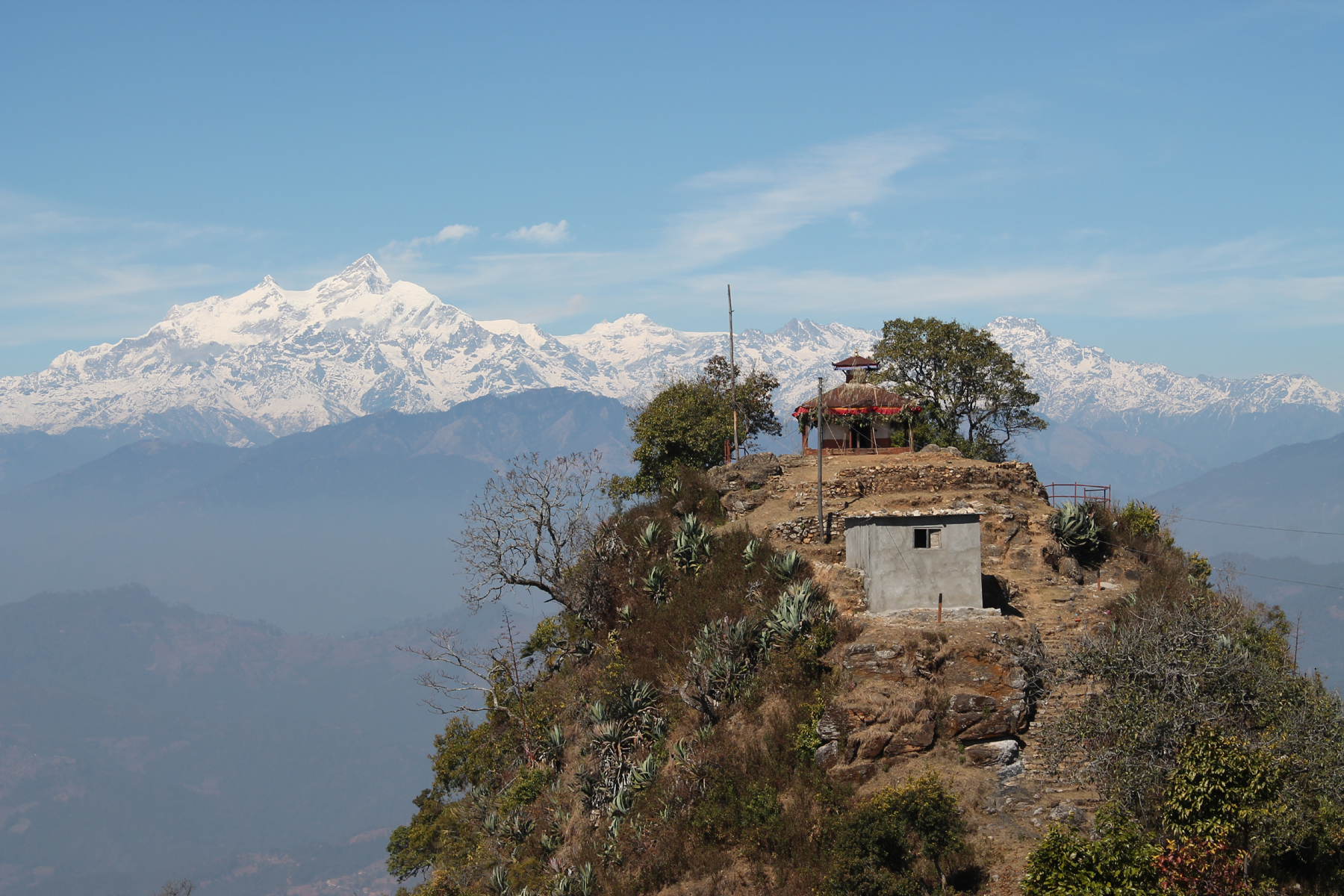 Bhairabi temple with Mt Manaslu in the background. courtesy of Ganesh Dhungana
Published at : November 1, 2019
Updated at : November 2, 2019 07:43
Tallobesi-Bhairabi in Dhading is a virgin trail, waiting to be explored. The trail takes off from Dhading Besi, the district headquarters, to Sunaula Bazaar, Dhading's oldest district headquarter.

The trail is covered with pine and rhododendron forests, trickling streams and narrow walkways. As you chart your way through the billowing hills, you'll find yourself just a bit closer to Tintalle Bhir (around 700m from sea level), the hill closest to the district headquarters.
A steady climb uphill for about eight to 10 minutes from Kamere will take you to Tintalle Bhir. From here, you can have a panoramic view of Dhading Besi, paddy terraces of Tallobesi, Thopal stream and Bhairabi Danda along with other surrounding hills. Tintalle Bhir also reveals a beautiful waterfall which falls through the middle of the hillside. It is located about a kilometre from Dhading Besi. Usually, the waterfall is more vivid during monsoon since it is fed with rainfall in the upper reaches of the hills above.
A short downhill walk for around five to seven minutes from Tintalle Bhir will take you to the entry point of Tallobesi-Bhairabi trail. You have to cross a suspension bridge over Thopal stream to reach the green terraces of Tallobesi. None would regret a hike along the lush greenery and cultivated fields in Tallobesi as nothing could beat the beauty of nature at play here.
Here on, it's all the way up. A 30-min walk through the paddy terraces of Tallo Tar and Mathlo Tar in Tallobesi takes one to Bansbote. There are a few settlements of Brahmin, Chhetri, and some Dalit communities in Tallo Tar and Mathlo Tar. These settlements will give you an insight into the rural lifestyle of people living in these areas.

From Tintalle Bhir, one can have a panoramic view of Dhading Besi, paddy terraces of Tallobesi, Thopal stream and Bhairabi Danda along with other surrounding hills. Dipesh Khatiwada/TKP
Start your day with a light breakfast at Bansbote before you start on an uphill hike. After about 45 minutes of steady climb, you'll reach Hiti, a small hamlet dotted with local eateries. Stop here for lunch and try Dhido (corn or millet) with a side of local chicken. But, of course, the choice is yours. You can also opt for a vegetarian or mutton set.
After a hearty meal of Dhido to keep you going, your next stop should be Pipalchhap about an hour away from Hiti. Pipalchhap is home to folks who are mostly goat herders but they also raise poultry and sell homemade liquors to sustain their livelihood. So when here, don't miss out on a big jug of local liquor made from millet or wheat.
Make your way through lush green forests in Kaphalchhap for around two hours to reach Deurali. Deurali is basically where crossroads meet often used as a traditional meeting place by people from surrounding villages. Once you reach Deurali, you'll see heaps of stones with plants sprouting out of them reaching out to the sunshine. These plants are originally placed on the pile of stones by passers-by who pay homage to the forest goddess by offering her flowers and green leaves. They then grow roots and make the stone pile their home. The ridge in the Deurali area makes for a good resting spot after a long hike. Imagine yourself finding a good spot on top of a hill and soaking in the early afternoon sun.
Once you've had your heart's fill of the scenery at Deurali, gear up for a steep uphill climb for half an hour to reach Bhairabi Danda (1,525m), your ultimate destination near Sunaula Bazaar. Once you reach the top of the hill, you'll most probably forget about your physical weariness as you draw comfort from the beauty of the surroundings.
Bhairabi Danda provides an excellent view of the famed Ganesh Himal, Manaslu and Manapathi along with other mountains, while also making for a good vantage point to watch the sunrise and sunset. This area is also noted for its diverse flora and fauna, especially rhododendron and pine forests and several birds species. One can see the entire Dhading district along with Sunaula Bazaar valley from the hilltop. The sprawling green paddy terraces, the winding walkways clinging onto the hanging hills is what rural Nepal is all about.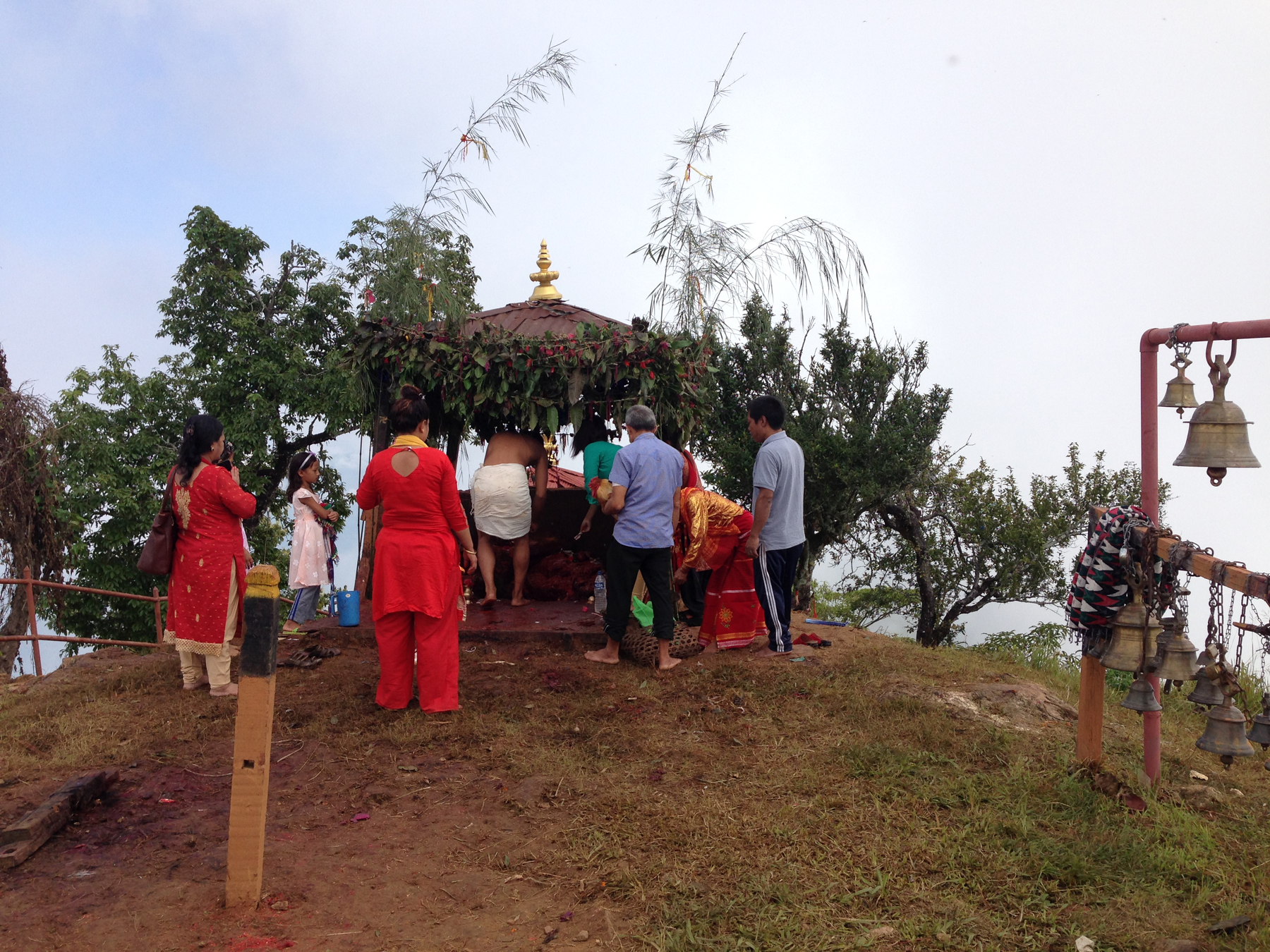 Devotees at Bhairabi temple. Dipesh Khatiwada/TKP
The revered Bhairabi temple which stands atop Bhairabi Danda is one of the famous temples in Dhading. Prakash Rana, a priest at the temple, said that the temple is dedicated to a wish-fulfilling Hindu goddess. He said, "One who pays homage at the temple will be blessed with success in all spheres of one's life. Married men come here to seek blessings for the good health of their wives." According to him, the temple sees a huge number of pilgrims during two major festivals—Bada Dashain and Chaite Dashain.
You can spend as much time as you want to rest up by the temple area before you start on a half an hour downhill walk to Sunaula Bazaar. Sunaula Bazaar settlement has around 15 houses catering to hikers and visitors. If you want to spend more time soaking in the rural essence, you're most welcome to stay in one of the community homes. "We also arrange for tents for those who want to pitch on the hillside and enjoy the outdoors," said Bhimsen Shrestha, a local of Sunaula Bazaar.
Being one of the oldest bazaar areas in Dhading, Sunaula Bazaar carries a historical significance, curious visitors make their way to the bazaar to get a glimpse of what a typical Nepali bazaar looks like. Seeing the tourism potential the area holds, Neelakantha Municipality in Dhading Besi has decided to construct resorts, lodges and homestays to accommodate the growing number of visitors. Placing the area as one of the major travel destinations for Visit Nepal 2020, the municipality has started promoting the area for tourism development. "The villagers are also friendly and helpful towards travellers. Tourists from France, the UK, the US and Japan are frequent visitors here," said Shrestha.
Sunaula Bazaar is mostly inhabited by folks from the Magar community. The community comes alive in its culture exhibited through songs like Sorathi, Jhyaure and Sirful among others. The area is also home to a growing Newar community and if you happen to be in the area during festivals, you'll see an exuberant display of Newari culture. Lakhe Nach is performed every year on the occasion of Janai Purnima and Gaijatra in Sunaula Bazaar. "Travellers can expect to get a glimpse of the unique, indigenous cultural extravagance of the Magar and Newar communities here. The beauty of the area also attracts photographers—amateurs and professionals alike," said Shrestha.
From Sunaula Bazaar, travellers can return to Dhading Besi taking the Sunaula Bazaar-Dhading Besi route. The road up to Dhading Besi is around 15km from Sunaula Bazaar.
Catch a bus or a microbus from Kathmandu to Dhading Besi. A three-and-a-half-hour long drive along the Prithvi Highway and Kalu Pandey Marga will take you to Dhading Besi. It's a one-day hike from Dhading Besi to Bhairabi Temple.
There are many well-facilitated hotels in Dhading Besi but stay at Dhading Creek Resort for a good experience. While in Sunaula Bazaar stay at a community settlement or opt for tents.
Organic meals prepared using local food grains such as millet, wheat, and rice. Also, try Dhido set with local chicken or mutton in one of the community settlements.
Undertake the Dhola Mandali trek from Sasaha area.
Rs 1,500 to Rs 2,000 per person including food, accommodation in a community settlement or a hotel for one day.
---