Far West disaster victims struggle to survive
Landslides in Achham on Friday killed 22 people. In Kanchanpur and Kailali, floodwaters inundated several settlements and displaced hundreds.

Locals displaced by the floods await relief. Photo courtesy: Jaya Budha
bookmark
Published at : September 20, 2022
Updated at : September 20, 2022 07:56
Achham/kanchanpur/kailali
Dikra Debi Kami has been in and out of consciousness for the last three days. The 40-year-old lost her three daughters and her house at Thatikhad in Kamalbazaar Municipality-6 when a massive landslide struck on Friday night.

The locals rescued Dikra Debi and her husband, Indra Singh Kami, 42, but could not save their three daughters.
According to her neighbours, Dikra Debi is in deep mental stress and frequently calls out her deceased daughters in agony.
The Kami couple's eldest daughter had recently completed an overseer course while the two younger daughters were in grades 8 and 12. Their 10-year-old son and three-year-old daughter survived the disaster.
"There were three houses including ours in the landslide-affected area. Seven of a total of 14 people of three families perished in the disaster," said Indra Singh, who sustained minor injuries in the landslide and has been taking shelter at a neighbour's house with his wife and two children. "My octogenarian father was awake when the landslide occurred at around 3am. He called out to us to come out of the house but we were already trapped inside. He then called the neighbours who rescued us after an hour. But our three children and four neighbours were buried to death."
Maina Kala Kami, her pregnant daughter-in-law Dhana, son Ishwor and daughter Srijana were also killed in the landslide in Kamalbazaar-6.
According to the District Police Office in Achham, 22 people died in separate landslides in Kamalbazaar, Dhakari and Turmakhad of Achham—a hill district of Sudurpaschim Province—on Friday night and Saturday morning.
"It is a big tragedy for the district," said Lal Bahadur Shahi, the ward chairman of Kamalbazaar-6. "The survivors of the landslide are under deep mental stress. They should be provided with counselling service along with the relief materials."
The displaced residents of Dhungachalna in Dhakari Rural Municipality-6 are also awaiting relief. Among the displaced, ten families have been taking shelter at a local school building. "The entire settlement is at high risk of landslides," said Nirmal Budha, one of the occupants of the Ashtasidda Secondary School. "We can't go back to our village right now."
Buddha added, "The survivors are traumatised. Women and children start crying when it rains. The authorities now must take the responsibility to take care of them."
The district administration has provided food grains, blankets and clothes to the displaced victims. According to Chief District Officer Bishwaraj Marasini, the district natural disaster management committee has decided to provide Rs 100,000 to each family who lost their house in the incident.
Meanwhile, in the Tarai districts of Kailali and Kanchanpur, more than 500 people have been displaced by floods and inundation over the past weekend.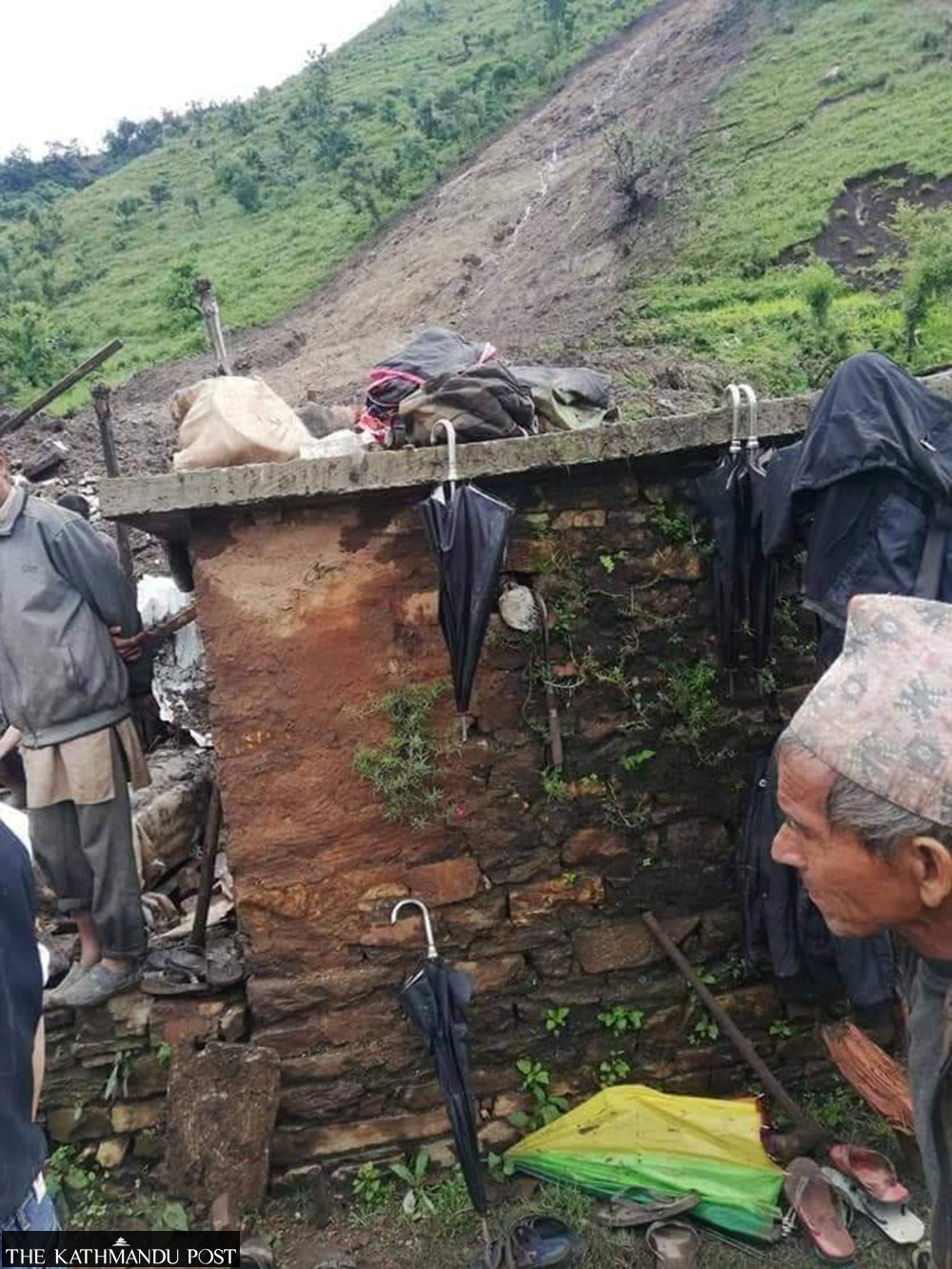 Survivors of landslides in Achham dig up the debris to recover their belongings on Friday. Post Photo
According to officials at the affected local units of Kanchanpur, more than 400 families were displaced due to floods in Doda, Banhara and Machheli rivers on Friday night. Floodwaters from the Doda river entered Laljhadi Rural Municipality and inundated several settlements, displacing over 150 families.
Likewise, 150 families were displaced in Punarwas Municipality-5, due to the floods in the Doda river; 80 families were displaced in Mukt Kamaiya settlement of Krishnapur Municipality-5; while 70 families were displaced in ward 4. In wards 11 and 12 of Shuklaphanta Municipality, 50 families were displaced and more than a dozen houses have been destroyed in landless squatter settlements.
"As weather has improved, water level in the river channels has decreased, and the displaced people are returning home," said DSP Chakra Bahadur Shah of District Police Office Kanchanpur. "Some families whose houses were destroyed by the floods are staying at a nearby public school."
Haridatta Joshi, information officer of Kanchanpur Agriculture Knowledge Centre, said that the details of the damage are yet to be collected. The fields abutting the Doda, Banhara and Machheli rivers are also submerged under water. "The extent of the damage will be known only after we collect the details," he said.
In Kailali, a majority of the people displaced by floods have started returning to their settlements. Floodwaters from Kanja, Tara, Pathariya and Mohana rivers entered several settlements in the district on Friday.
Chitra Bahadur Chaudhary, chairman of Joshipur Rural Municipality, said that 3,309 families of Joshipur Rural Municipality have been affected by floods. "Out of the total displaced, 20 families haven't been able to return home since their houses are inhabitable," he said.
According to him, most of the families started returning home on Sunday with the flood waters receding. "Although the houses are not fit to live in right now, people have started returning home," said Chaudhary.
Ganesh Chaudhary, chairman of Janaki Rural Municipality, said that more than 300 houses in the rural municipality were destroyed by floods on Saturday. The municipality has arranged food and shelter for families who haven't been able to return home.
According to Kewal Chaudhary, mayor of Bhajani Municipality, more than 500 families have been displaced by the floods in the municipality. In the most-affected wards 3 and 8, the flood waters are yet to recede, so the residents have not been able to return home even after three days of being displaced, Chaudhary said.
Ram Samaj Chaudhary, chair of Kailari Rural Municipality, said 20-30 displaced families from ward 7 of the rural municipality are living under tarpaulin tents. "The rural municipality started collecting the details of all the damage incurred from Sunday and the scale of the destruction will be known within three to four days," Chaudhary said. "In the meantime, the rural municipality has arranged food for the victims for a few days."
---
---