Deprivation, hunger and infant deaths in a remote Bajura village
Mothers in Muktikot suffer from lactation insufficiency for lack of nutritious food and lose their babies either in the womb, at birth or at neonatal and postneonatal stages.

More than 200 children below the age of five in Muktikot are said to be malnourished. Post Photo
bookmark
Published at : March 27, 2022
Updated at : March 27, 2022 08:59
Bajura
Manpuja Kami, a resident of Muktikot in Swamikartik Khapar Rural Municipality-1 in Bajura district, turned 22 recently. Married to Hiramani Kami of a neighbouring village five years ago, Manpuja wants two children but out of the three children she gave birth to in the last three years, only one survives.
Manpuja gave birth to her third child on March 14 but her baby boy died two days later. Feeble in her postpartum period, Manpuja mourns the death of her baby as she mourns the one born before him.
"A baby boy was born last year as well. The newborn survived for four days only," said Manpuja. "I was, however, hopeful that the next one will survive but he also died in just two days of birth."
Sitting by the door of a Chhaupadi shed alone, where new mothers are still sent to live with their newborn, Manpuja was lost in thought as if trying to remember every little detail about the baby she recently lost before her memory fails her.
"The last two babies I gave birth to came into this world alive. They both cried and moved their hands and legs but neither of them took my milk," she said.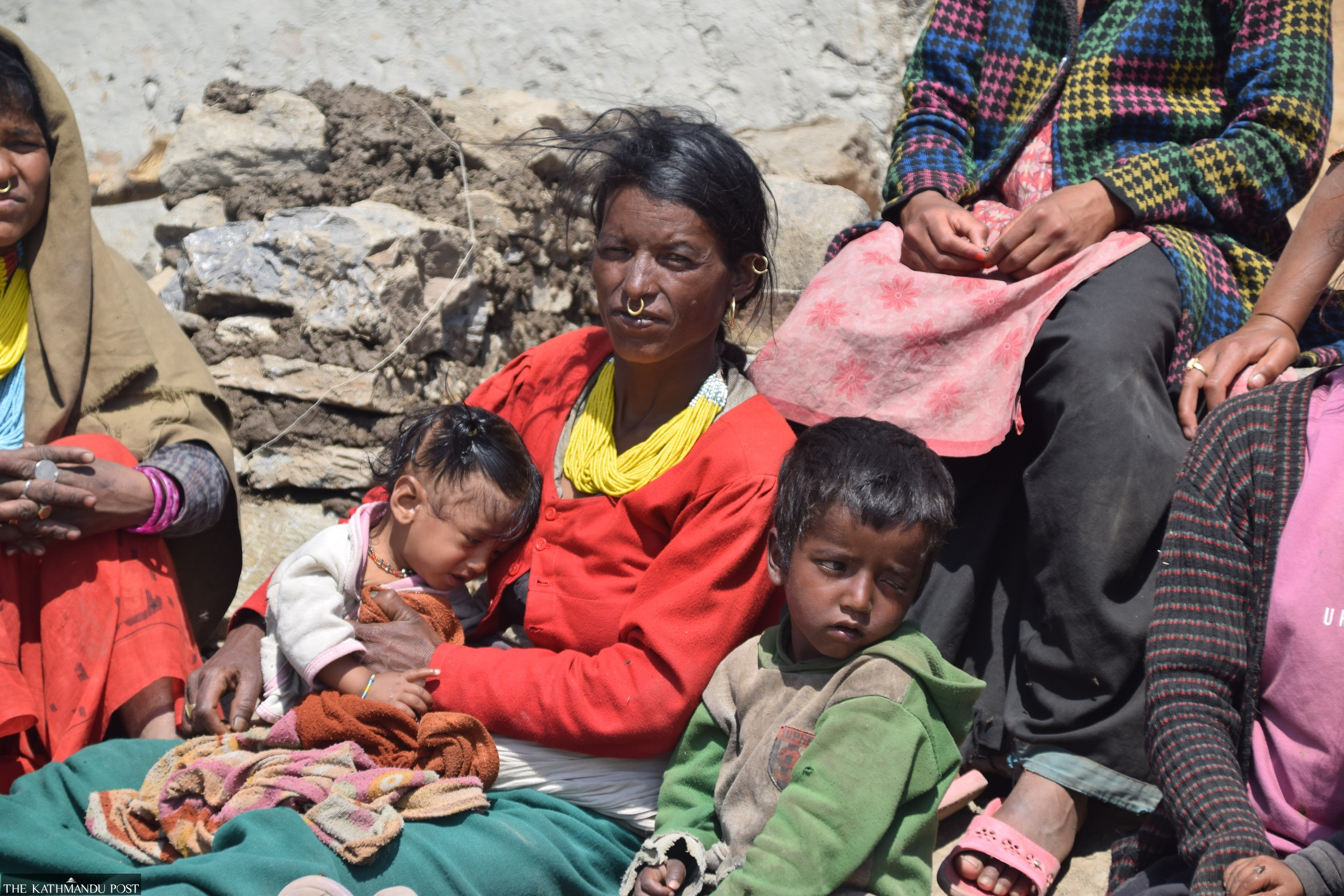 Post Photo
The young mother and her three-year-old daughter haven't been keeping well. The daughter is growing weaker by the day, says Manpuja. "She hasn't eaten properly since September. She has become feeble and her stomach has started to bloat. It feels like she too will die soon and I will die along with her," she said.
"I feel weak and dizzy all the time. I feel like I am losing my vision too."
Janaki BK of the same village says her three-year-old daughter, who passed away on March 9, had health issues like that of Manpuja's daughter.
"Her stomach started to bloat when she was two years old. By October last year, she had become very thin," said Janaki. "I took her to the local community health centre after the medicinal herbs given to her did not heal her. But the health workers too couldn't save her."
Janaki is 28 years old and so far has lost four of her babies. One son died just a week after his birth while another survived only for four months. Her third baby, a daughter, died when she was six months old.
"Two children died before I got the chance to breastfeed them. I suffer from lactation insufficiency. But I had somehow managed to raise my youngest daughter for three years but she also couldn't survive," said Janaki.
"I bought powdered milk for her by taking loans since I couldn't nurse her but she still suffered the same fate as so many other young children in this village." Janaki now has a loan of Rs 17,000 that she borrowed to buy milk for her baby.
Ramita BK gave birth to a baby girl last month but the 22-year-old mother lost her just five days later. This was the second baby she lost in a span of two years.
Dumali BK, aged 25, has already lost two children. On February 6, she lost her son of 12 days. "Last year I lost my three-month-old daughter," she said.
The cause of the high infant mortality rate in Muktikot village is deprivation—of nutrients, vitamins, minerals and other vital sources of nourishment—in mothers and babies.
Almost all the mothers who lost their babies say they suffer from lactation insufficiency with not enough breastmilk to nurse their newborns.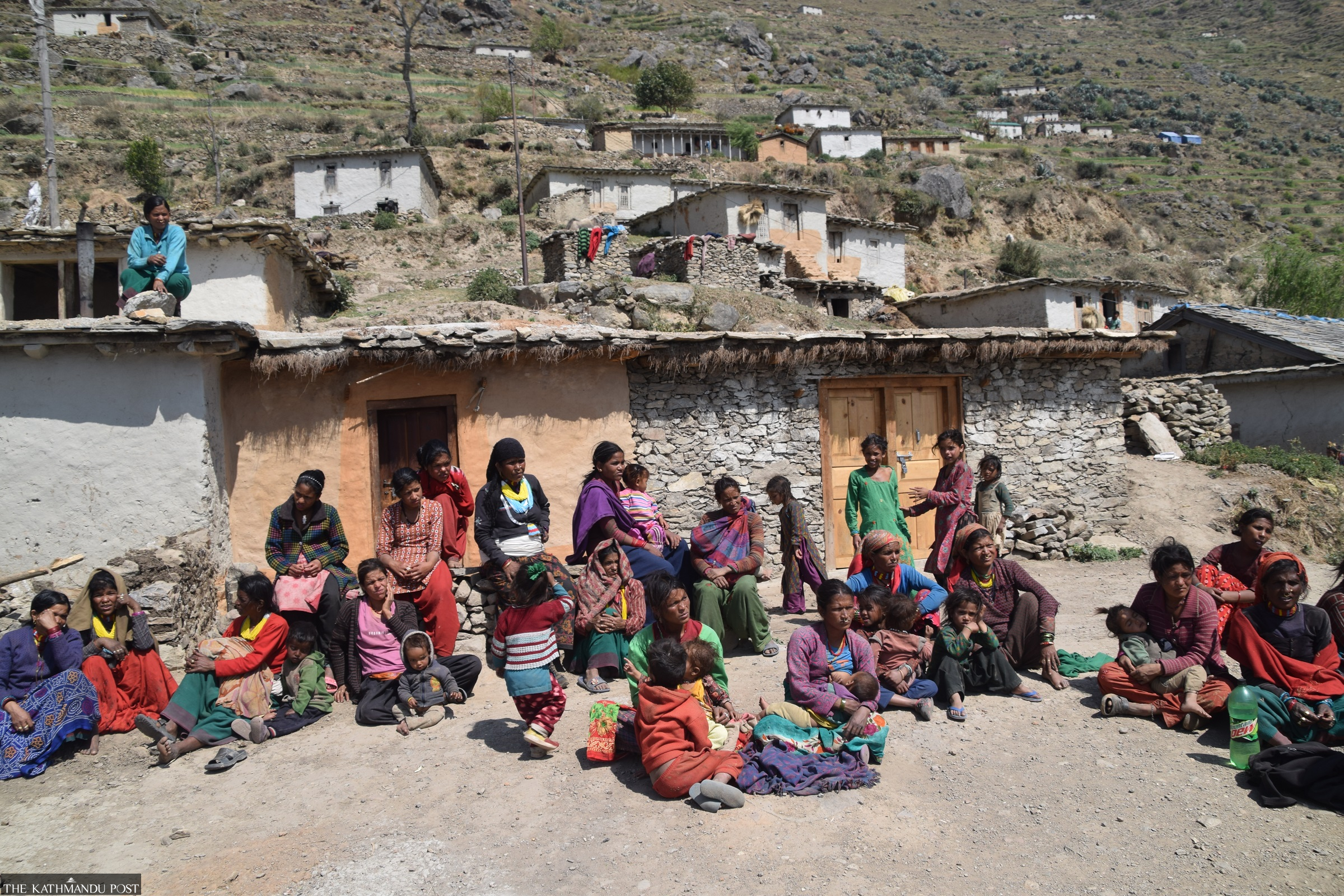 Post Photo
"Hunger is a major factor. We don't get enough food so it's natural that we can't produce milk for our babies," said Dumali. "We get to eat only rice and bread and that too never enough to fill our stomachs. We don't get milk, pulses or vegetables to have a balanced diet," she said.
The stories of women narrated here are only some cases in point to depict the widespread health issue triggered by poverty that Mutikot residents, especially women and children, have been suffering from for years.
"There is not a single mother in Muktikot who hasn't lost at least one baby," said Janasara BK. "Some women have lost as many as eight children."
The 32-year-old woman conceived 12 times and has lost four of her children so far.
Besides neonatal, postneonatal and early death plaguing almost every household in Muktikot, miscarriage is another factor that endangers the lives of mothers.
"Cases of miscarriage are higher than neonatal, postneonatal and early deaths. I had miscarriages four times," said Maru BK, aged 40. "Several women in the village miscarry twice or three times in a year."
Deaths of as many as 15 children—newborns to 15-year-olds—were reported in Muktikot in the past nine months. The data cannot be independently verified since the authorities have not assessed the situation in this remote village to maintain a database.
There are a total of 394 families of Dalit communities at Muktikot, Gaira, Mela, Naula, Kholi, Chuikedanda, Majhawada, Kholasa, Bhaisakhali and Ralkya settlements that lie at Ward 9 of the then Sappata VDC and current Swamikartik Khapar Rural Municipality.
The authorities have not taken any initiative to control the alarming infant and child mortality rates in the area.
The data of death among infants and children could reflect a more alarming situation if every settlement in the rural municipality is counted.
"Incidents of child death are reported quite frequently in the area but nobody has maintained any data. Around 30 to 40 children might have died in Muktikot and its surrounding villages this year," said Bal Bahadur BK, a Muktikot resident who is also a farm technician at Swamikartik Khapar Rural Municipality.
Umesh Shahi, the chief at the basic health centre in Muktikot, says the centre has no record of infant or child deaths.
"No one has collected the data so far. We can find the actual figure if we visit every settlement," he said. "Malnutrition is the main cause of the alarming rate of infant and child mortality in Muktikot and other settlements."
"We found 36 children suffering from malnutrition while running a nutrition check on 40 children in the area a month ago. Fifteen of them were severely malnourished. They might die if they do not get timely treatment," said Umesh.
"The villagers were not willing to take their malnourished children to Martadi, the district headquarters of Bajura. Many of them did not come to the health camp because we would ask them to take their children to Martadi for treatment," said Umesh.
He says there could be more than 200 children below five years of age in Muktikot, almost all malnourished.
The health office in Bajura is aware of the situation in Muktikot but says it can do little to tackle the problem head-on.
"The situation in Muktikot is very serious. But the health sector alone cannot resolve the problem. The only thing we can do is ask them to give nourishing food to their babies and expecting mothers. But how can they eat well when there is nothing to eat?" said Daya Krishna Panta, chief at the Bajura health office. "The state should take initiatives to provide the people of Muktikot with at least two square meals a day or introduce income-generating programmes."
Food insecurity is a major problem in Muktikot, an arid steep hill topography of Sudurpaschim Province. In the area often hit by long droughts, the villagers do not try to grow crops.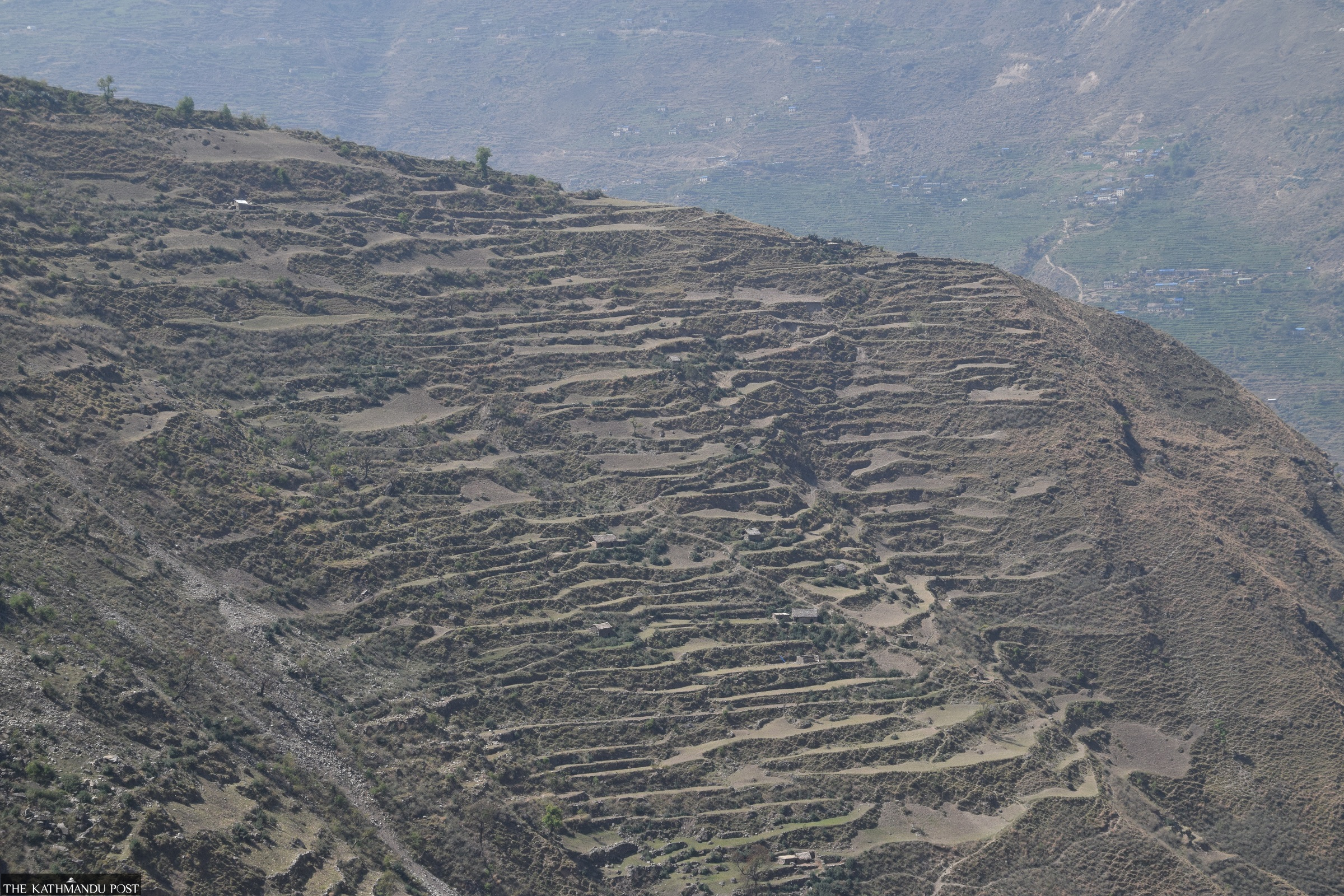 Post Photo
"The villagers gave up farming as the seeds do not germinate and the germinated ones also dry up in the field due to dry spells. Only a few villagers plant millet in the rainy season. They grow grains that would last for only one to two months, that too if it rains sufficiently. Otherwise, the granary is always empty," said Dhan BK, a local.
Fruits and vegetables are also not grown in the village that is largely dry. Almost all men above 15 years of age go to various towns and cities of India for work. They generally go to places such as New Delhi, Paudi, Garhwal, Dehradun, Nainital, Ranikhet, Pithoragarh and Bageshwor to work as daily wage earners.
"Some of the villagers have been staying in India with their families for the past five-six years. Slowly others will also follow suit because there is nothing to eat in the village," said Nare Kami, another local man. "If this continues, we will continue to lose mothers and their young children."
Muktikot and its surrounding settlements do not even have basic infrastructure that would ease the locals' suffering. A road was constructed linking the village with Dalbale Bisauna of the neighbouring Kalikot district a few months ago but there is no regular transportation facility.
"One has to book a jeep to make the journey and no one here can afford that," said Dhulki BK. According to her, the villagers have to walk for two days to reach Piluchaur of Jagannath Rural Municipality.
Amid the shortages of food, the villagers also deal with a drinking water crisis. There is only one stone spout for around 160 families in Muktikot. Even the health facility in the village often faces shortages of medicines, depriving the villagers of treatment.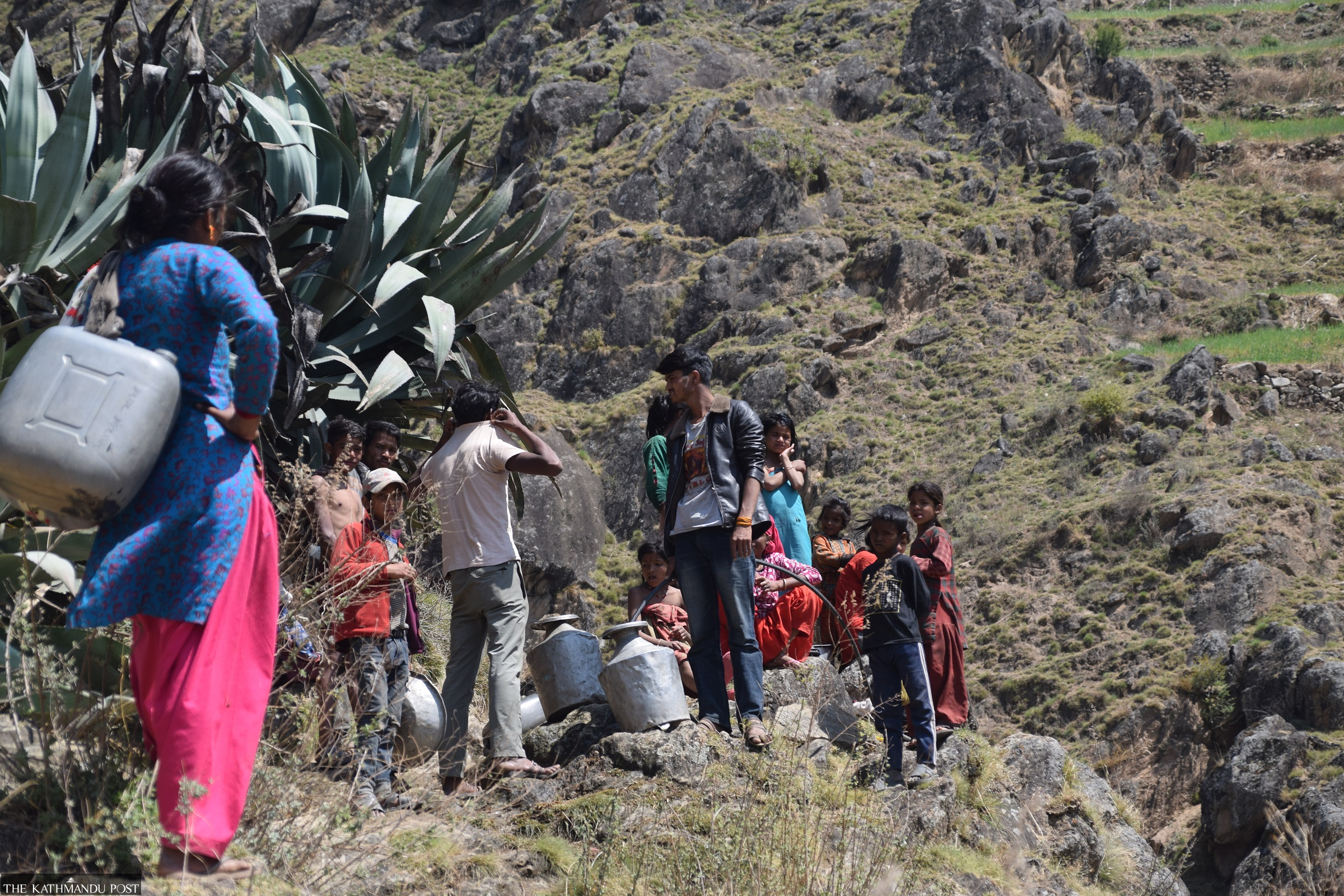 Post Photo
"We have to go to Dhangadhi or Nepalgunj for treatment. But the cost of journey and treatment is expensive so we just sit here and await death," said Chhata BK, a local woman.
Social evils such as child marriage go unchecked in this rural village leading to teen pregnancies. "Most of the girls marry at the age of 13-14 and give birth by 15-16. There is not a single woman in the village who has married after 20. Guardians force their daughters into early marriages," said Manmila BK, who married at 14 and gave birth to a daughter at 16.
As per the national census of 2011, 64.1 percent of people in Bajura are below the poverty line. Muktikot is one of the poorest villages in the district. Different studies show that Bajura is the country's poorest district, said Madan Joshi, a society leader in Bajura.
"Our efforts to improve health and build infrastructure have not paid off," said Chiranjibi Shahi, the chairman of Swamikartik Khapar Rural Municipality.
Dumali from the village says they are waiting for the government to help them break the cycle of poverty and death. "We hear there are nutrition programmes in other parts of the country but such programmes are yet to reach our village," she said. "Such programmes here would change our lives and future."
---
---