Settlements in Chure foothills at high risk of flood, landslide
Conservationists blame exploitation of forest and riverbed materials in the Chure region for the incidents of floods and landslides occurring frequently in recent years.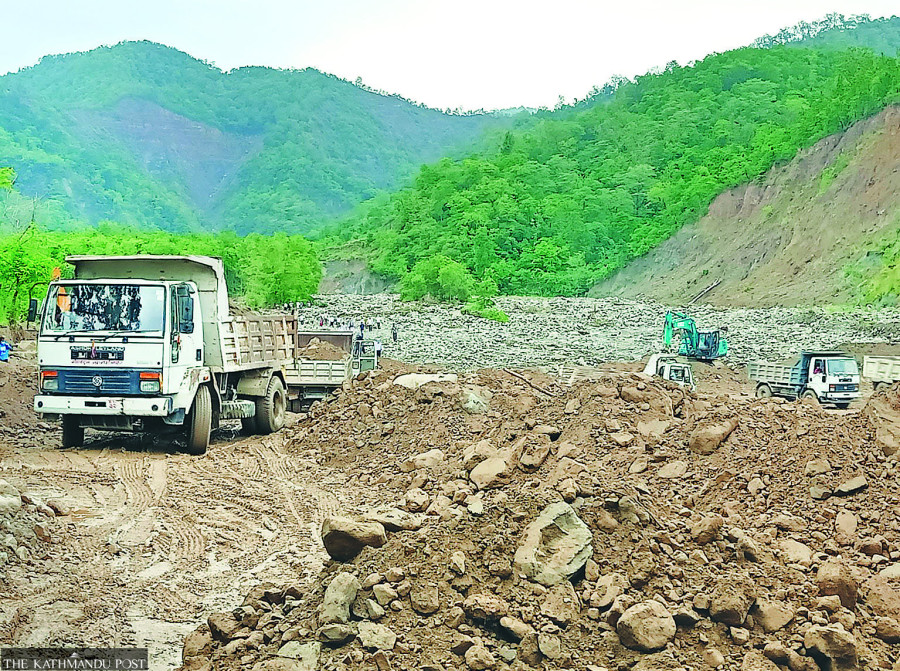 Chure region is becoming fragile every year due to rampant excavation of riverbed materials. Post Photo
bookmark
Published at : June 23, 2021
Updated at : June 23, 2021 01:12
Kanchanpur/dhangadhi
A week back, the flooded Khanya stream, which flows from the Chure region of Kanchanpur district, broke its embankment and entered the surrounding settlements.

"We were safe from floods and inundation for a few years because of the embankment. But this year we are at risk," said Uttam Chand, a local resident of Tilakpur in Bhimdatta Municipality Ward No. 3.
According to the local people, the embankment was constructed by Mahakali Irrigation Project five years ago.
"Monsoon has only just begun and the embankment is already damaged. The stream has also changed its course towards the settlement," said Keshav Saud, another local resident of Bhimdatta Municipality Ward No. 3. "We don't know how much damage we will have to suffer in the coming months."
At least six wards of Bhimdatta Municipality are at risk of floods and inundation if the stream, which flows from the Chure foothill to the Mahendranagar Bazaar area, is not controlled.
Temporary repair work of the damaged embankment has started in Khanya stream, but the local people say such interim measures are not going to prevent another disaster from occurring.
"The Chure region is becoming fragile every year due to rampant excavation of riverbed materials and deforestation," said Saud. "Rivers and streams have changed their courses due to haphazard use of excavators while extracting riverbed materials. Forest resources are also depleting due to timber smuggling and forest fire incidents. Settlements near the Chure region are at risk of landslide and flooding."
Rabindra Kunwar, chairman of Chure Conservation Network, says haphazard extraction of riverbed materials from the rivers and streams in the Chure foothills and forest fires have made the Chure region more vulnerable to disasters, especially during the monsoon season.
"Rivers and streams from Brahmadev to Aattariya are being exploited for riverbed materials. These activities have invited disasters," said Kunwar.
Ajaya Bikram Manandhar, division forest officer in Kanchanpur, said the local units' decision to issue contracts for extraction of riverbed materials without setting up a proper monitoring mechanism has led to the depletion of natural resources.
"The local units do not think about the future and are only focused on collecting revenue. There is no proper monitoring and environmental impact assessments are not prioritised by the local governments," said Ramchandra Kandel, the forest officer at Division Forest Office in Dhangadhi.
"The exploitation of the Chure region has a direct impact on the environment, causing disasters like floods and landslides," said Manandhar. "Use of machines during extraction of sand and stones has caused landslides and soil erosion."
Bijaya Shrestha, a forest expert in Kanchanpur who has been working for Chure conservation, said Godabari, Khutiya and Gauriganga rivers in Kailali have been massively exploited over the years.
"Two decades ago, most of the rivers and streams were 10 to 15 metres wide. But now, a majority of the rivers and streams are over 500 metres wide in Kailai and Kanchanpur districts."
Around 40 percent income of Lamkichuha, Bardigoriya, Ghodaghodi, Gauriganga and Godawari—the local units of Kailali district that border the Chure region—comes from the contractors who extract construction aggregates from the local rivers and streams.
Besides rampant extraction of sand and stones, haphazard construction of roads using heavy equipment has also affected the Chure region, say conservationists.
Works are currently underway to open tracks at Sahajpur, Alad, Deurali, Mauri, Chaumala, Phaltude and Dhanera-Gajar areas of Mohanyal and Chure rural municipalities.
Mohanyal Rural Municipality has five major road projects including Khamadi-Simali, Phalse-Bisauna, Chisapani-Solta and Rajkanda-Kushegada, which fall in the Chure area. More than two dozen feeder roads have also been constructed to link the settlements in the Chure region.
Dozers and excavators are being used to build road networks in the Chure area.
Dhan Bahadur Rokamagar, the chairman of Chure Rural Municipality, said the local government has allowed the use of heavy equipment to speed up the road construction work.
Hills in Chure have been levelled flat in several places in Kailali and Kanchanpur to construct various infrastructure. The ward office of Mohanyal-4 was constructed by levelling a hillock last year.
The local people have also been raising concerns against the exploitation of the region that has led to the depletion of water sources.
"We could irrigate our paddy field as there was a canal before constructing a road linking Dhanadi village of Mohanyal-7 a few years ago. Several landslides erupted in the area and buried the canal. We haven't been able to irrigate our field," said Dinesh Gharti Magar of Mohanyal-7.
The settlements below the Chure range have been facing a shortage of water in the recent years.
"There is a shortage of drinking water in the foothills of Chure. The exploitation of Chure has greatly affected the water recharge system in the area," said Mohan Kunwar, the chief engineer at the Drinking Water Division Office in Kailali.
Likewise, the rampant extraction of construction aggregates in the Chure region has been causing floods in the southern part of Kailali district.
Khutiya, Gauriganga, Pathariya, Kandhra and Kanda rivers that originate in the Chure region have been wreaking havoc in the southern part of the district during the monsoon season.
"Floods and inundation have been a major problem in Kailali, mainly due to deforestation and haphazard extraction of riverbed materials in the Chure area. The soil erosion in Chure, risk of landslide, water sources drying up and flooding in Tarai area are caused by the exploitation of Chure region," said Ramesh Chand, a retired district forest officer and expert on forest and environment.
---
---