Excessive resin extraction in Kailali forests is killing trees
According to directives, only 3kgs of resin can be extracted from mature trees but contractors are extracting more than the stated amount and that too from young trees.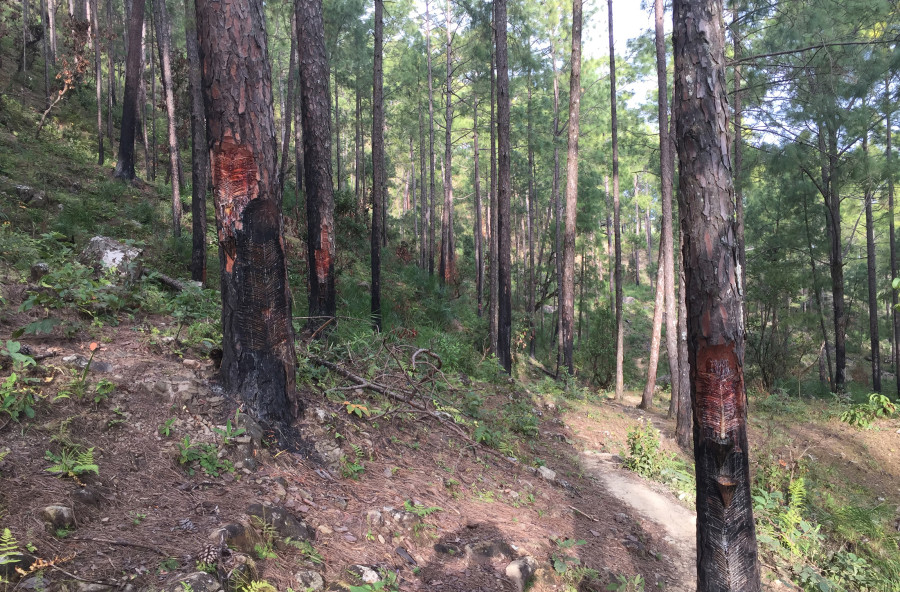 The resin collected from the forests are being sold at Rs 12 per kg. Mohan Budhaair /TKP
bookmark
Published at : November 28, 2019
Updated at : November 28, 2019 09:28
Mohanyal (kailali)
Excessive extraction of resin from pine trees is causing pine forests to dry in the Chure region of Kailali district.
More than 20 community forests have given tenders to various contractors to extract sap from pine trees, which, community forests users groups, say will help the community forests generate income.
According to the government directive issued in 2007, trees that are identified for resin extraction should be at least three feet in circumference and standing above four feet above the ground. However, contractors, in nexus with local forest users' groups, have not followed the rules and regulations and this has caused pine trees to dry, conservationists say.
Lok Bahadur Gharti, a conservationist, who is also a resident of Mohanyal Rural Municipality, highlighted the concerns regarding haphazard extraction of resin in the community forests. "We know that resins are being collected even from young pine trees, and this is detrimental to the forests' health," said Gharti.
Locals say that contractors extract sap from a single tree for at least 10 years without giving the trees time to heal. The practice of contractors extracting resin from the trees frequently has led to the drying up of the trees. As per the set standard, only three kgs of resin can be collected from a tree having three feet circumference. But contractors have been extracting resin from more than the stipulated amount in Salleri forest, even from younger trees. "Unnecessary cutting of the tree barks has led to the trees drying up or being prone to forest fires," said Gharti.
From this year, resin collection has started in 10 community forests in Pandaun, Sugarkhal and Phallebisauna (which falls under the Division Forest Office in Pahalmanpur). Last year, 163,900 kgs of resin was collected from six community forests in the same area.
Resin is also being collected from 13 community forests (which fall under the Division Forest Office in Dhangadhi). These community forests have been selling resin at Rs 12 per kg. Dibya Resin and Turpentine and Bhawani Chemicals Company have the contracts to collect resin in these areas. The Post tried to contact representatives of the company for their comments, but they were not reachable.
Ram Chandra Kandel, division forest officer, however, claimed that they have been monitoring resin collection closely. He said, "We will take action against the guilty if found violating the set standards. We can even put a ban on illegal collection of resins in the pine forests."
---
---