Naugadh women are learning to become economically independent amid exodus of men
Around 176 women were trained in vegetable farming, hosiery making and Allo (Himalayan nettle) production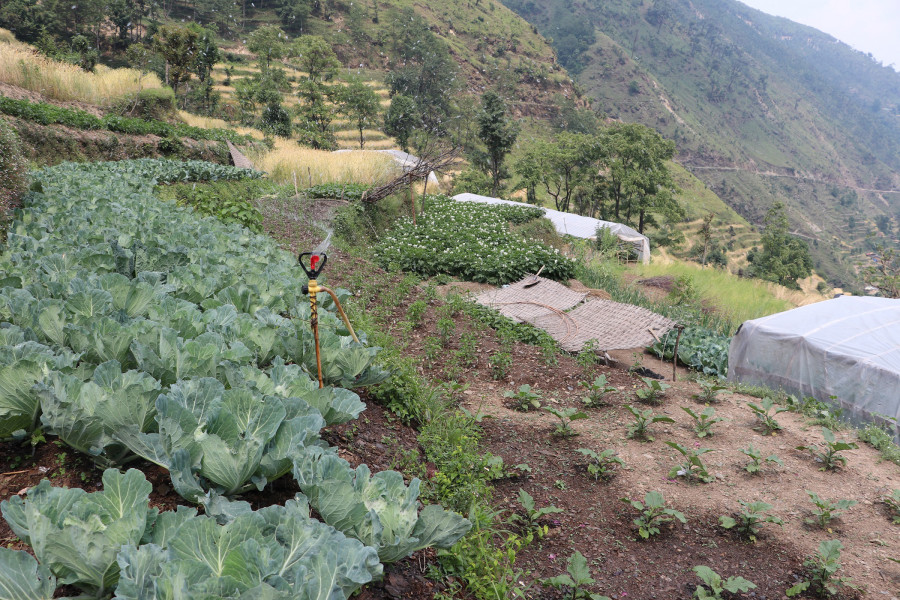 bookmark
Published at : May 28, 2019
Updated at : May 28, 2019 08:14
Darchula
Most of the households in Naugadh Rural Municipality, Darchula, are without male members, as most men have left their homes and families behind in search of jobs in cities or outside the country.
The thin presence of men has led to a surprising turn of events in many villages of the rural municipality: women are going beyond their conventional roles of housewives and becoming the breadwinners of their families.
An increasing number of women are finding ways to become economically independent so that they don't have to wait for the men to send them money to run their households.
Most women are making conscious efforts in learning income-generating skills like vegetable farming.
"Besides seasonal vegetables, we also grow unseasonal vegetables which always fetch good income. Growing unseasonable vegetables requires the same effort and resources," said Lalmati Manyal, a native of Dallek village in the rural municipality.
Women grow vegetables in their backyards and sell them in local markets.
In the absence of men, aside from earning a livelihood, women also have to take the responsibility of looking after the children and other family members.
But this has not deterred them at all. "It has become easier for us to look after our families now that we are earning ourselves. For instance, I don't have to rely on my husband to send me money to run the household or meet the everyday needs of my children," said Parbati Thagunna of Sundamunda village.
Jagaruk Samaj Kanchanpur, a social organisation, had offered trainings on various income generating skills to the women of Naugadh Rural Municipality. The organisation trained 176 women in vegetable farming, hosiery making and Allo (Himalayan nettle) production.
Karbir Bahadur Karki, chief at the District Coordination Committee, said that the committee will soon train women in other income-generating skills.
"This has been a positive step for rural women. In the future, we plan to help them in getting loans to expand their businesses so that they can have a secure future," Karki said.
---
---